The look on Braden Hamlin-Uele's face when he scored his first NRL try against the Melbourne Storm a couple of weeks ago was priceless – but deep down he was filthy.
"When I score a try they were meant to play The Rock's theme song, but they cut out the best part,'' said Hamlin-Uele, as he quickly reminded Cronulla officials not to make the same blunder if he scores again on Sunday afternoon against Manly.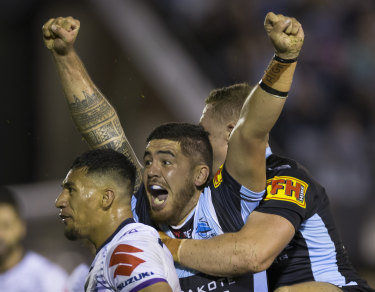 Cookin: Braden Hamlin-Uele after scoring his first try for the Sharks.Credit:AAP
"You could only hear the beat. They left out the intro, which is: 'Do you smell, what The Rock, is cooking?'
"I wanted the crowd to hear the first bit. I was like, 'what are you doing?'.''
Hamlin-Uele is the rookie prop who moves like Andrew Fifita and almost looks like him.
The 24-year-old cringes when he hears the Fifita comparisons from The Sun-Herald and quips: ''I get that a bit, but I'd rather look like someone else''.
"I used to watch 'Drew' growing up. He's a big body and can be the most damaging player on the field,'' Hamlin-Uele said.
It was a rocky start for me here last year. I wasn't in the best shape and didn't put my best foot forward.
"I'm about 117kg, which is a good weight for me. When I came back for pre-season training I was 126kg. I was so embarrassed to look at myself. That's when I looked more like Drew.''
Hamlin-Uele will either celebrate the chance to feature in Fifita's 200th game or be required to punch out more minutes in his absence because of a dodgy hamstring.
He did just that and surprised himself when he played more than 50 minutes off the bench last Thursday night against the Gold Coast Titans.
Hamlin-Uele grew up in Auckland and only last year added the hyphen to his name.
Up close and personal: Braden Hamlin-Uele takes on the Roosters defence..Credit:AAP
His late grandfather, Henry Hamlin, passed away last August, and Braden, along with his younger brother and sister, wanted to make sure their mother's maiden name continued to live on in New Zealand.
"Hopefully when the family in England hear that name they feel happiness and proud about it,'' said Hamlin-Uele, who is eligible to play for the Poms, New Zealand and Samoa.
"Everyone is getting around with hyphens these days. There was SBW [Sonny Bill Williams]. There could be 'BHU'. Who knows.''
Hamlin-Uele, or BHU, arrived in the Shire at the start of last year via stints at the Sydney Roosters and North Queensland Cowboys.
Former Cronulla coach Shane Flanagan identified the big front-rower with the big engine, but Hamlin-Uele blamed himself for playing just one NRL game for the Sharks last campaign.
Off contract at the end of this year, Hamlin-Uele realised he had to knuckle down and make the most of his opportunity.
Sunday will be the first afternoon fixture in the Shire for the bubbly, burly bloke wearing the No. 17 jersey.
"It was a rocky start for me here last year. I wasn't in the best shape and didn't put my best foot forward,'' Hamlin-Uele said.
"Both pre-seasons I came back heavy. I was 126kg last year and 123kg my first pre-season at Cronulla. They always tell you to enjoy your off-season. But if you say that to me I will literally enjoy it too much.
"The penny dropped and I knew I had to be more professional, and hopefully that's showing on the field now.
"The goal was to get one or two NRL games. Coming off contract, I knew I needed to do something.
"I was happy to bide my time at [feeder club] Newtown and see what happens. I never thought this would be my sixth straight NRL game.
"There are still a lot of games to be played and time to see what this team can do and what I can do.''
Source: Read Full Article