Home boards will be free to continue choosing the ball to be used in Tests despite a recent push for ball uniformity in the game's traditional format.
The Marylebone Cricket Club's World Cricket committee earlier this month called for the international governing body to introduce a standardised ball for the World Test Championship, which starts in August with the Ashes.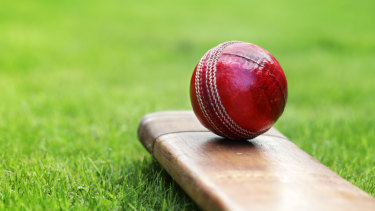 Home boards will continue to be able to choose the ball for Test cricket.Credit:www.alamy.com
The philosophy behind the initiative was, as committee member Shane Warne said, to help create a "more equal playing field".
It's understood the MCC's idea will not be approved by the International Cricket Council, which will be of considerable relief to Australian manufacturer Kookaburra.
Kookaburra is the most widely used of the three brands currently in Test cricket. It is the ball of choice in seven countries, including Australia, while Dukes are used in England and the West Indies while the SG ball is used in India.
It is currently up to the host nation to choose the ball and not the ICC.
There were concerns from manufacturers that the use of one ball throughout Test cricket would not be suited to the contrasting conditions the game is played in around the world.
Dukes stood to gain considerably if a standardised ball was introduced but they described the MCC proposal as "fundamentally flawed".
"Are all the pitches around the world the same?" the managing director of Dukes, Dilip Jajodia, said last week.
"The more important question to ask is what type of ball manufacturing technique is suitable for the game at the highest level.
"I can make machine-stitched balls but choose not to because I passionately believe a hand-stitched ball is what's right for cricket.
"I passionately believe if you decide the hand-stitched ball is the right one then have another conversation on whether it should be the one ball for the whole world or should it be different for different conditions. I would say to you they should be different for different conditions."
The comments were a dig at Kookaburra, whose ball is made from a mixture of machine- and hand-stitching.
The Dukes ball being used for the final four rounds of the Sheffield Shield is different to the ball that is used in England.
Kookaburra said they produced the same ball for use in Tests across Australia, New Zealand, South Africa, Sri Lanka, Zimbabwe, the UAE and Bangladesh.
Source: Read Full Article