The last period of play was only 7.5 overs, but it provided a neat snapshot of the opening day of this series. One which saw England frustrated and Pakistan tested yet at ease.
In fading light, Joe Root's side went out to find another wicket in the limited window they had. Jofra Archer went to go short to Babar Azam and, at the end of his 10th over, Root was called aside and informed that tactic wouldn't fly at this time of evening. So he opted for the spin of Dom Bess and himself. Jos Buttler missed a stumping – his second botched chance against left-hander Shan Masood – while Azam picked up a couple of bonus fours before play was finally abandoned as the elements won out.
It left Pakistan chipper on 139 for two – Masood (46 not out) and Azam (69*) in a good headspace. Root walked off wondering if he should have held firm, taken his fast bowlers and gone home. The match has many more turns to come, and Pakistan are just ahead after the first few.
Download the new Independent Premium app
Sharing the full story, not just the headlines
You would have been of a mind to call the opening session all square. With clouds overhead but a trusty pitch underfoot, Azhar Ali decided batting first was the way to go. But for two wickets, the 53 runs in 25 overs was a positive start.
The England 500 pair of James Anderson and Stuart Broad were wicketless in their new-ball spells. Thus it was down to Jofra Archer and Chris Woakes to main the first incisions as part of an unchanged line-up from the third West Indies Test just a week ago.
Abid Ali, set-up on the outside edge by Archer was done on the inside, bowled for 16. The wise old head up top, Azhar Ali (nought), was trapped in front by Woakes and, for a moment, and suddenly Pakistan were reeling on 43 for two in the 19th over.
Especially so when Azam strode to the crease and was beaten with the ball of the day from Woakes: arching in all the way until it pitched and went the other way and winked at the right-hander's bat as it passed by. For a moment, England were keen. That changed hours later, as the rain washed out chunks of play allowing the men responsible for changes in the hosts' mood were unbeaten at close in a stand of 96.
The nature of Test cricket in this country, and indeed how the casual English fan consumes it, means it can take time for great overseas player to be regarded as such. Thus, the appreciation from those over here comes later than it should. Thankfully, Azam has got them up to speed at the earliest opportunity.
He was on his way to doing it in 2018. But after making it to 68 not out in the first innings of that series – at Lord's no less – a bouncer from Ben Stokes broke his arm and ended his series. Two years on, a 14th half-century was pocketed with ease. And though the allrounder was here unable to bowl – certainly not as fast if he is called upon during the match – it would not have made a difference.
When discussing a sport with as much emphasis on craft as statistical nuance, form can be neither here nor there. But a player who averages 65.47 since the start of 2018, more than anyone to have batted at least 20 times in this period, showed exactly why he should be regarded as the best batsman in the world right now.
Because the difficult period before the lunch interval was negotiated well, even if there were the odd bit of indecision. And, emerging from the break, those worries were long gone as he played some of the most aesthetically pleasing shots of the summer. The kind of drives that soothe even the weariest souls.
That half-century – from 70 deliveries – was very much in two parts. The tough start of four from the first 27 balls, and the bit where he remembered that bowlers are there very much for his amusement. The remaining 46 runs to 50 took just 43 deliveries.
It did correspond to a period that England did not bowl well. Anderson in particular was wayward with his lengths, and there was a sense when the rain did come at 41.1 overs that it was for their benefit. Pakistan were approaching five an over in a partnership that had extended to 78. Ah yes, a partnership. See, for all Azam's glory, there were Masood's guts of 45 not out from 134 deliveries.
The opener is a different player to Azam, in every sense: right-handed, doughty who has made his name in the last two years by curbing the shots that make Azam great. Unlike Azam, he was not around in 2018 off the back of his work in 2016 in which he scored 71 runs in four innings. For many, in England and beyond, his card was marked at this level.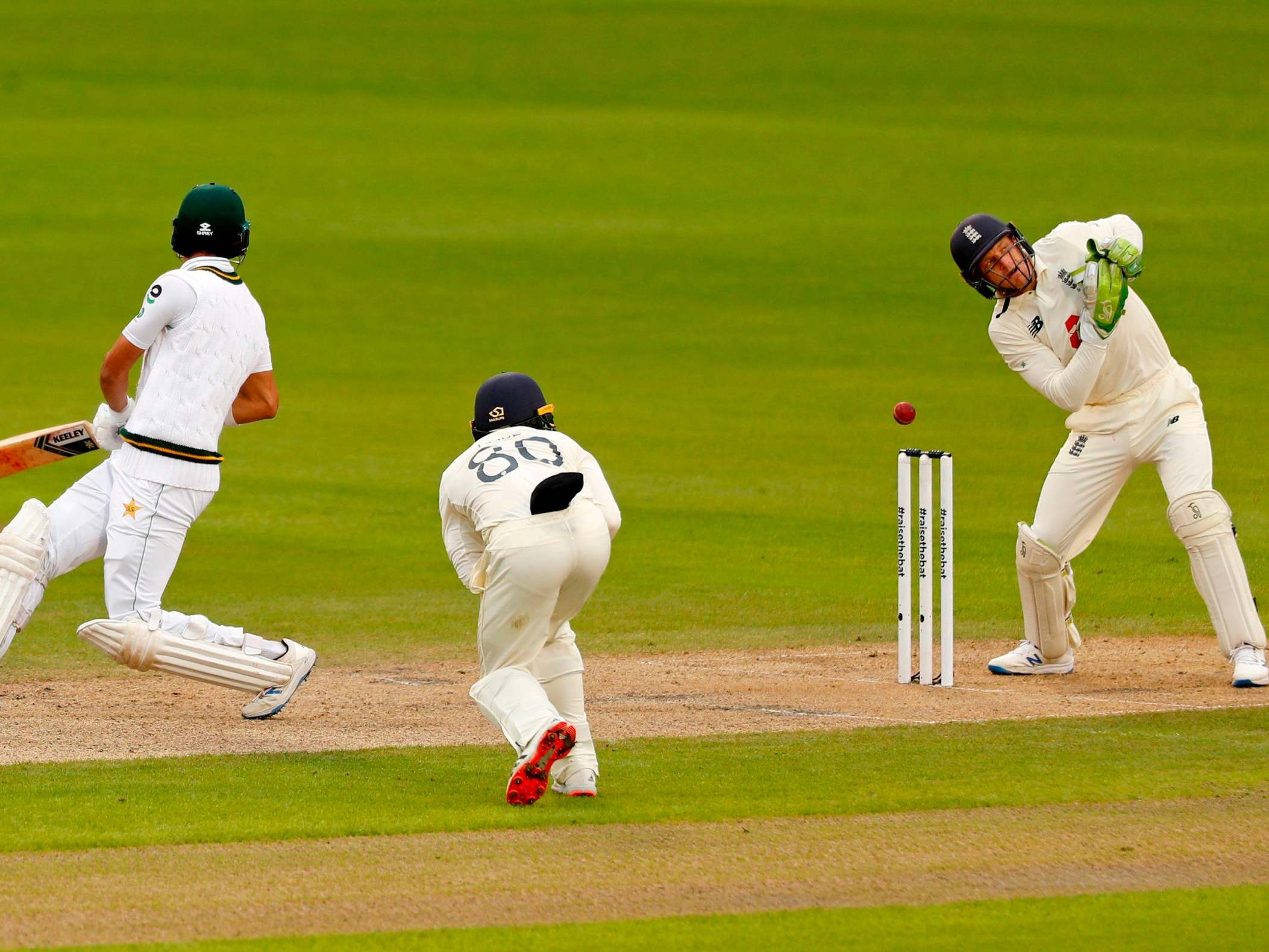 It would take him a year to return but, similarly, his run since 2018 – 669 at 47.78 (his career average is 32.47) has seen him emerge as a cherished force.
Those were runs scored with any real grace, but that's not the point. He is never going to take the game away from anyone, and his 135-ball stay so far has not punished England just yet. But with him, Pakistan were not going to cede advantage so soon, as can happen in this part of the world. As a case in point, he is the first overseas opener to face more than 100 deliveries in the first innings of a Test since the start of 2016. When you consider how many openers have failed in these conditions, and even how many openers England themselves have discarded in that time, the value of his work should not be understated, even if it will be under appreciated.
Then again, he is lucky to still be in place. A fine delivery from Dom Bess caught his edge 2.2 overs before the weather cut us off when on 45. Jos Buttler should have held on, as he should have done a couple of hours and a rain break later when Masood ran past one on the same score. It could have been 105 for three. It could have been 127 for three.
Now, though, a line-up who pride themselves on grinding will continue doing just that. Again, Masood himself might not be the one to punish England. But by association, Azam and Asad Shafiq, who averages 40 against them, can build on his groundwork.
Source: Read Full Article