Joshua Cheptegei has set a new 10km road world record in Valencia.
The Ugandan distance runner recorded a time of 26 minutes and 38 seconds to improve the mark of Kenya's Leonard Komon by six seconds.
Komon's record had stood for nine years.
Download the new Indpendent Premium app
Sharing the full story, not just the headlines
Cheptegei, who took victory on the track over the same distance at the 2019 World Athletics Championships in Doha, reached the halfway mark in 13:23 and covered the final kilometre in 2:45.
Cheptegei's latest achievement caps an extraordinary year in which he also took victory at the IAAF World Cross Championships in Denmark.

Every gold at World Athletics Championships 2019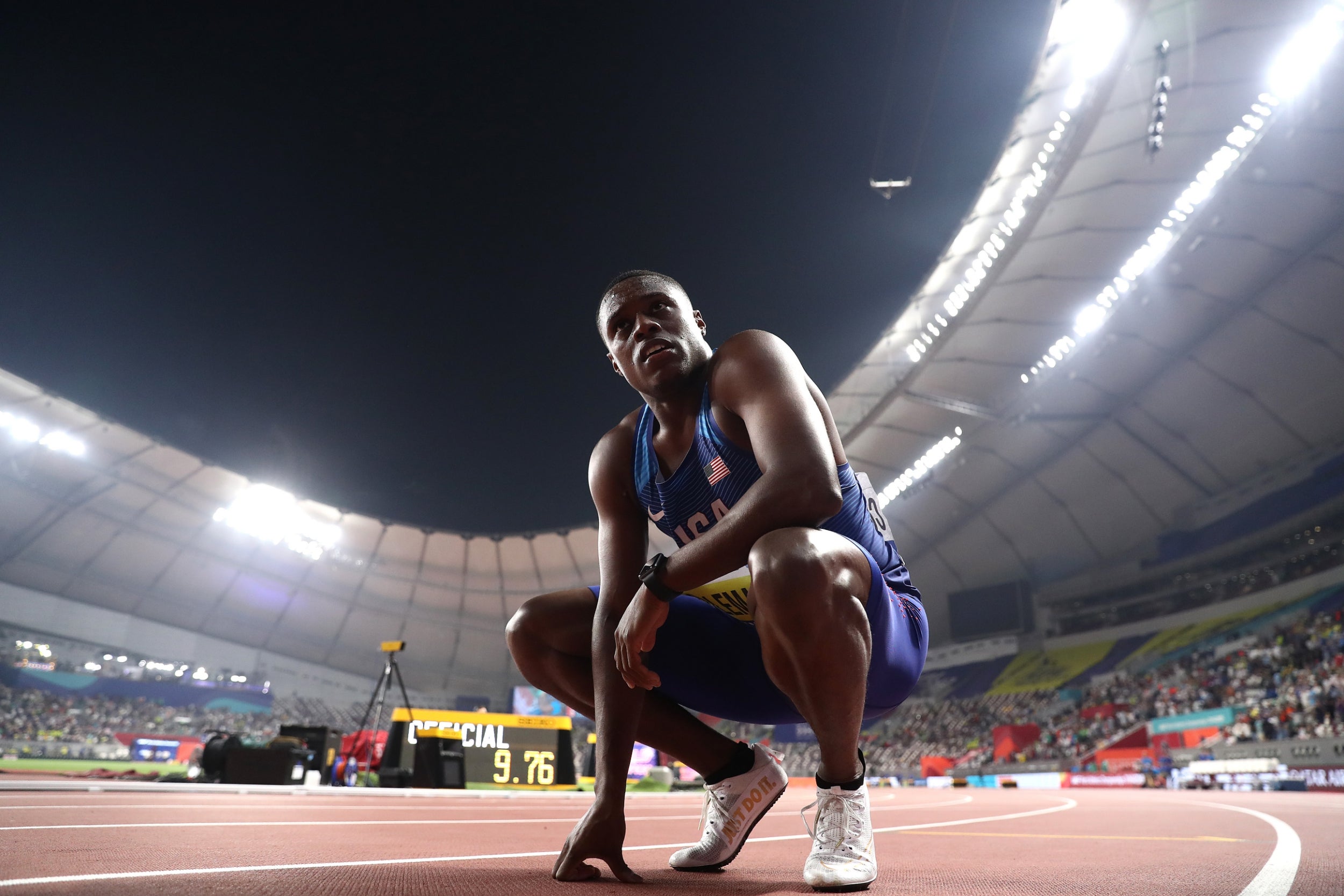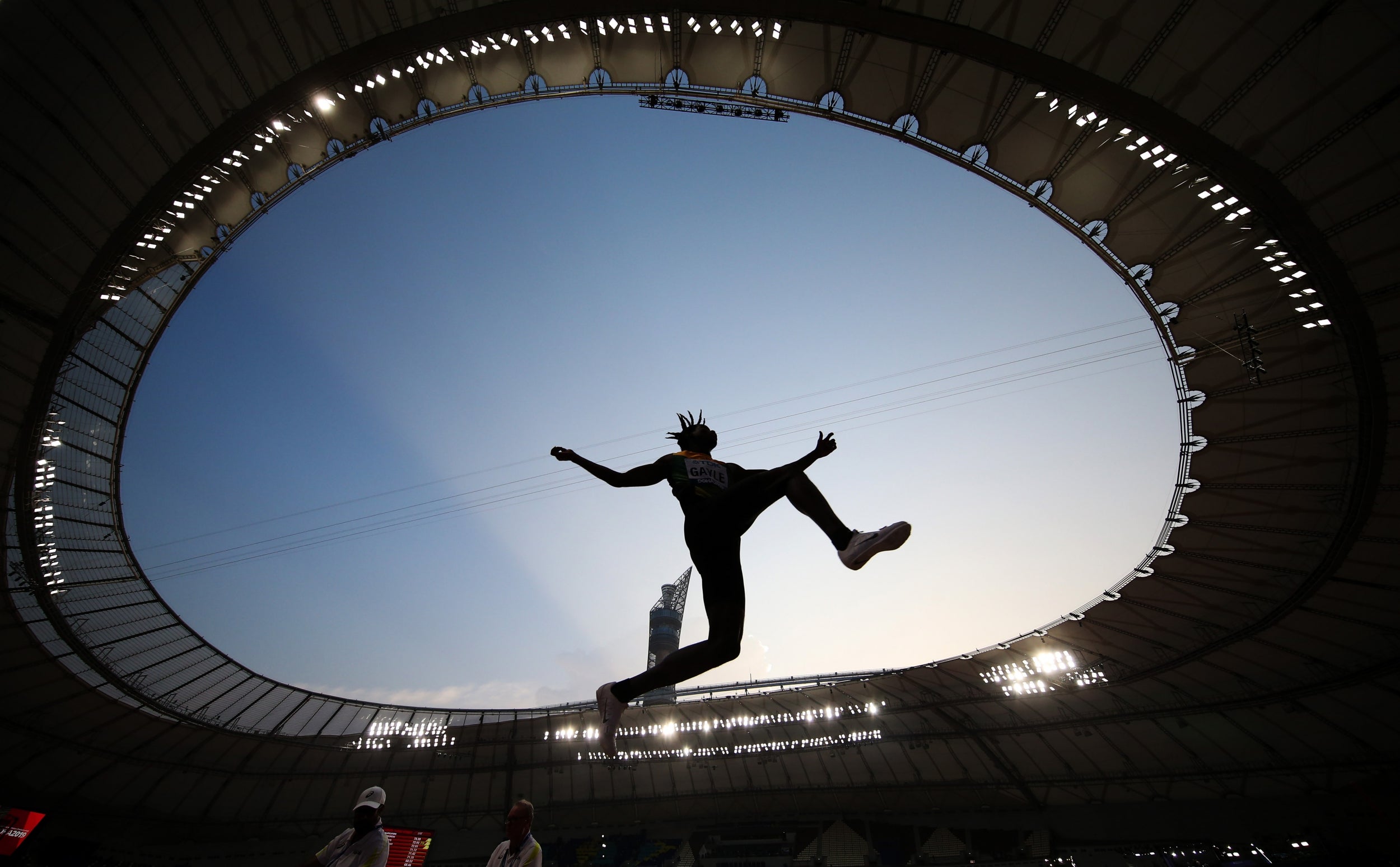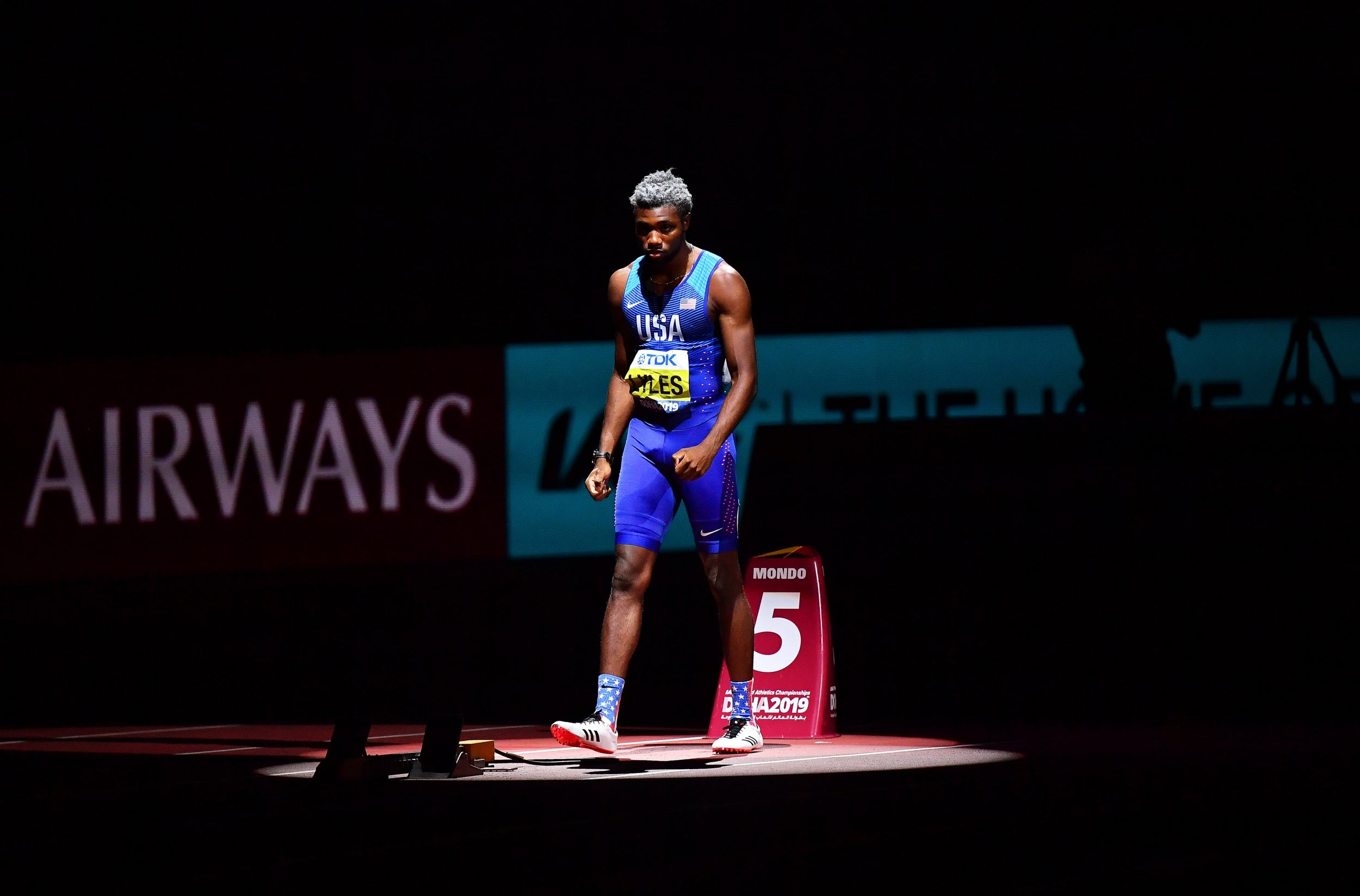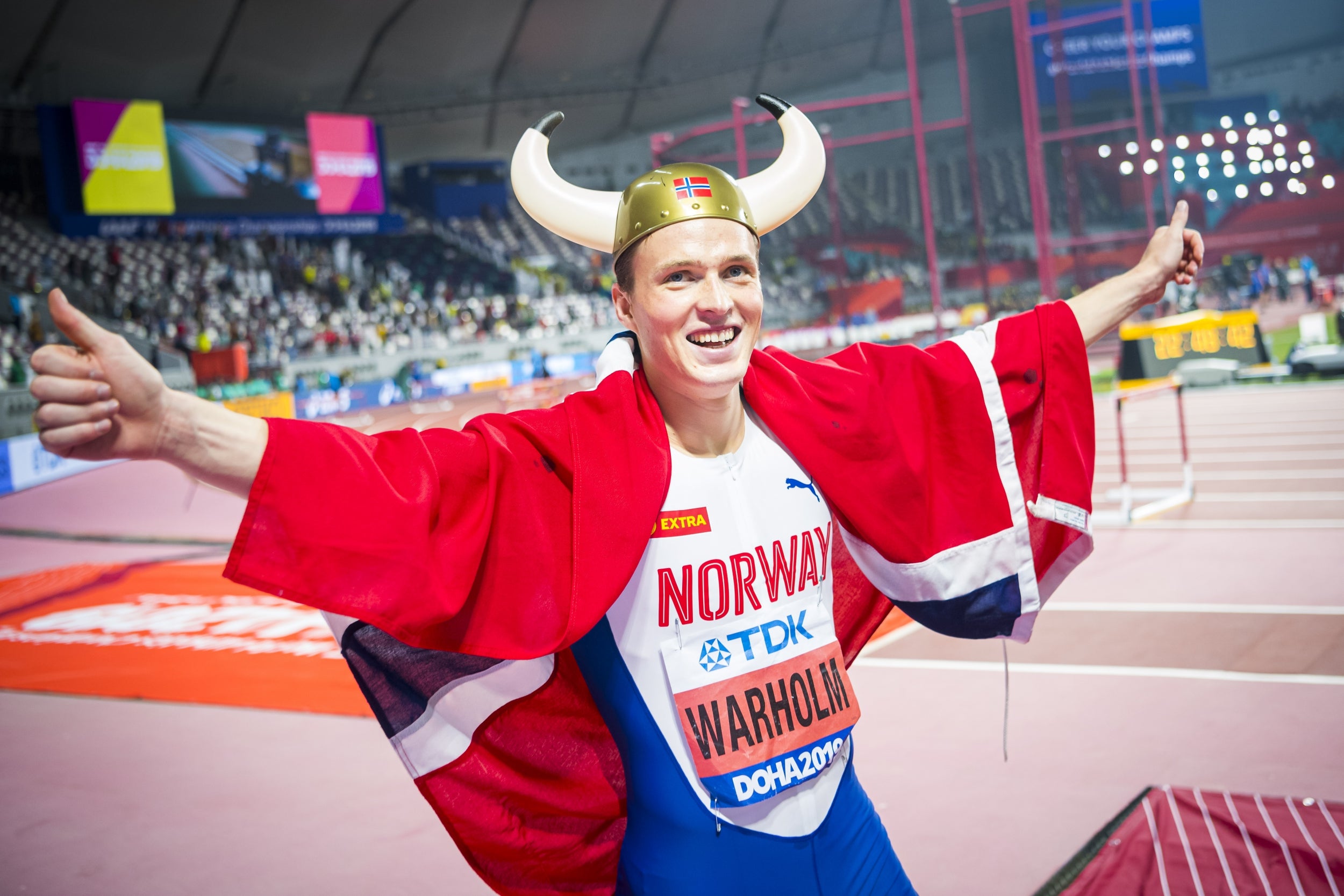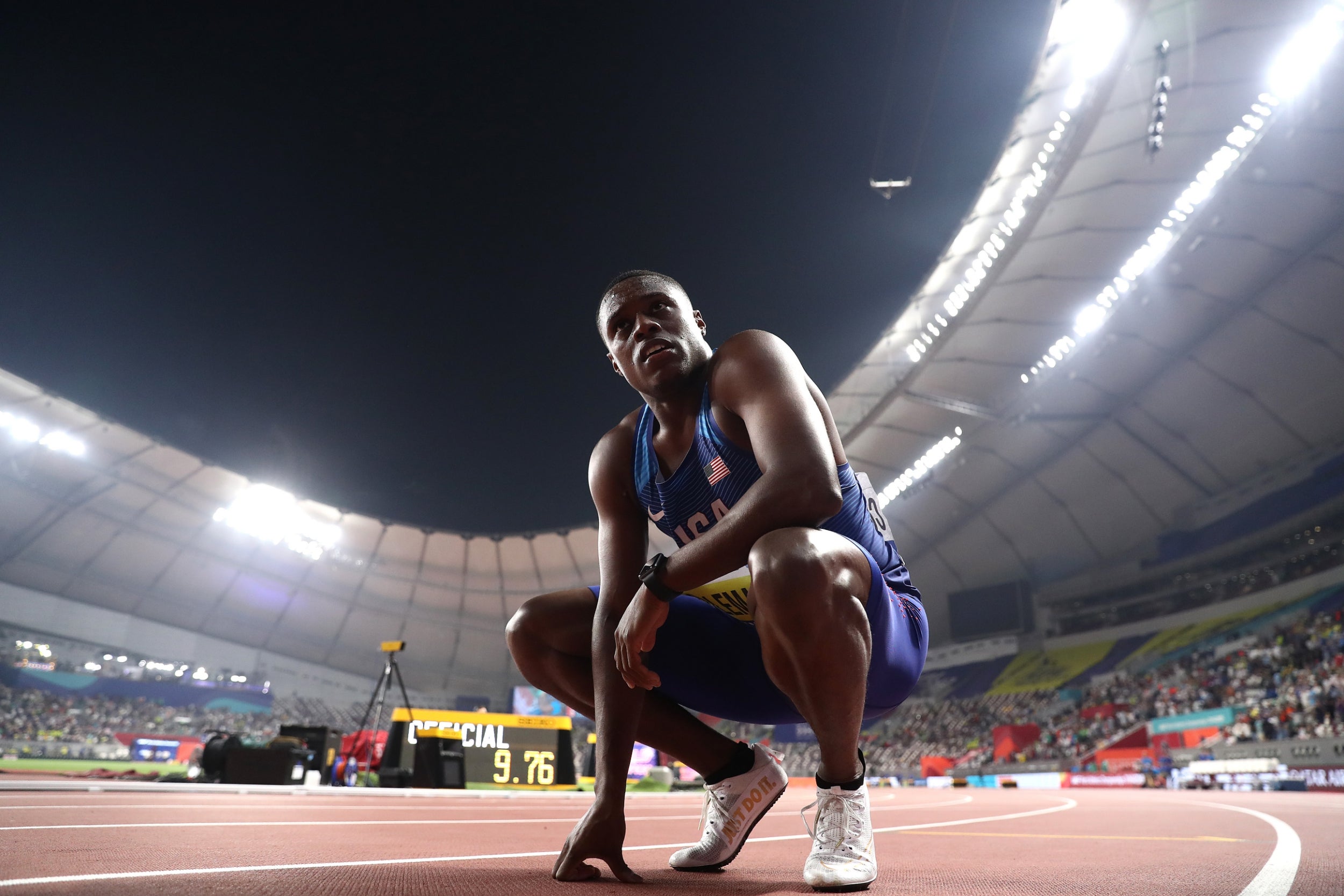 1/40

Christian Coleman, USA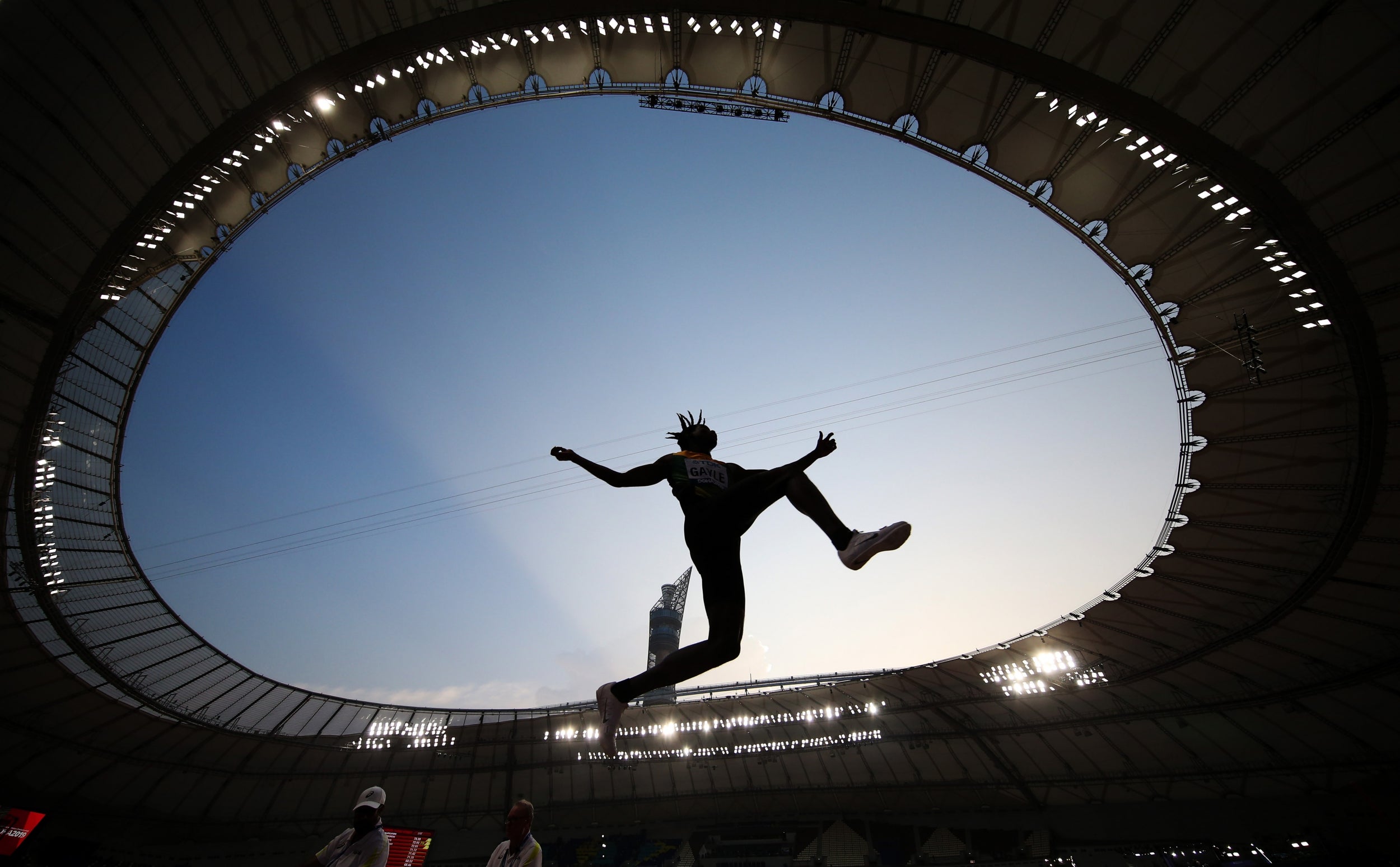 2/40

Tajay Gayle, Jamaica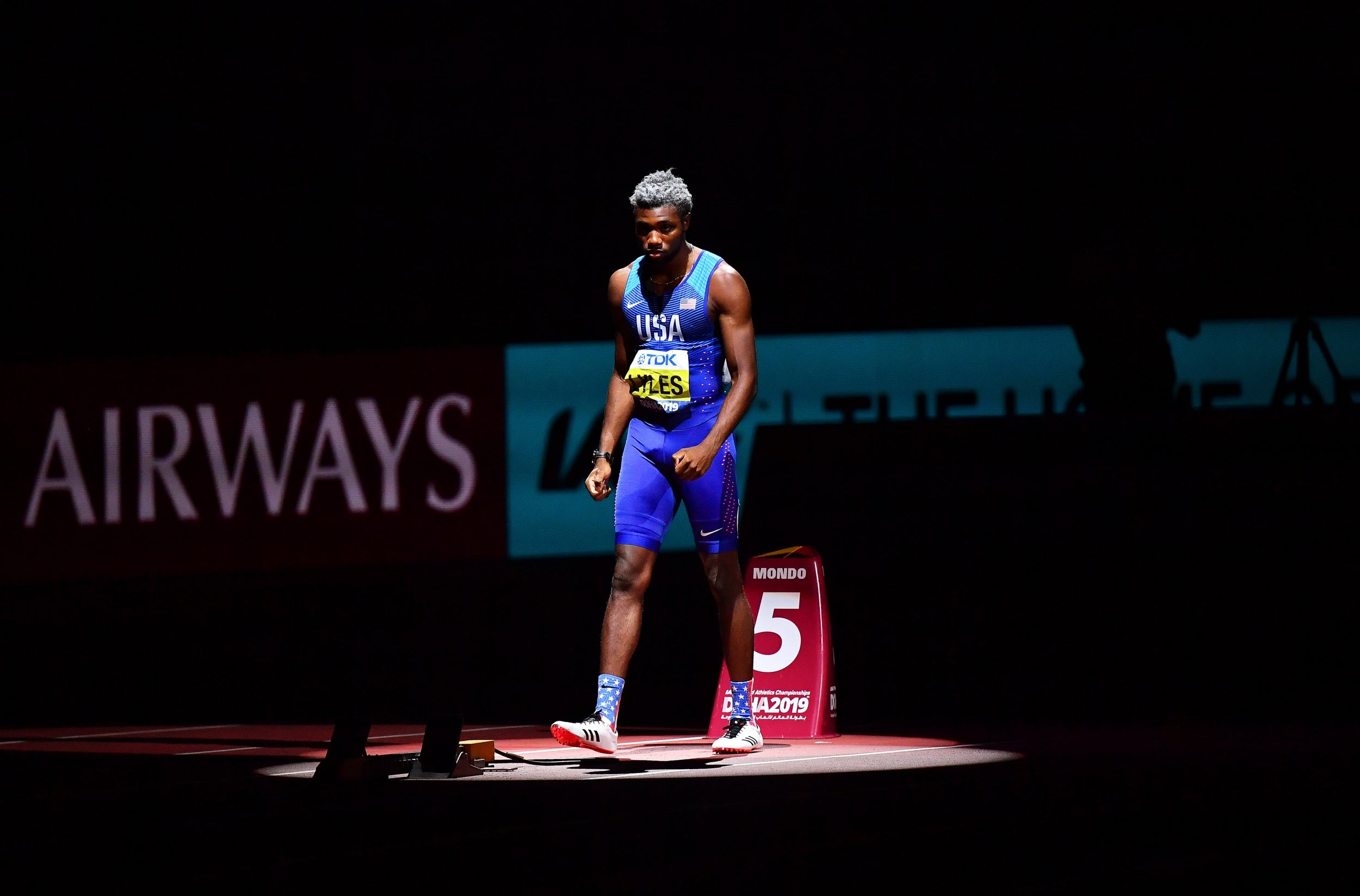 3/40

Noah Lyles, USA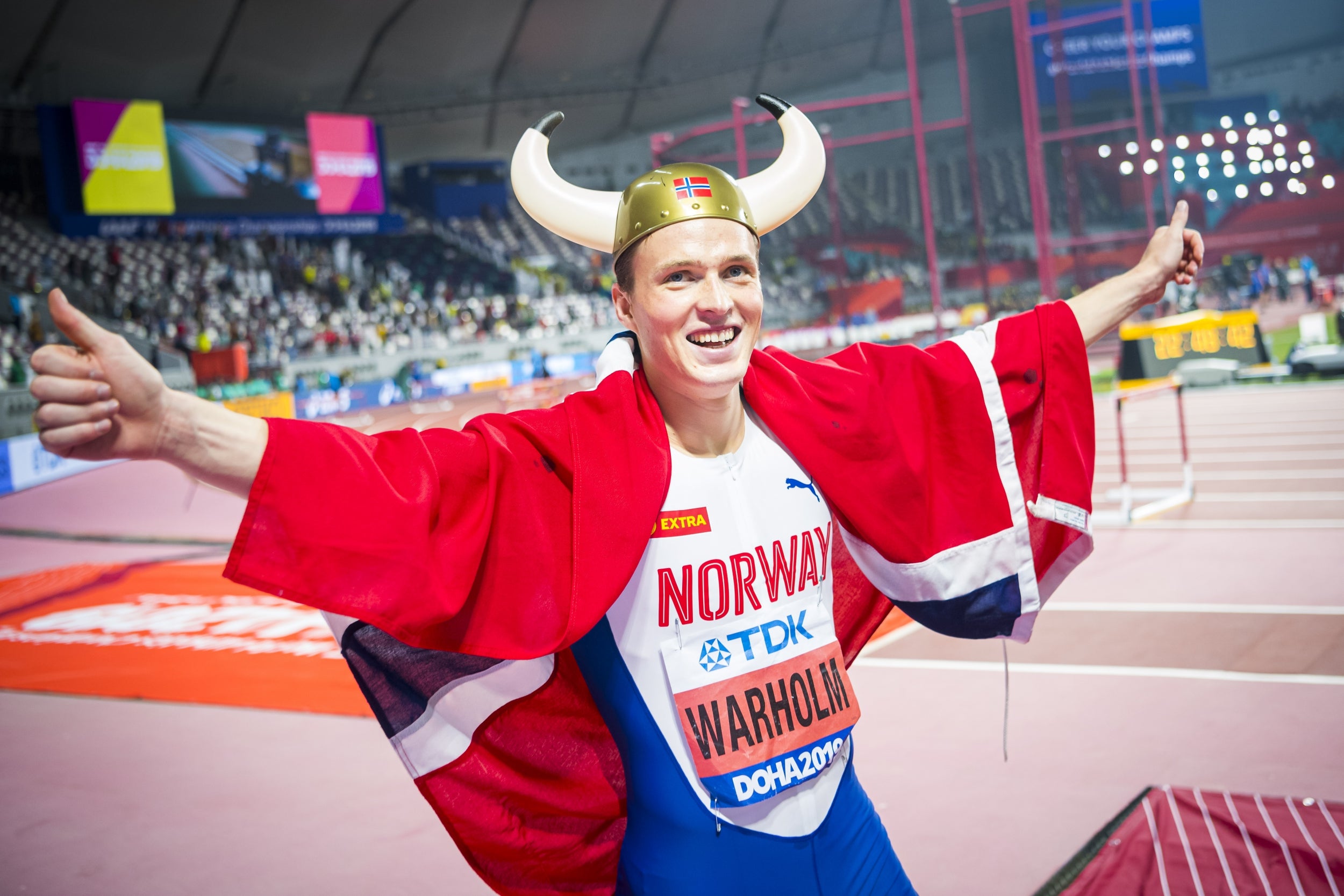 4/40

Karsten Warholm, Norway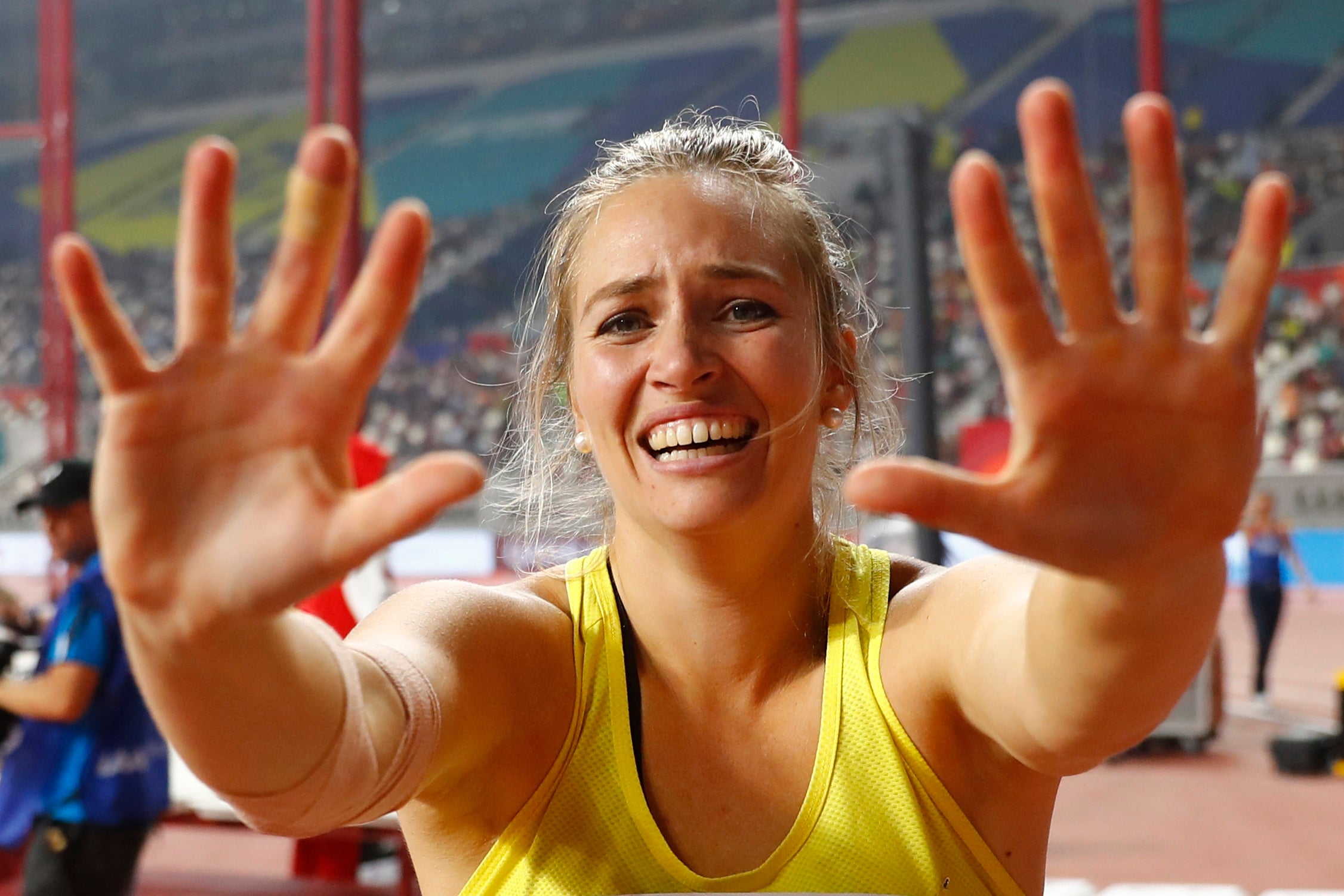 5/40

Kelsey-Lee Barber, Australia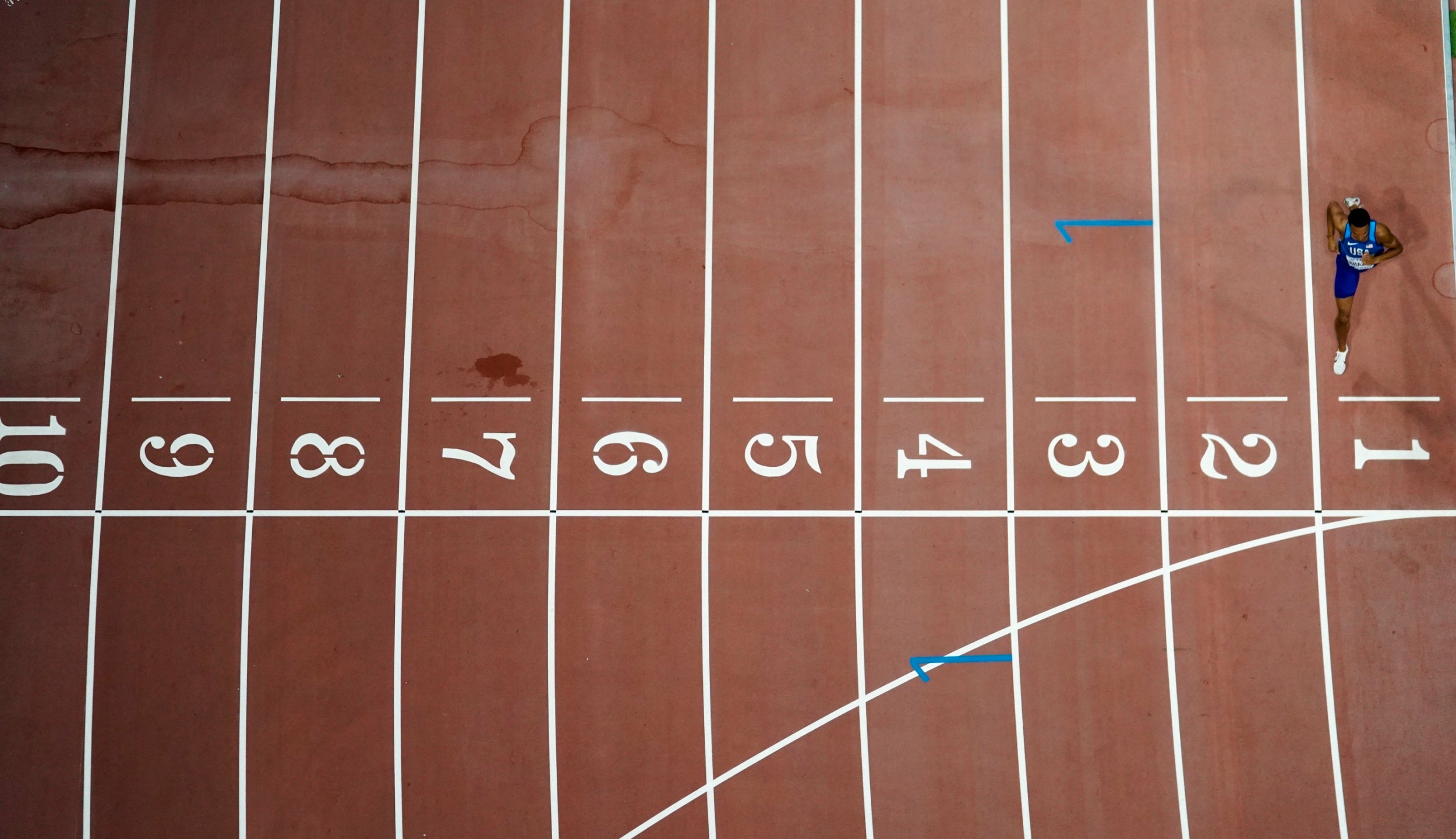 6/40

Donavan Brazier, USA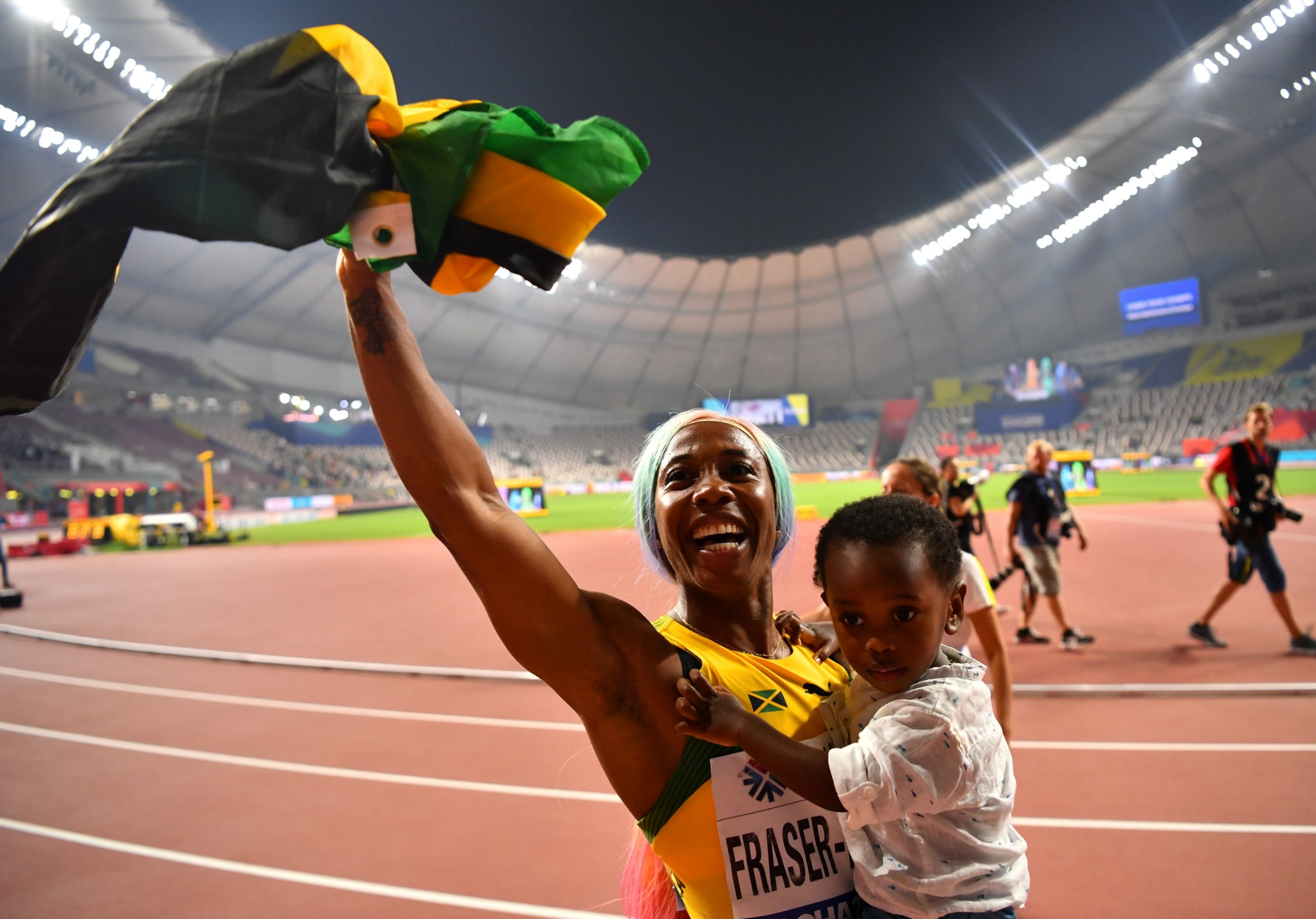 7/40

Shelly-Ann Fraser-Pryce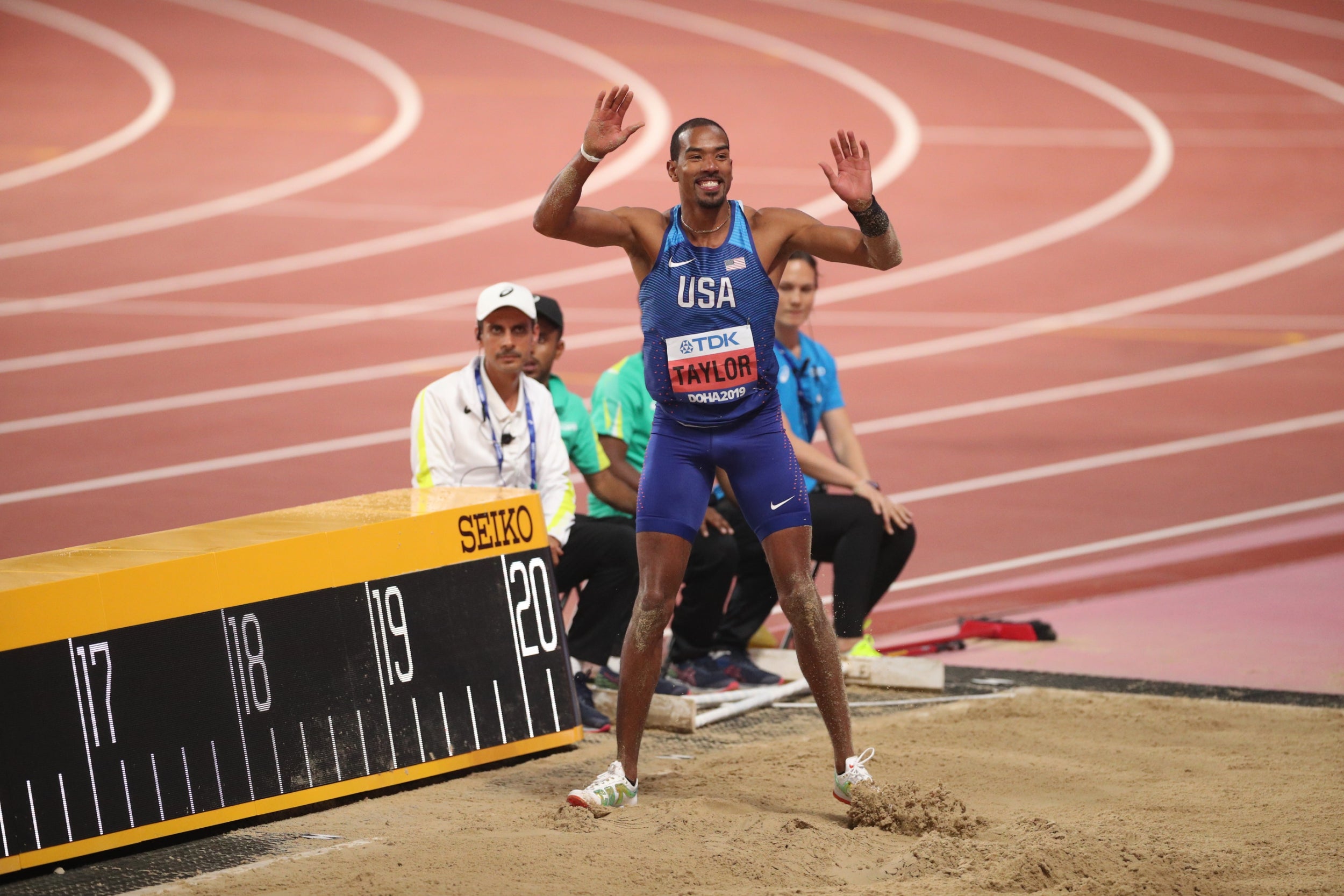 8/40

Christian Taylor, USA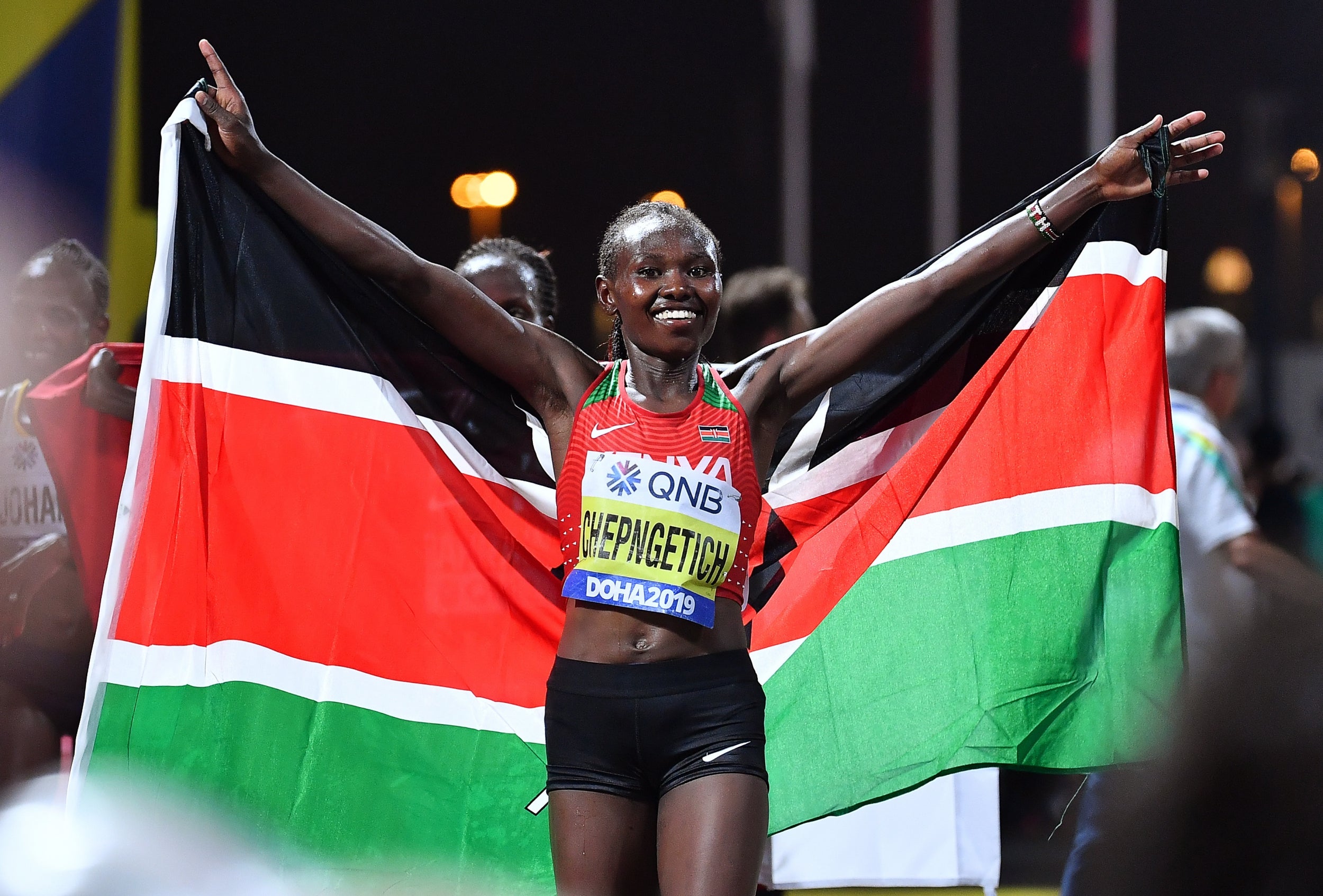 9/40

Ruth Chepngetich, Kenya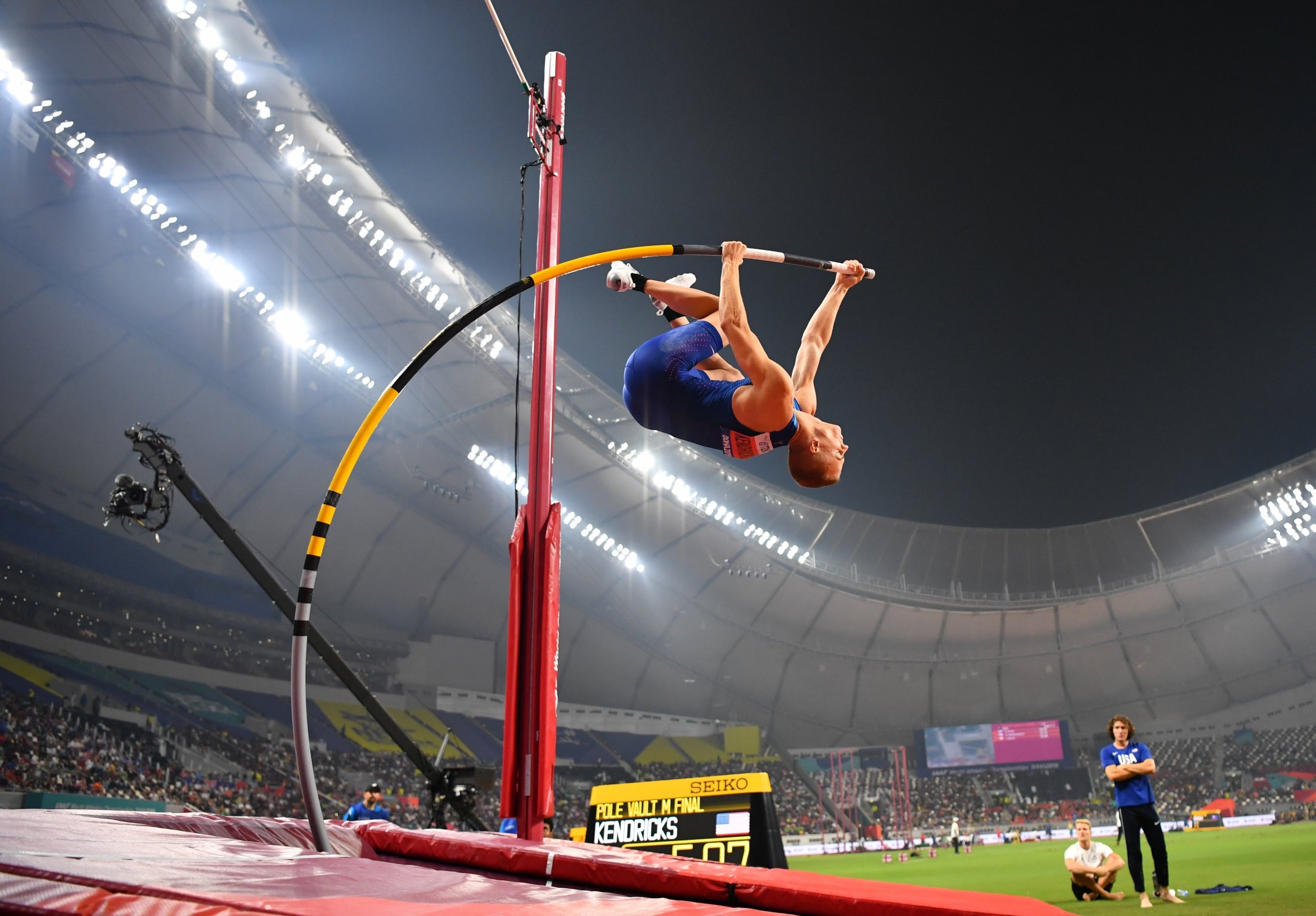 10/40

Sam Kendricks, USA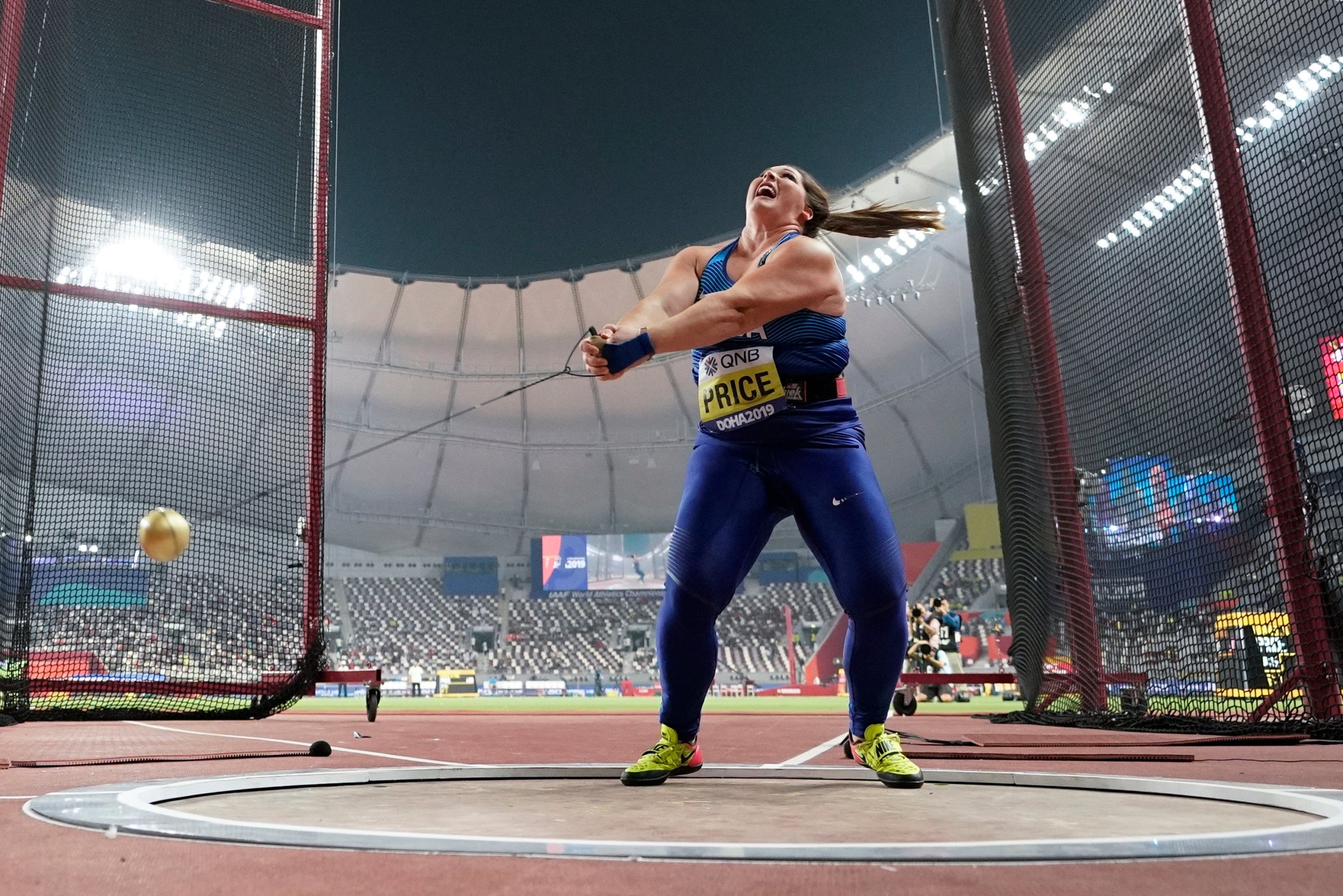 11/40

Deanna Price, USA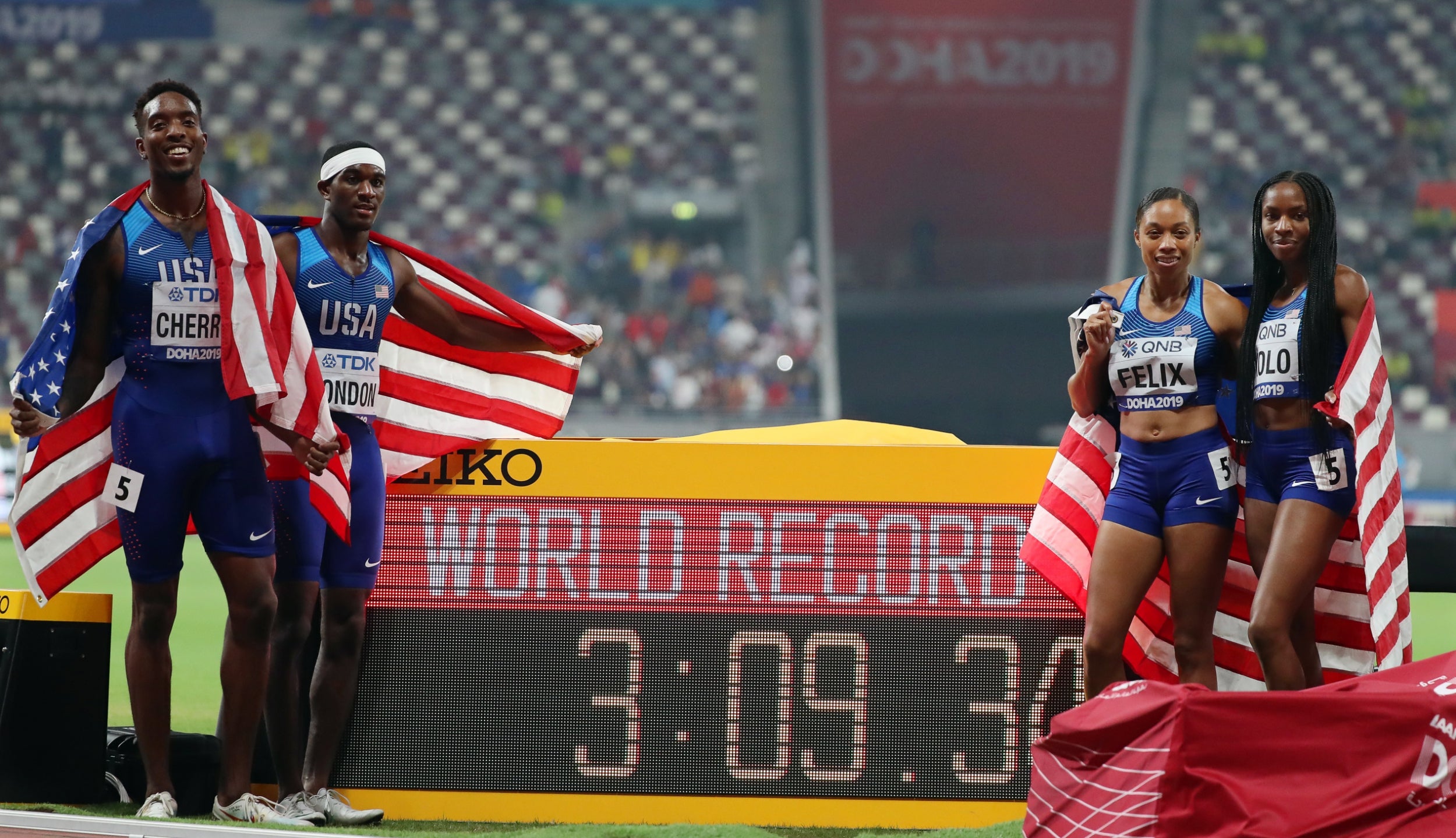 12/40

USA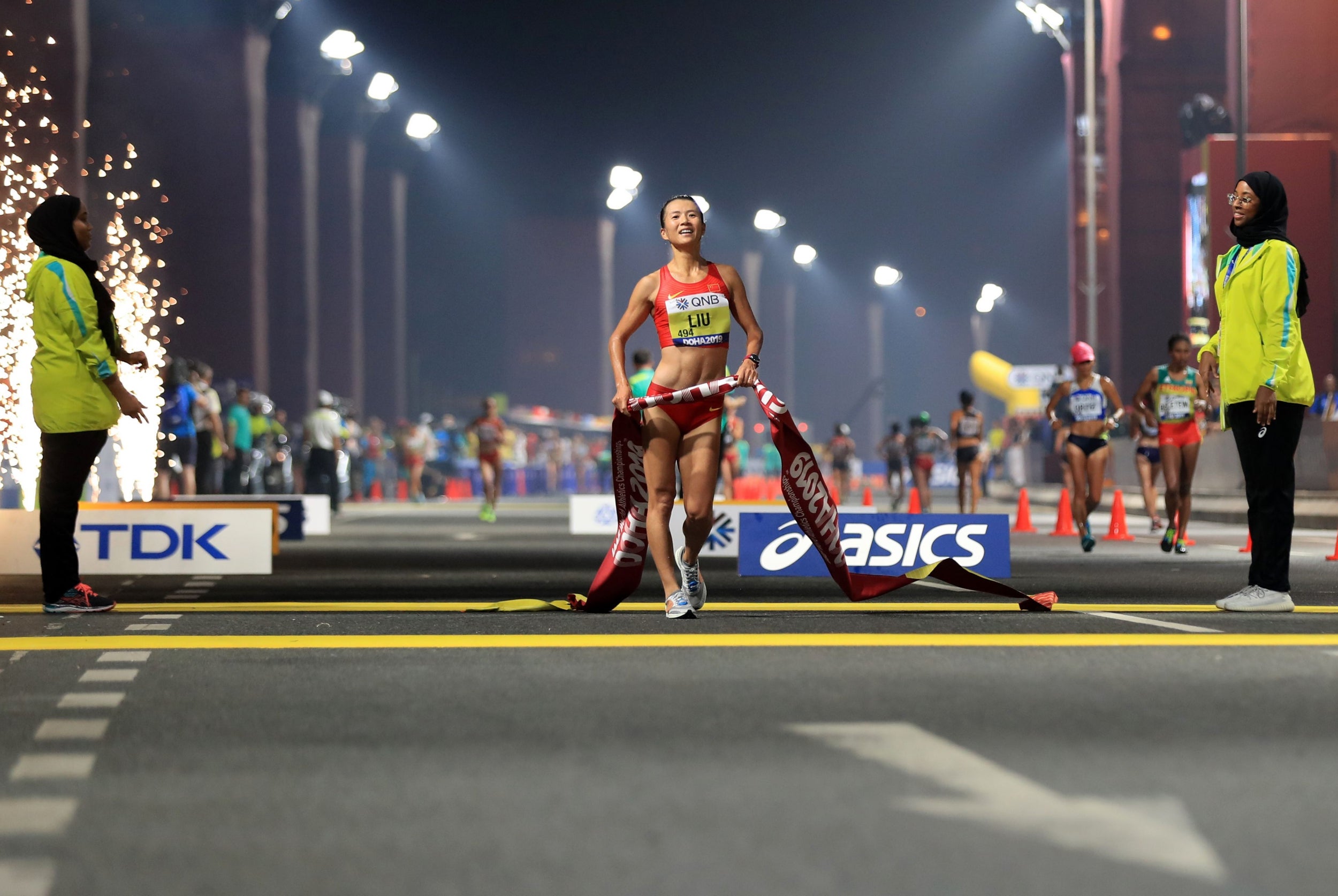 13/40

Liu Hong, China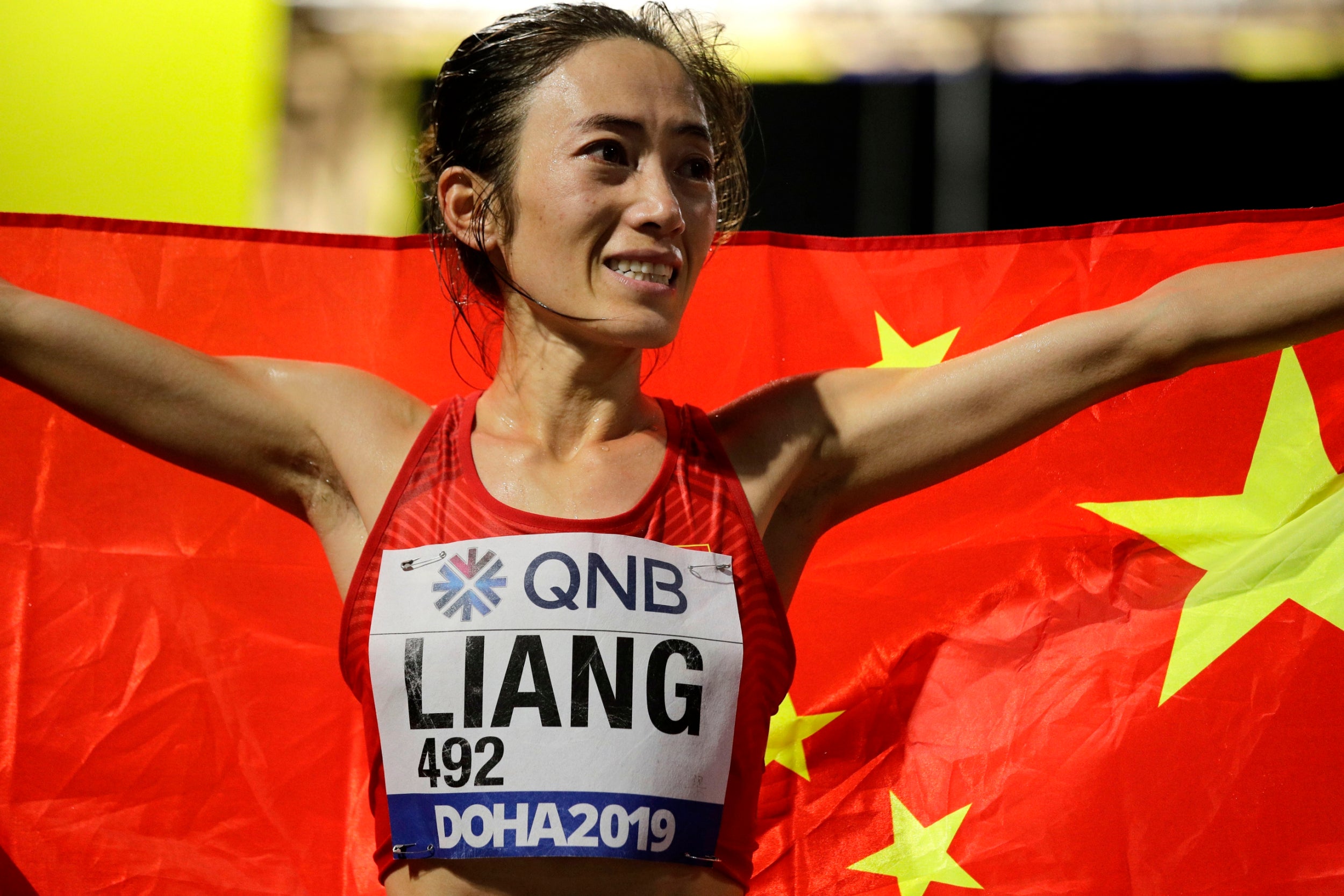 14/40

Liang Rui, China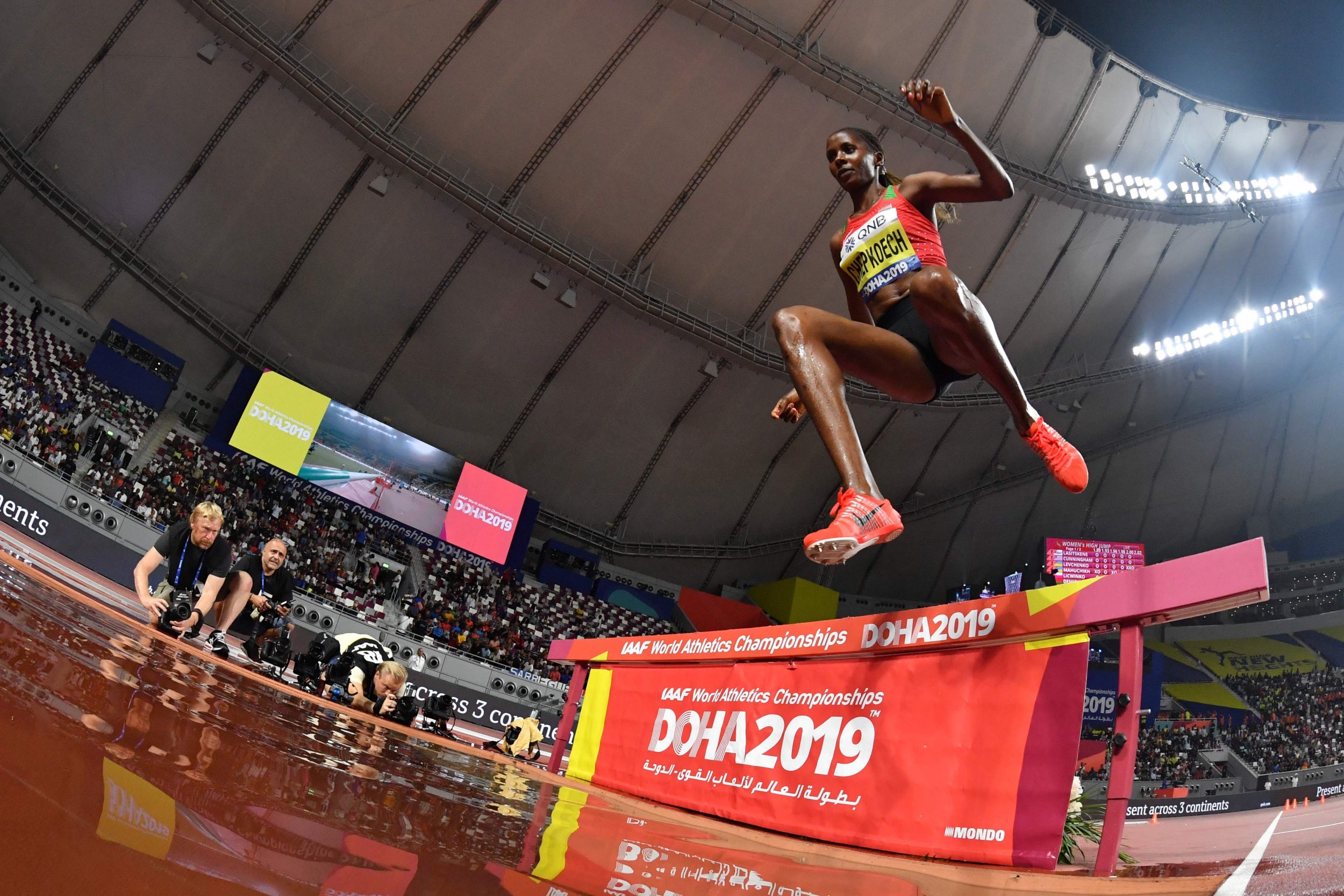 15/40

Beatrice Chepkoech, Kenya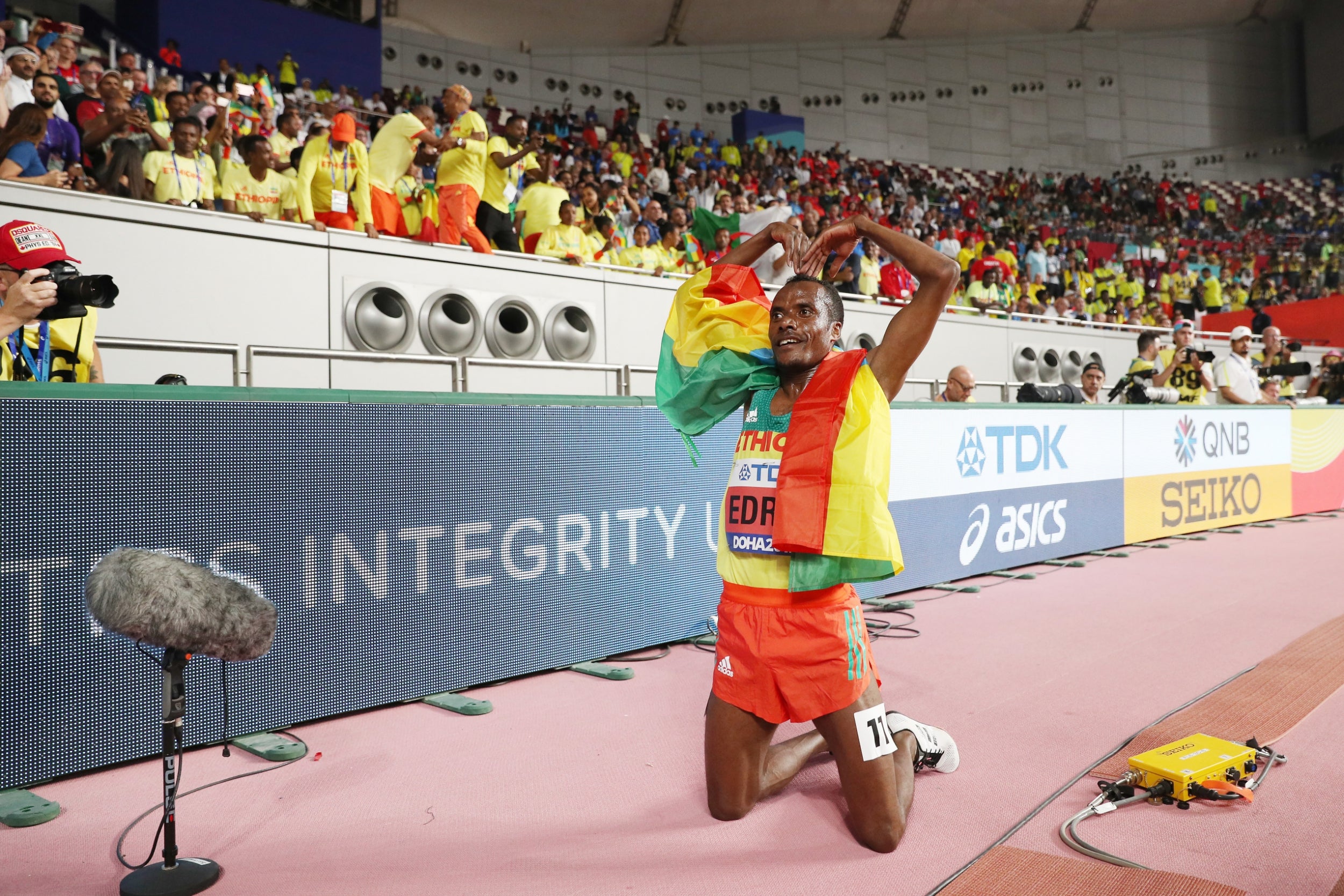 16/40

Muktar Edris, Ethiopia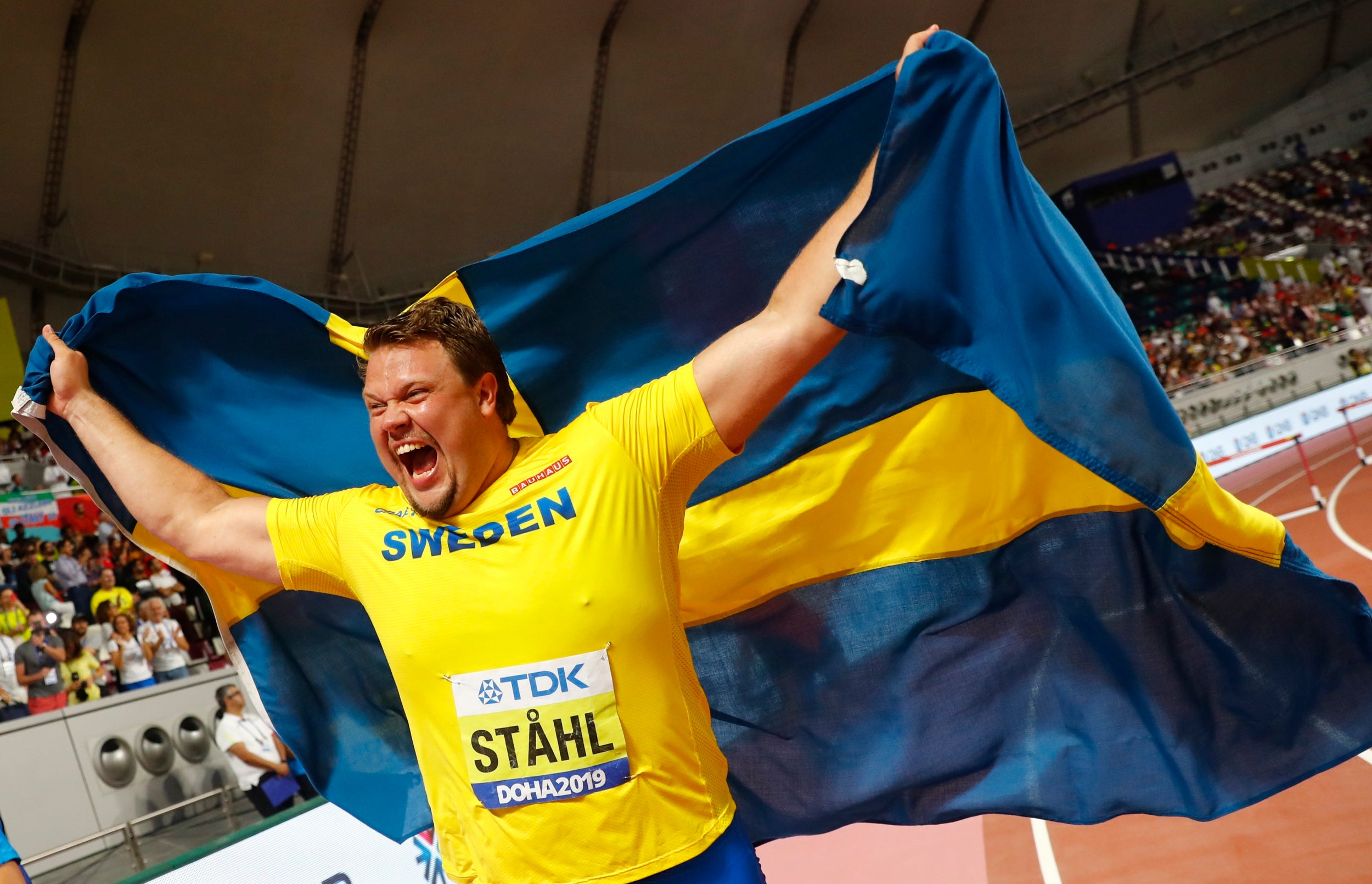 17/40

Daniel Stahl, Sweden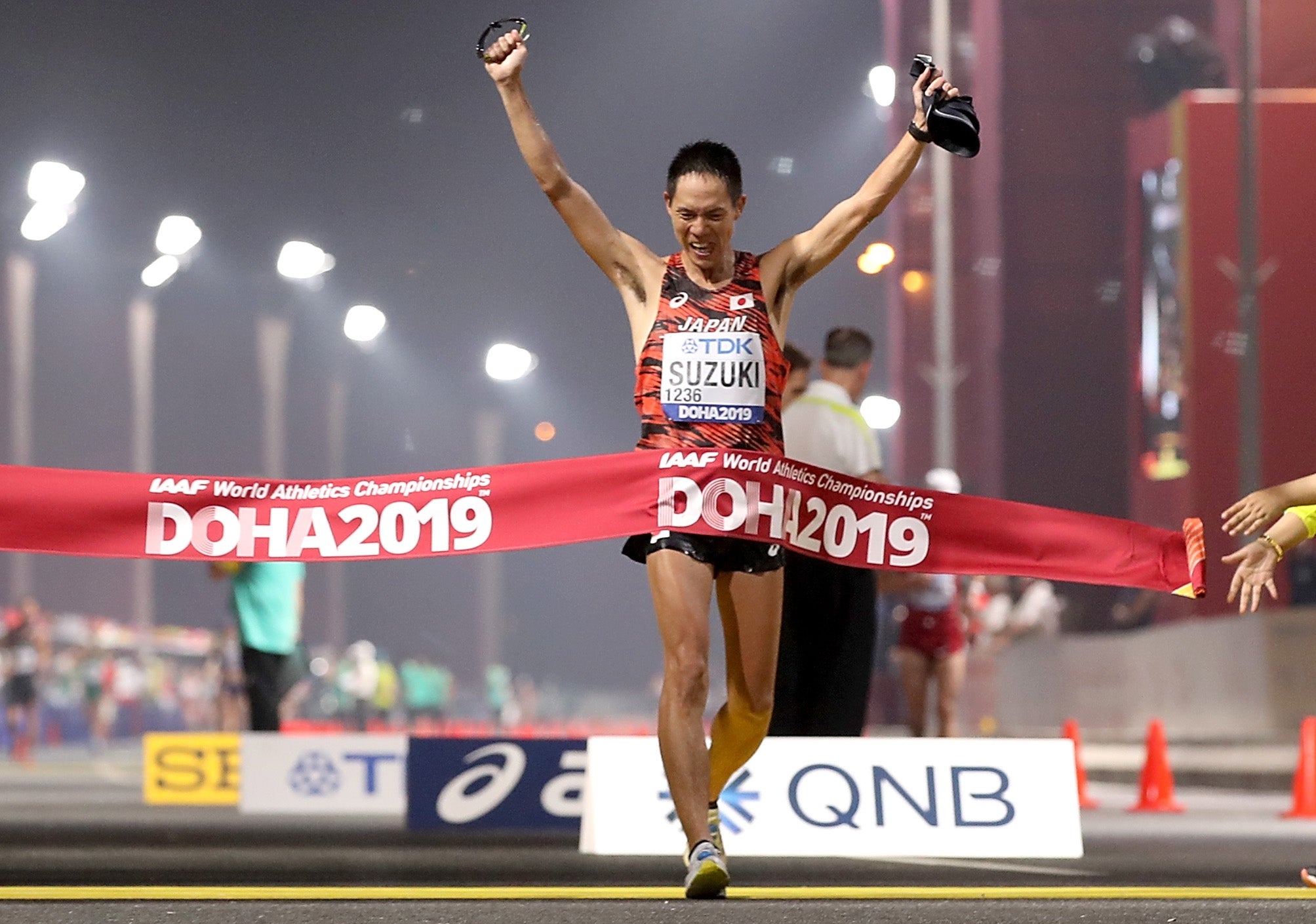 18/40

Yusuke Suzuki, Japan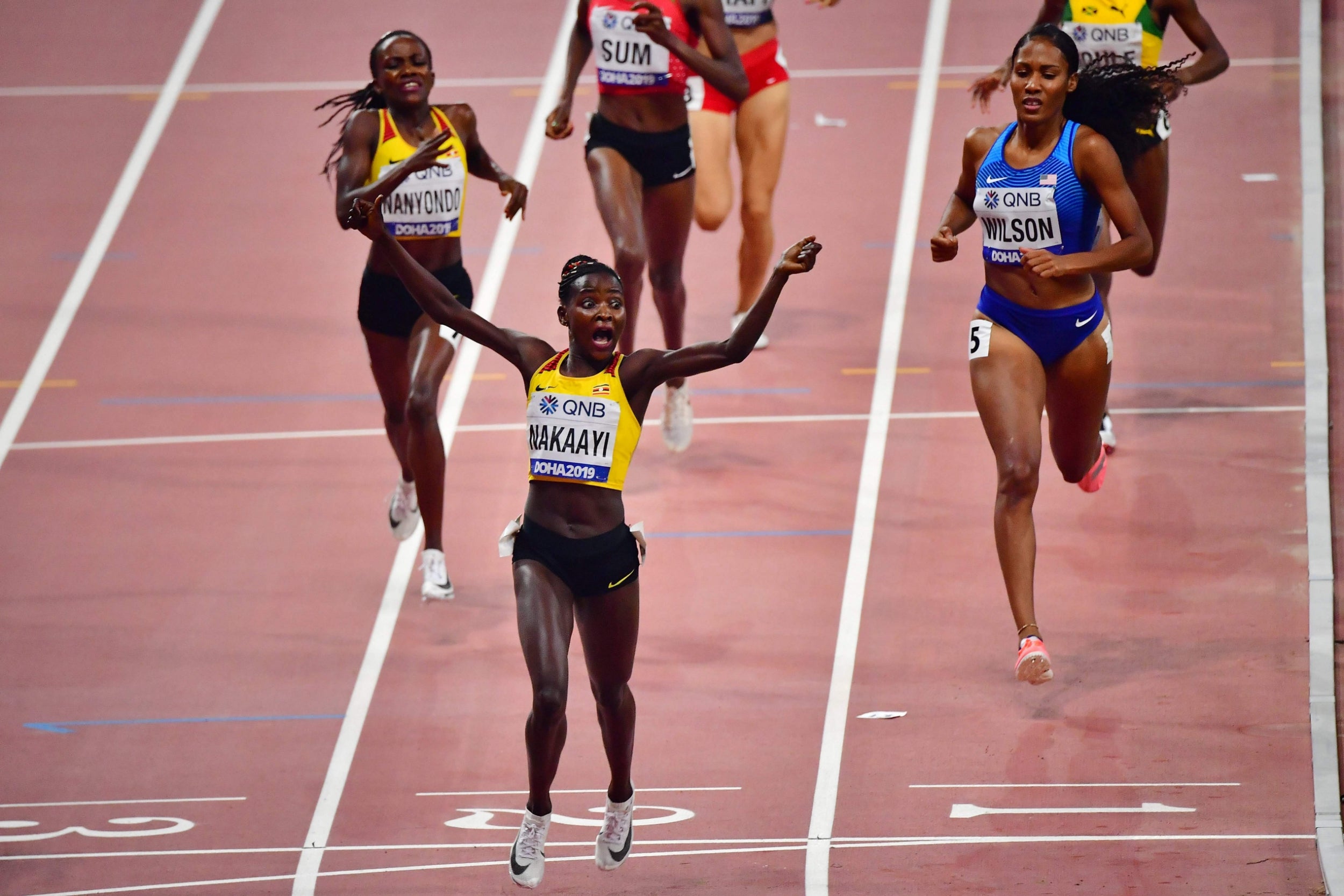 19/40

Halimah Nakaayi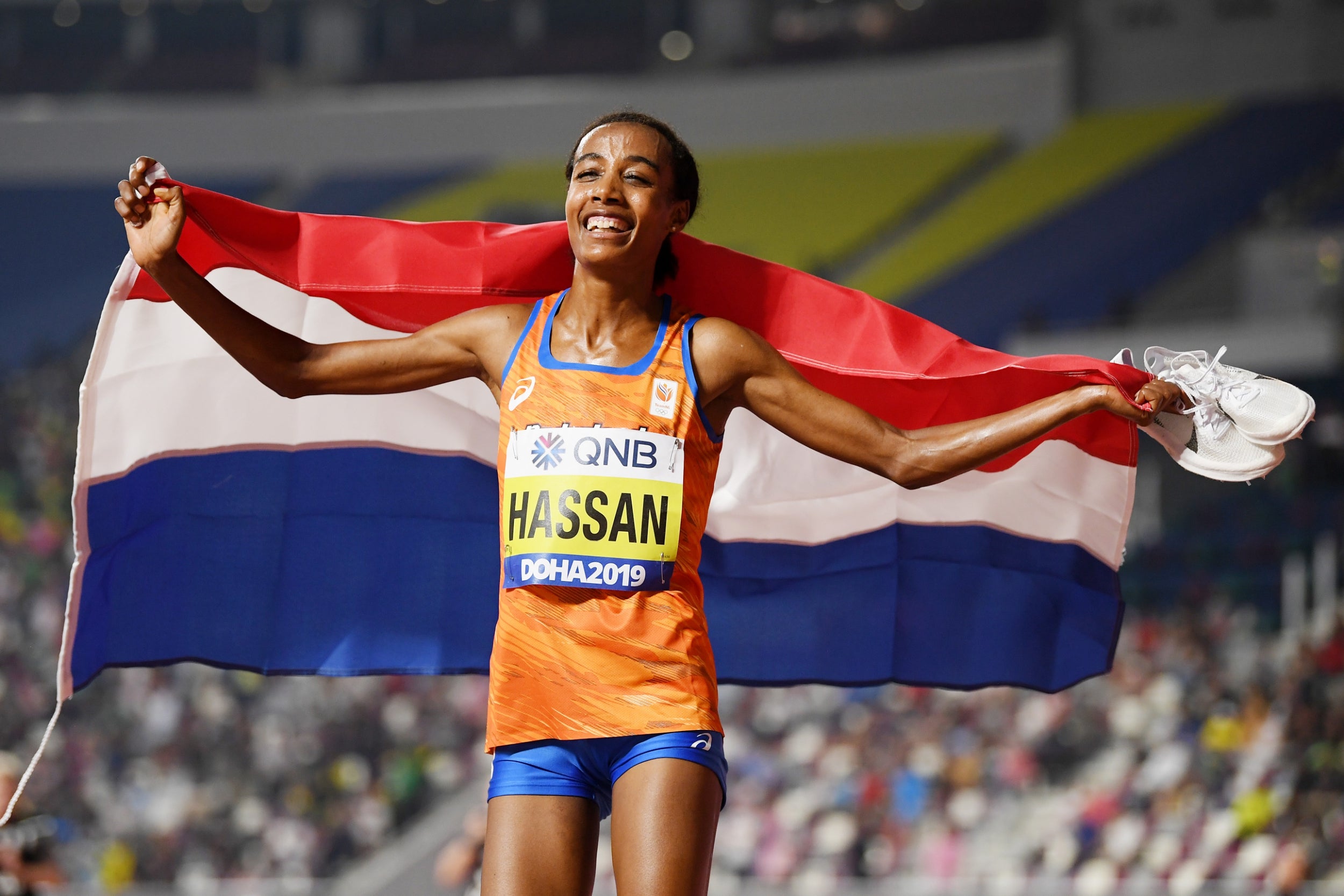 20/40

Sifan Hassan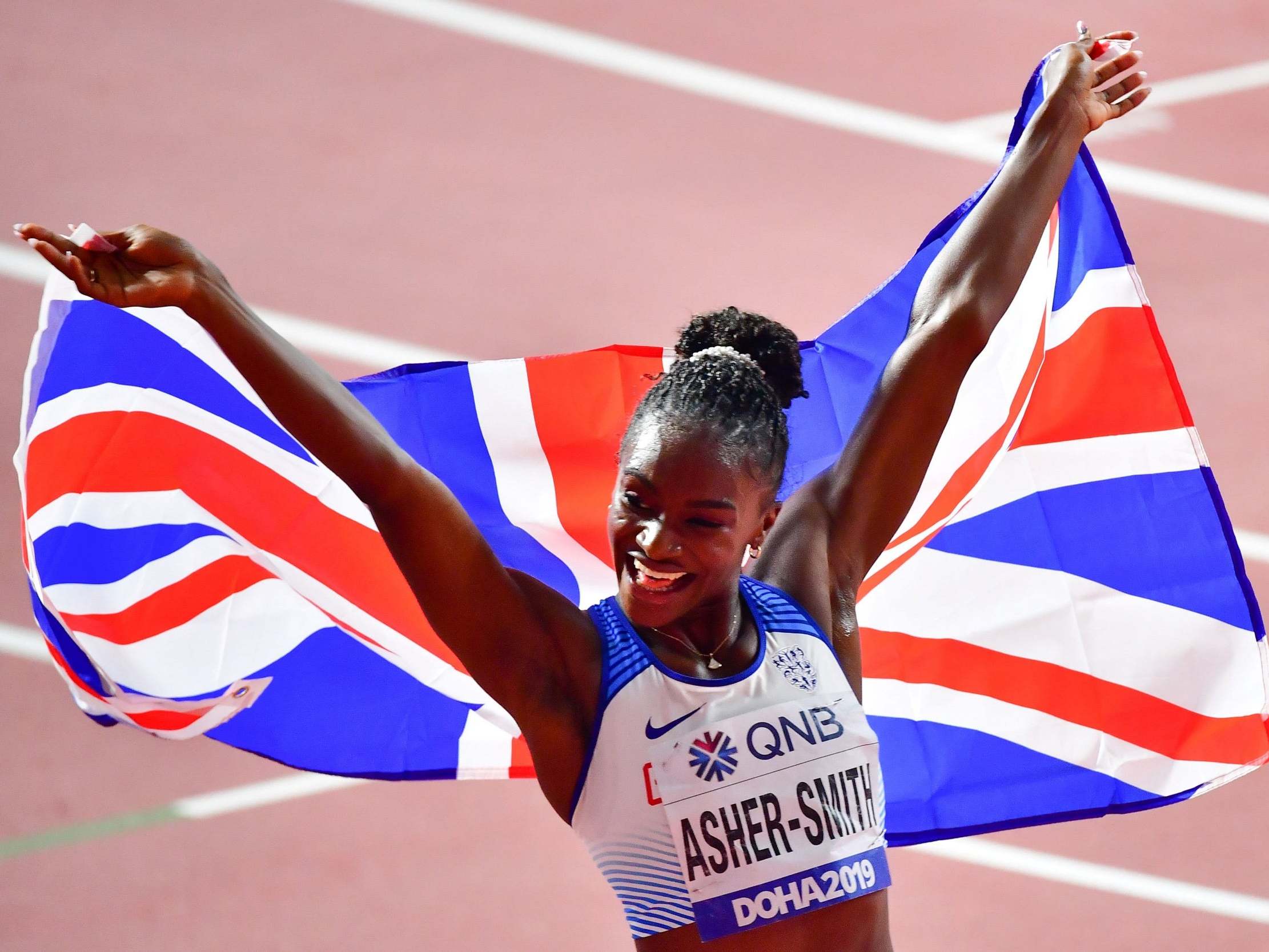 21/40

Dina Asher-Smith, Great Britain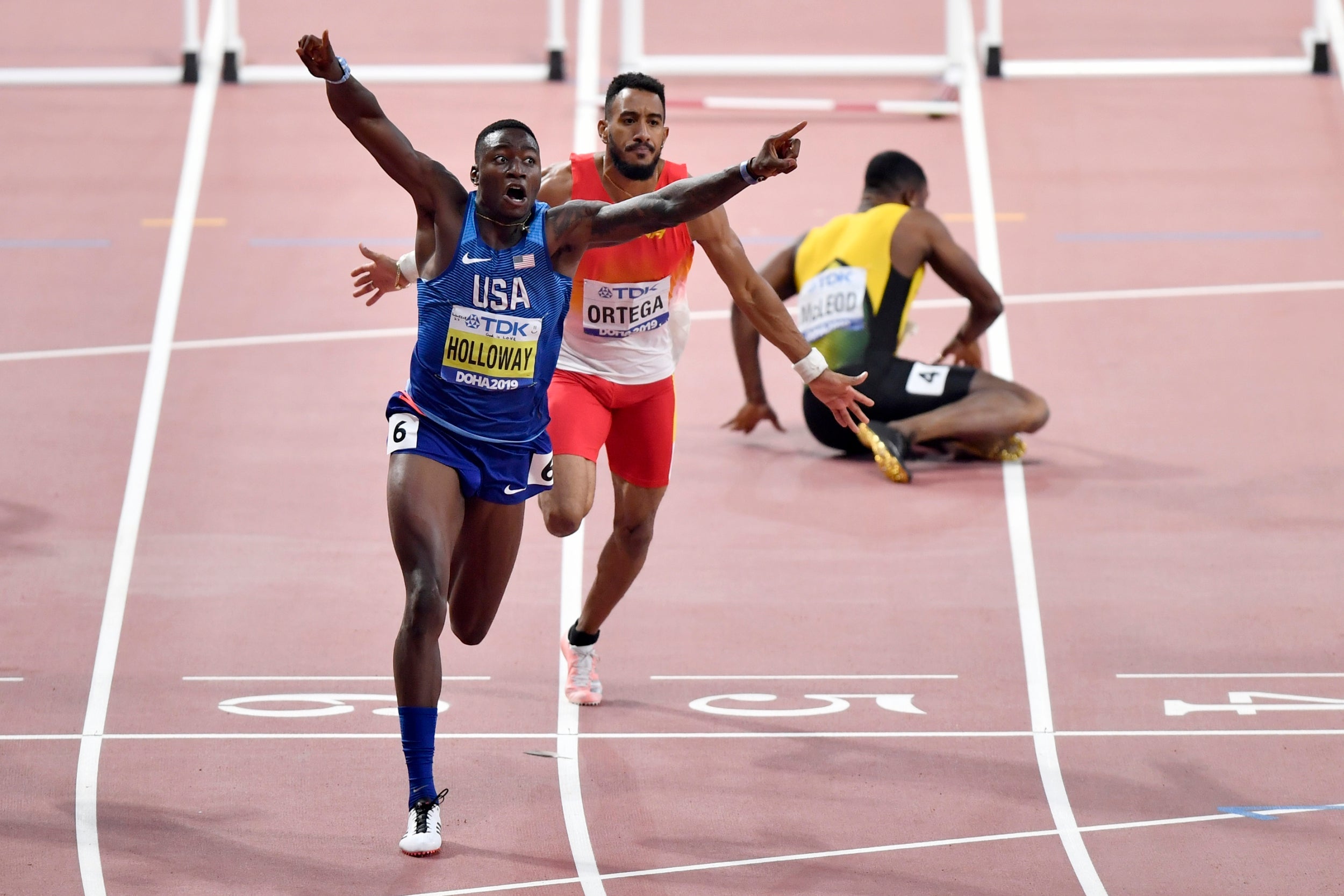 22/40

Grant Holloway, USA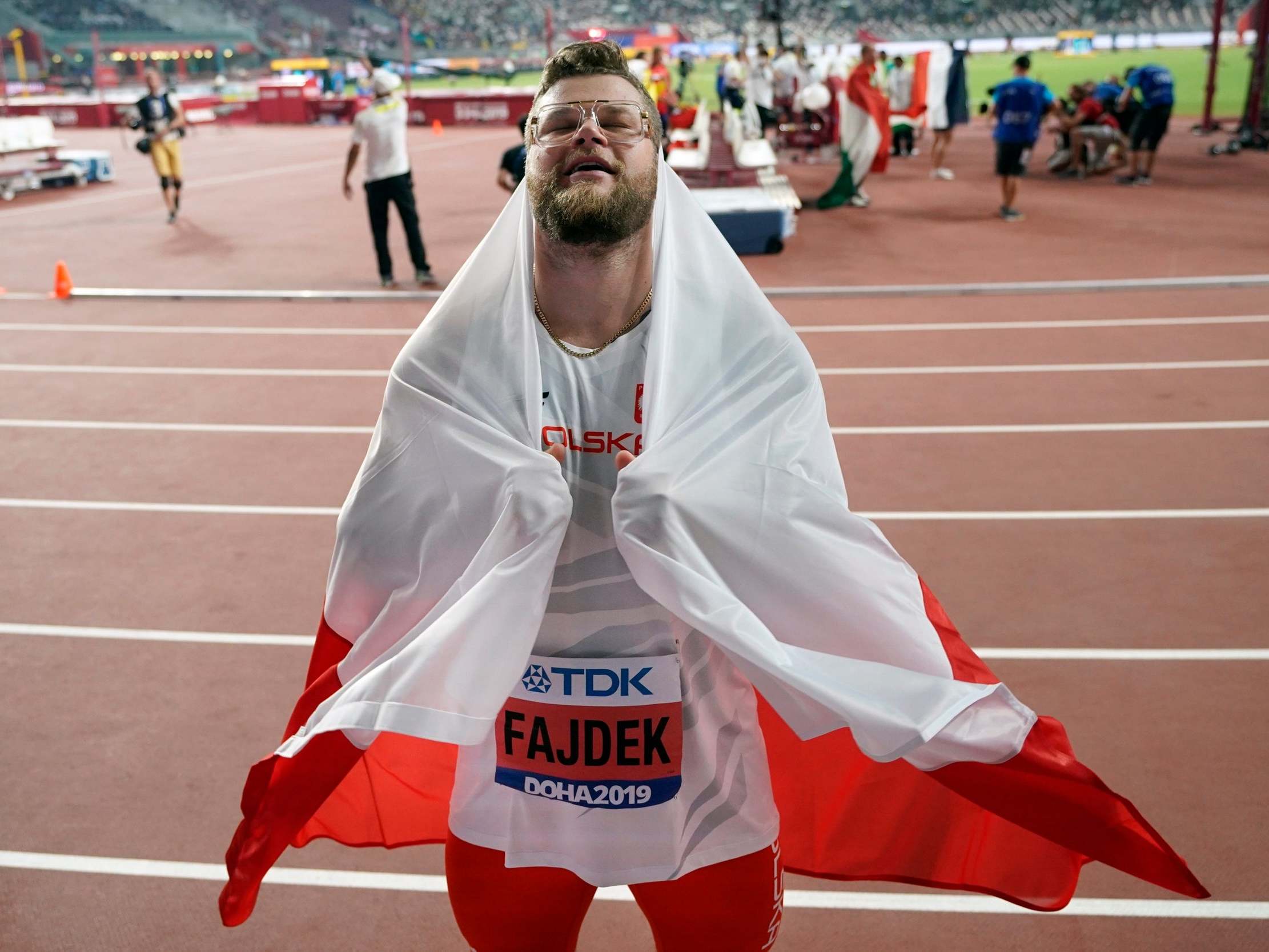 23/40

Pawel Fajdek, Poland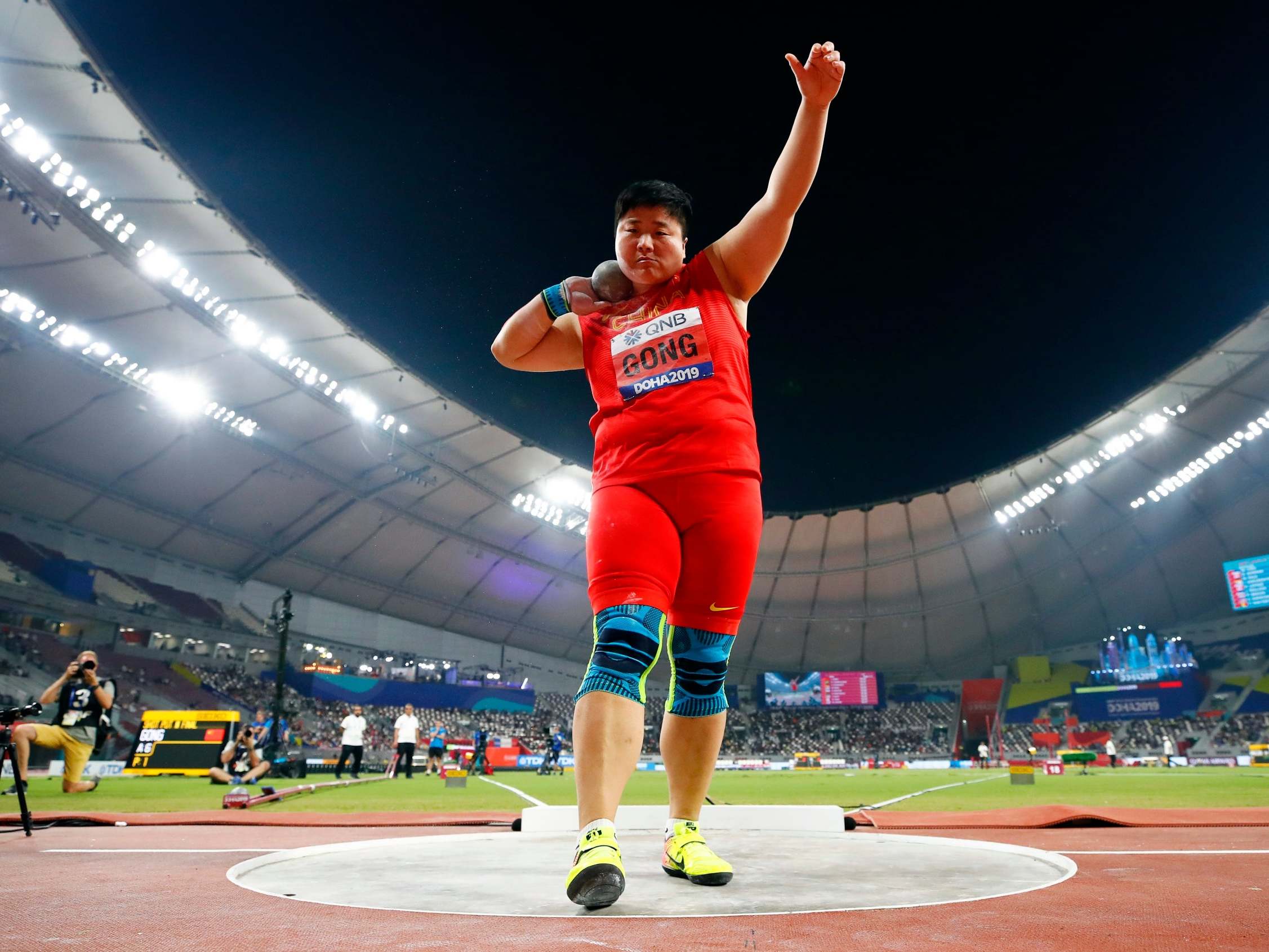 24/40

Lijiao Gong, China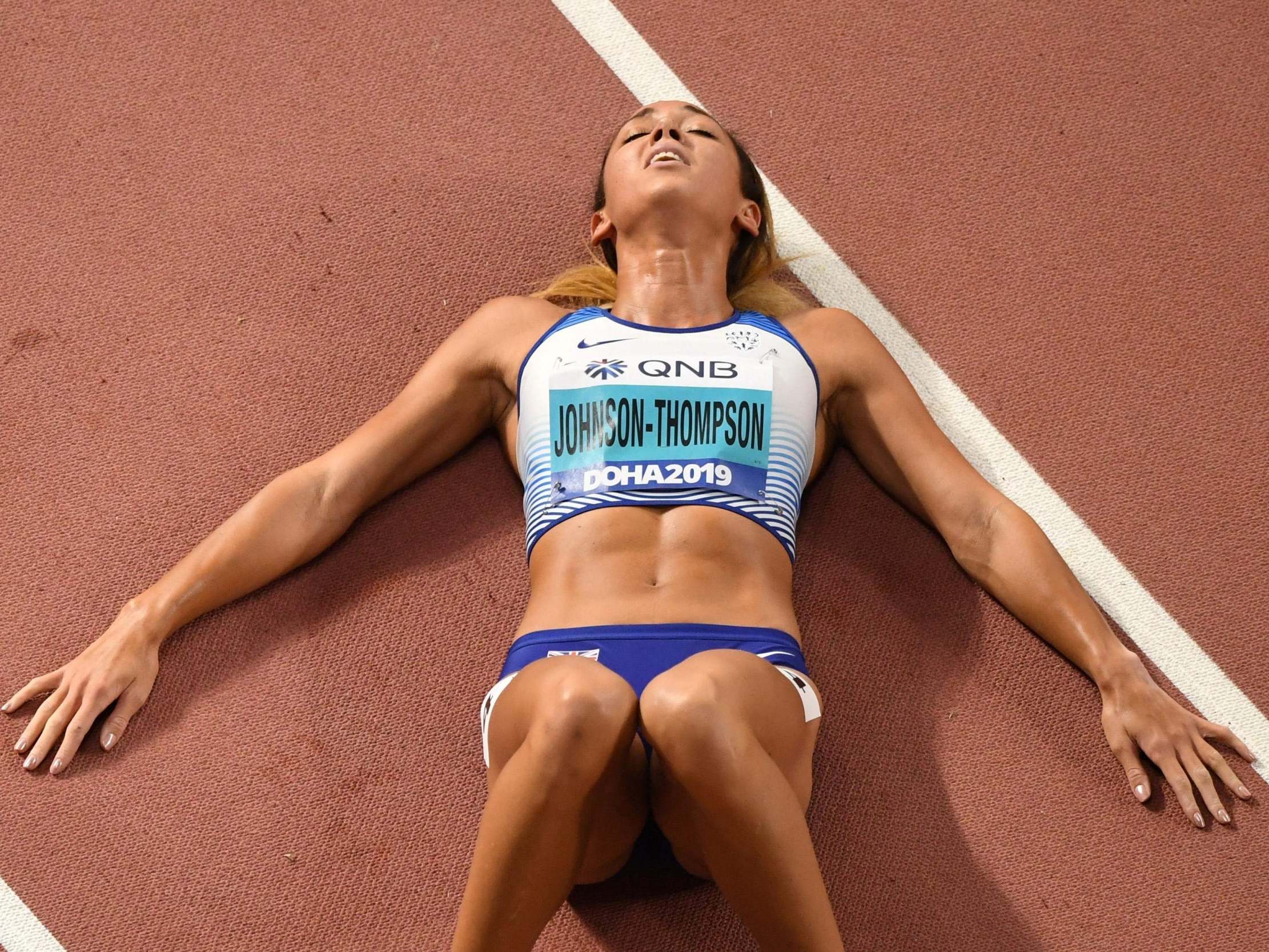 25/40

Katarina Johnson-Thompson, Great Britain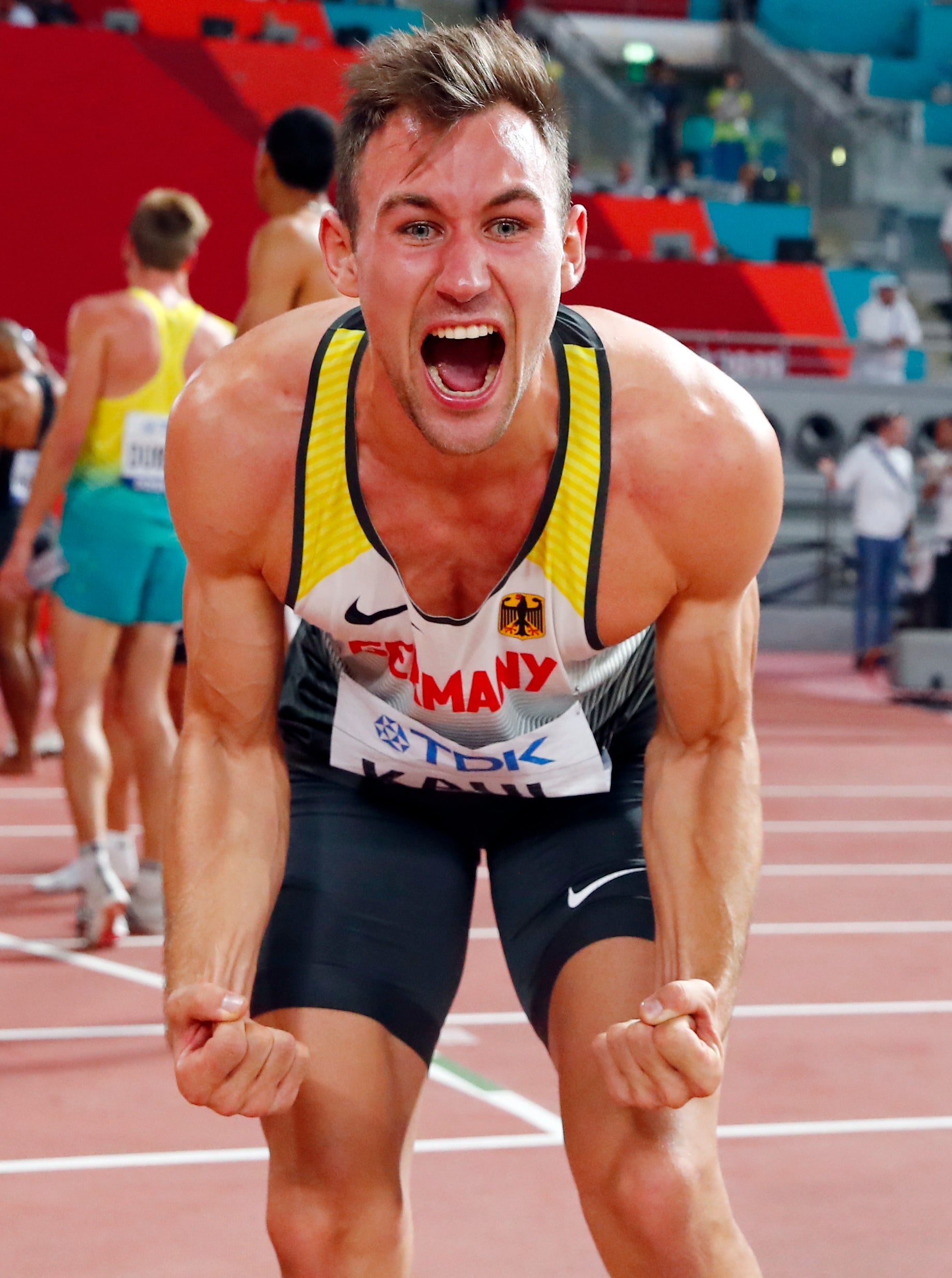 26/40

Niklas Kaul, Germany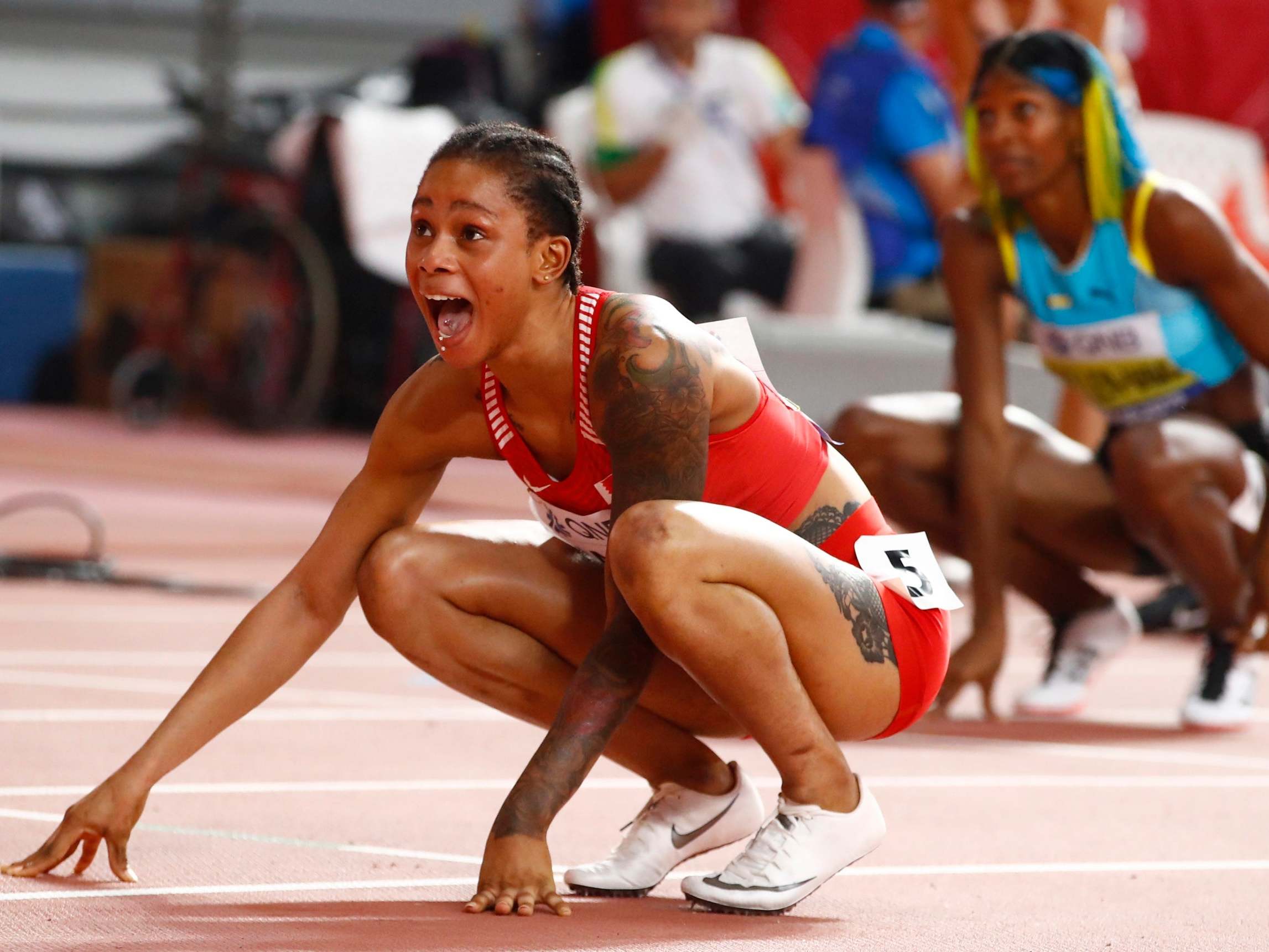 27/40

Salwa Eid Naser, Bahrain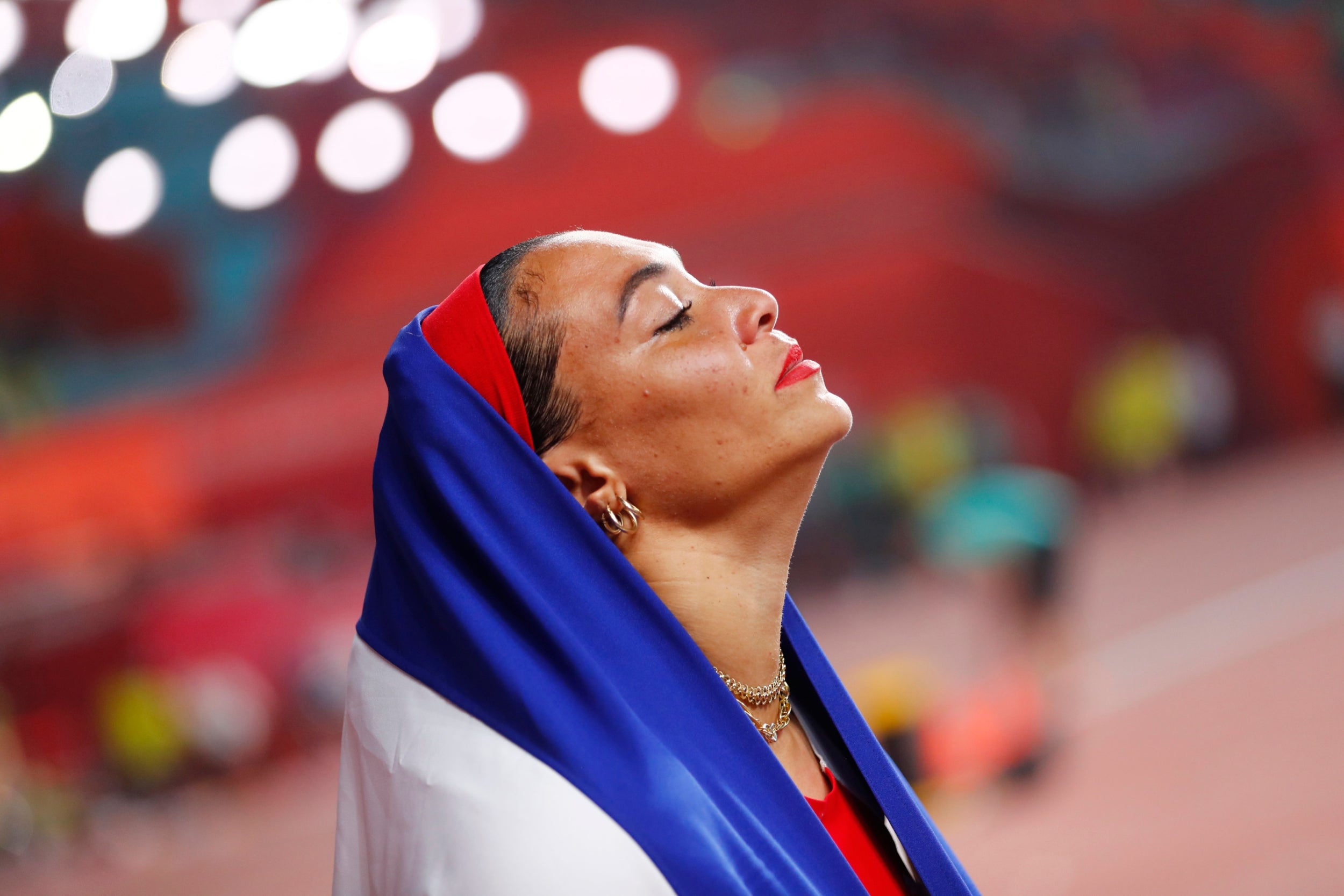 28/40

Yaimea Perez, Cuba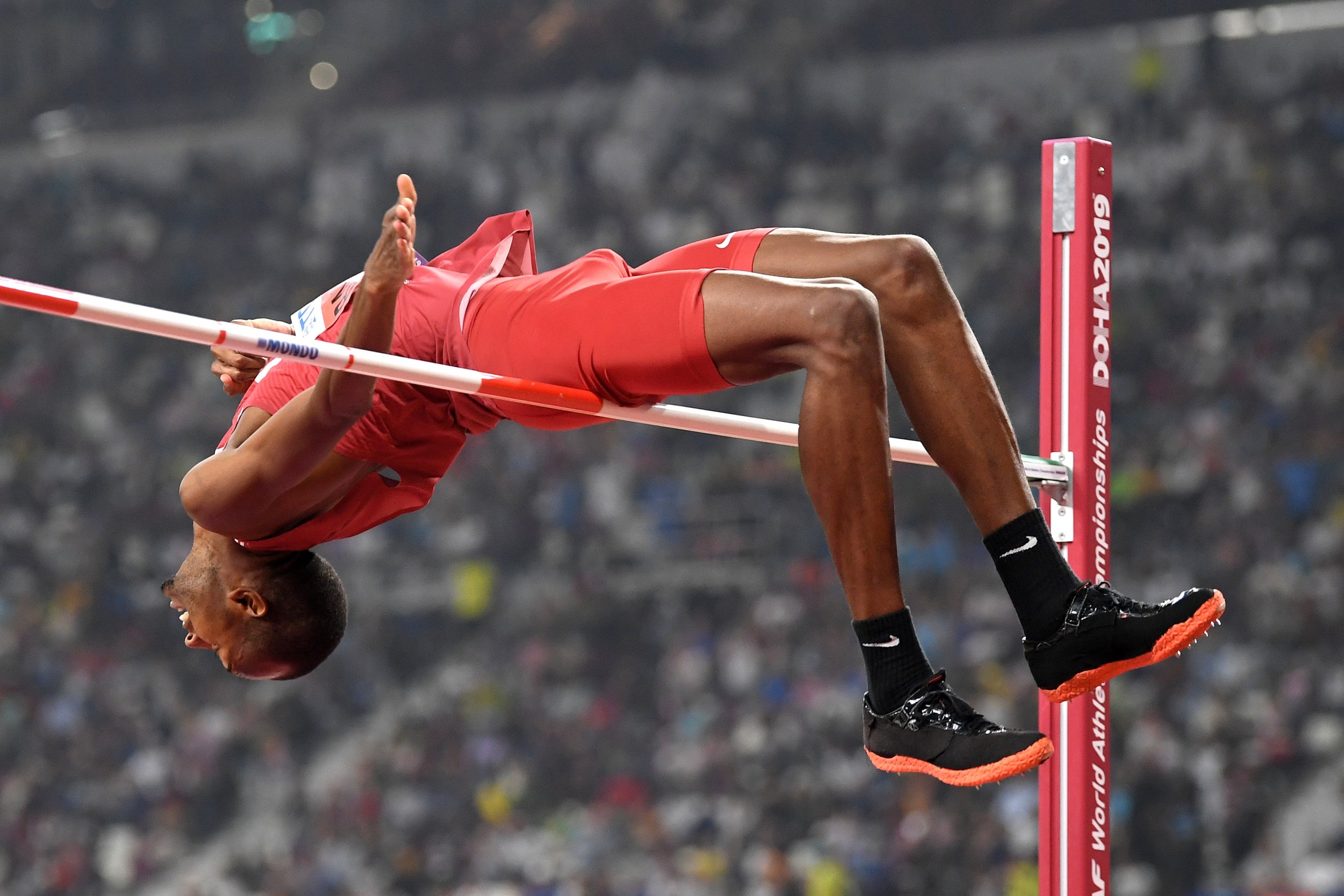 29/40

Mutaz Essa Barshim, Qatar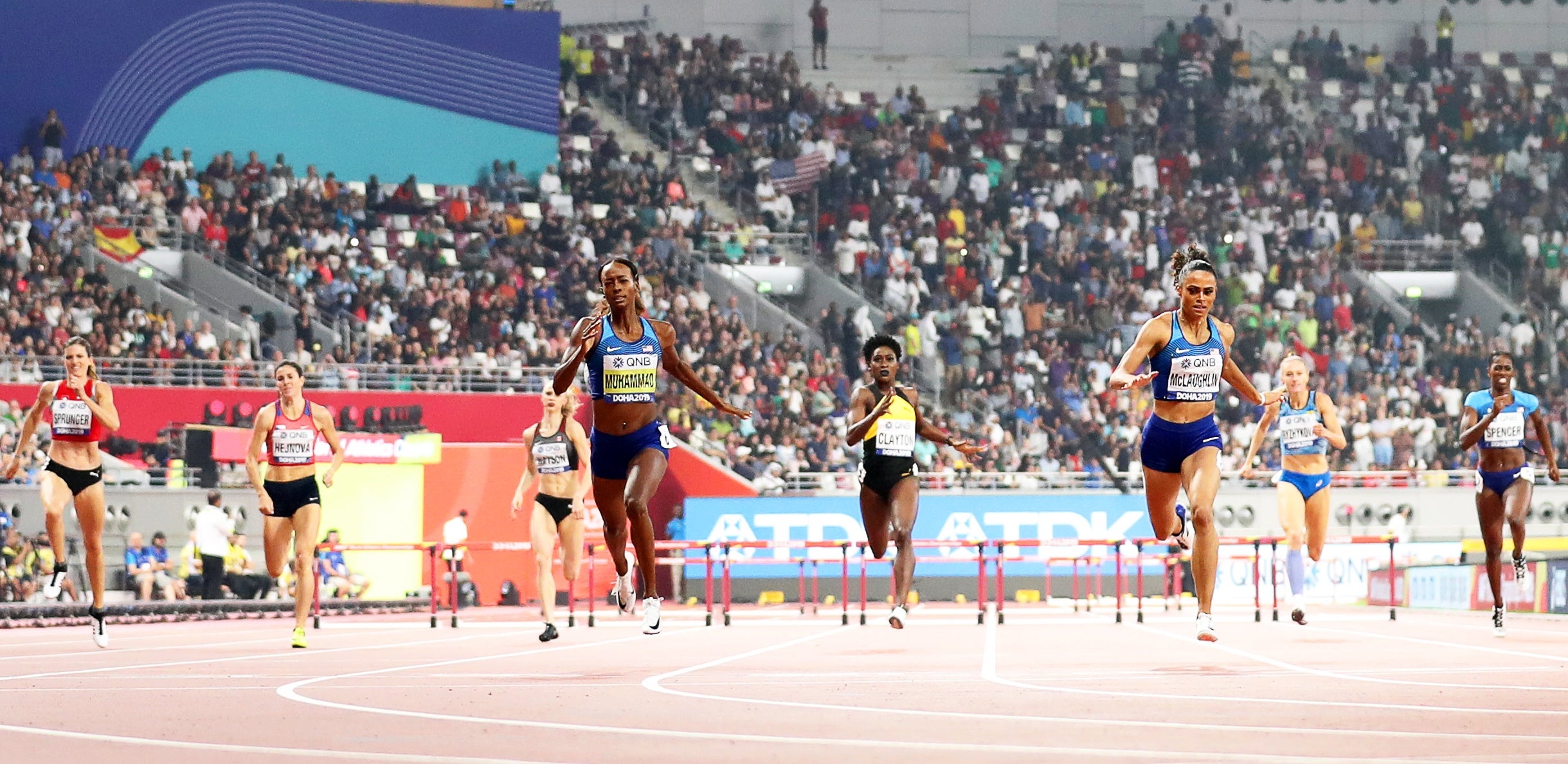 30/40

Dalilah Muhammad, USA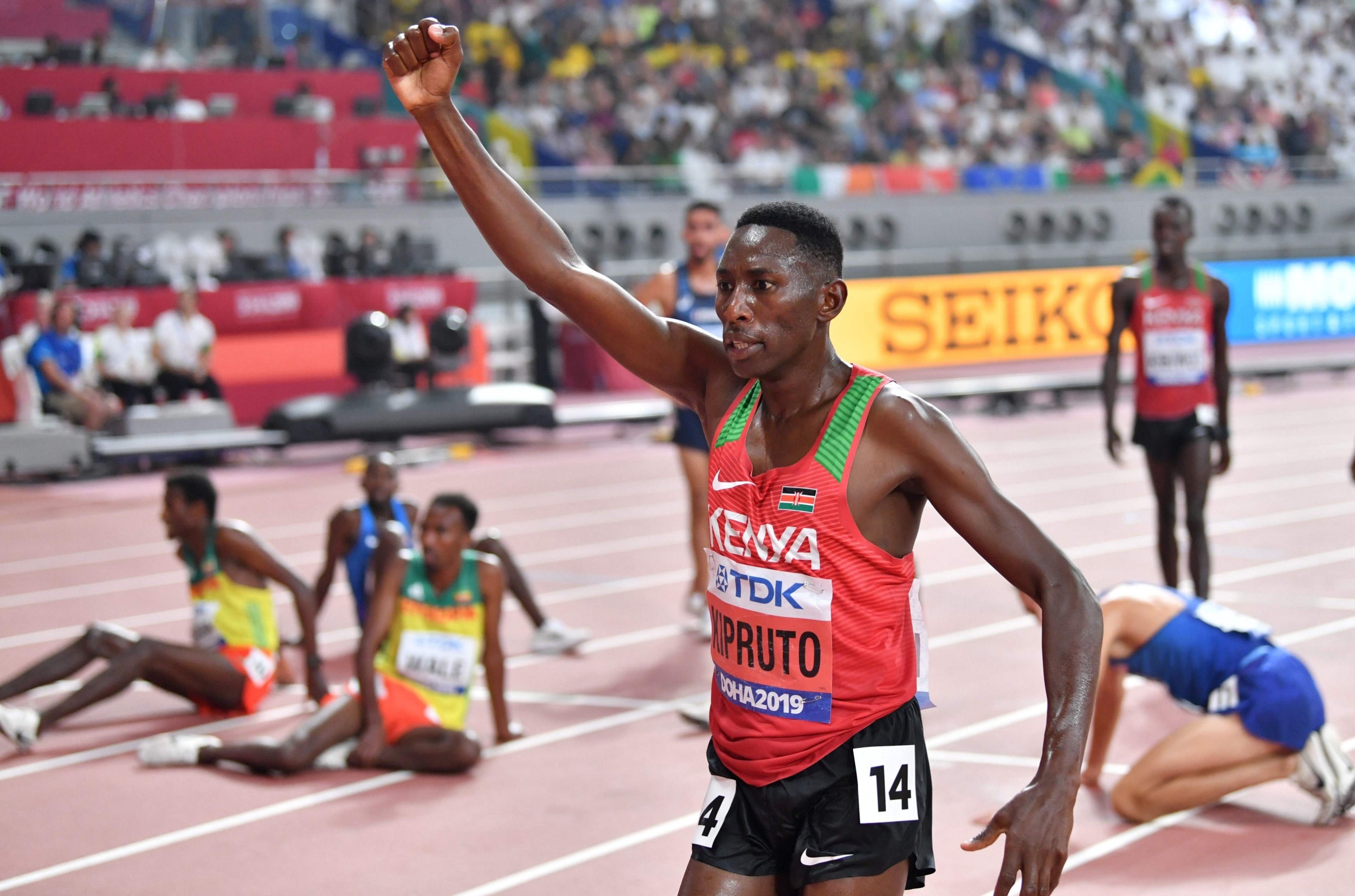 31/40

Conseslus Kipruto, Kenya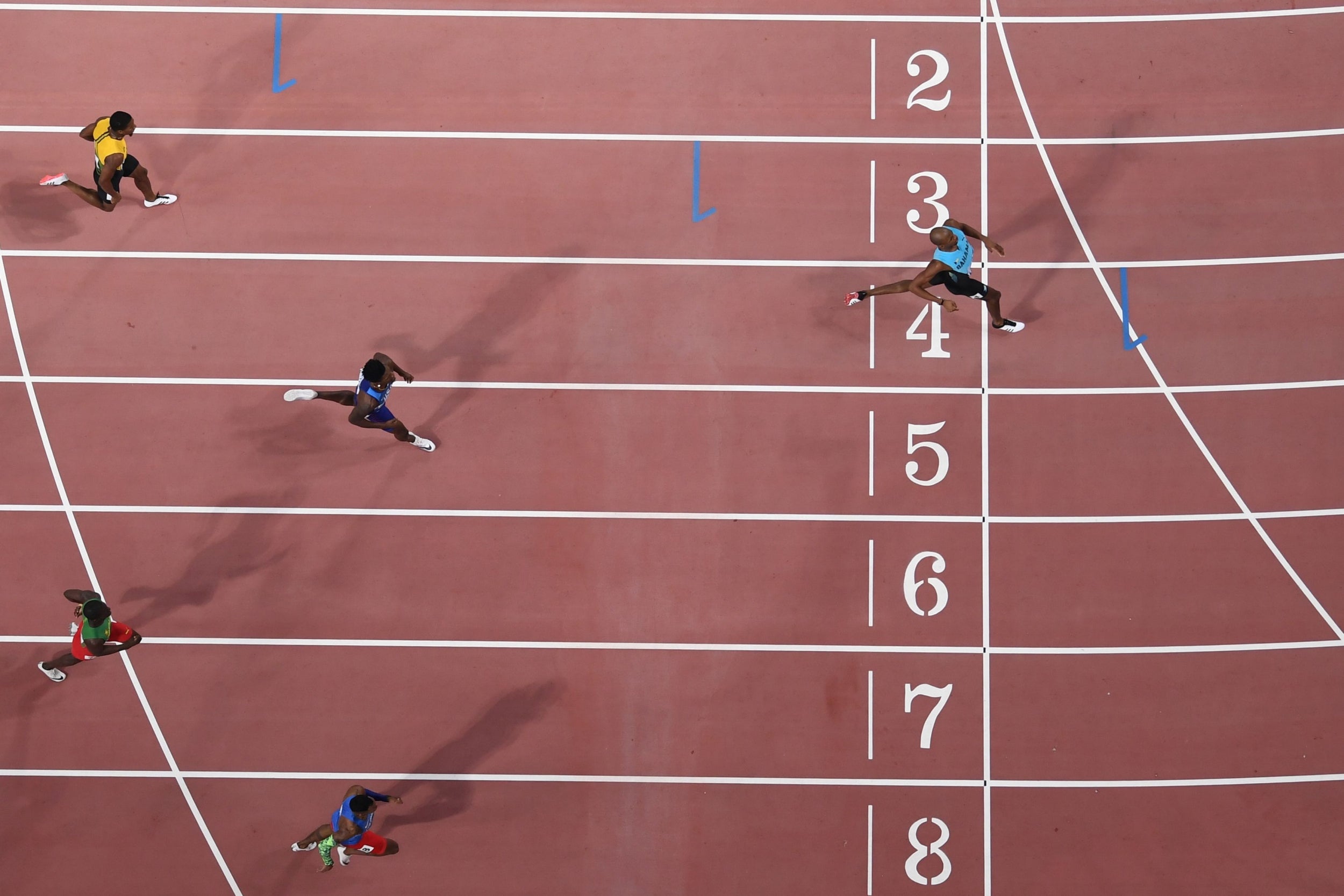 32/40

Steven Gardiner, Bahamas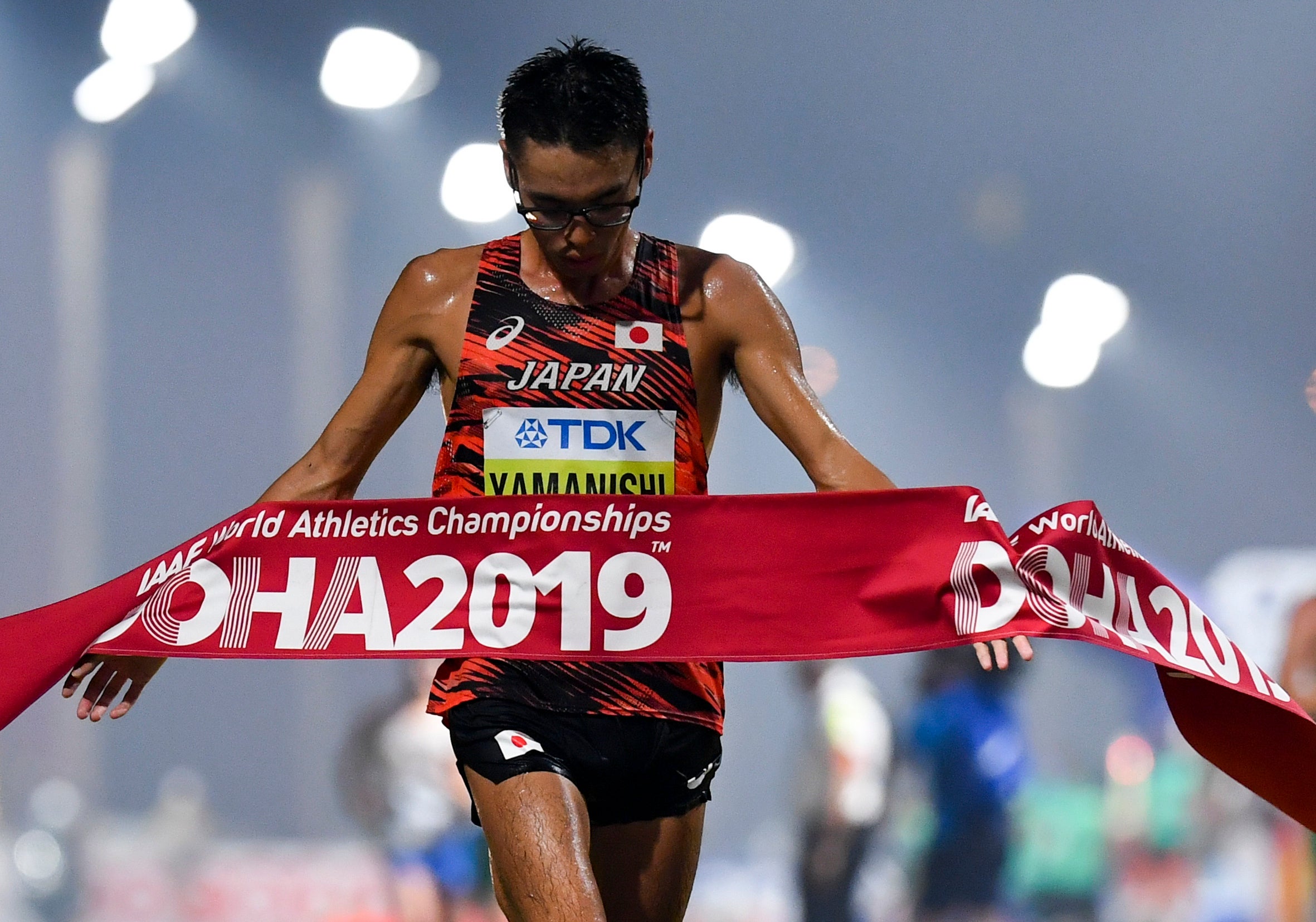 33/40

Toshikazu Yamanishi, Japan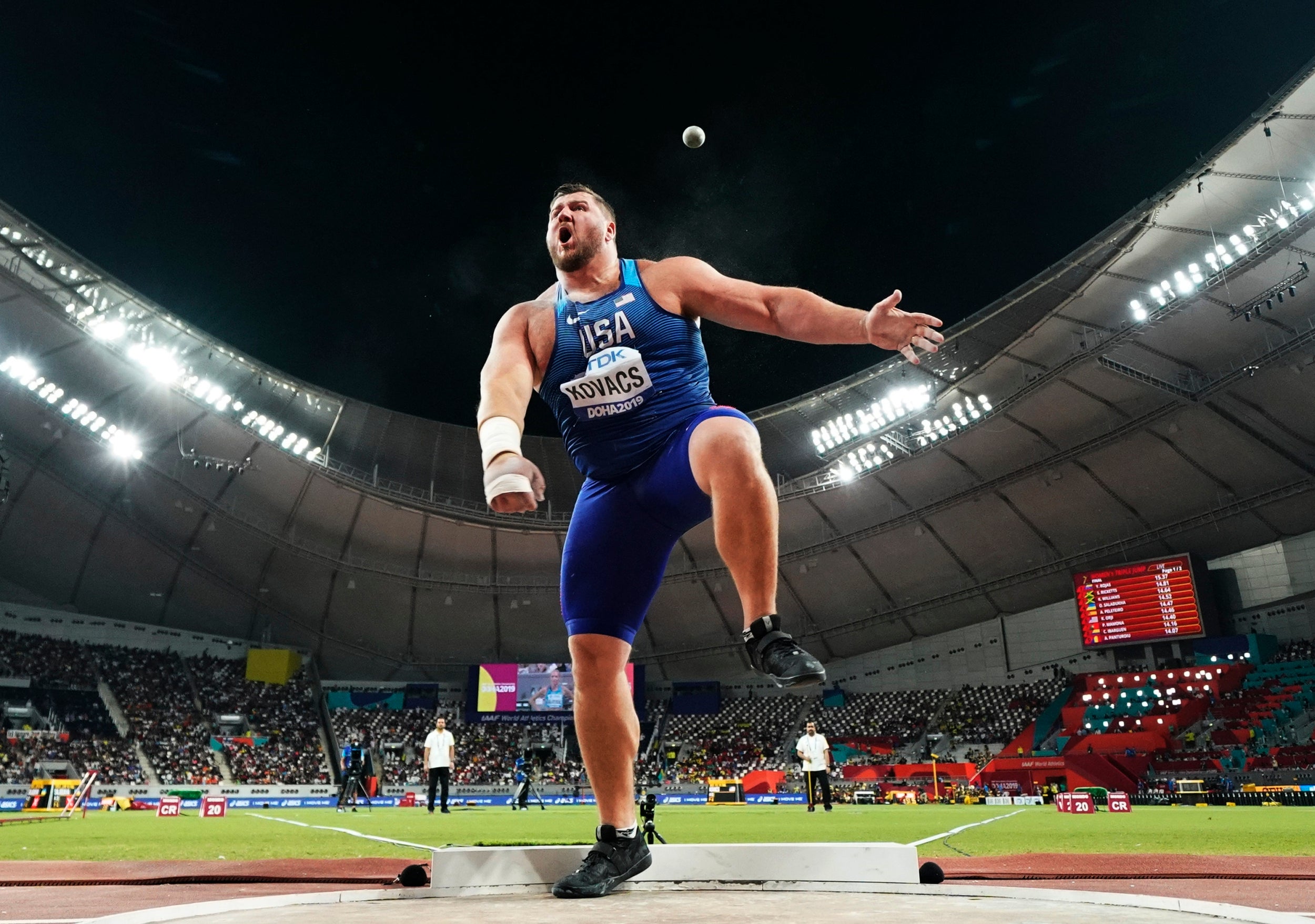 34/40

Joe Kovacs, USA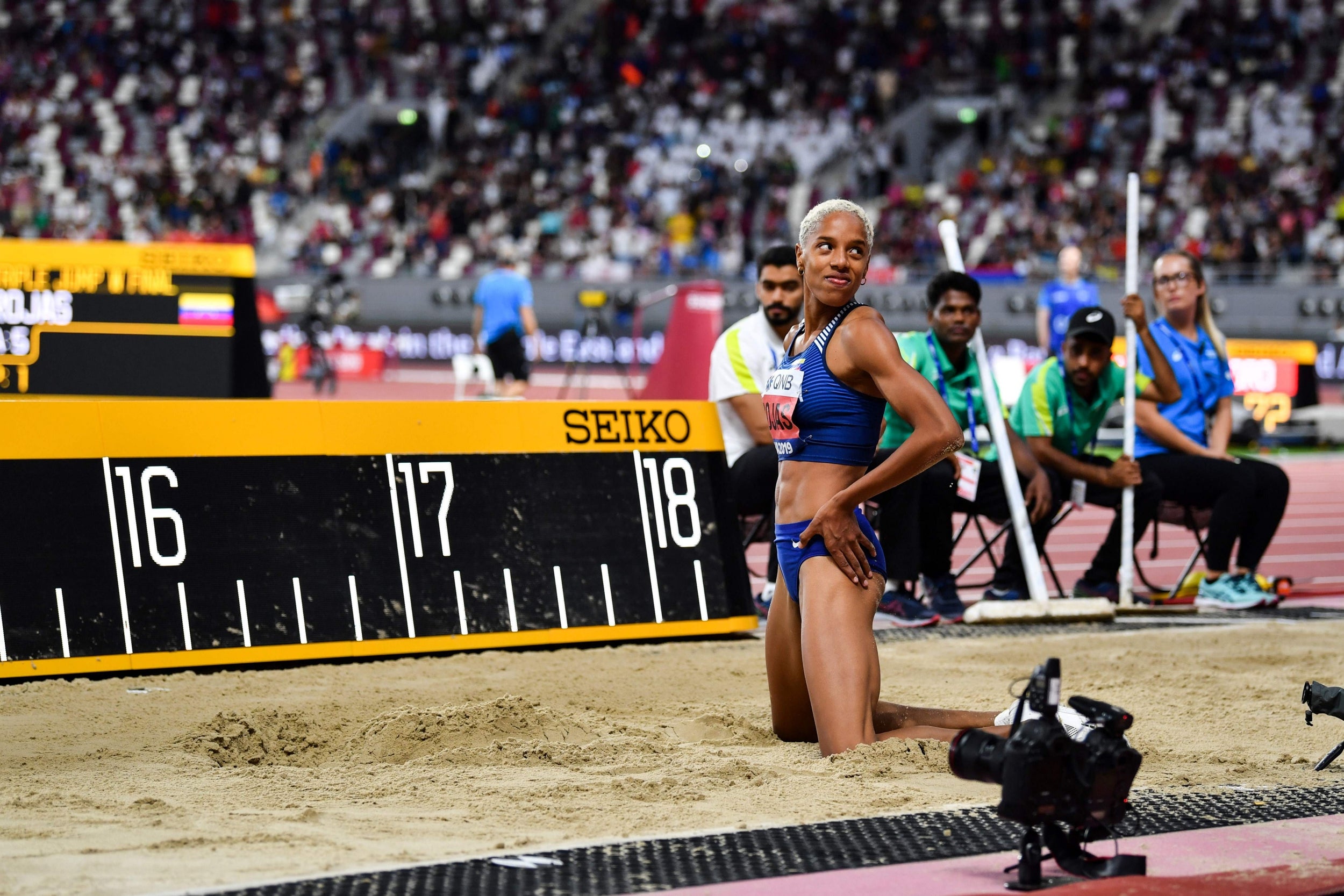 35/40

Yulimar Rojas, Venezuela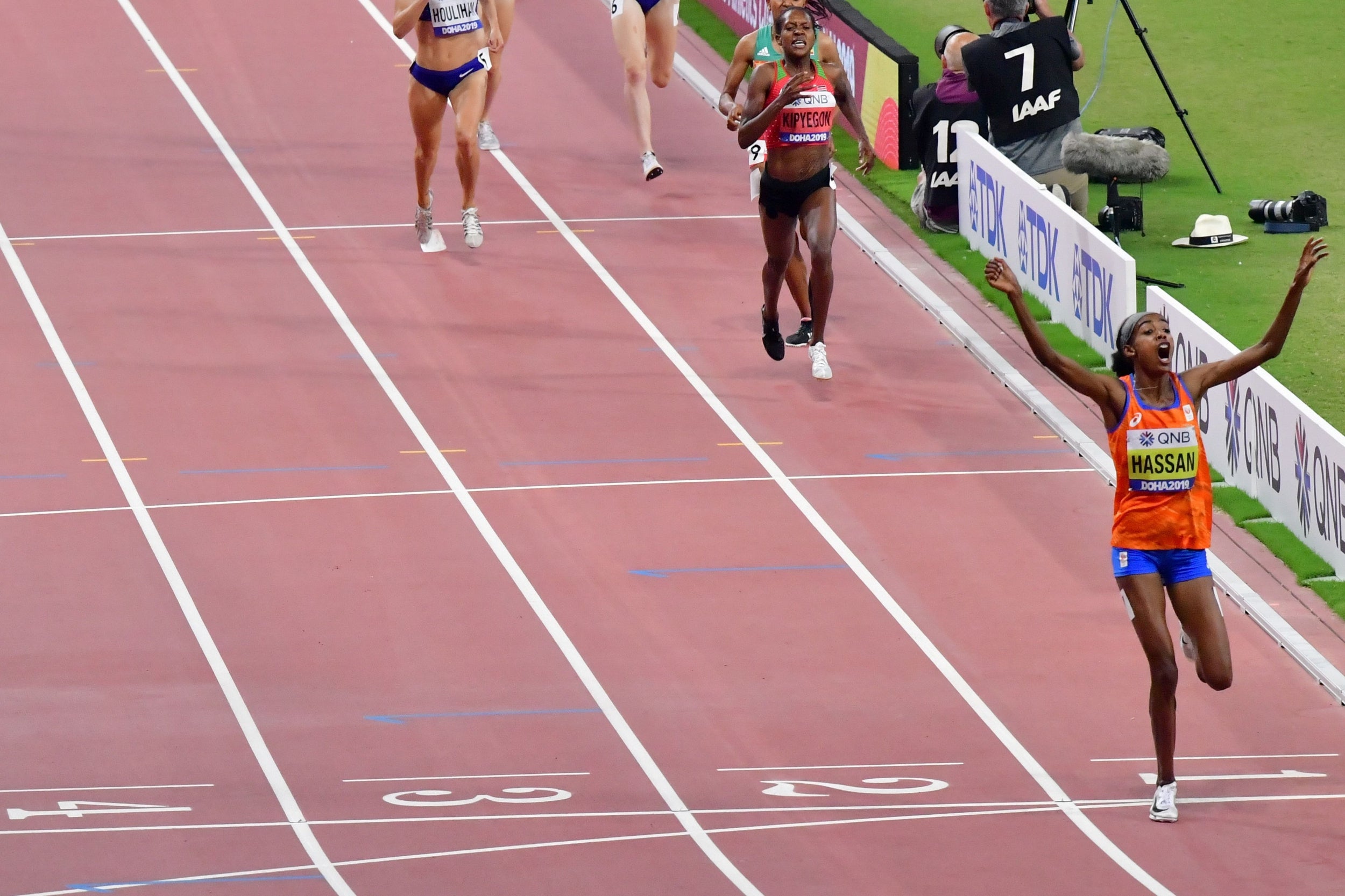 36/40

Sifan Hassan, Netherlands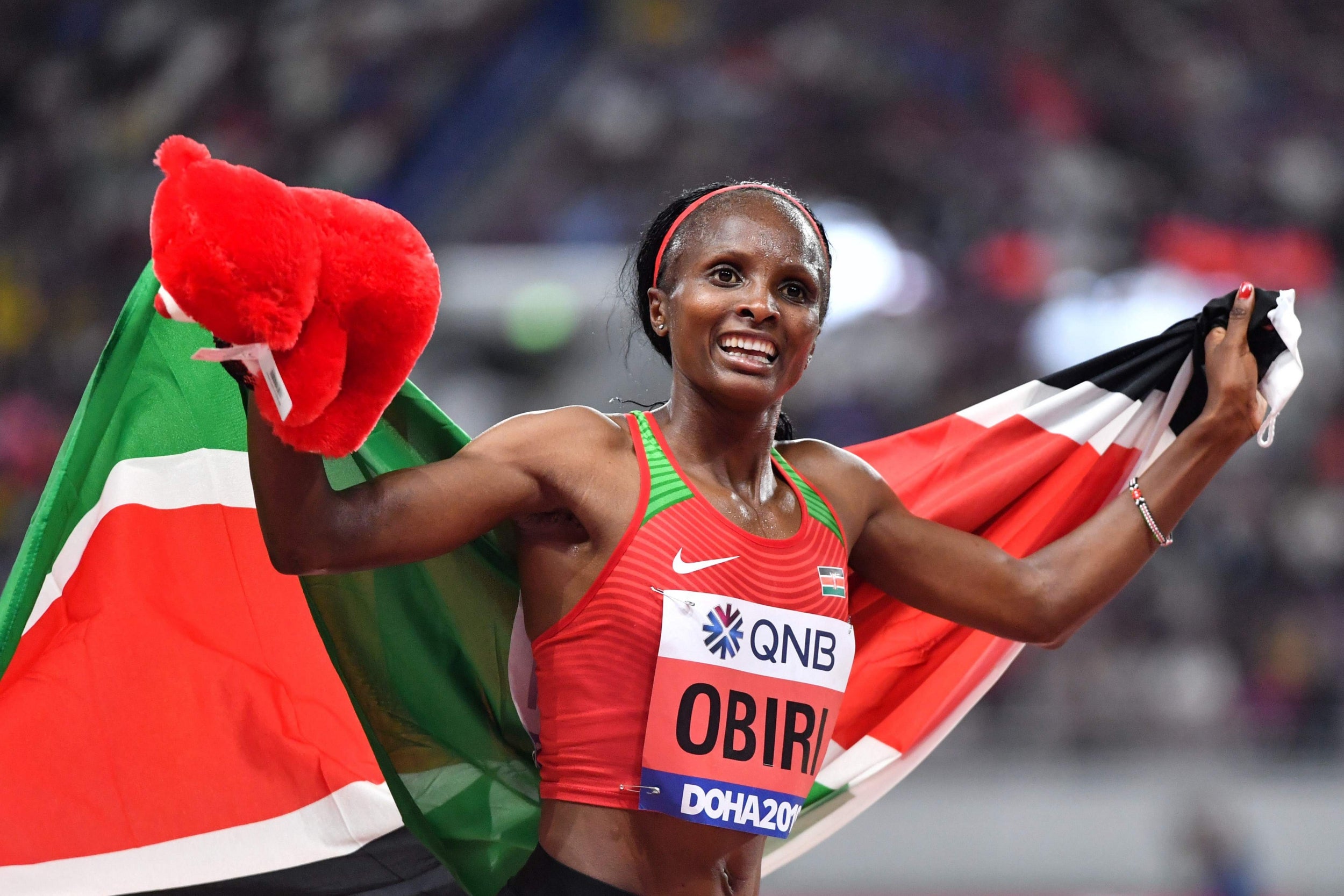 37/40

Hellen Obiri, Kenya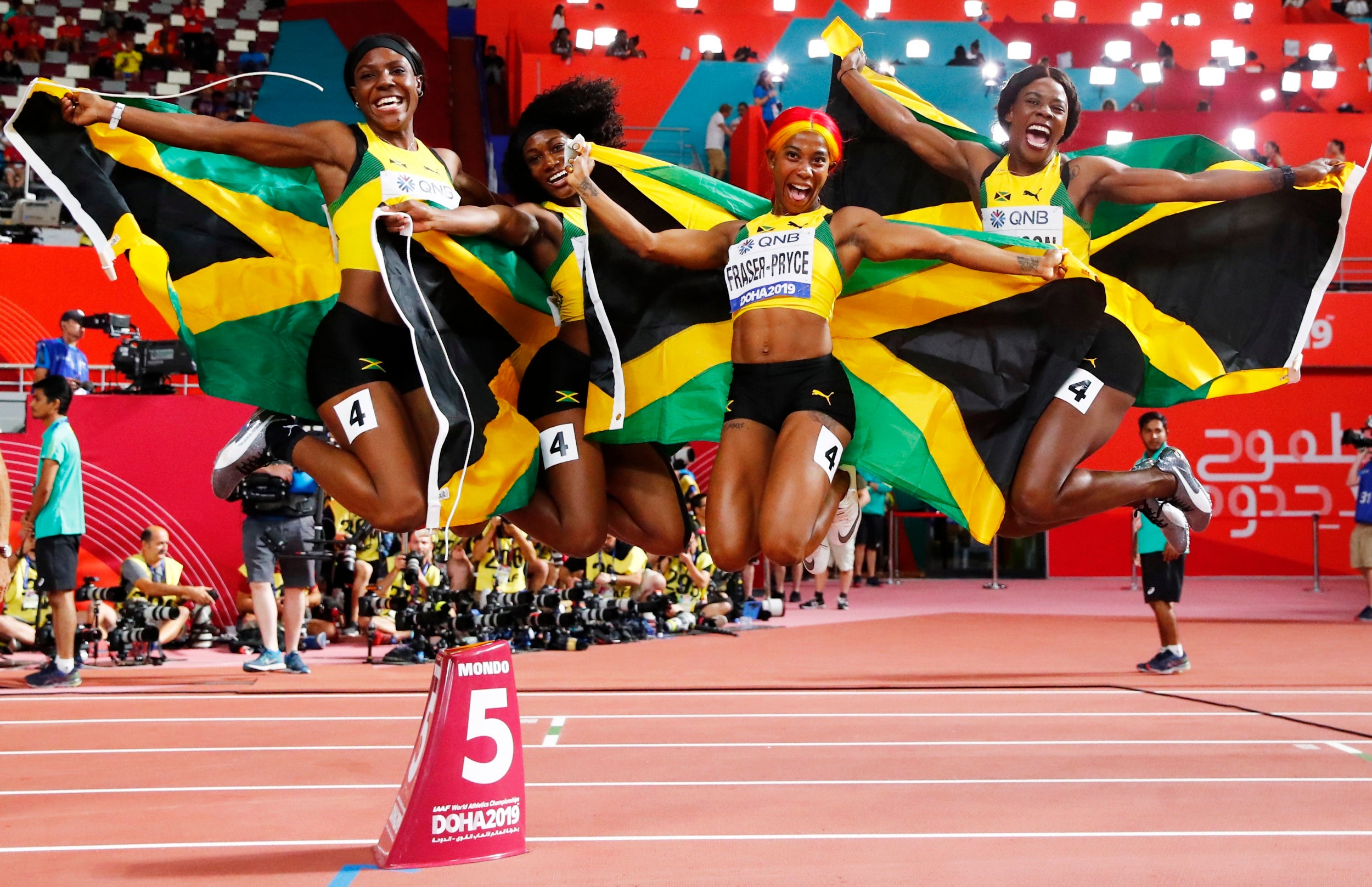 38/40

Jamaica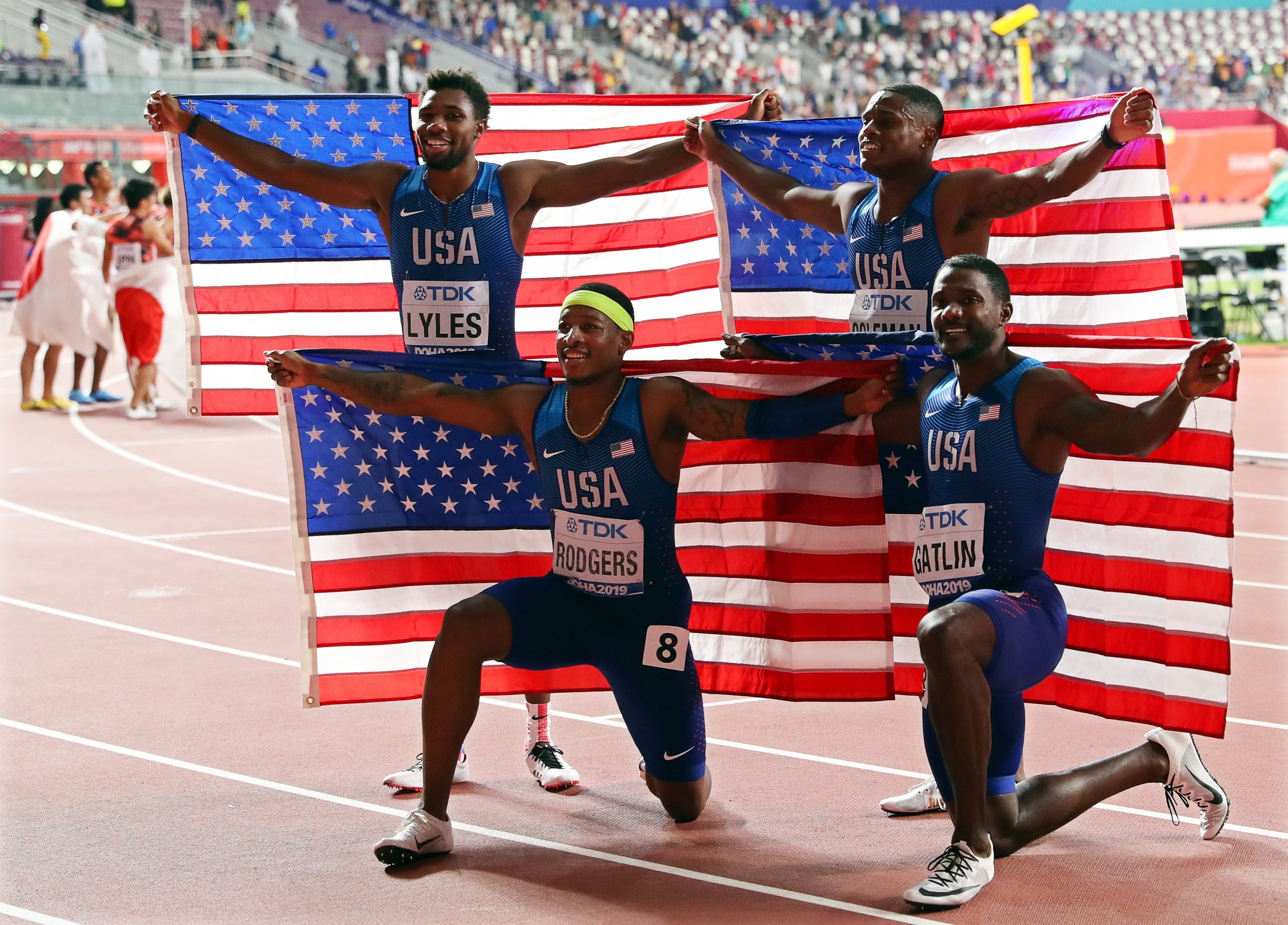 39/40

USA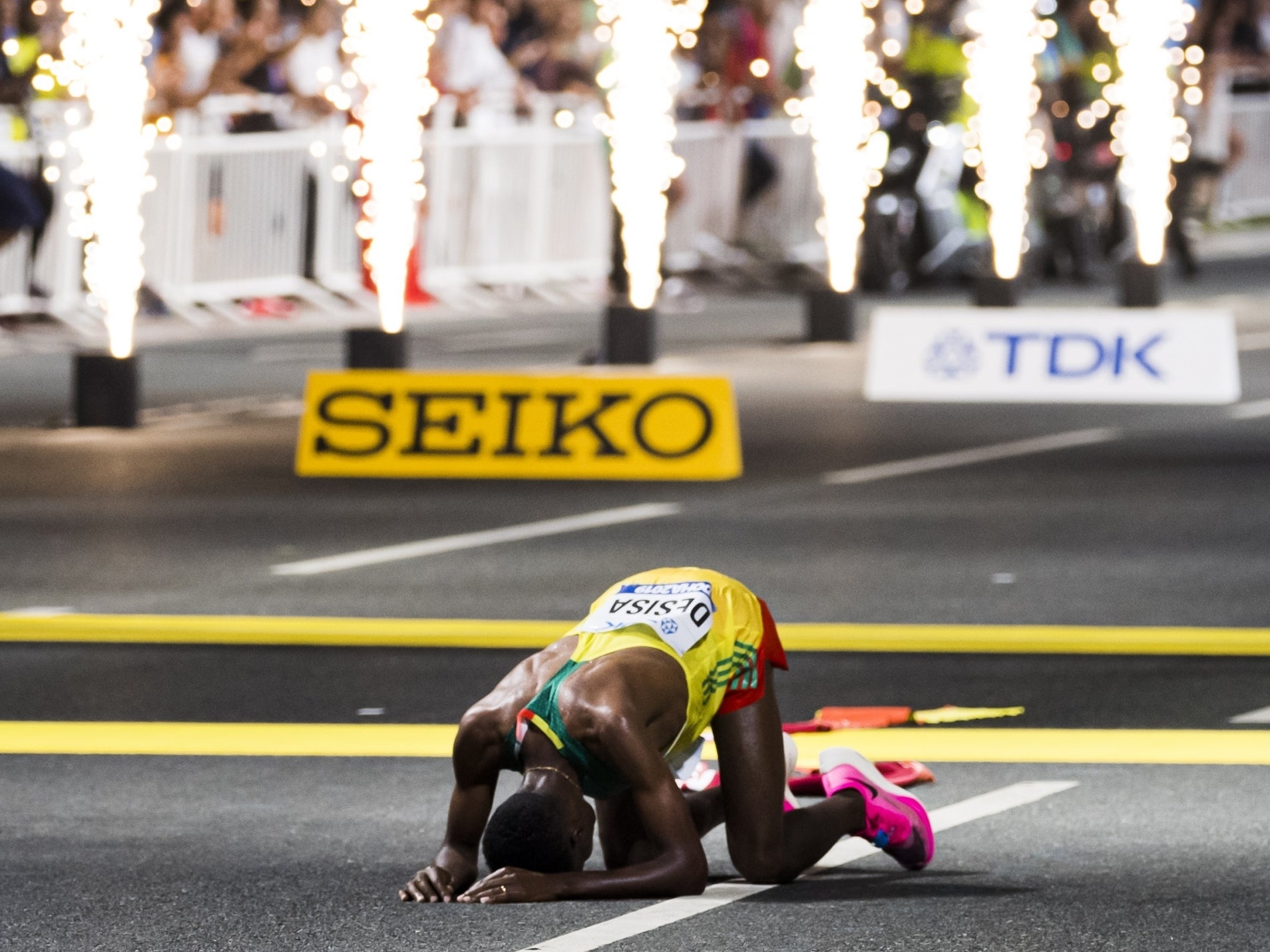 40/40

Lelisa Desisa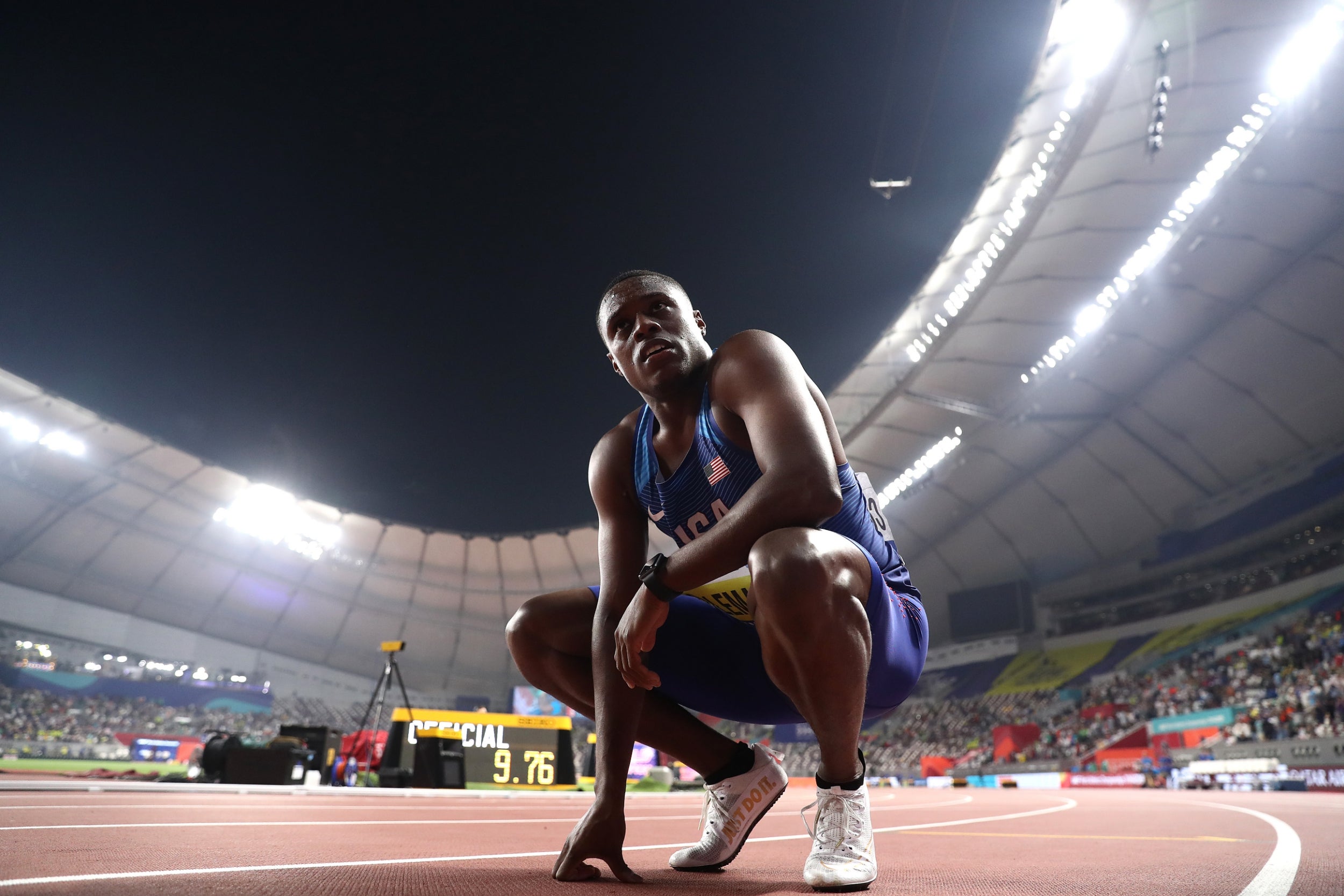 1/40

Christian Coleman, USA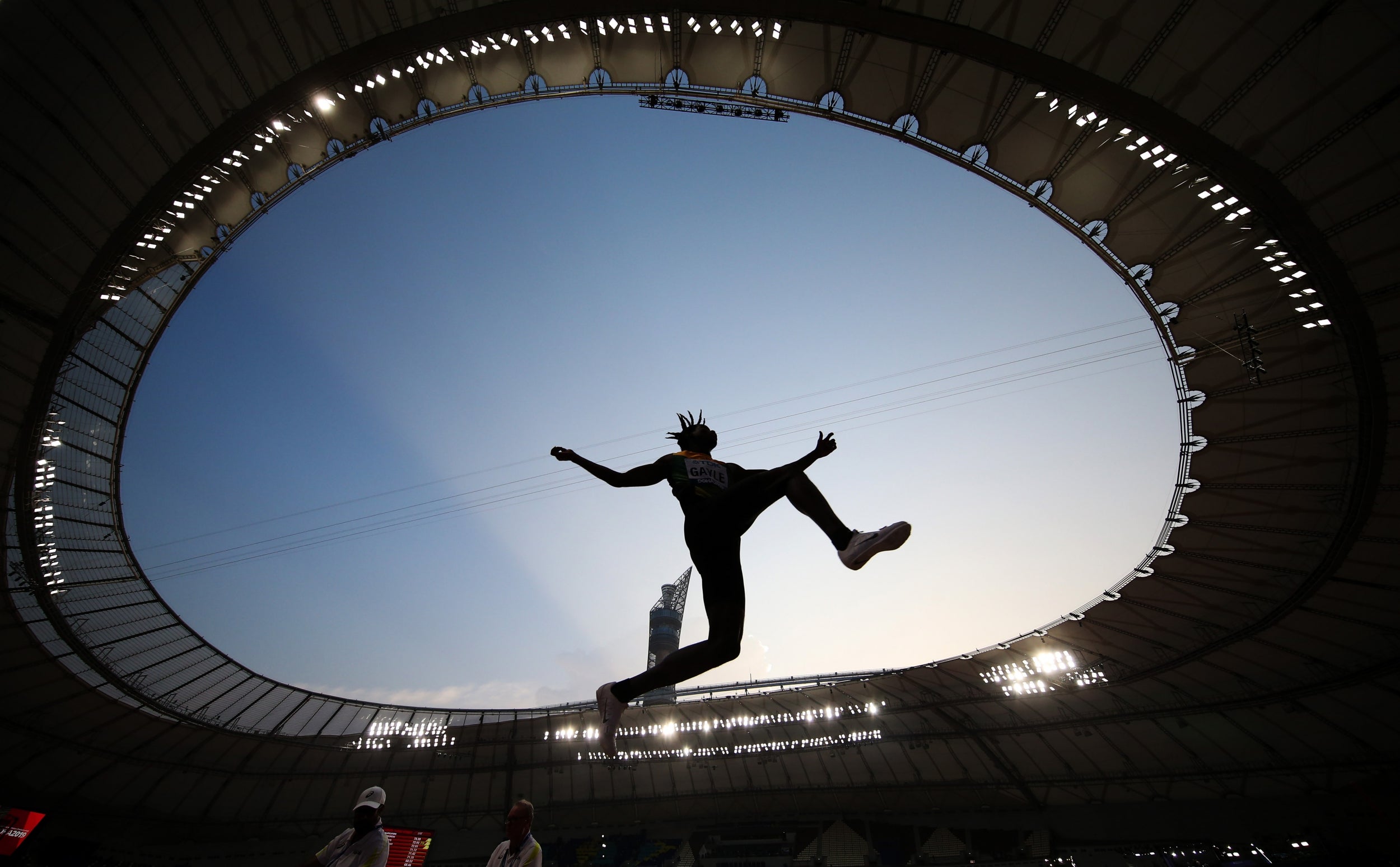 2/40

Tajay Gayle, Jamaica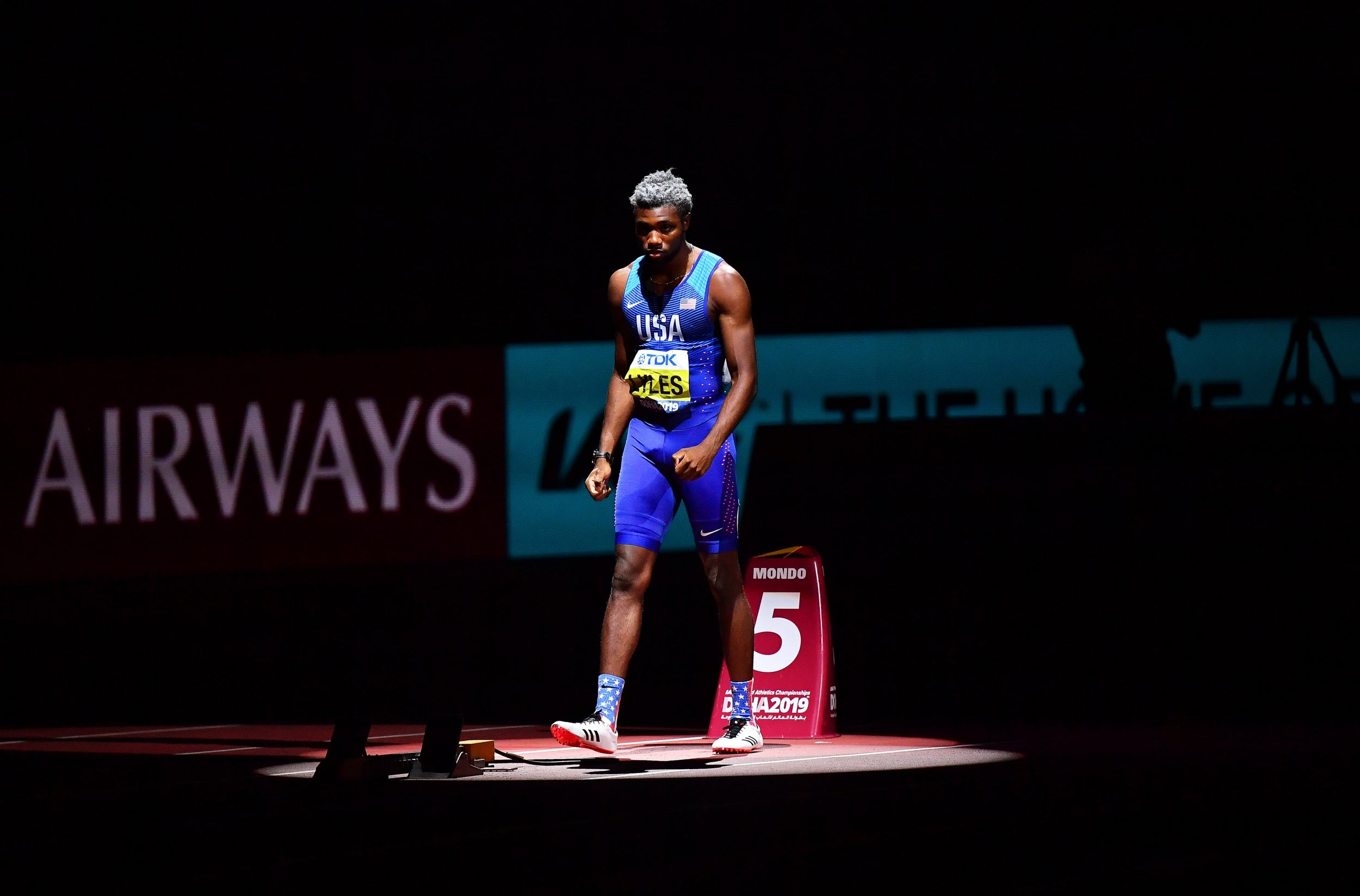 3/40

Noah Lyles, USA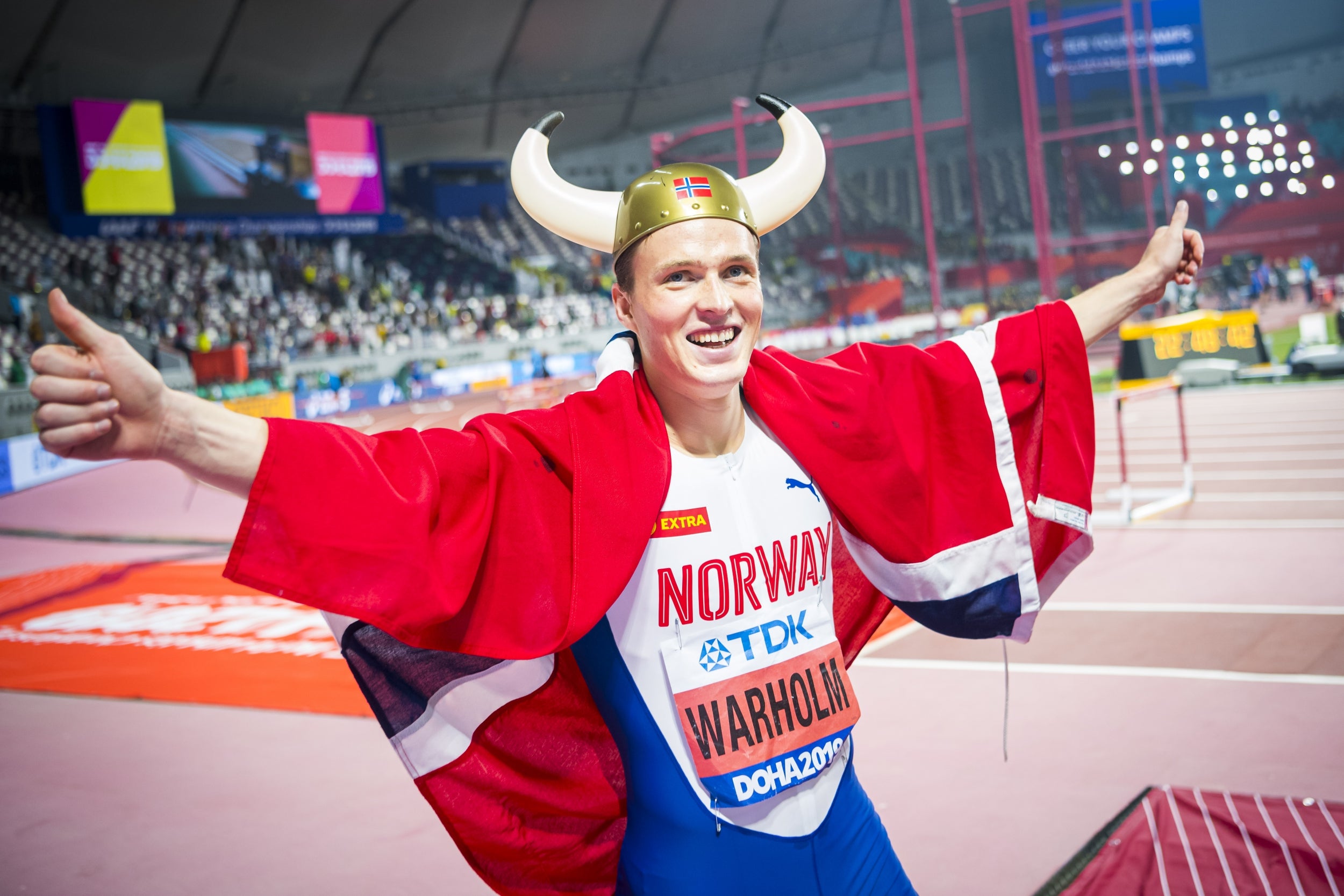 4/40

Karsten Warholm, Norway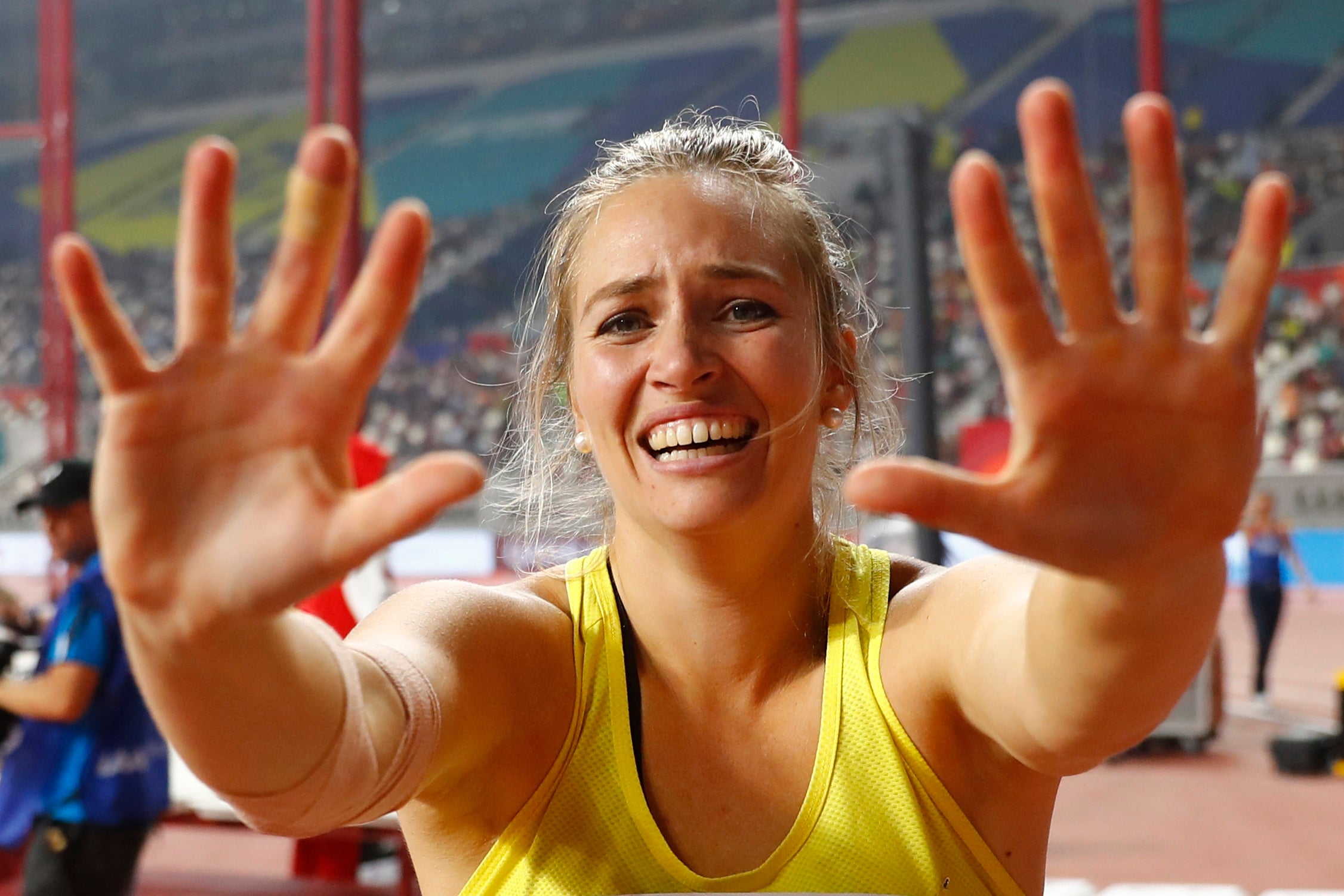 5/40

Kelsey-Lee Barber, Australia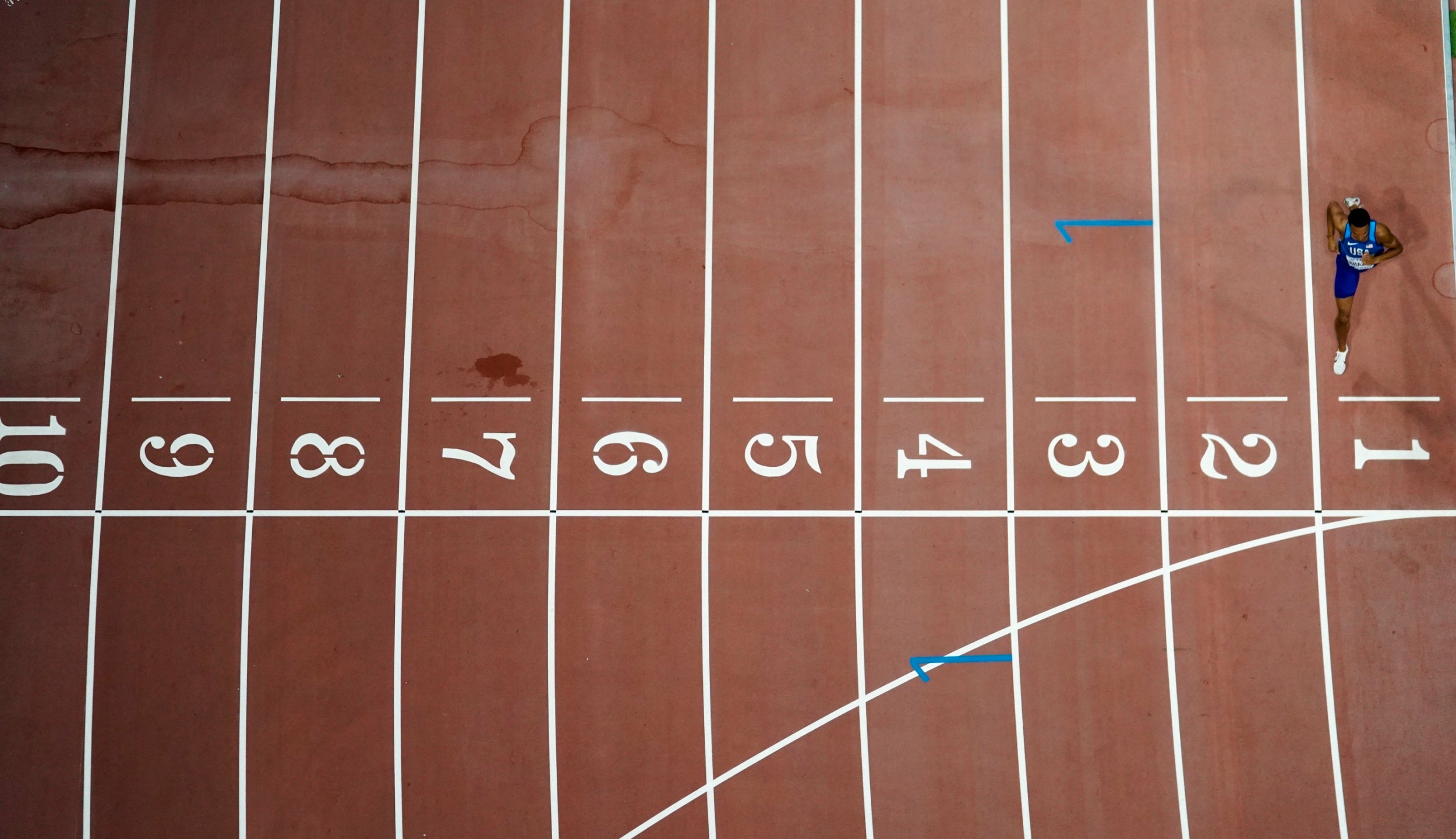 6/40

Donavan Brazier, USA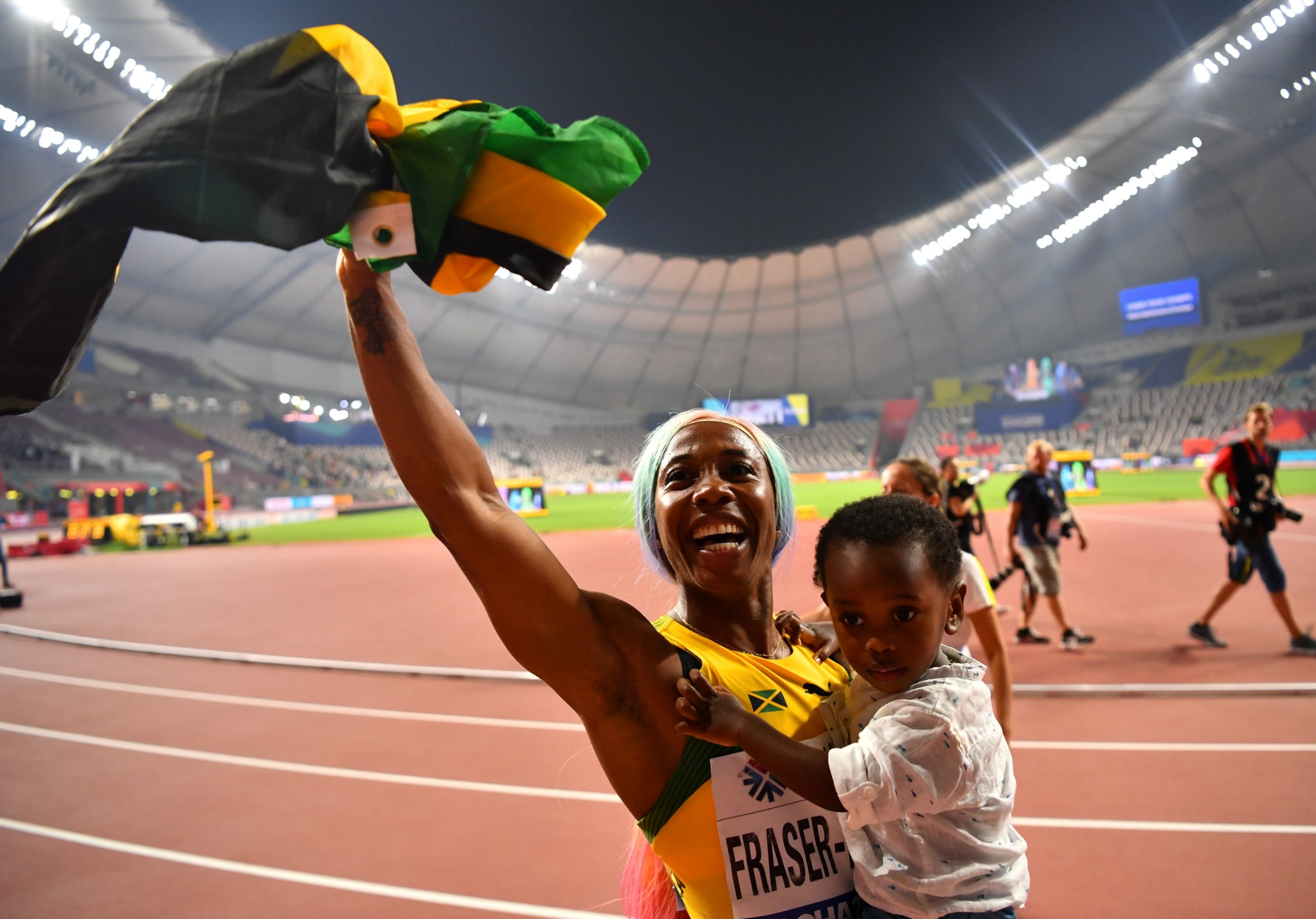 7/40

Shelly-Ann Fraser-Pryce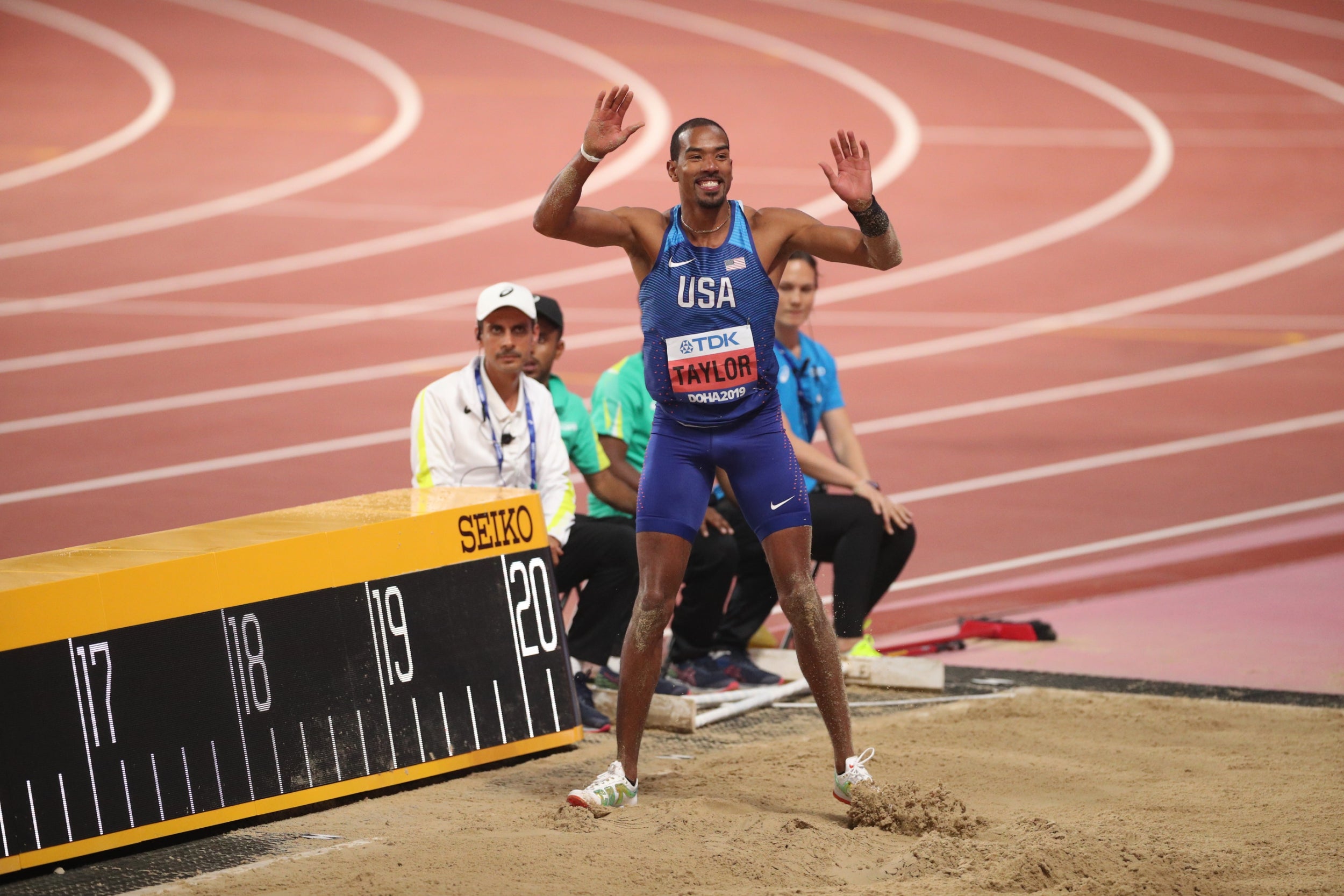 8/40

Christian Taylor, USA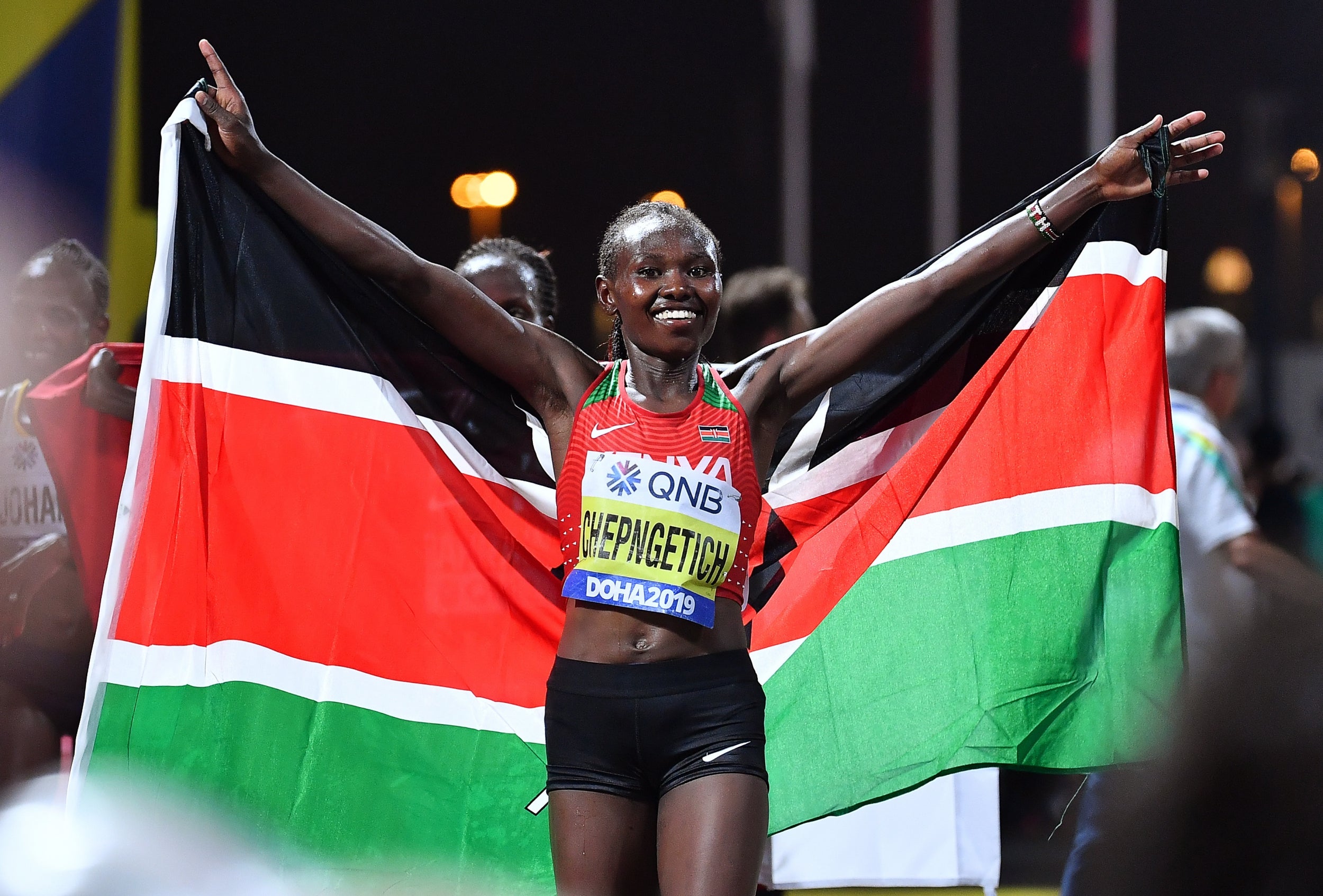 9/40

Ruth Chepngetich, Kenya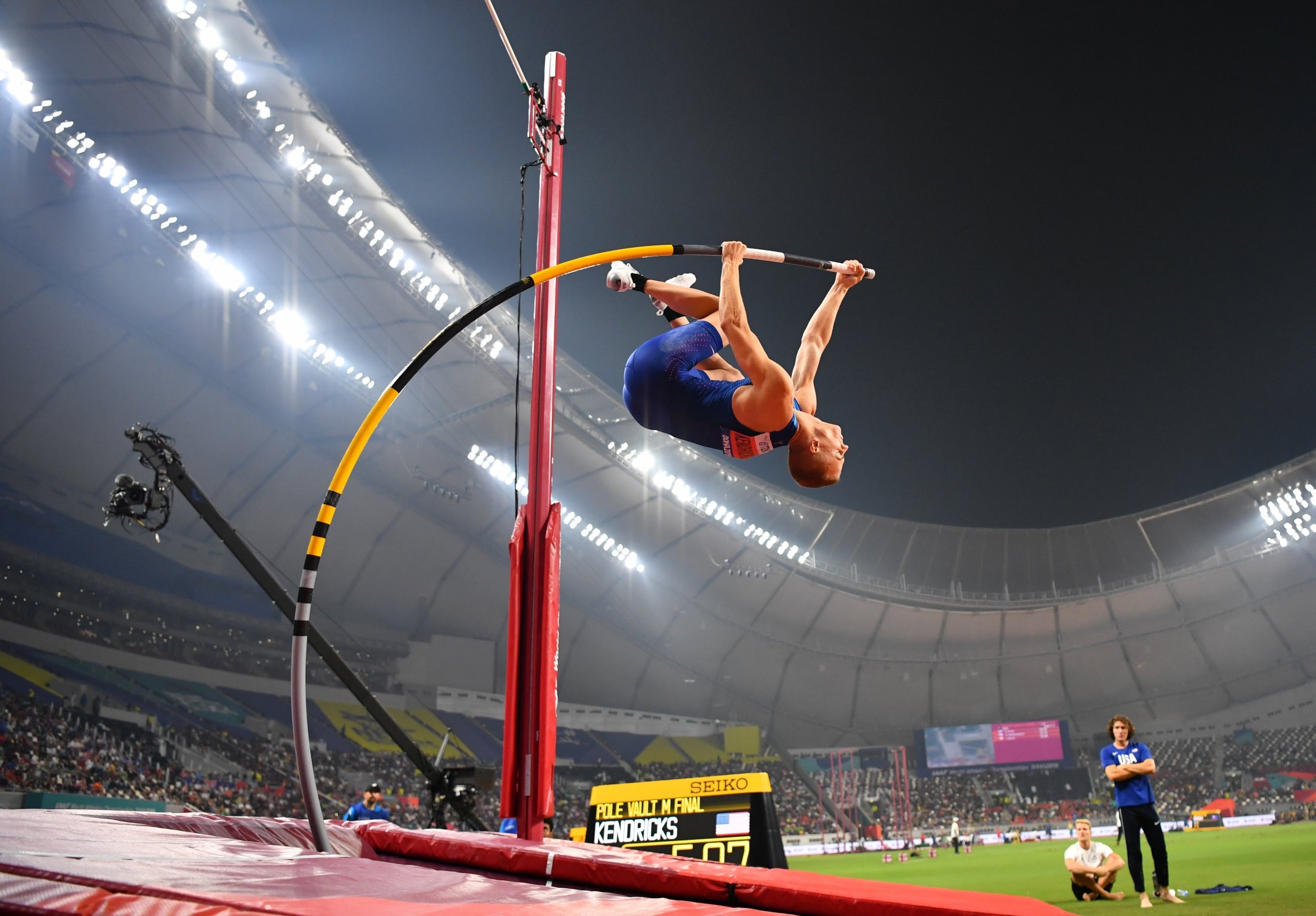 10/40

Sam Kendricks, USA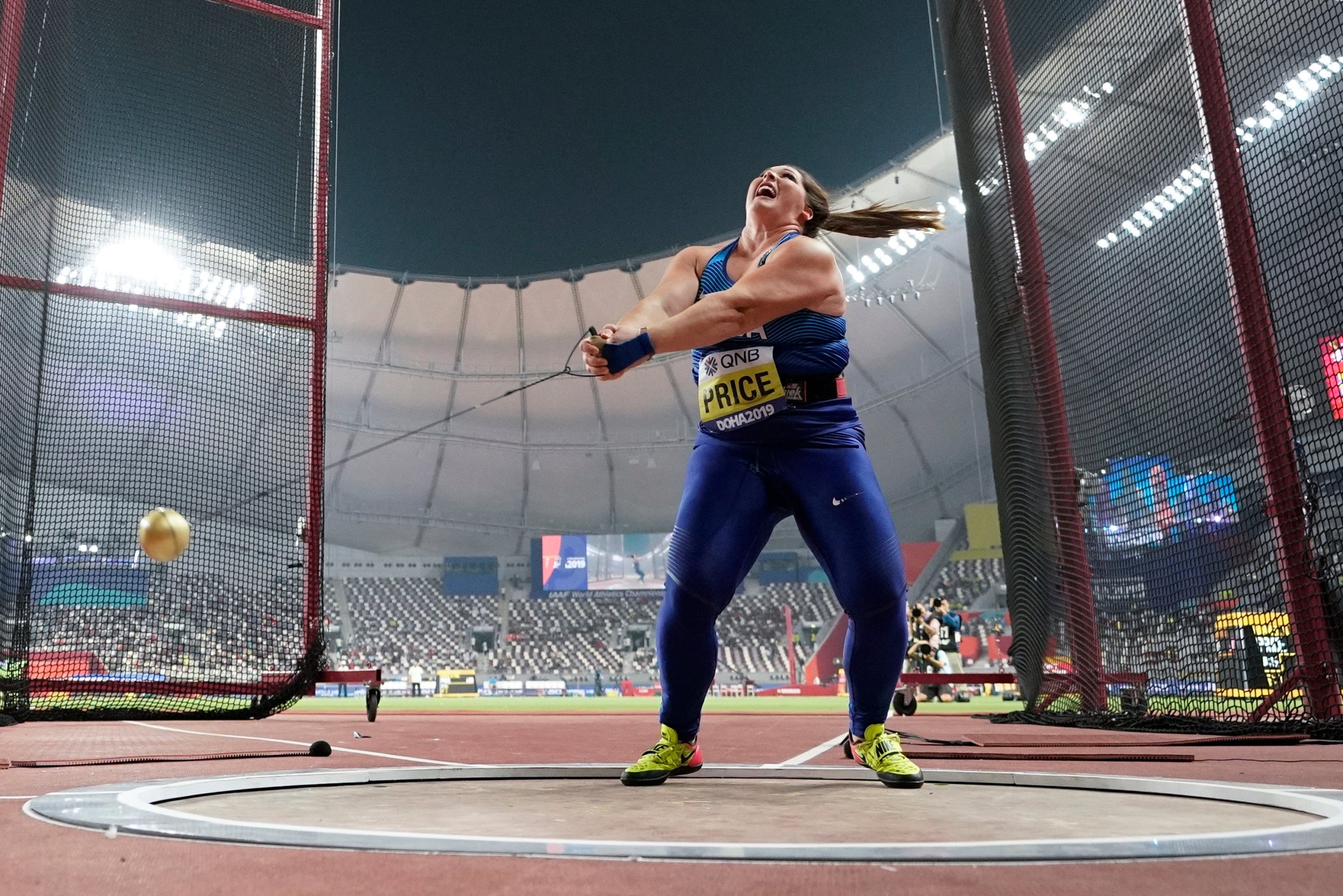 11/40

Deanna Price, USA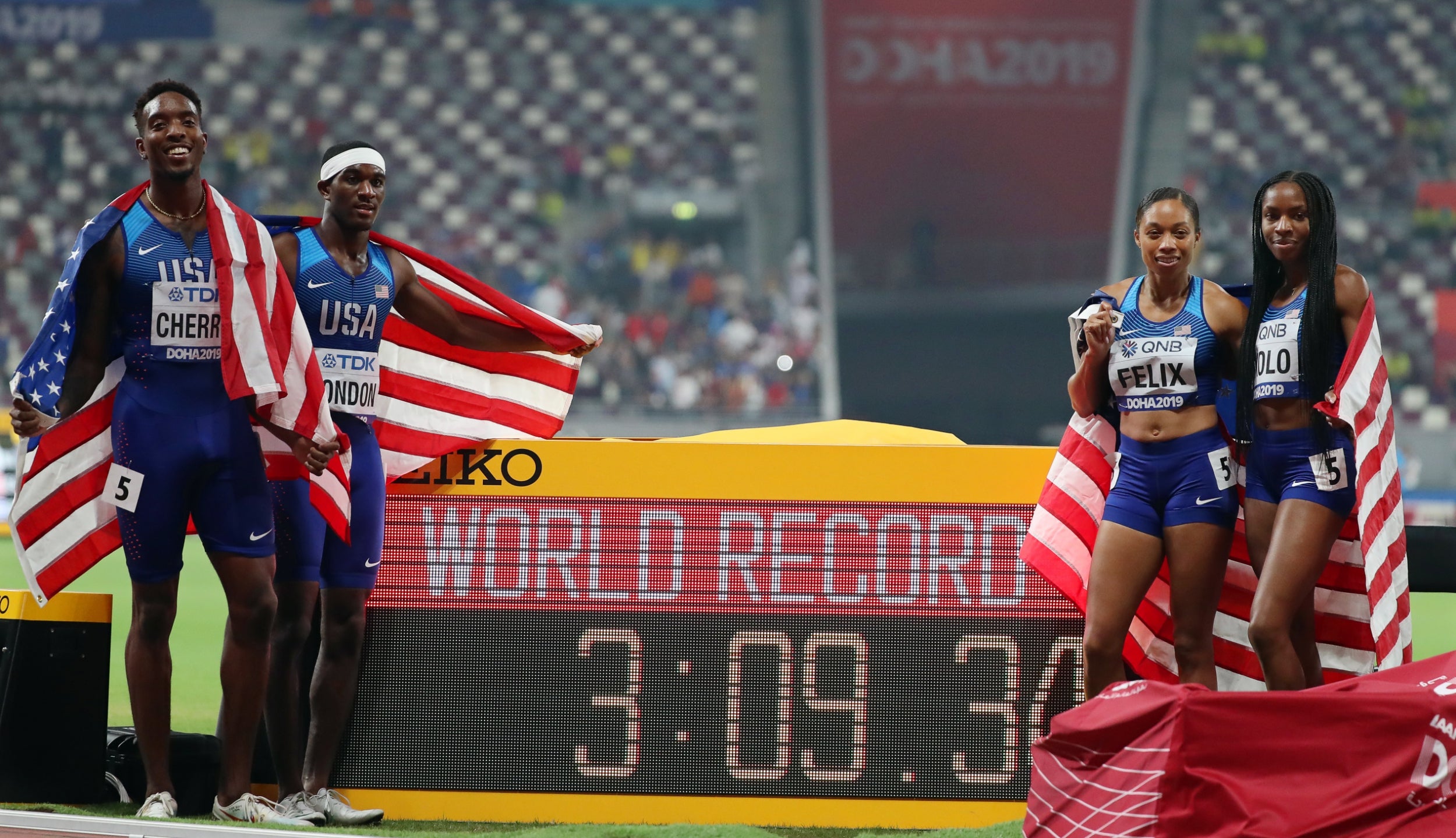 12/40

USA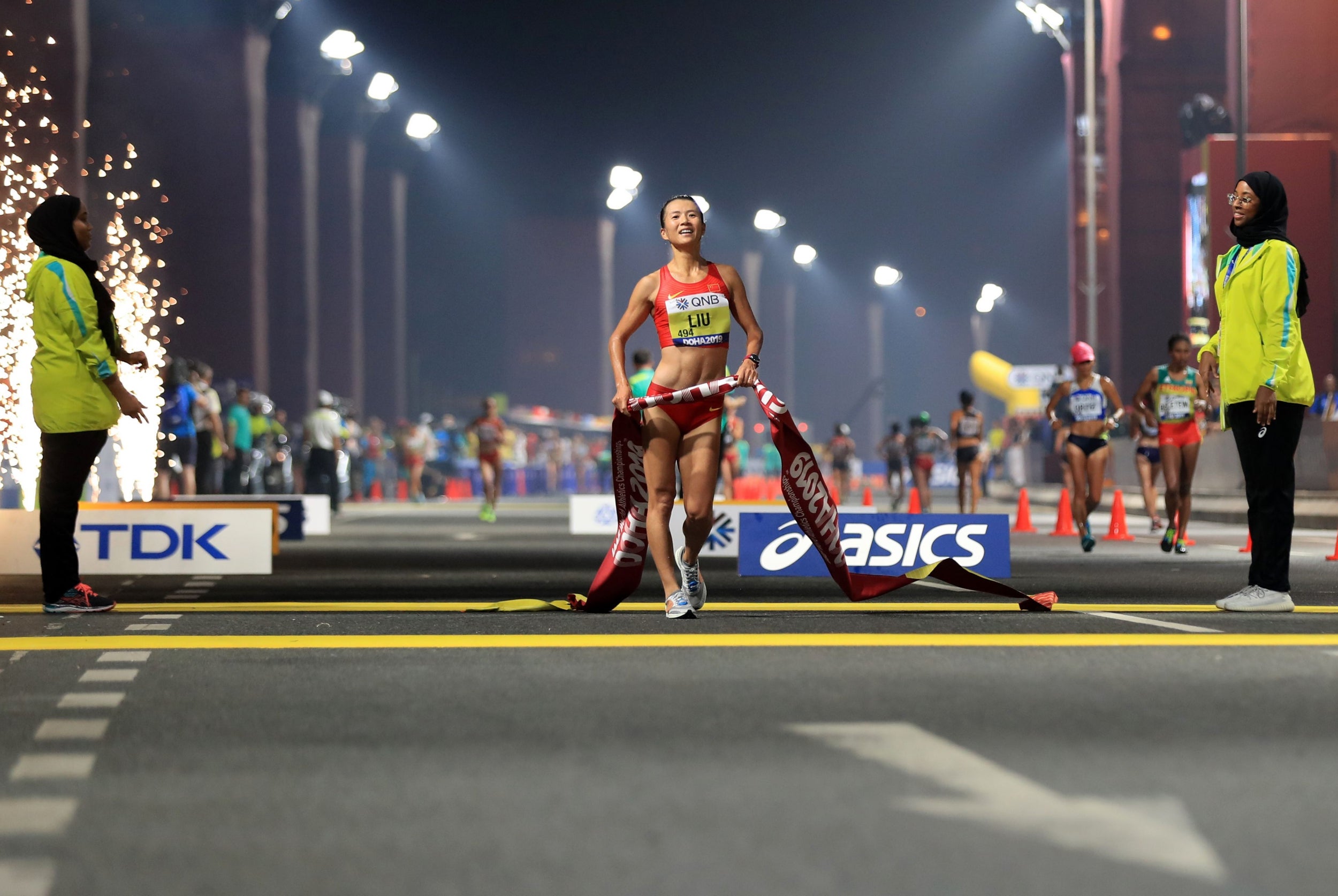 13/40

Liu Hong, China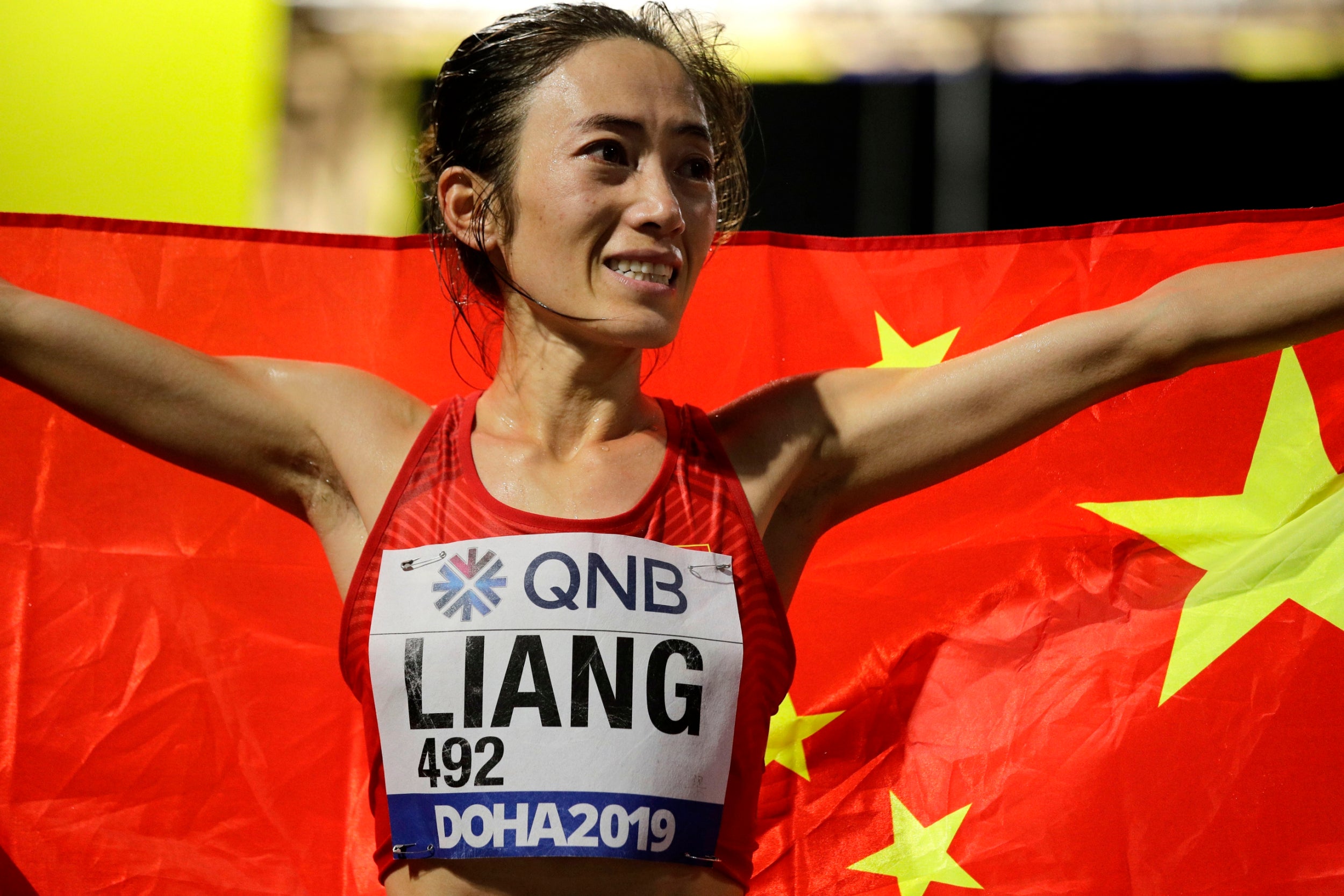 14/40

Liang Rui, China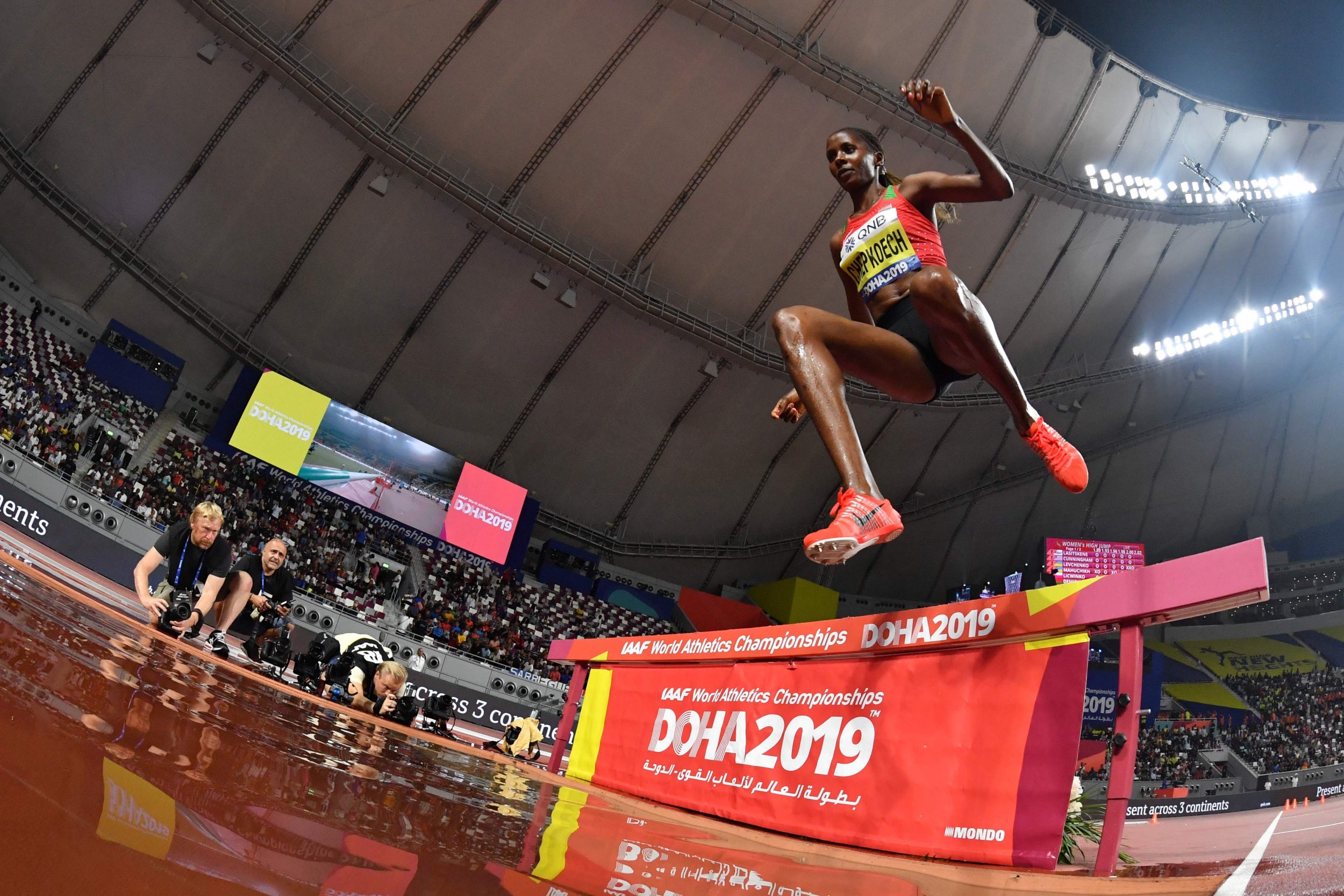 15/40

Beatrice Chepkoech, Kenya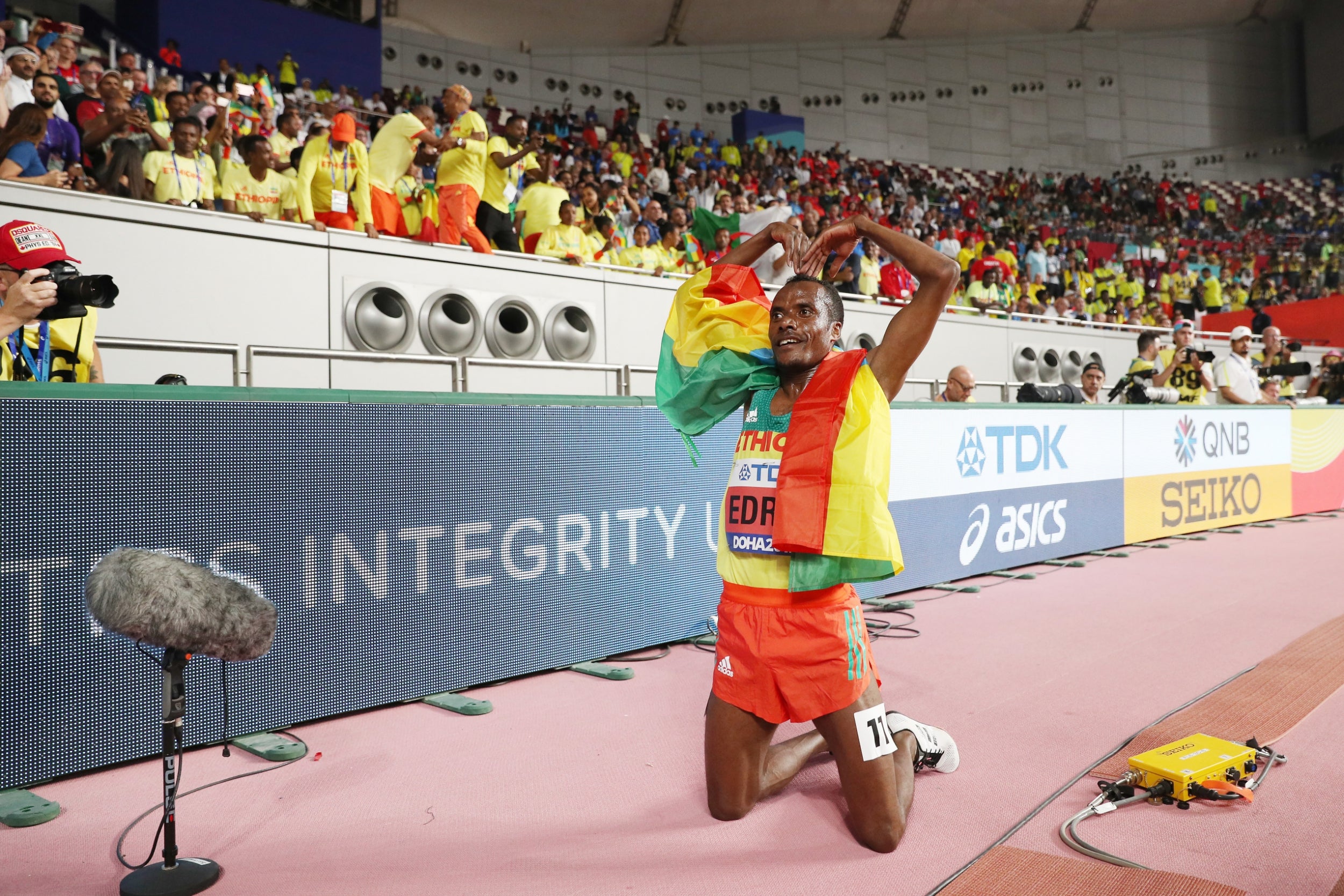 16/40

Muktar Edris, Ethiopia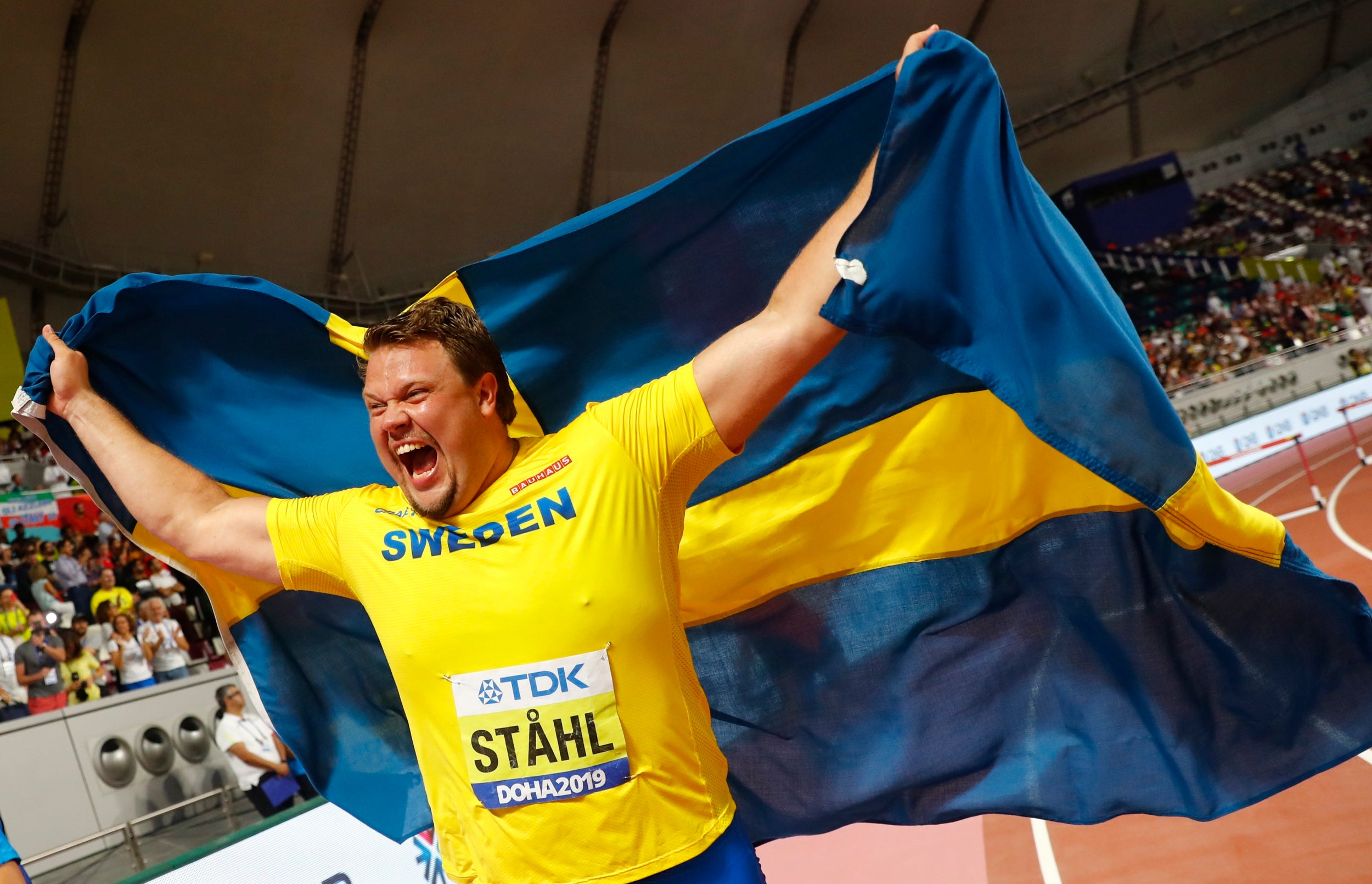 17/40

Daniel Stahl, Sweden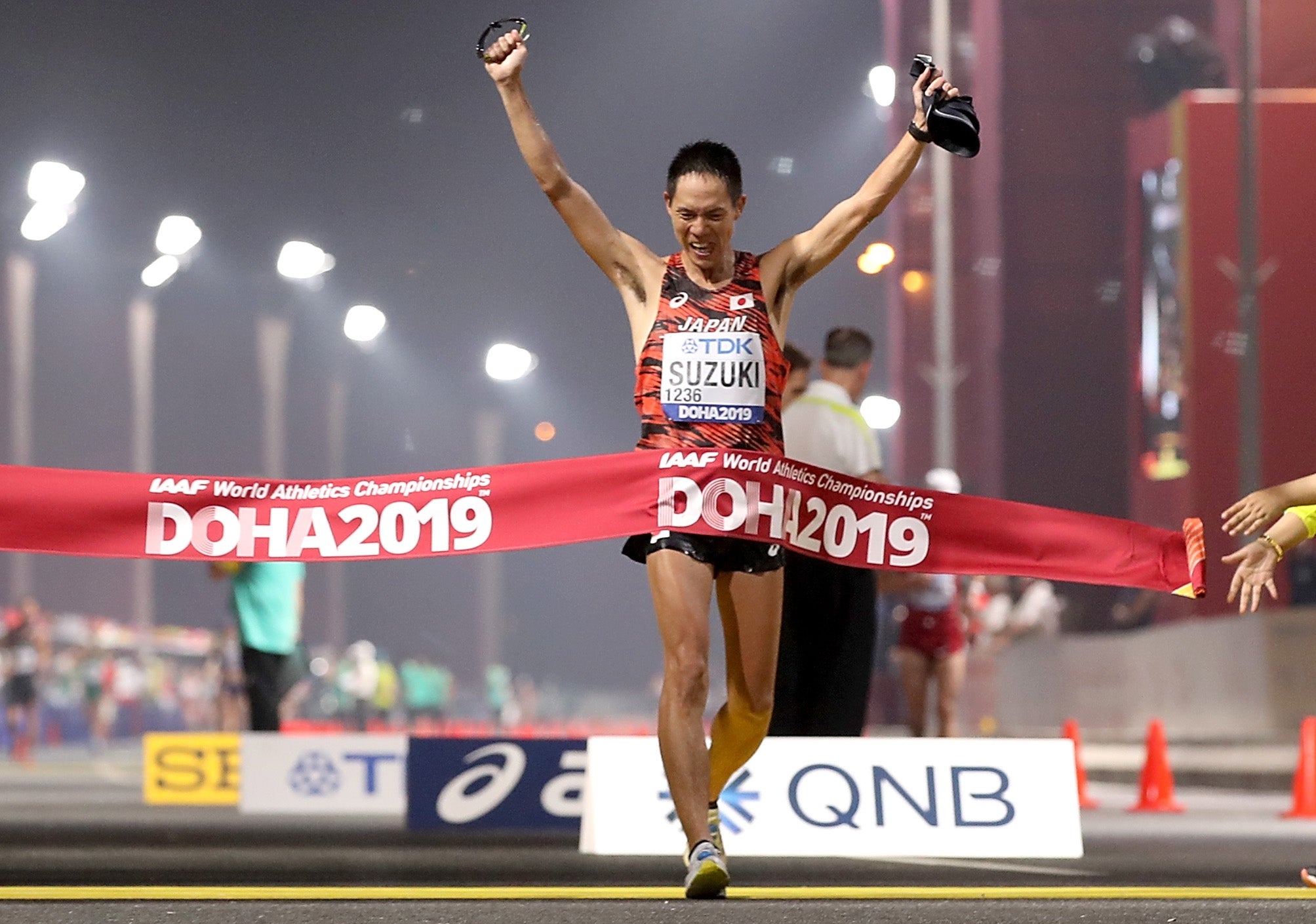 18/40

Yusuke Suzuki, Japan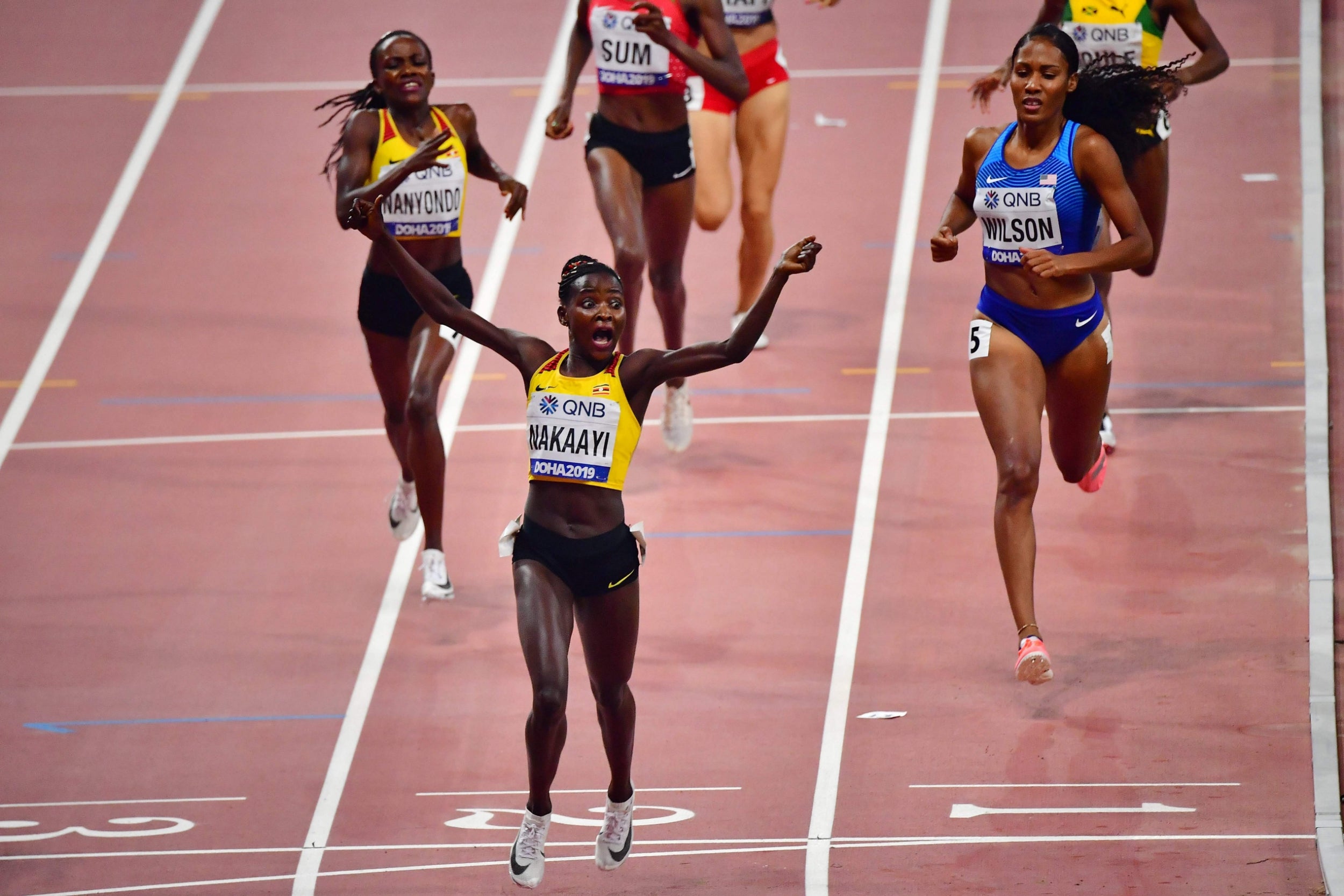 19/40

Halimah Nakaayi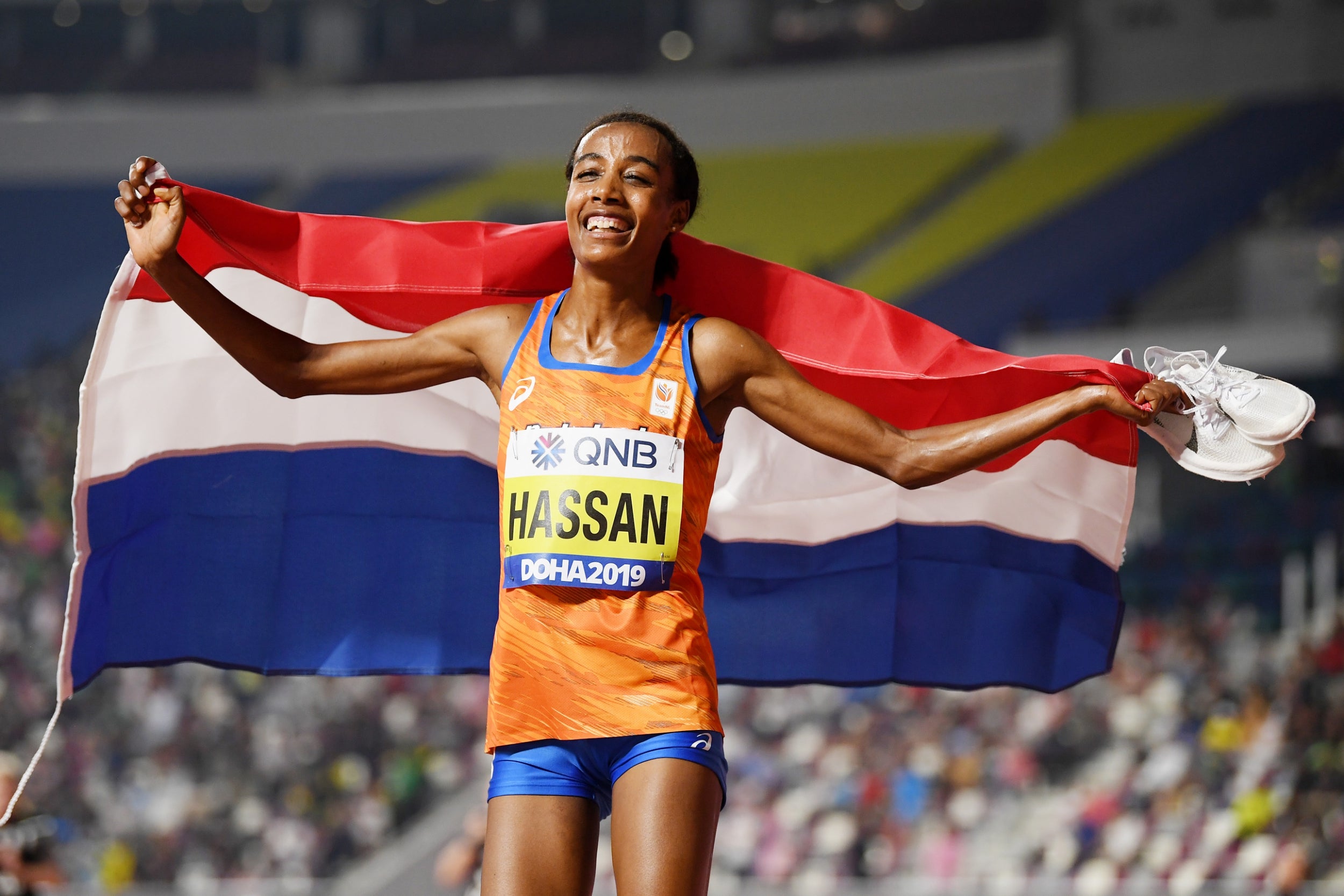 20/40

Sifan Hassan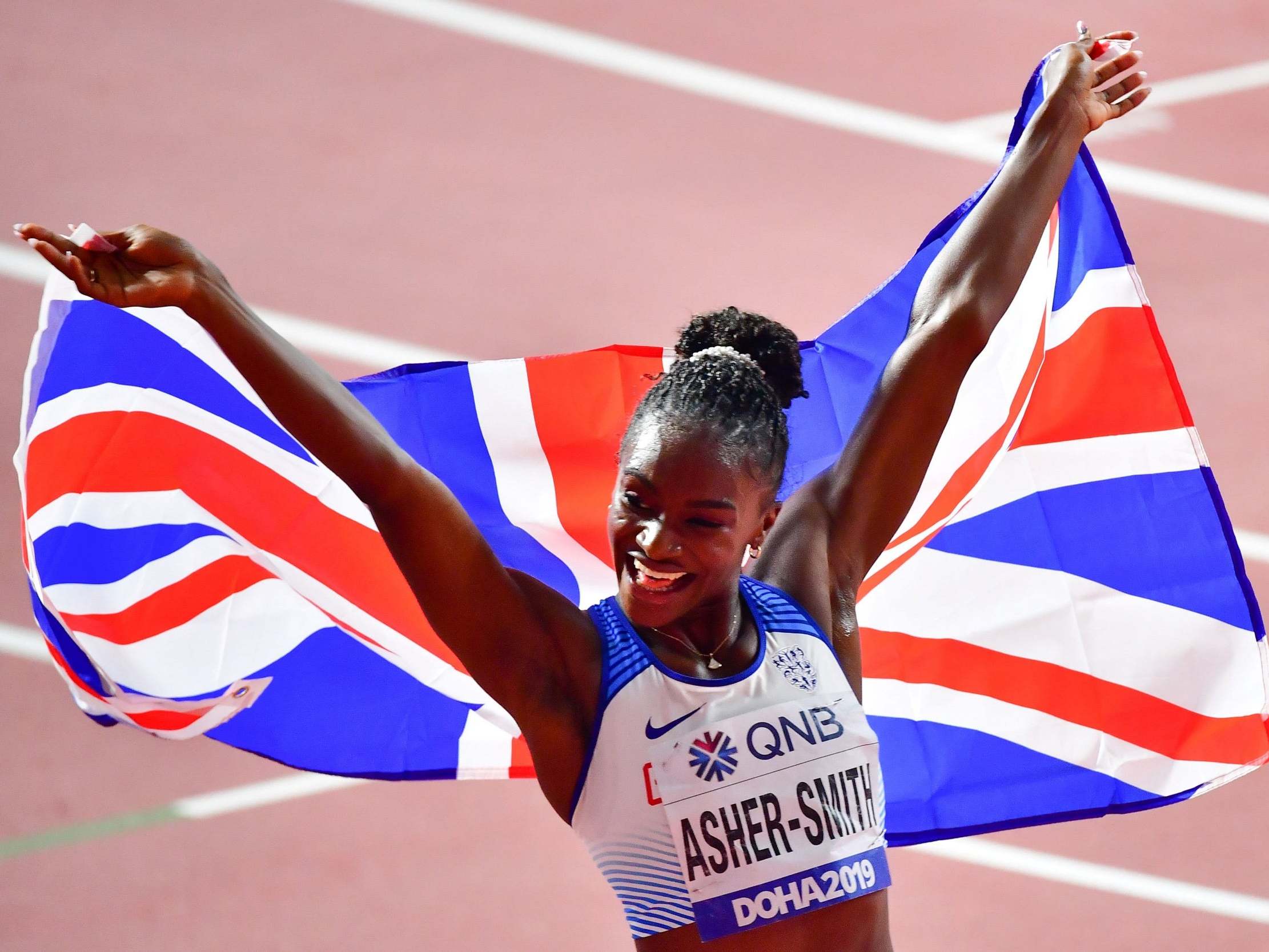 21/40

Dina Asher-Smith, Great Britain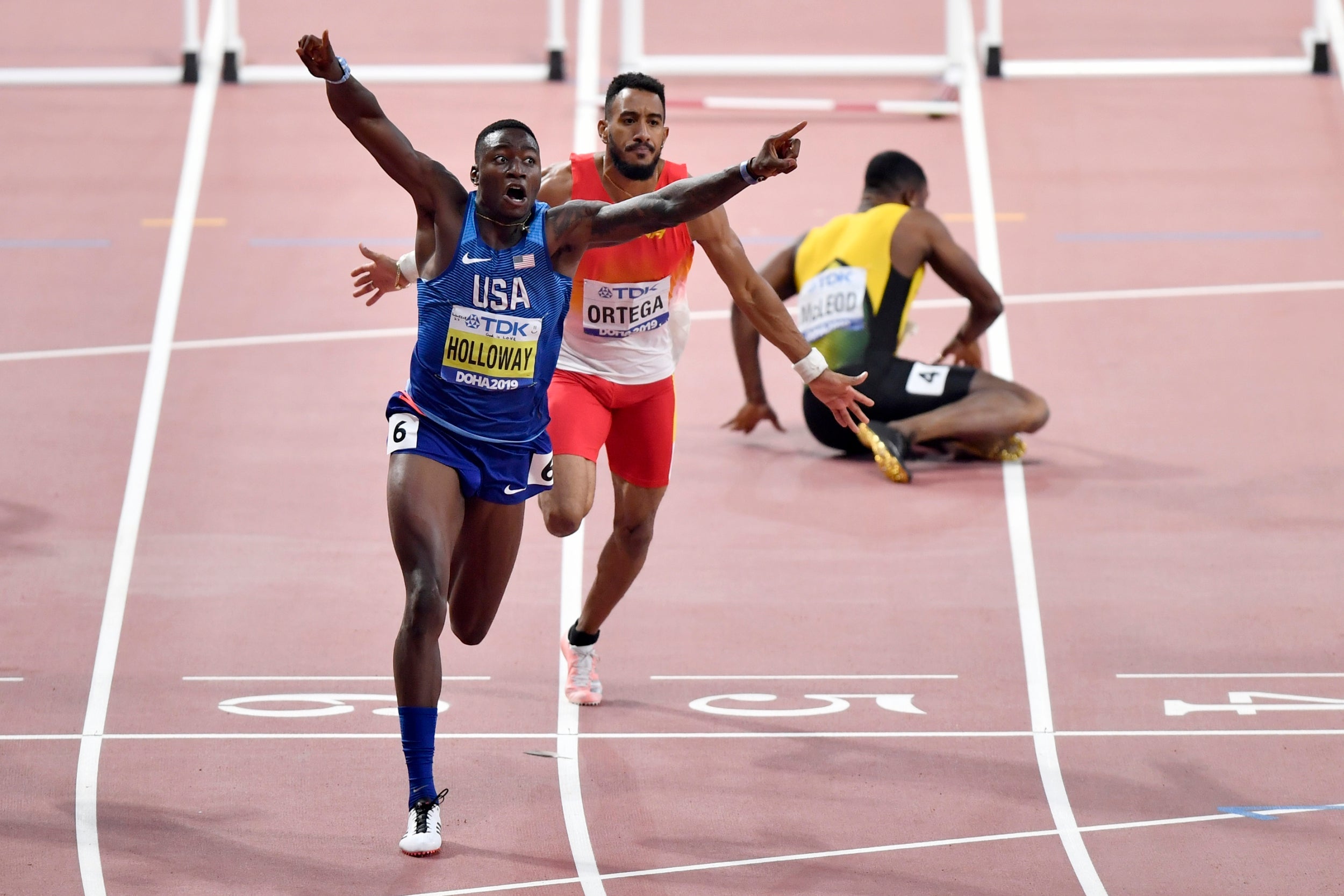 22/40

Grant Holloway, USA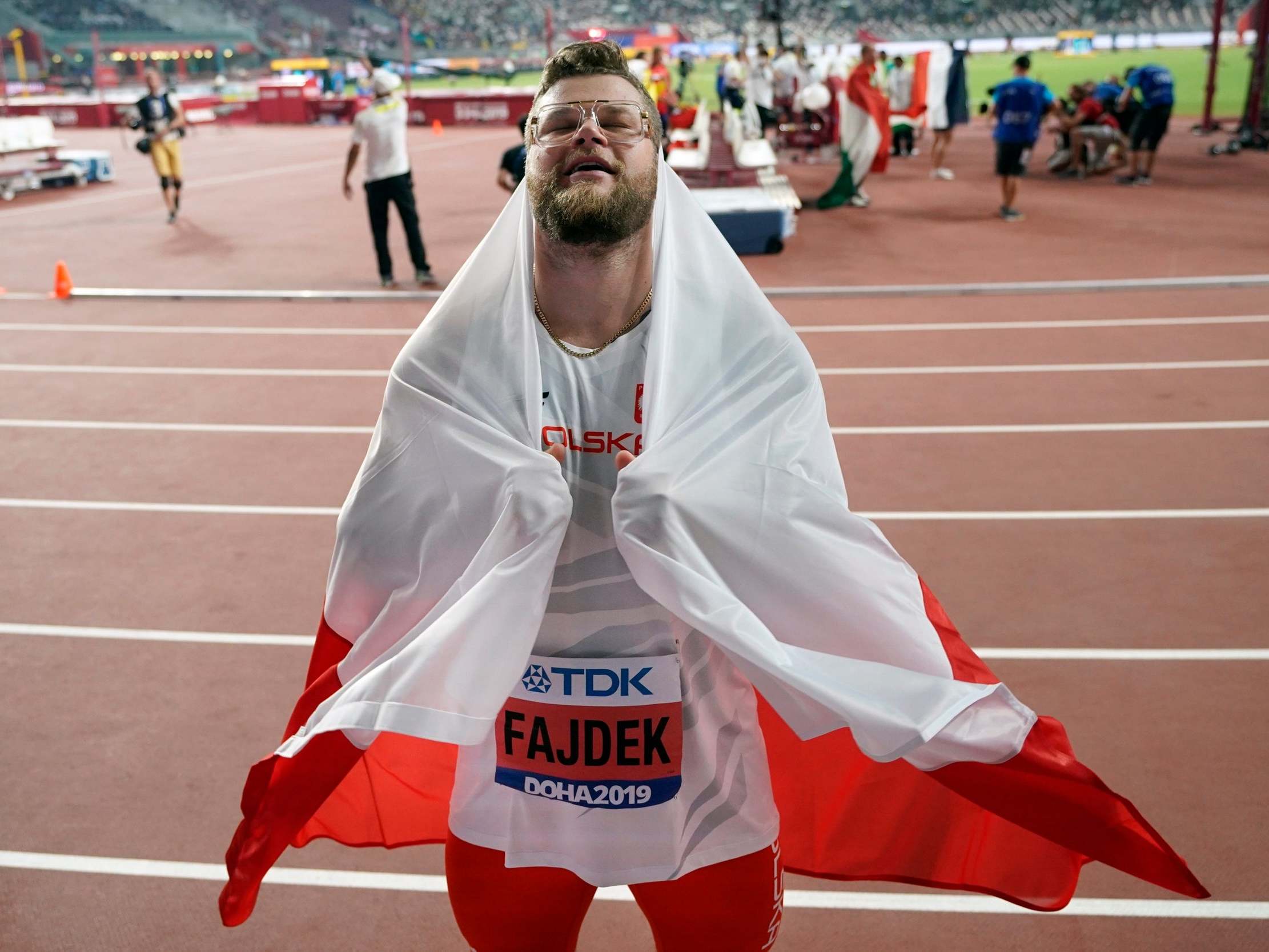 23/40

Pawel Fajdek, Poland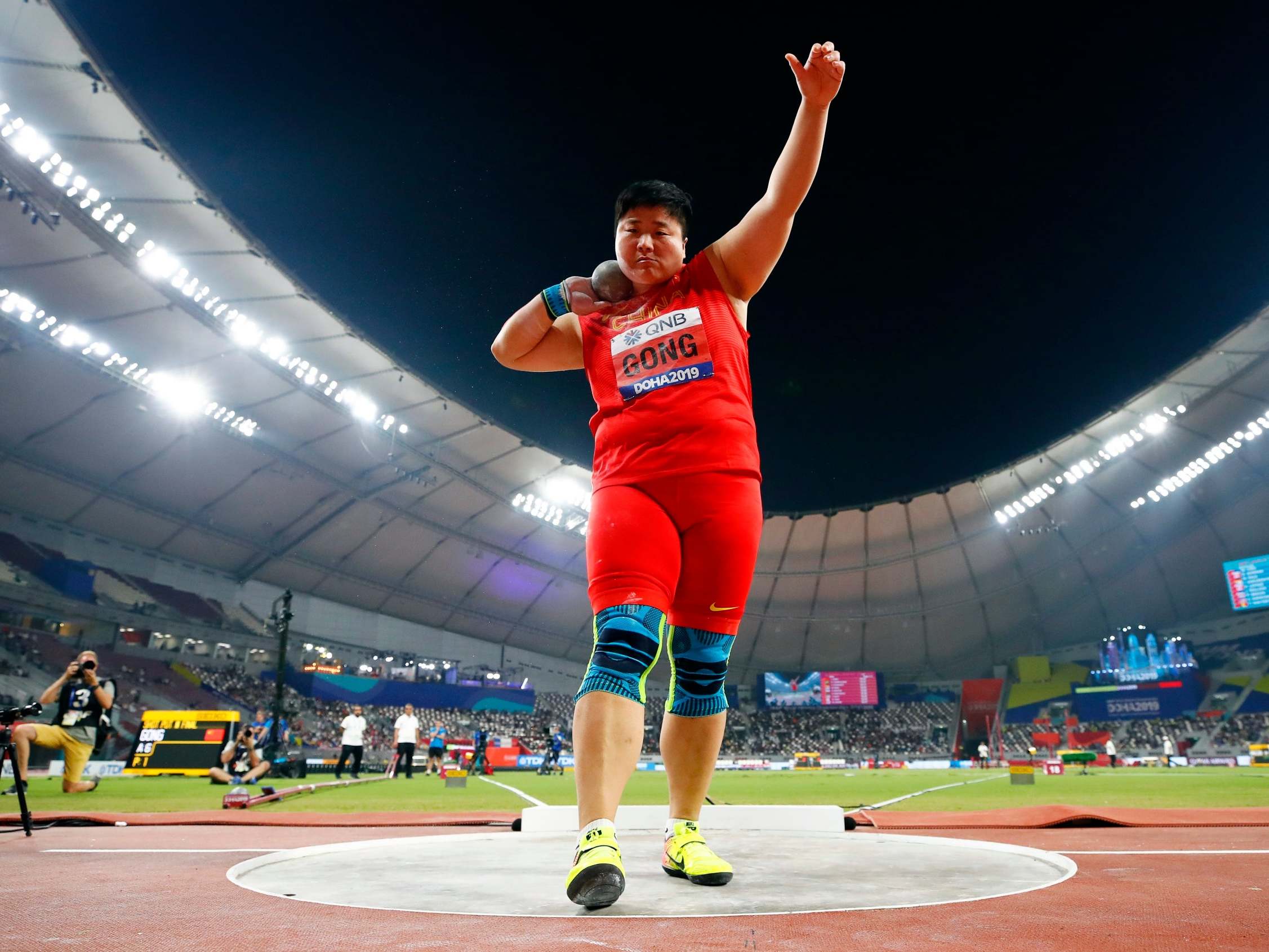 24/40

Lijiao Gong, China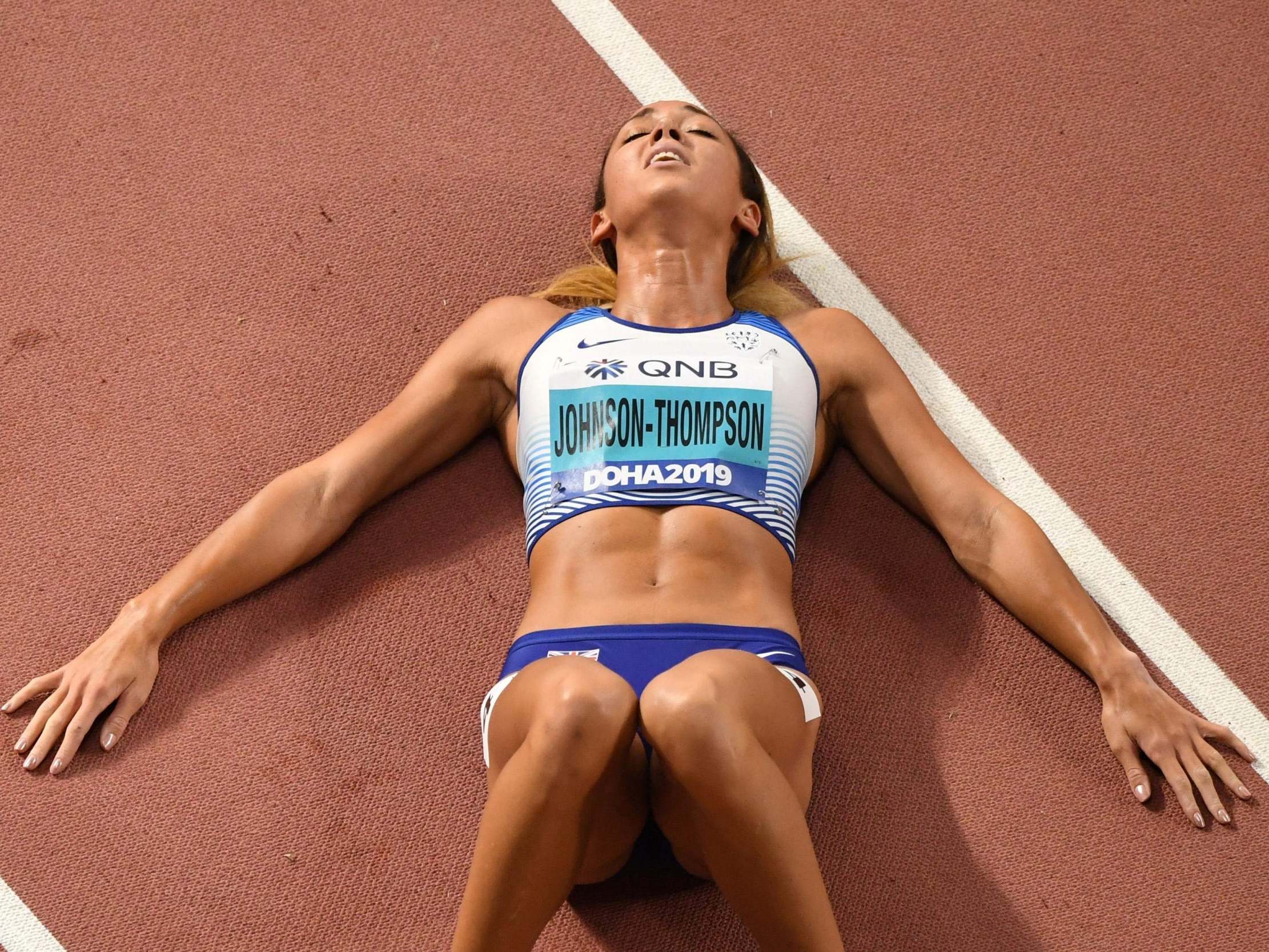 25/40

Katarina Johnson-Thompson, Great Britain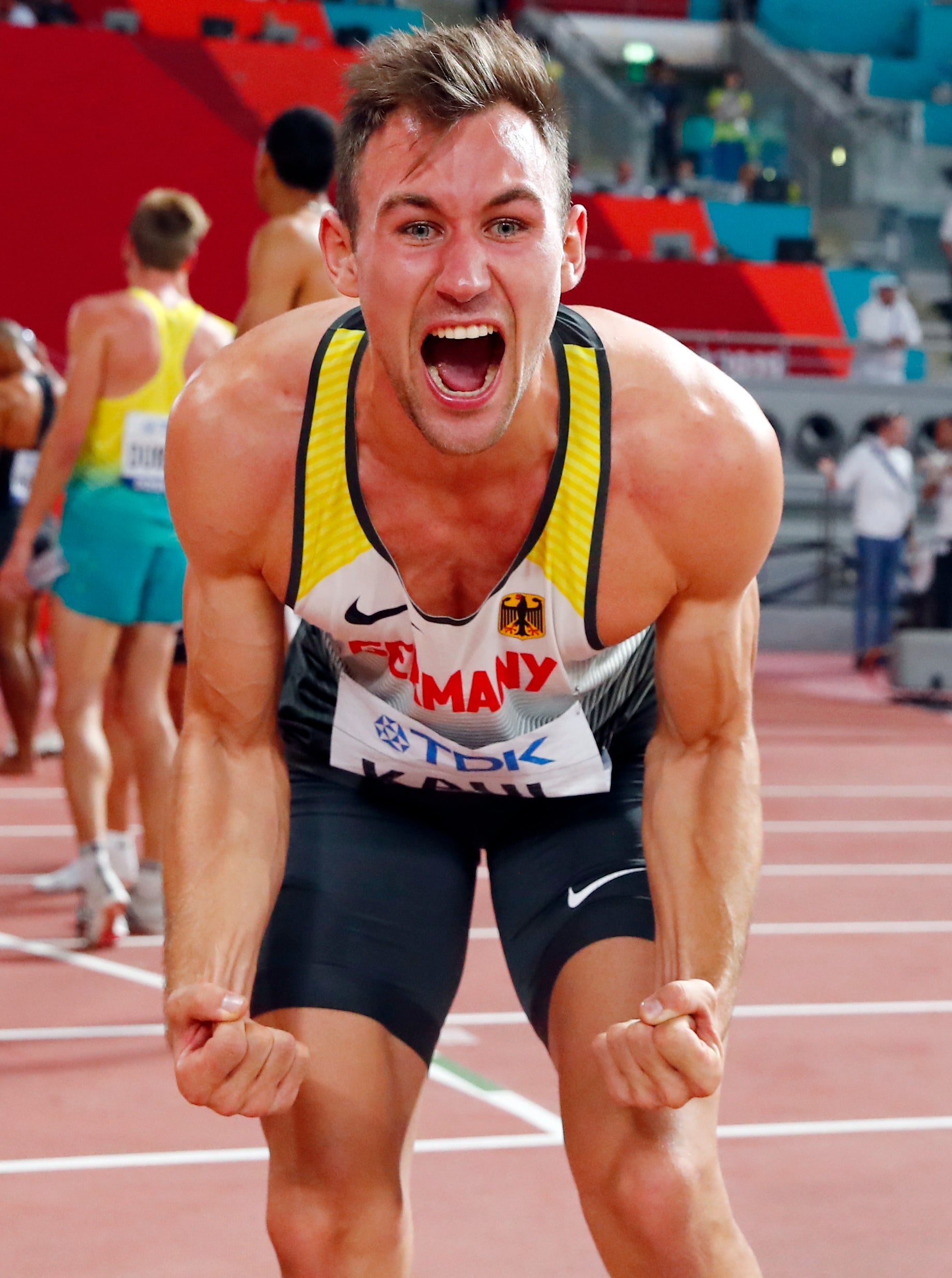 26/40

Niklas Kaul, Germany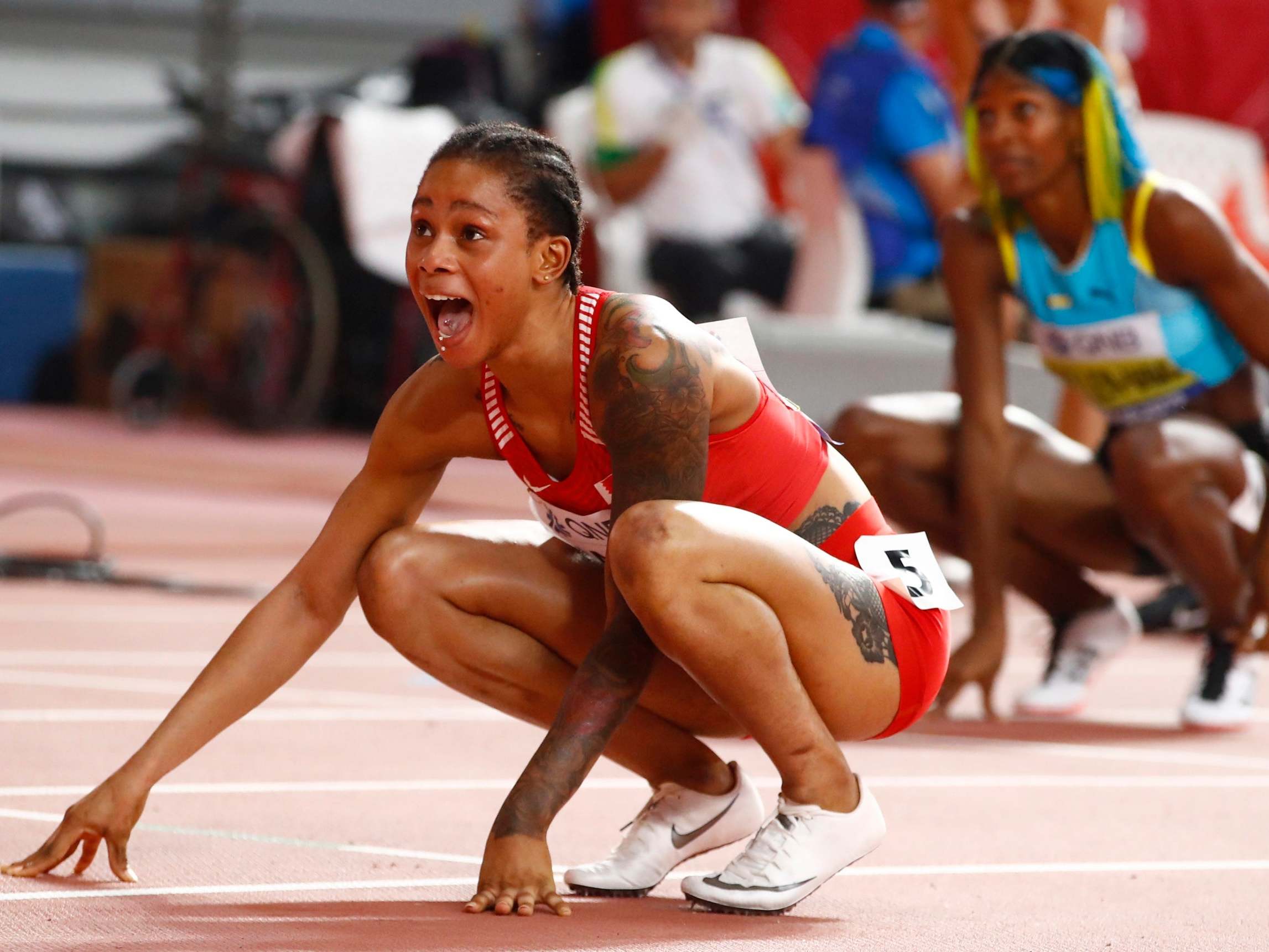 27/40

Salwa Eid Naser, Bahrain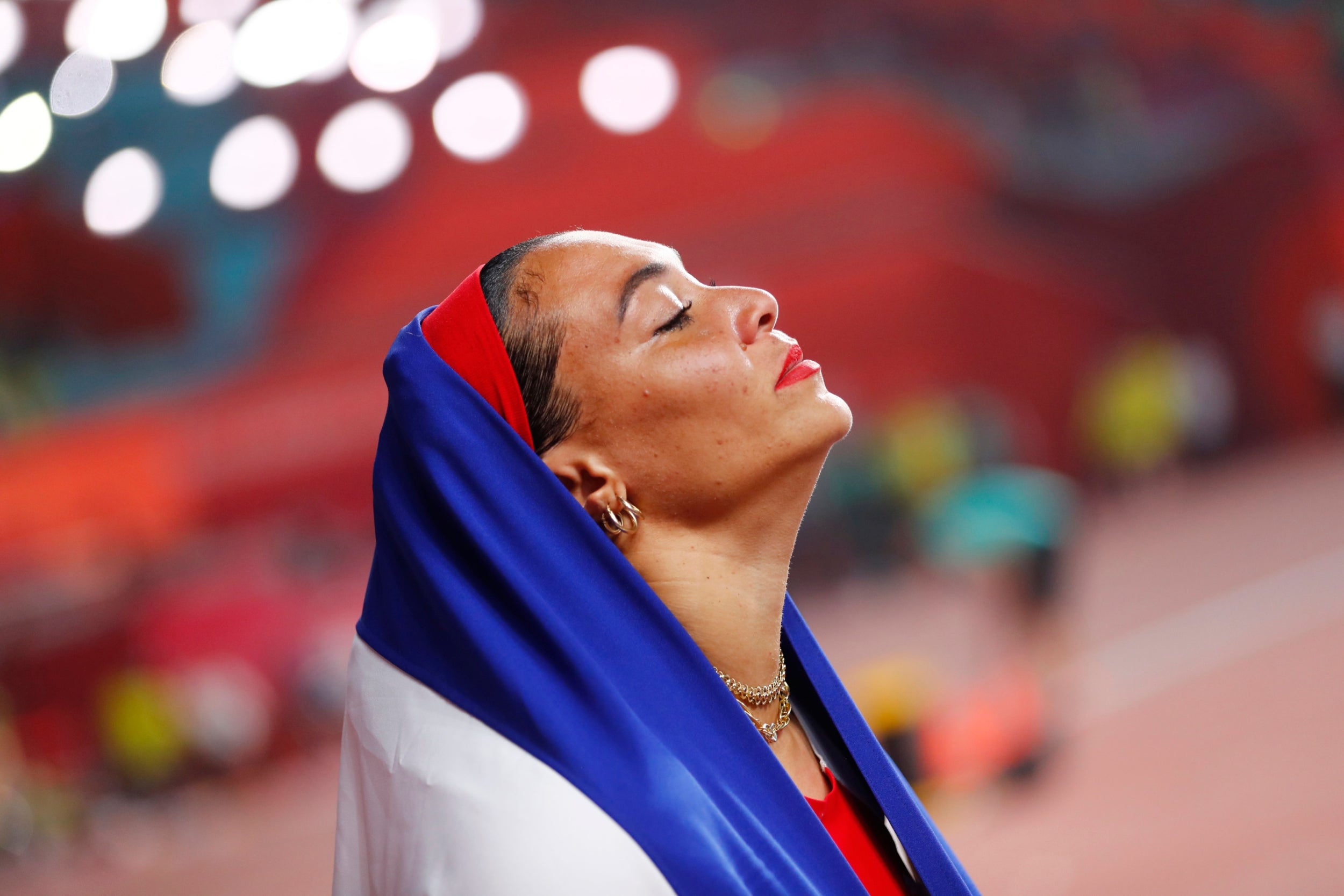 28/40

Yaimea Perez, Cuba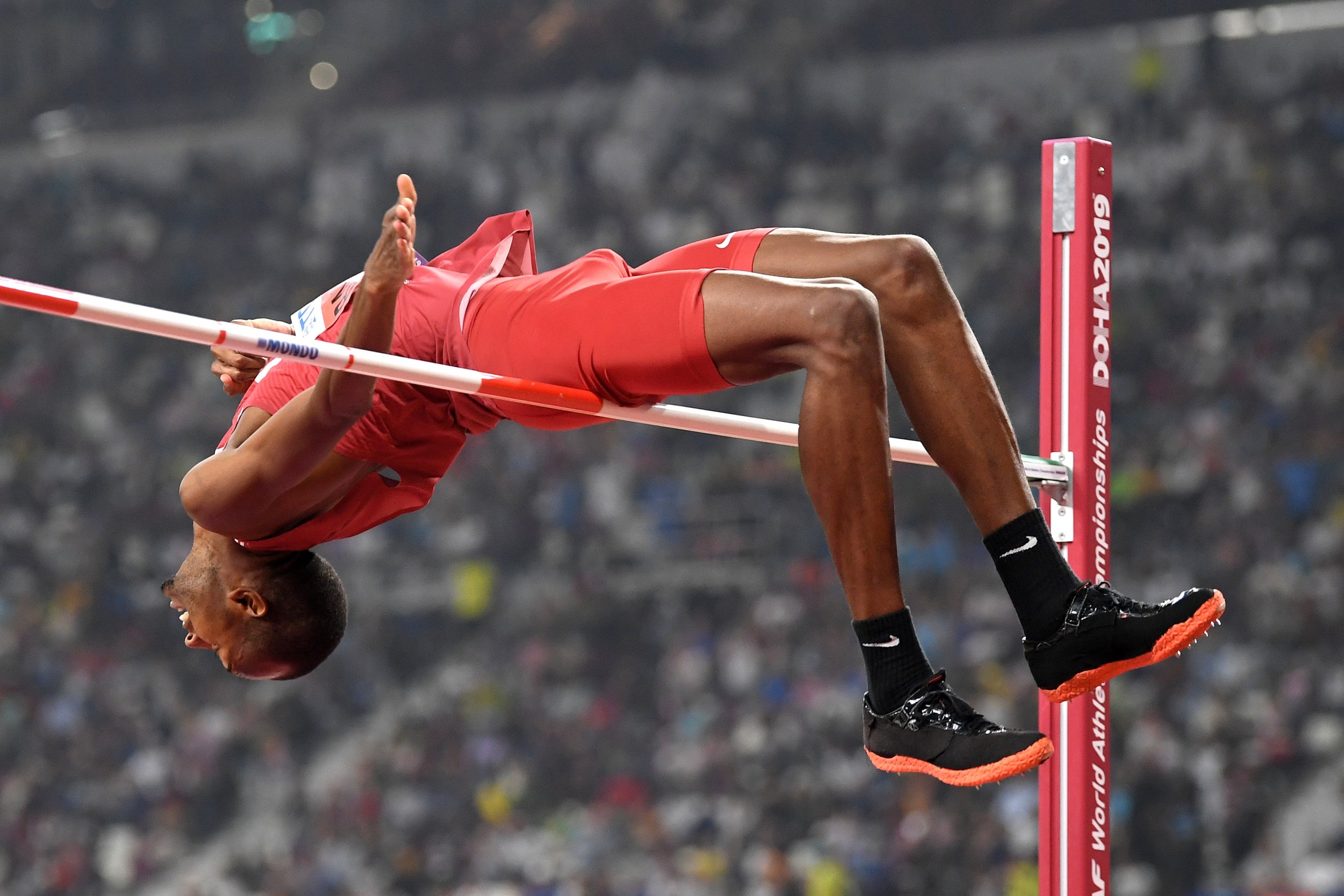 29/40

Mutaz Essa Barshim, Qatar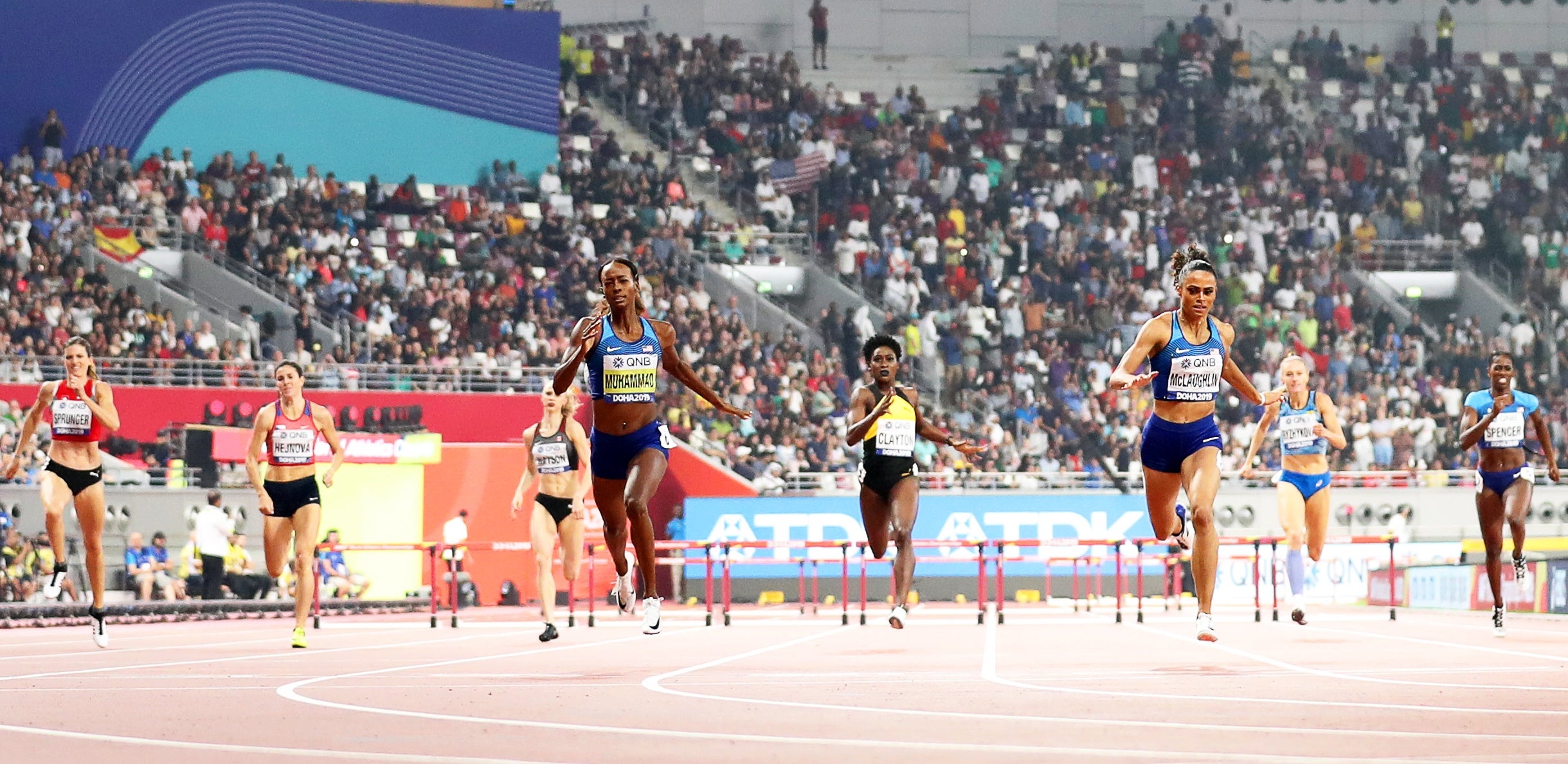 30/40

Dalilah Muhammad, USA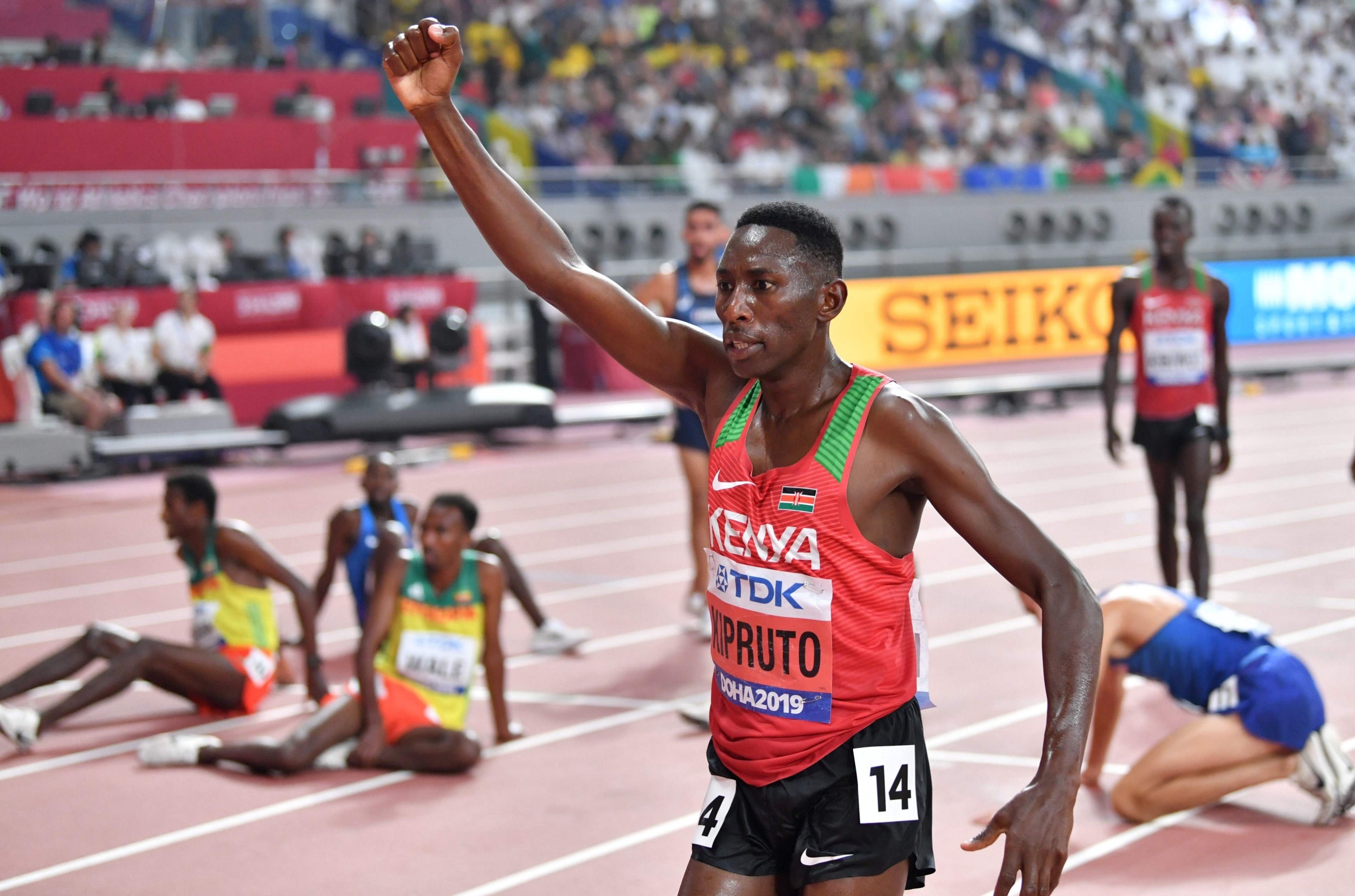 31/40

Conseslus Kipruto, Kenya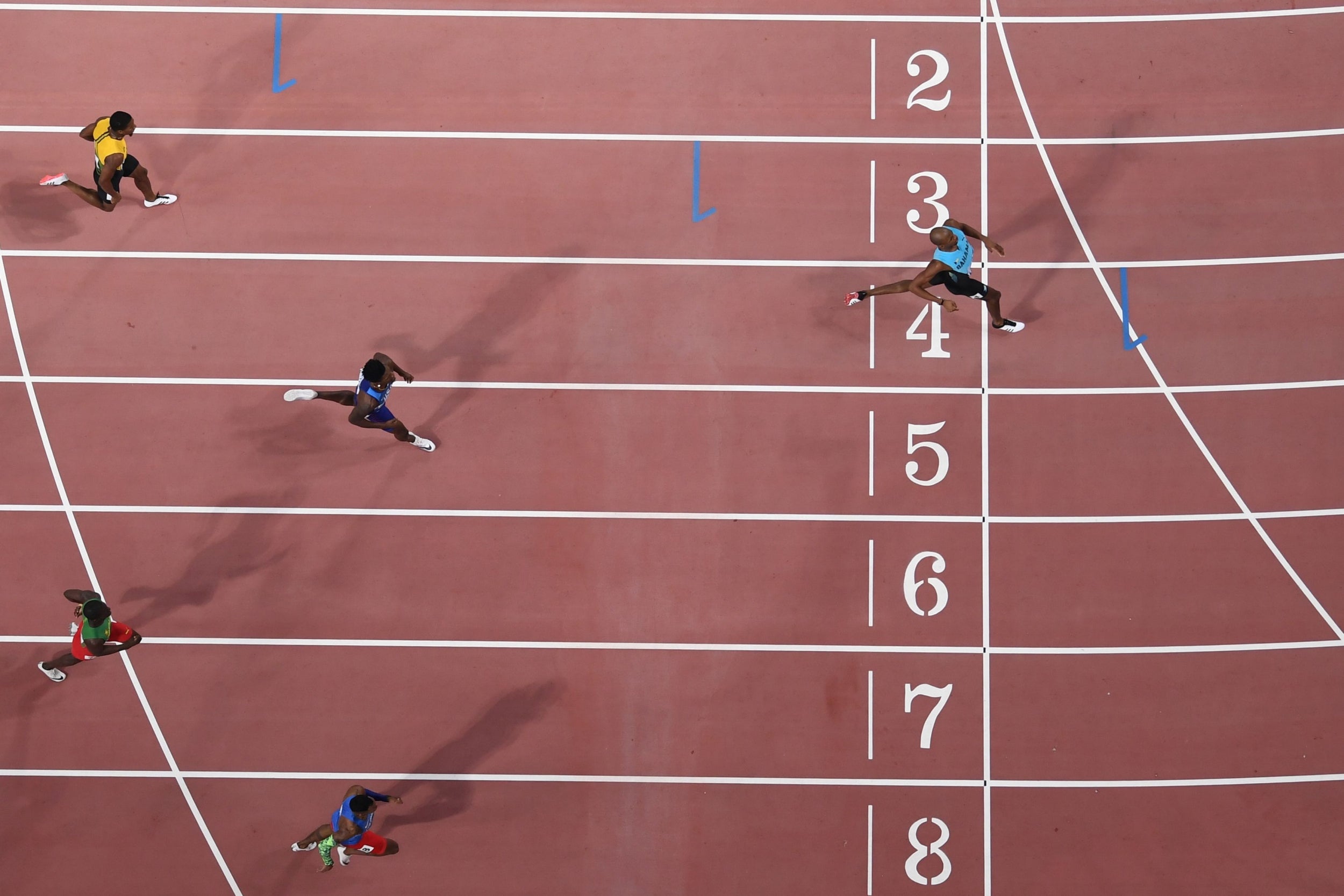 32/40

Steven Gardiner, Bahamas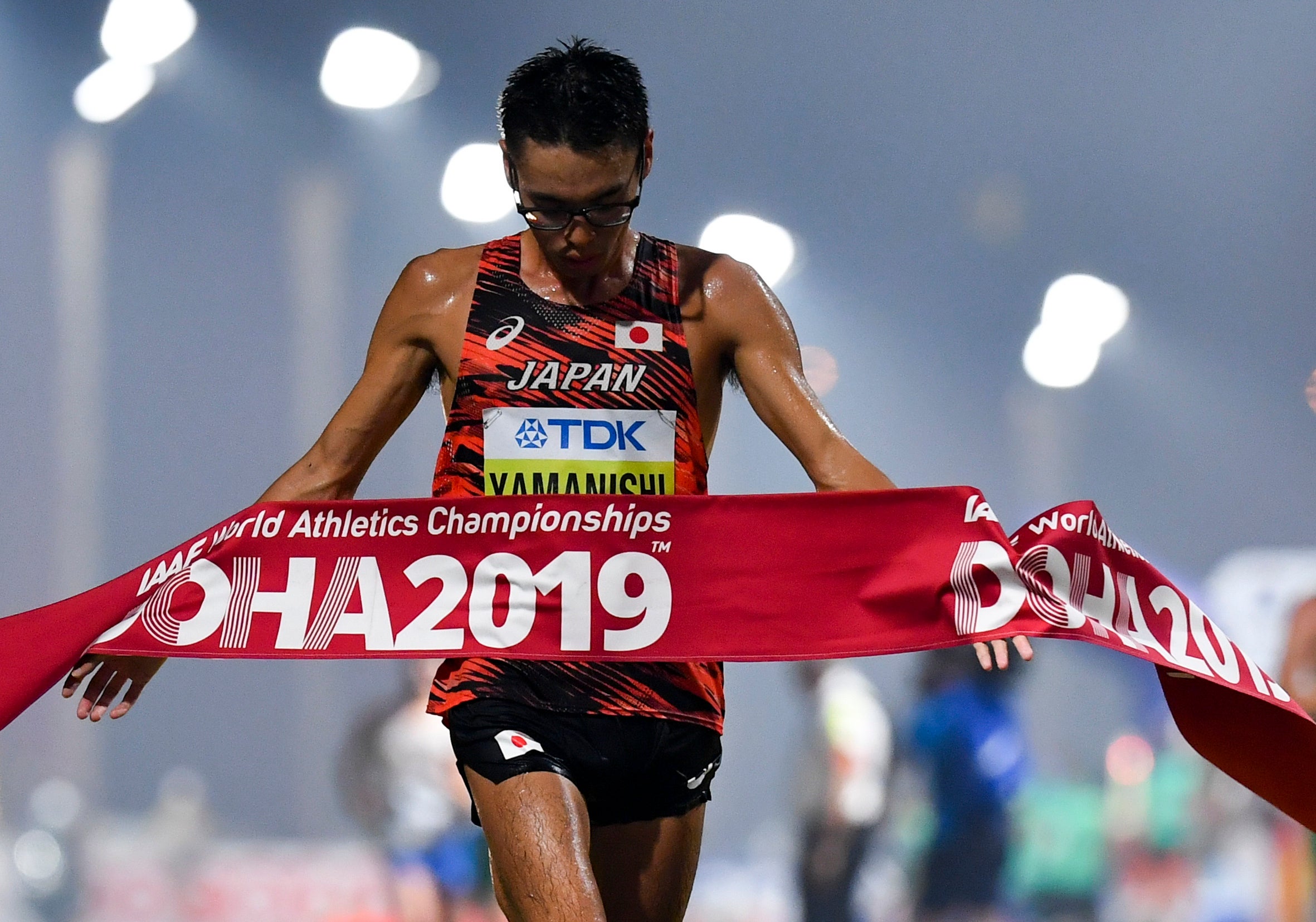 33/40

Toshikazu Yamanishi, Japan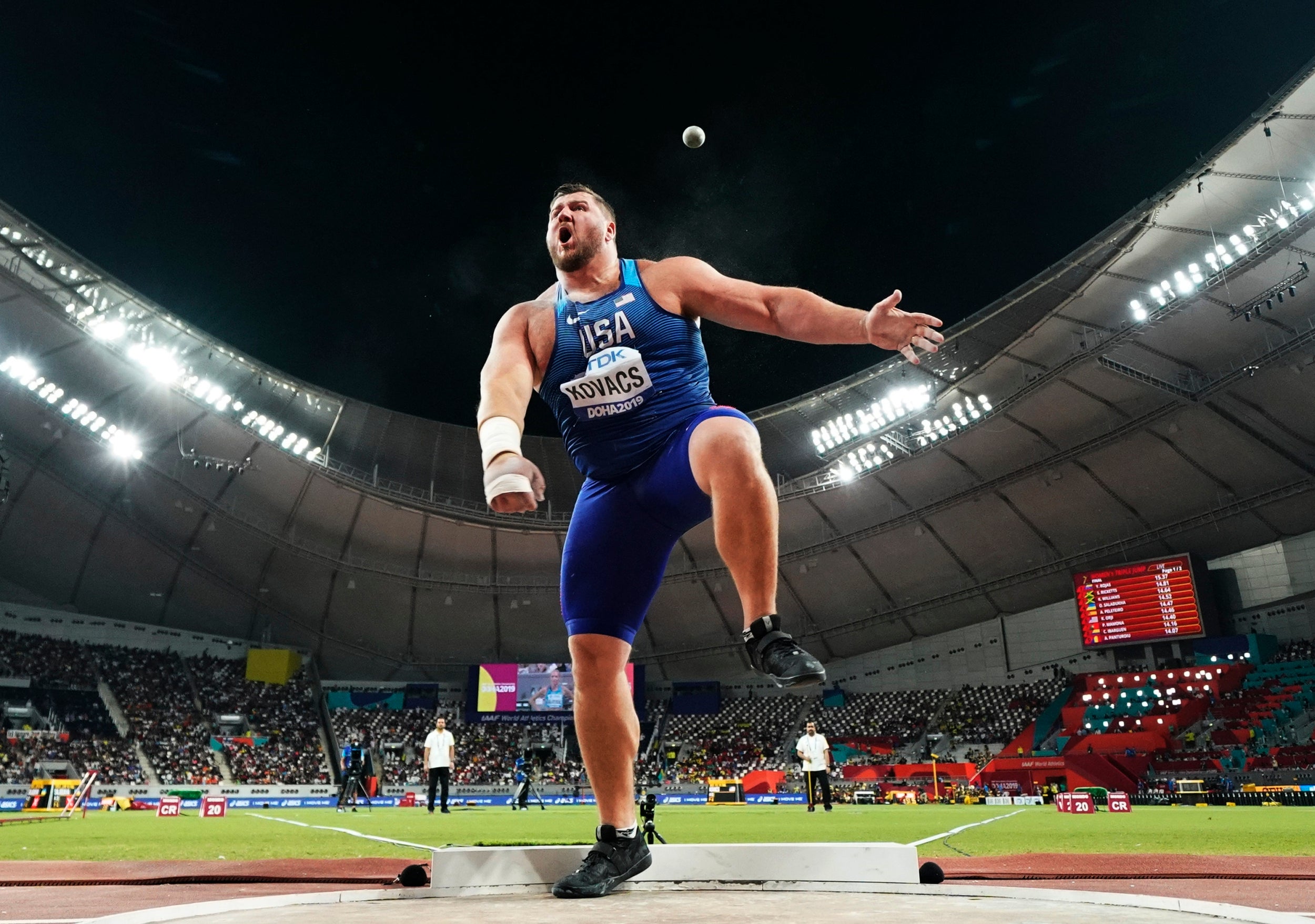 34/40

Joe Kovacs, USA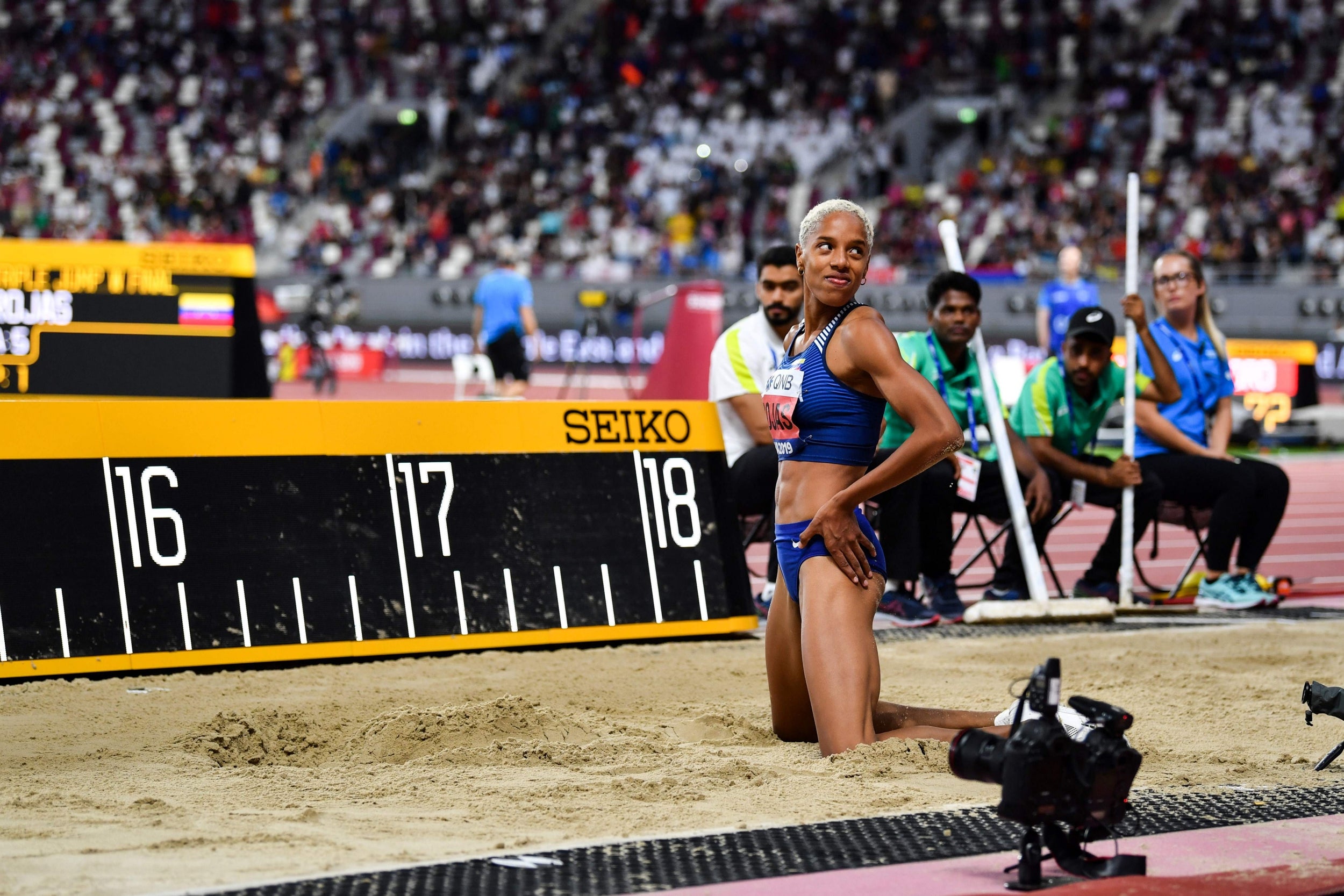 35/40

Yulimar Rojas, Venezuela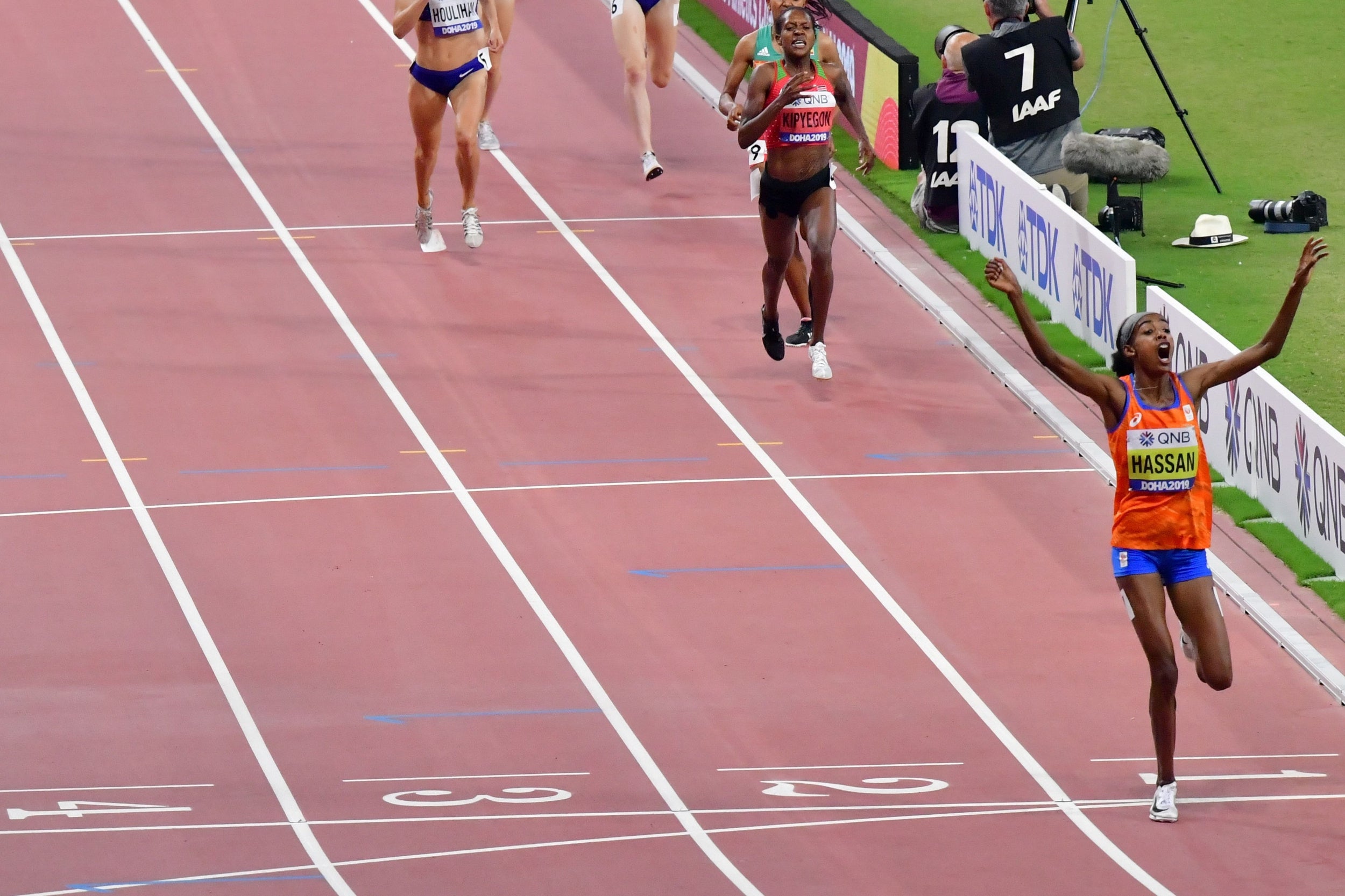 36/40

Sifan Hassan, Netherlands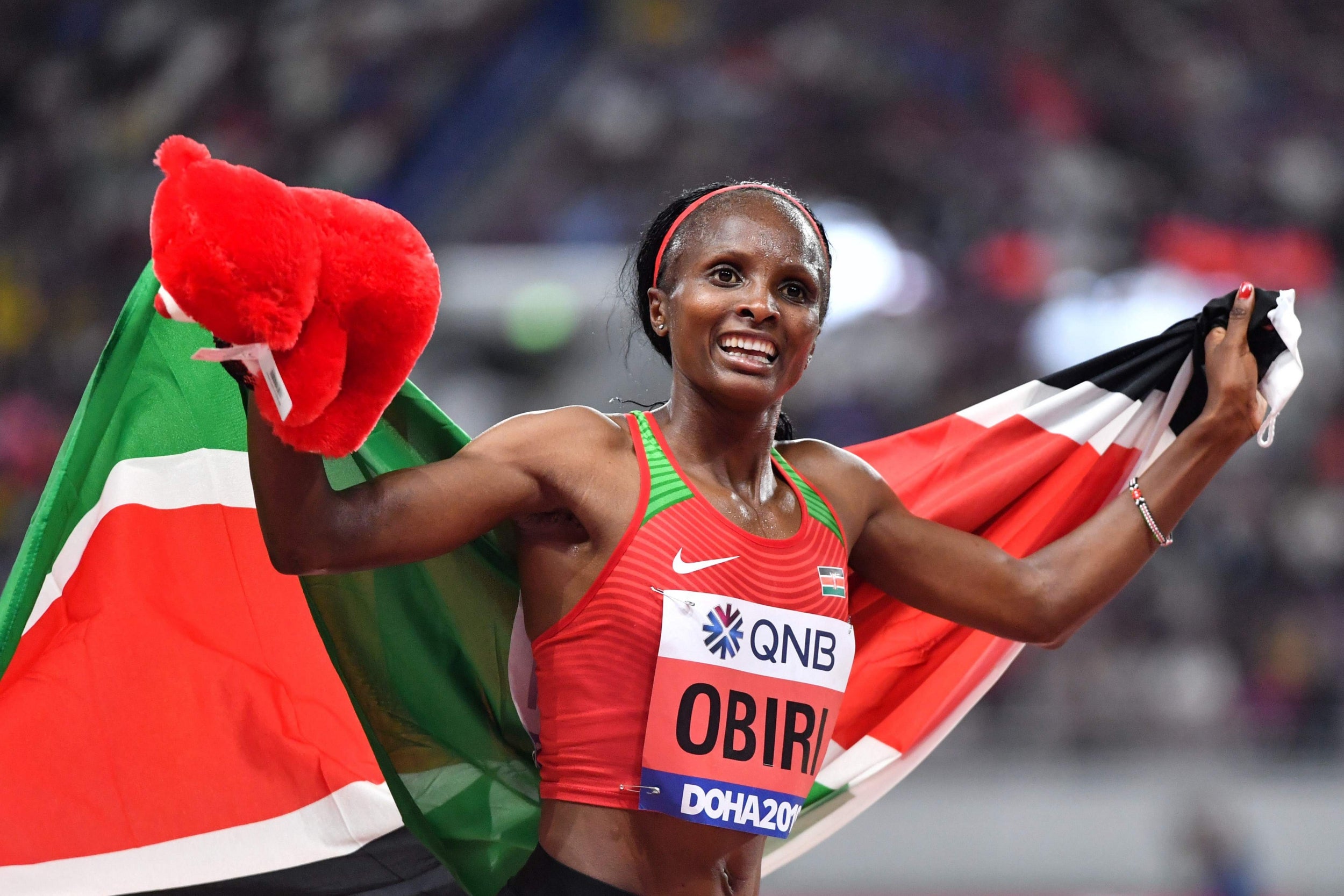 37/40

Hellen Obiri, Kenya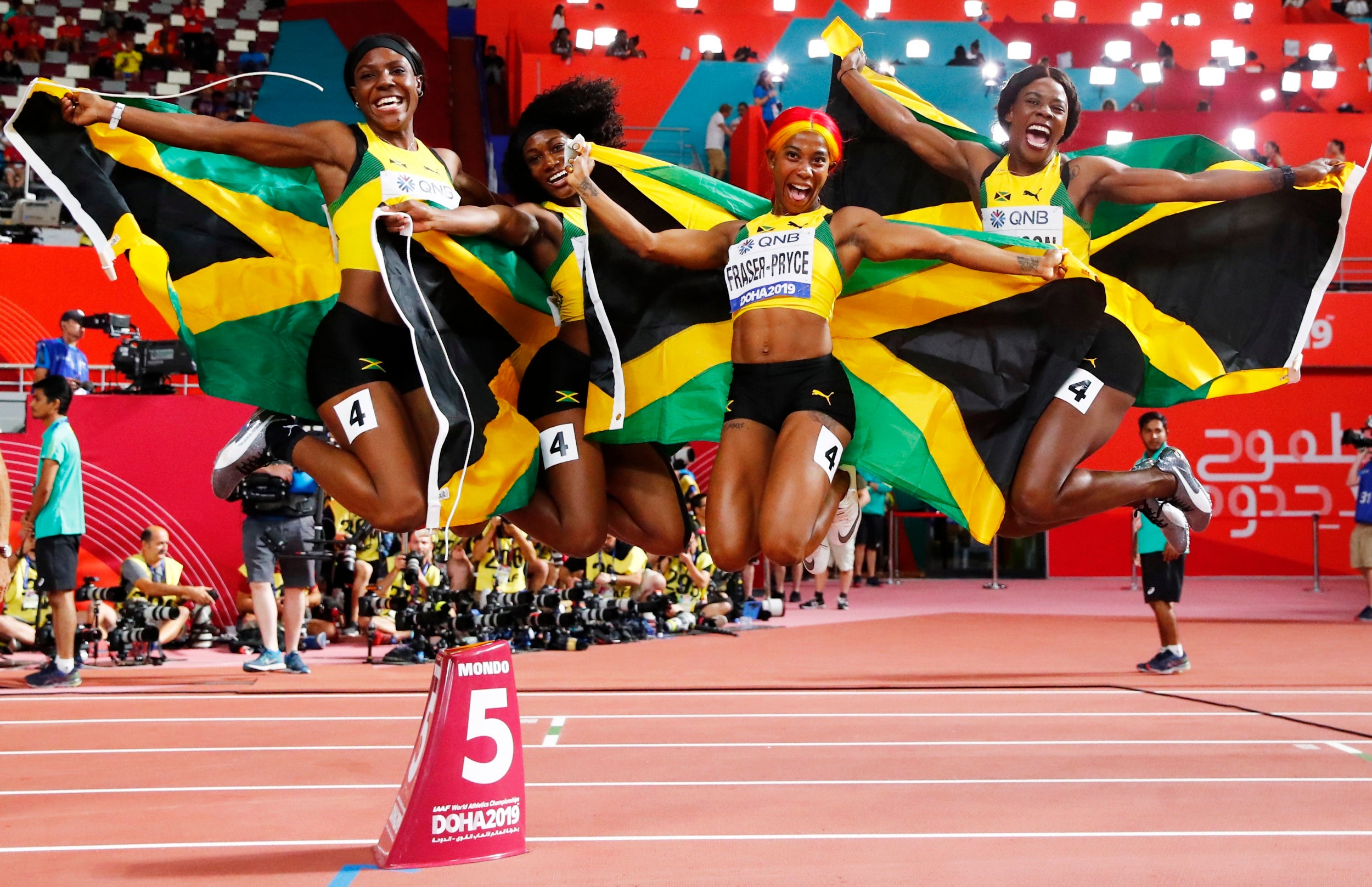 38/40

Jamaica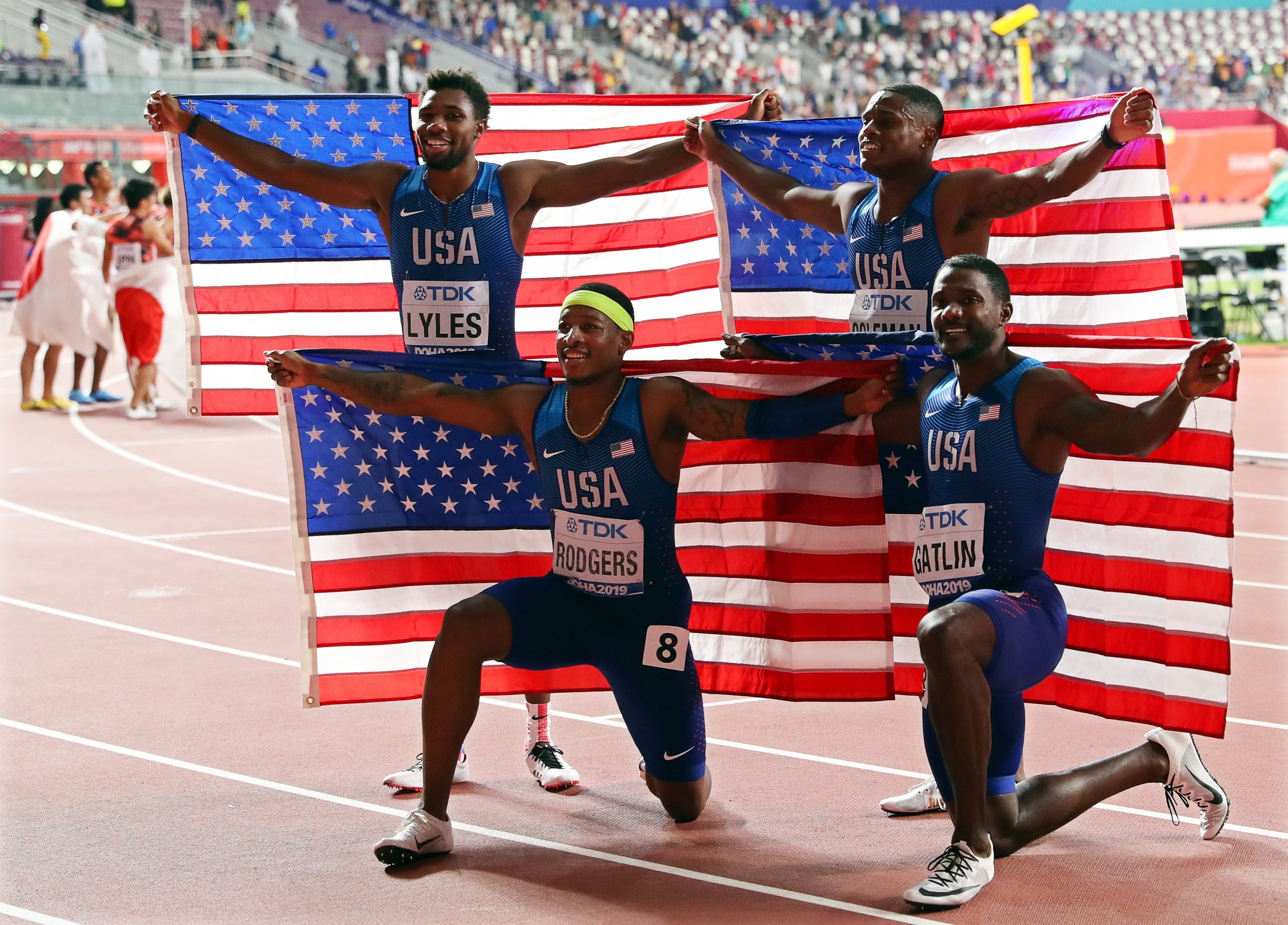 39/40

USA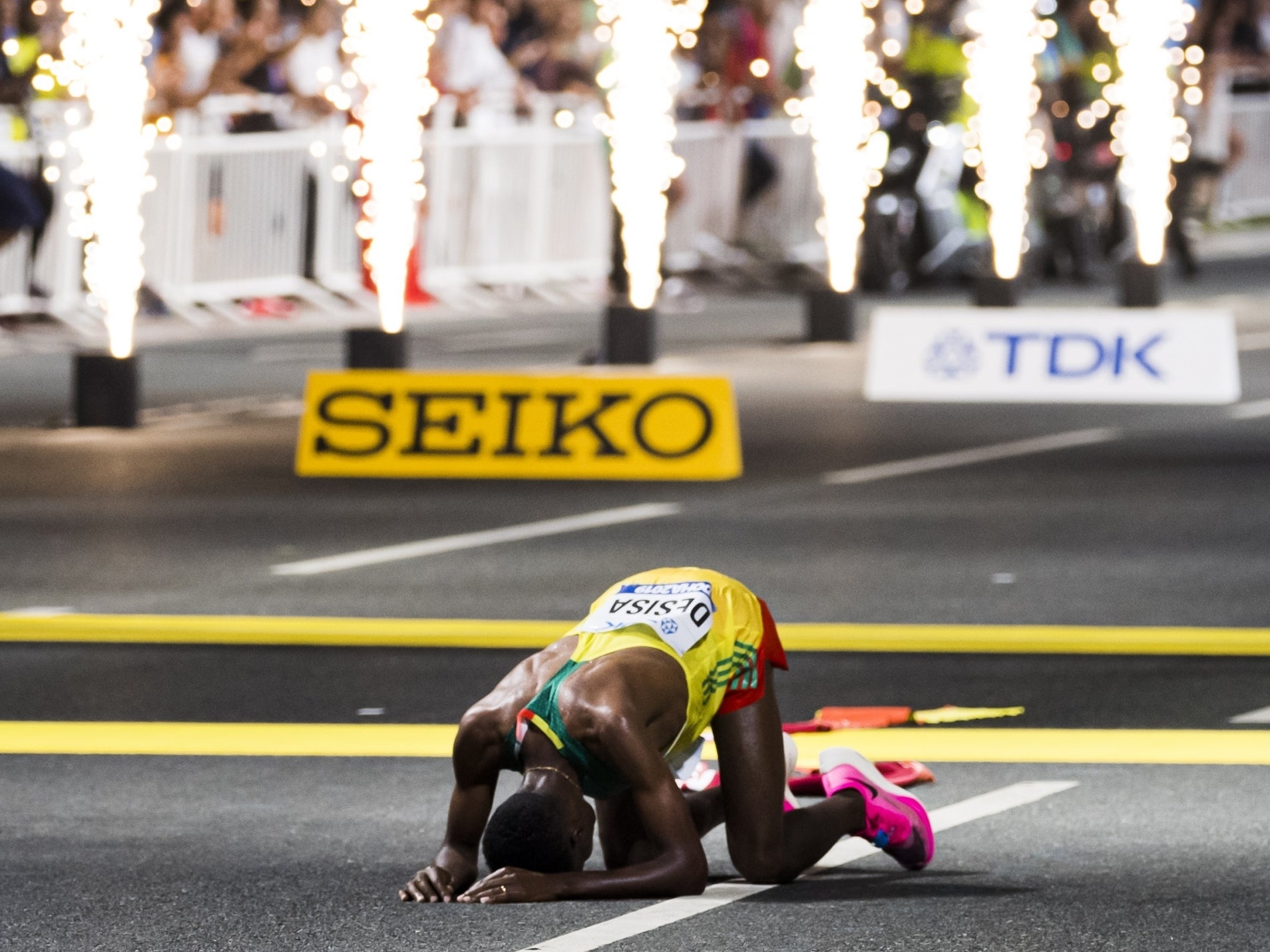 40/40

Lelisa Desisa

"What a year it has been. I can't believe it," the 23-year-old said after completing a memorable 2019 treble.

"I knew that Valencia was going to be a really fast course, one of the fastest in the world. So to get to achieve what we came here for is something really special.

"This year has made me so happy."

Cheptegei shapes as one of the leading contenders for OIympic gold over 10,000m in Tokyo next summer.

Sir Mo Farah, two-time defending champion in the event, announced his intention to compete over the distance at the Olympics after abandoning his plans to race the marathon.

The Ugandan finished second behind Farah at the 2017 Worlds in London.

Source: Read Full Article