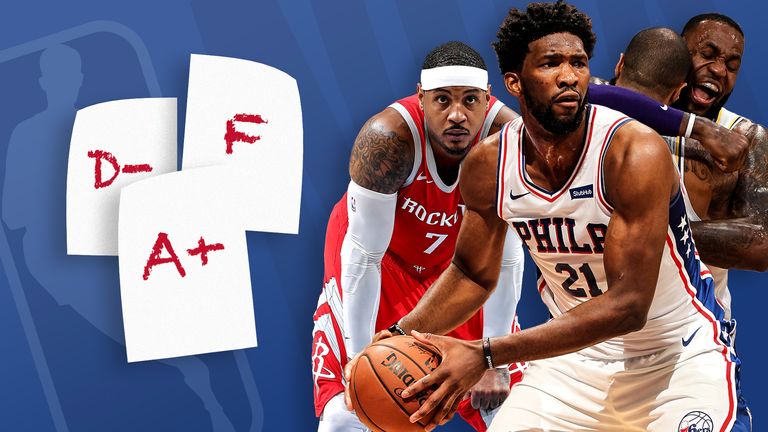 Every Tuesday, we will look back over the last seven days of NBA action and put five teams under the microscope as we grade their recent performances. Who will be hailed as high-achievers and who needs to do better?
Philadelphia 76ers (9-6) – Grade: A-
Their 9-6 record has them in third place in the Eastern Conference and they went 3-1 for the week with Joel Embiid scoring at will in wins against Charlotte and Miami. But that pales into insignificance thanks to their acquisition of Jimmy Butler from the Minnesota Timberwolves.
With Butler on the roster alongside Embiid and Ben Simmons, the Sixers now have three of the NBA's best 20 players on their books. Only the Golden State Warriors can say the same.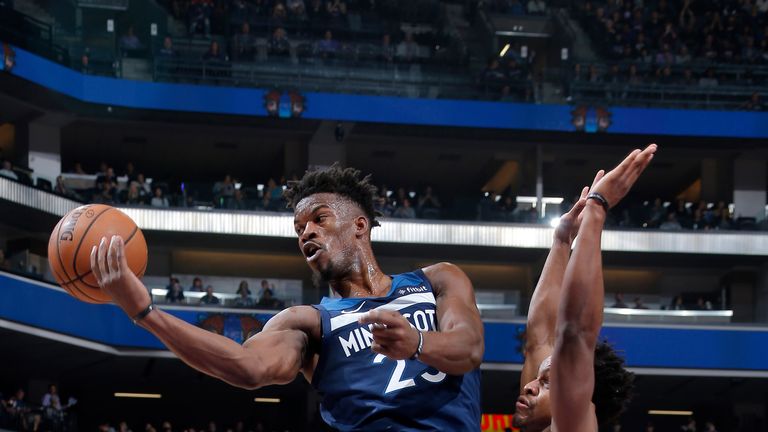 Butler's behaviour in forcing his exit from Minnesota, including an expletive-laden rant aimed at young Wolves stars Karl-Anthony Towns and Andrew Wiggins at a team practice, may have some Sixers fans concerned about his presence in Philly's locker room. But now his wish of playing for a genuine contending team has been granted, he will surely knuckle down rather than cause disruption in his new environment.
The Butler trade marks the end of the Sixers' 'Process', an era kickstarted in 2013 by former general manager Sam Hinkie and focused on 'tanking' (accumulating enough losses to acquire high Draft picks each year) with a long-term goal of producing a team capable of making a championship run.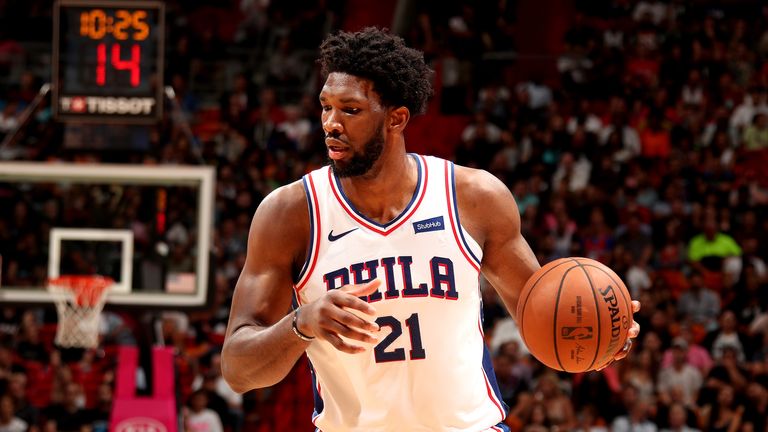 The Sixers had to lose a lot of games to pick up Simmons and Embiid in the Draft. The young duo made the 76ers a playoff team.
The Philadelphia front office also made a lot of trades to build up a cache of assets (players and Draft picks) in the hope of facilitating a trade for a superstar player. In Butler, they now have that too.
The 'Process' is complete. Now they must make a run at the NBA title.
Los Angeles Lakers (7-6): Grade: B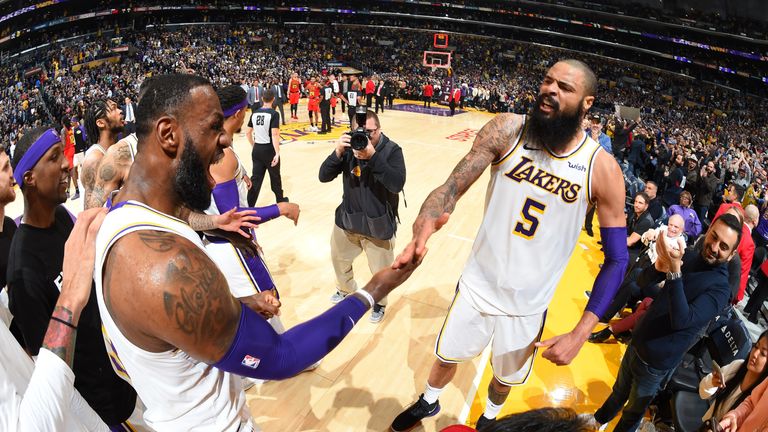 Three games, three wins, albeit over the lowly Atlanta Hawks (by a single point), the young and inconsistent Sacramento Kings and a Minnesota Timberwolves team in the middle of a messy Jimmy Butler divorce. Nevertheless, the Lakers are above .500 for the first time this season and now have some momentum behind them.
The acquisition of veteran center Tyson Chandler has brought much-needed defensive organisation and leadership. His presence also addressed the Lakers' lack of size when starting big man Javale McGee rests. Underlining his importance, Chandler made a game-winning block at the buzzer to seal the 107-106 win over the Hawks to the delight of LeBron James.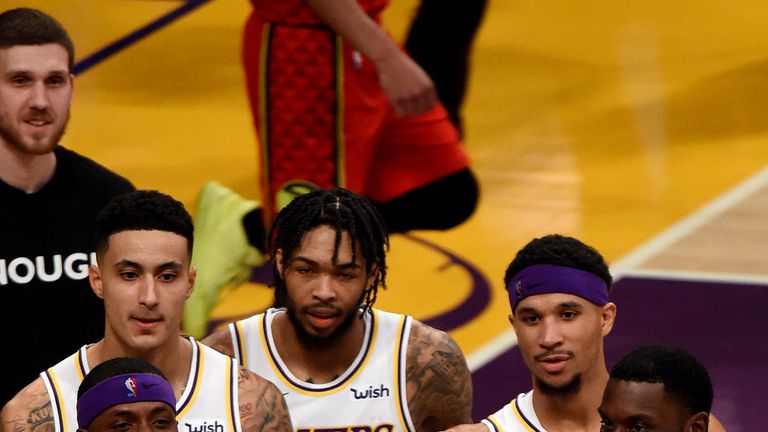 Speaking of James, he averaged 25 points across Los Angeles' three wins and, with contributions coming more consistently from young Lakers Brandon Ingram, Kyle Kuzma and Josh Hart, appears decidedly less frustrated than in the season's opening weeks.
Portland Trail Blazers (10-3): Grade: A+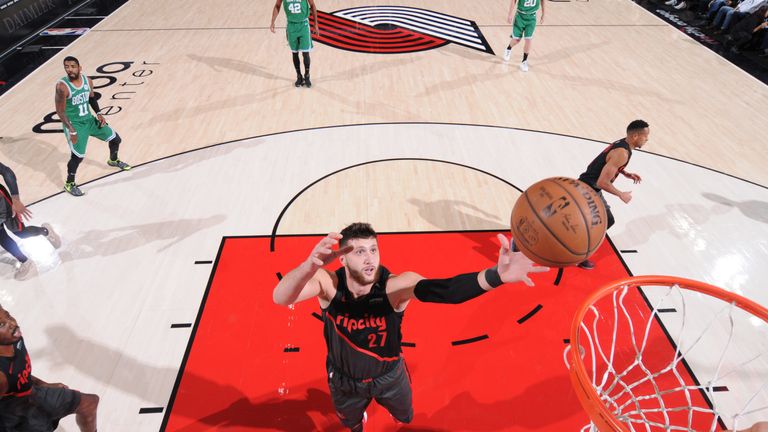 What a week for Portland! Home wins over two Eastern Conference heavyweights – the Boston Celtics and the Milwaukee Bucks – and a potential playoff rival in the Los Angeles Clippers leaves the Blazers second in the Western Conference.
Portland have played nine of their 13 games to date at home (winning seven of them) which has been a factor in them reaching 10-3. That impressive record may well take a hit when the Blazers play more games away from the Moda Center.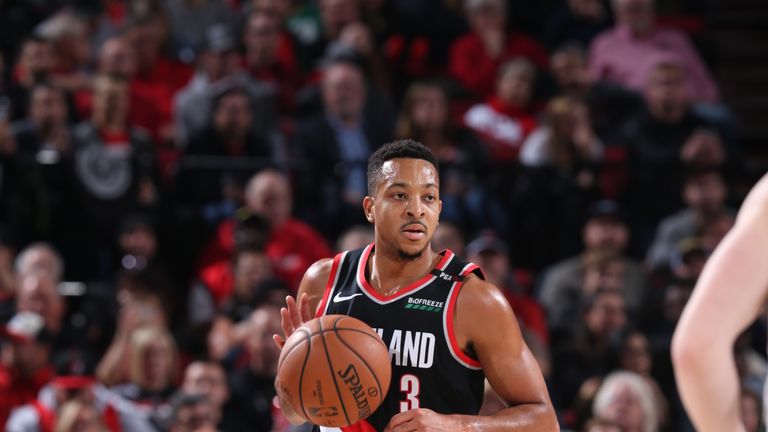 For now, though, you cannot argue with their performances. CJ McCollum's 40-point explosion allowed them to overcome Giannis Antetokounmpo and the Milwaukee Bucks. McCollum and Damian Lillard combined for 48 points as they rolled to a double-digit win against the Clippers. Then center Jusuf Nurkic produced an 18-point, 17-rebound performance in a 100-94 win over the Celtics.
The Blazers finished third in the Western Conference last season before crumbling in the playoffs. Their excellent start to this campaign has dismissed any talk of them suffering from a hangover of last year's disappointment.
Houston Rockets (5-7) – Grade C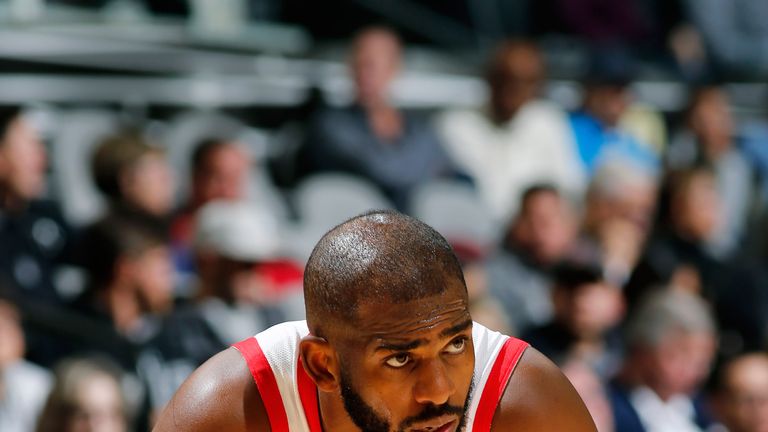 It is becoming increasingly difficult to remember the Houston Rockets as the team that came within one game of beating the Golden State Warriors in last season's Western Conference finals.
After a sluggish 1-5 start to this campaign, they briefly flickered into life before slumping to two more losses in their last three games, including an appalling 98-80 defeat in Oklahoma City where they posted the lowest points total in any NBA game this season.
Franchise star James Harden has struggled with injuries thus far. His backcourt partner Chris Paul, suspended for three games thanks to his on-court altercation with Lakers guard Rajan Rondo, has looked a long way off his influential best.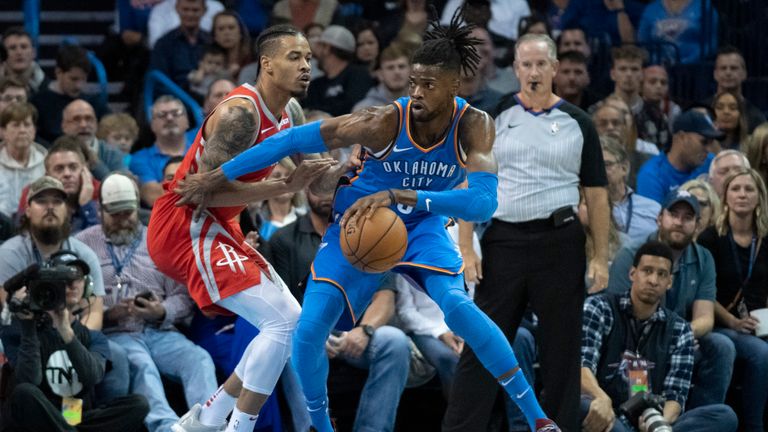 The experiment with Carmelo Anthony has failed, with the veteran scorer unable to contribute on a consistent basis as a starter or from the bench. Three-point threat Eric Gordon, another Rocket to miss time through injury, is making a woeful 23.4 per cent of his attempts from beyond the arc.
The Rockets had the league's second-best offense last season. After 12 games of this campaign, their offense ranks 27th. They are scoring almost 10 points per game (102.7) less than last year (112.4).
Coach Mike D'Antoni has plenty of work to do. Sunday's win against the Indiana Pacers, with Harden looking like his old self with 40 points, was a good start.
Minnesota Timberwolves (5-9) – Grade: D+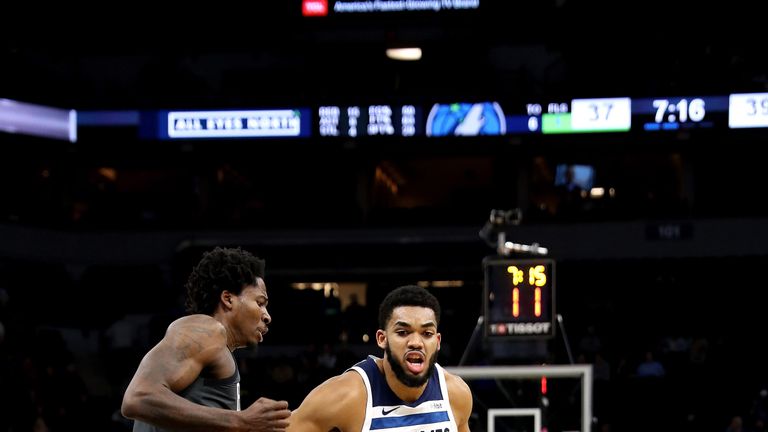 Losing all five games, three of them over the past week, on a western road trip proved enough for general manager Scott Layden to pull the trigger on a trade to ship the disgruntled Jimmy Butler to Philadelphia in a five-player trade.
Losses to the Clippers, Lakers and Kings left Minnesota reeling in 14th place in the Western Conference.
With the Butler issue (and the drama his trade saga wrought on the team) now finally resolved, there is plenty of time for Karl-Anthony Towns, Andrew Wiggins and Derrick Rose, plus the newly-acquired Robert Covington and Dario Saric to turn Minnesota's season around.
The post-Butler era started with a long-awaited win on Monday night, a 120-113 home victory over the Brooklyn Nets in which Towns looked back to his best, scoring 25 points and hauling in 21 rebounds.
After such a fraught opening four weeks of the season, coach Tom Thibodeau will hope Towns' performance is the first building block in his team re-asserting their playoff credentials.
Tuesday night's games
Sky Sports is the new home of the NBA in the UK with live coverage throughout the week, including selected live games free to all Sky subscribers via Sky Sports Mix.
And www.skysports.com/nba will be your home for news, reports, video and features throughout the season while you can follow us @SkySportsNBA
Source: Read Full Article