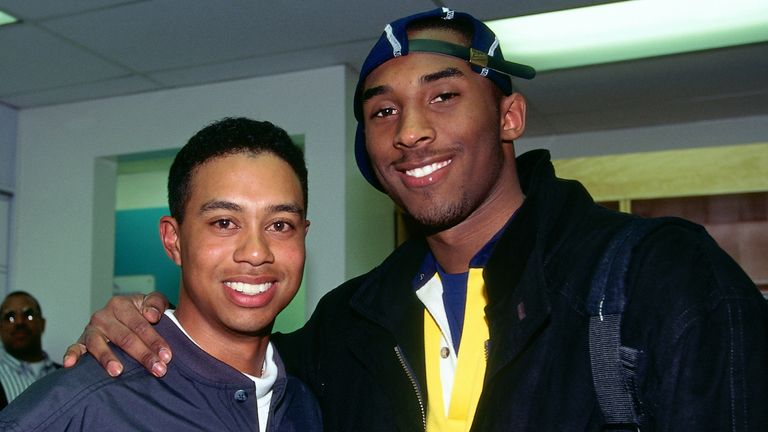 Rory McIlroy, Tiger Woods and Jack Nicklaus were among the notable names from the golfing world to pay tribute to NBA legend Kobe Bryant, who died in a helicopter crash on Sunday.
The Los Angeles Lakers great and his 13-year-old daughter, Gianna, were among the nine passengers killed when a helicopter came down in Calabasas, about 40 miles northwest of Los Angeles, on Sunday morning.
News of Bryant's passing quickly filtered through to those in action at the Farmers Insurance Open, held at Torrey Pines in California, with some players finding out during their final rounds and others immediately after finishing their week.
Woods, who was told by his caddie as he headed to the scorer's office, described Bryant's death as an "unbelievably sad day", while McIlroy tweeted after his tied-third finish he was "devastated" by the news.
‪Devastated by the news of Kobe Bryant, his daughter and the others who perished in the crash. The outpouring of mourning in the wake of this tragedy shows just how big Kobe's impact was on the world, not just the game of basketball. Mamba Forever.‬
A post shared by RORY (@rorymcilroy) on
Eighteen-time major champion Nicklaus referred to Bryant as a "legendary talent" and "inspirational athlete", with many other golfers turning to social media to reflect on his passing.
Love basketball. Even bigger fan of excellence. @kobebryant embodied excellence. Legendary talent; inspirational athlete; great role model; American icon loved globally. Sports lost a tremendous friend but don't have to be sports fan for your heart to hurt. Just have to be human!
Speaking on Instagram after his runner-up finish, Jon Rahm said: "Today is a sad day in this world, especially for athletes, because one of the greatest athletes and one of the best basketball players of all time passed away.
Source: Read Full Article