Racing Victoria has given the go ahead for the sport to resume on Friday following confirmation that top jockey Mark Zahra has tested negative for COVID-19.
Race meetings at Warrnambool (day) and Pakenham (twilight) will proceed under the strict COVID-19 protocols governing the conduct of racing in accordance with the current directives, guidelines and advice established by the Victorian government on the advice of the chief health officer, Racing Victoria said late on Thursday night.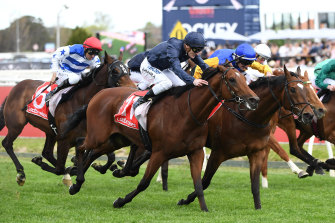 Jockey Mark Zahra has been tested for coronavirus.Credit:Getty Images
Zahra has been cleared to resume riding immediately, but he is not booked for any rides until the Golden Mile meeting at Bendigo on Saturday.
The restrictions imposed on Thursday night on licensed flat race jockeys from participating in trackwork have been lifted for the members of the 'Gold Team'.
The protocol precluding the 21 jockeys in the 'Green Team', including Zahra, from participating in trackwork remains in place as part of Victorian racing's ongoing measures to segregate riders.
A standing order remains for industry participants to remain at home if they are feeling unwell, are displaying symptoms of COVID-19 or have been in contact with a confirmed case. No other riders are displaying symptoms of COVID-19.
Racing Victoria chief executive Giles Thompson said: "We're really pleased for Mark that his test has come back negative. This situation has placed undue pressure on Mark through no fault of his own and I want to again publicly thank and acknowledge the professional and responsible manner in which he has acted.
"Mark's negative test paves the way for racing to resume in Victoria tomorrow and for this we are extremely grateful. We are acutely aware of the incredible hardship that many Australians are facing at this time through the loss of their jobs, which is why we are continuing to work so hard to protect the livelihoods of all those within Victorian racing who depend on it."
Zahra took a test to see if he had COVID-19 after informing stewards before Wednesday's Sandown meeting that he had come into contact with an individual who later tested positive to the illness.
His disclosure forced the abandonment of racing at Sandown and also Warwick Farm in Sydney on Wednesday afternoon.
Two top NSW  riders Hugh Bowman and Tommy Berry were sent by Racing NSW to be tested for COVID-19 on Wednesday night as a precaution after they shared a private plane with Zahra nearly two weeks ago. Their tests have come back negative.
Thursday's meetings at Kilmore and Pakenham were called off as the sport waited for Zahra's test results to come through.
Sign up to our Coronavirus Update newsletter
Get our Coronavirus Update newsletter for the day's crucial developments at a glance, the numbers you need to know and what our readers are saying. Sign up to The Sydney Morning Herald's newsletter here and The Age's here.
Source: Read Full Article