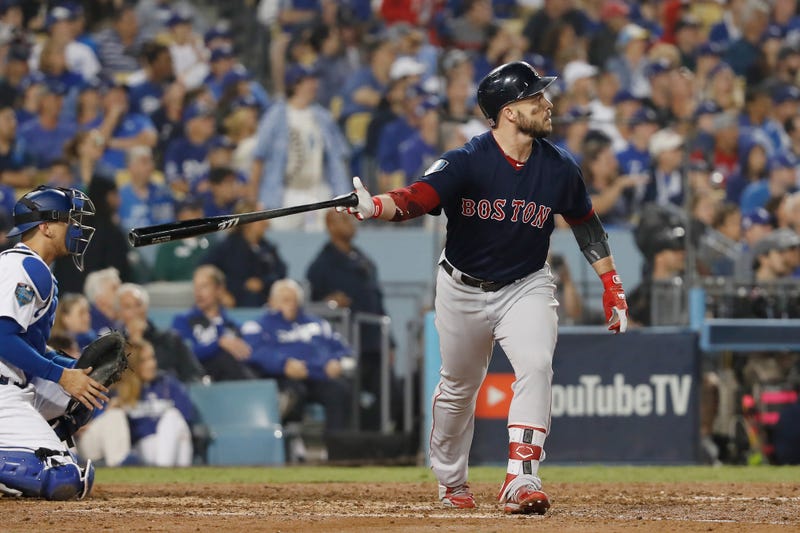 Steve Pearce is used to having only a short time to make an impression. He is a power-hitting first baseman who hits lefties, so he spends a lot of time on the bench, and a lot of time moving around the majors. The 35-year-old has played for eight different organizations in his 12 seasons, including every team in the AL East (and including three separate stints in Baltimore), and has only had 300 at-bats in a season twice. He is a journeyman, a career platoon player, and now he is World Series MVP, in a series in which he didn't record his first hit until the eighth inning of Game 4.
"You know, baseball is a funny game," he said. "The longer you stay in the game, great things can happen … You never know where the game will take you. And I've gone through a lot in my life or in my career to be here, and I couldn't be more thankful."
Pearce was 4-for-12 as the Red Sox dispatched the Dodgers in five games, but he has the highest win probability added of any player in the series. So you know he made each and every one of those hits count.
He had a game-tying home run in the eighth inning of Game 4. He had a three-run double in the ninth inning of Game 4, which would prove the difference in a three-run win. He had a two-run home run off Clayton Kershaw in the first inning of Game 5 to give Boston as much of a lead a it would need, and he added a solo shot in the eighth just for good measure:
Only three players the history of the game have had back-to-back World Series games each with a homer and at least three RBI. They are Lou Gehrig, Babe Ruth, and Steve Pearce.
Advertisement
Pearce joined the Red Sox in June from Toronto, in a trade for a minor-league infielder you have never heard of and probably never will. He was added for the same reason he always is: to start against lefties, and to hopefully hit a few home runs. He slugged seven and slashed .279/.394/.507 in 50 regular-season games; according to Elias, no World Series MVP position player had ever played so few career games for his team.
An injury to Mitch Moreland in the ALDS and the handedness of Astros and Dodgers starters made Pearce functionally an everyday player, something he's really never been in his career, let alone in a run to a championship. "This has been a lifelong journey," Pearce said after two great nights at the plate earned him a trophy, a ring, and a big red truck. "To be here right now is a dream come true."
After what Pearce called "the funnest year of my life," he'll be a free agent. Again. He said he'd love to return to Boston, and that's definitely a possibility, but the only certainty is that he'll end up somewhere that could use a veteran first baseman who can hit lefties for power. It's not the broadest skill set in baseball, and it's never been quite enough to get Pearce's name in the lineup card every single day, but it's been enough for a long career, and now a fairy-tale ending, even if it's not actually an ending. If you do one thing well enough, do it for as long as you're able, because you just never know. For the span of one World Series, a journeyman was the most important player in baseball.
Source: Read Full Article