Anthony Davis' progression from No 1 Draft pick in 2012 to a member of the NBA's elite echelon on superstars six years later is a story we've seen before. But 'The Brow's' route to the NBA is very different to those of his peers.
'AD's' rise to the top was built on an unexpected growth spurt that changed the course of his career. Today, he is one of the most feared big men in the league and a perennial contender for the Most Valuable Player award.
Life before the NBA
Growing up in South Chicago with his parents, older sister and twin sister, Davis was known as "the little guy who shoots threes" for his Perspectives Charter High School team.
Davis' team practised at a nearby church because there was no gymnasium in the school. Davis, standing at 6ft 3in, went unnoticed by every scout in Chicago for the first three years of his High School career.
New Orleans Pelicans @ Minnesota Timberwolves
Watch live on Sky Sports Arena, Thursday 1am
It took an astonishing seven-inch growth spurt in Davis' sophomore year for scouts to finally notice his basketball potential.
For many, such an extreme physical change would take a lot of time to get used to. Davis, however, took this in his stride and instantly became a force to be reckoned with on the court. At 6ft 10in, Davis retained all of the coordination, footwork and shooting ability that he possessed as a point guard, but could now also impose his size on opposing players – making him a defender's nightmare.
After breakout performances in the NBA Top 100 Camp and the Nike Global Challenge, Davis was suddenly on the national radar and was widely considered to be the top college recruit in America.
With multiple colleges showing interest, Davis verbally committed to Kentucky in August 2010 and continued to showcase his basketball talent in various basketball competitions during his final year in High School.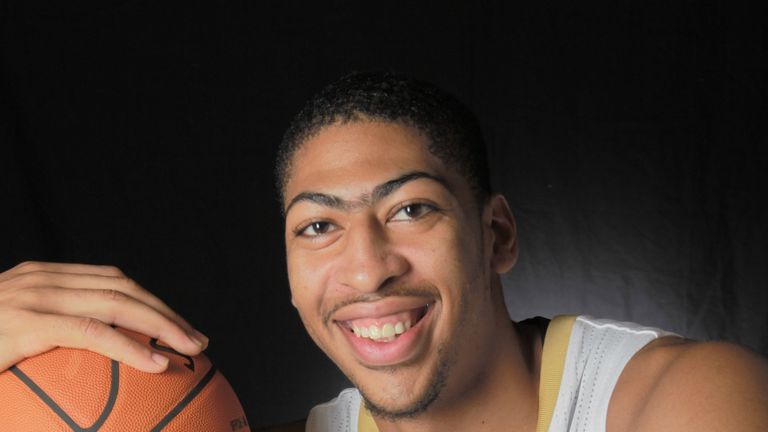 As 'AD' embarked on his first college season with the Kentucky Wildcats in 2011, he was already being rumoured to be the consensus No 1 selection in the following season's NBA Draft.
Despite intense media speculation throughout the season, Davis led his Kentucky side to a 38-2 record and an NCAA Championship. The center averaged a double-double in his first and only college season with 14.2 points and 10.4 rebounds per game. He was voted the NCAA Final Four's Most Outstanding Player.
Kentucky Wildcats head coach John Calipari described him as the total package, saying: "Anthony is a tremendous shot blocker with great size and length. He can make three-pointers, dribble the ball and he can get up and down the court faster than some of our guards because of his long, looping strides."
This combination of physical and technical superiority in just his first college season meant that it was an easy decision for Davis to declare himself for the 2012 NBA Draft.
Before making his NBA debut, Davis was also part of the dominant Team USA squad that won the men's basketball gold medal at the London Olympics.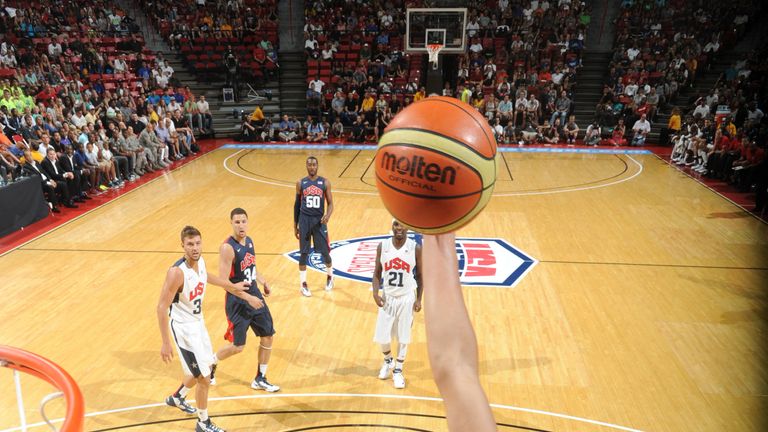 As well as his high calibre performances on the court drawing plaudits from across the world, it was a trademark physical feature of Davis that also grabbed the attention of the media. Since his teenage years, Anthony Davis has rocked his unique unibrow – a feature that he refuses to alter.
When asked about his connecting eyebrows in college, Davis replied: "It just makes me different. I'm not going to change who I am. It's me."
Davis' unibrow got so much attention from basketball fans and the media, that the center even trademarked the phrases "Fear the Brow" and "Raise the Brow" in 2012.
High expectations
On June 28, 2012, the New Orleans Hornets selected the 19-year-old Davis with the first overall pick of the 2012 NBA Draft – ahead of future All-Stars Damian Lillard, Bradley Beal and Draymond Green.
His rookie season was hampered with injuries as he came to terms with the physicality of the NBA. Despite a frustrating season, Davis still averaged 13.5 points per game in 65 games and was selected for the NBA All-Rookie First Team.
Anthony Davis: 2018-19 season stats
'The Brow' continued to flourish in his second NBA season with the newly renamed New Orleans Pelicans, which resulted in him being selected to replace the injured Kobe Bryant in the 2014 All-Star Game at just 20 years of age.
A few months later, Davis became the fourth youngest player to achieve a 40-point/20-rebound game in the Pelicans' 121-120 victory over the Boston Celtics. It was quickly becoming apparent that Davis was the real deal.
Now the poster boy of the Pelicans franchise, Davis continued to put up remarkable numbers. In the 2014-15 season, his impressive individual displays spearheaded the Pelicans' to the playoffs for the first time in four years.
'AD' continued to break records. Most notably, his 52-point performance in the 2016-17 All-Star Game smashed the record for most points scored in the showpiece match-up, set by the great Wilt Chamberlain (42) in 1962.
With five All-Star appearances in six seasons, Davis has quickly established himself as one of the best big men in the NBA.
Players with Davis' size, athleticism and intelligence have become harder to find in recent years. After the glory days of Shaquille O'Neal and Tim Duncan in the early to mid-2000s, there has been a lack of powerful big men able to lead their team to success.
Davis's emergence, alongside fellow athletic centers Joel Embiid and Karl-Anthony Towns, suggests the next decade could see a resurgence of true NBA giants.
What next for AD?
Davis current deal means he can enter the free agency market at the end of the 2019-20 season and there is already speculation over whether Davis will stay with the New Orleans Pelicans or leave to pursue an NBA title elsewhere.
Davis can sign a max contract extension at the end of this season, and if he doesn't, teams may get aggressive in trying to trade for him before he hits free agency.
With big-market teams like the Los Angeles Lakers and Boston Celtics looking to seriously challenge the Golden State Warriors, there is no doubt 'The Brow' will be high up on their list of potential acquisitions.
As for this season, Davis' sole focus will be on leading his Pelicans side into a playoff position for a third season in five years and improving on last season's sixth-place finish in the Western Conference.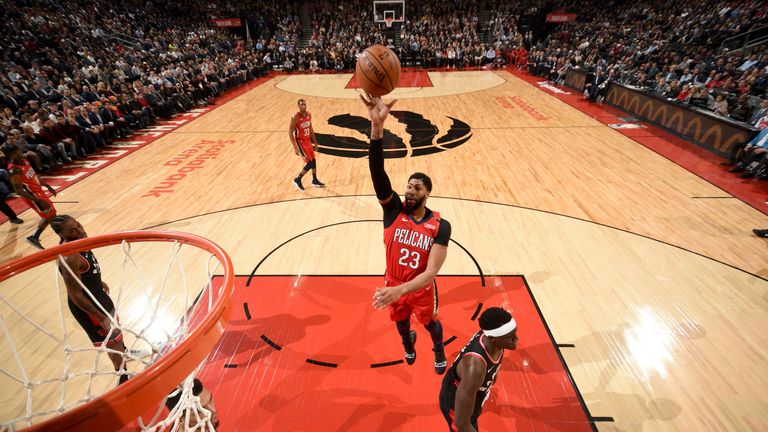 After winning their first four games of the season, the Pelicans went on a six-game losing slump as Davis struggled with an elbow injury.
Since returning to full health, Davis and the Pels have won three straight games, including a notable 126-110 road win over Eastern Conference leaders the Toronto Raptors.
The Pelicans path to the playoffs and the success they achieve in the postseason will dictate if they can hold on to their star man or whether 'The Brow' eventually moves on to pursue his NBA title dreams.
Wednesday night's fixtures
Sky Sports is the new home of the NBA in the UK with live coverage throughout the week, including selected live games free to all Sky subscribers via Sky Sports Mix.
And www.skysports.com/nba will be your home for news, reports, video and features throughout the season while you can follow us @SkySportsNBA
Source: Read Full Article