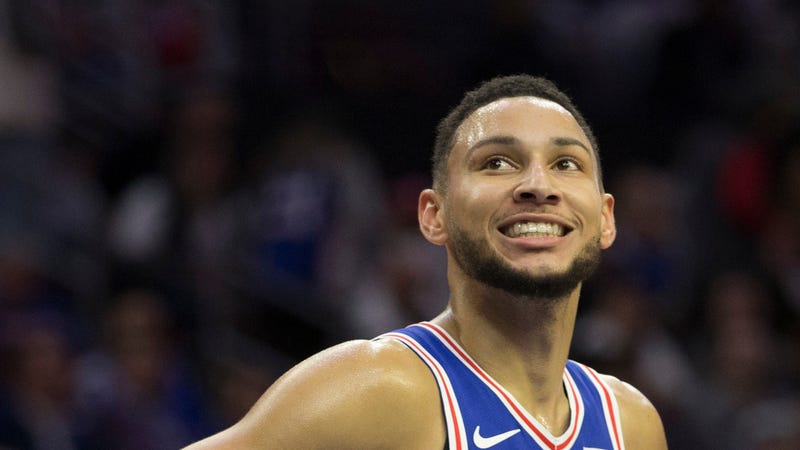 Ben Simmons, who can't shoot worth shit, had the bad kind of triple-double Tuesday night, registering 11 turnovers against 11 points and 10 assists. This isn't an especially rare feat in the NBA—Basketball Reference says it has happened 81 other times since 1977—although Simmons's 21 combined points and assists amount to the lowest total in the other triple-double columns since Kenny Carr's 21 combined points and rebounds in a bad triple-double in 1981. Not coincidentally, this was the first time in Simmons's career that he has played basketball against Kawhi Leonard, who is just frighteningly good.
Simmons had seven turnovers before halftime. Kawhi stole the ball from Simmons in two of the Sixers' first three possessions. Four of Simmons's 11 total turnovers were the result of steals by Leonard, including this quintessential Kawhi strip:
Kawhi was his usual hyper-efficient self on offense, tallying 31 points on 19 shots and zero turnovers in 34 minutes. Simmons opened the game with that defensive assignment, but, to be fair, Kawhi mostly roasted all comers. This is a matchup that is likely to matter in the playoffs, since the Sixers and Raptors are two of like four total good teams in the Eastern Conference. The Sixers have the option of putting Bob Covington on Kawhi, and sparing Simmons the defensive assignment, but unless or until the Sixers haul in another perimeter playmaker [stares daggers at Tom Thibodeau] it will be Simmons's fate to be guarded by the all-powerful octopus man whenever these teams face off. Tuesday night was round one of that marquee matchup, and the results for the young Aussie were pretty ghastly.
Source: Read Full Article