LeBron James became the NBA's sixth-highest scorer of all-time but could not prevent the LA Lakers losing 110-106 to the San Antonio Spurs.
James' 17-foot jumper made him the NBA's sixth-highest scorer of all time, above Dirk Nowitzski, and he finished with 31,202 career points but it wasn't enough for his new team.
James hit a season-high 35 points and also overtook Lakers legend Shaquille O'Neal (11,330) as the sixth-highest scorer of field goals. He is now at 11,339.
The Lakers have now lost four of their opening six matches in the western conference since James joined.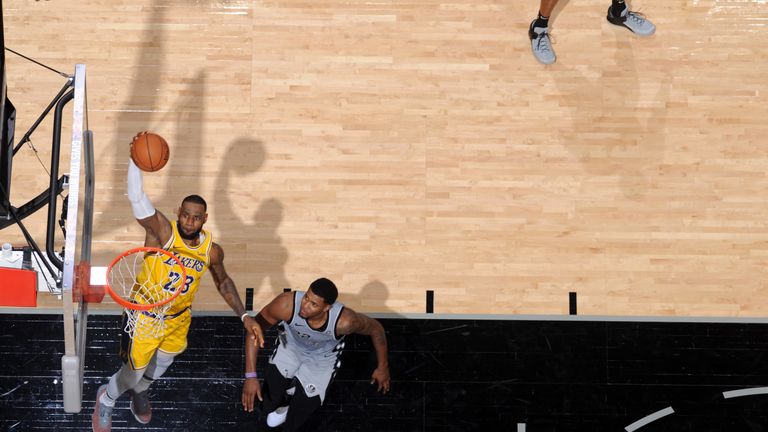 "Guys that I've played against, played with, watched before I even got to the league, admired, was in awe of," James told reporters of O'Neal and Nowitzki.
"Dirk's always been one of my favourite players, and I think Shaq is the most dominant player to ever play this game. So for me to be in the same conversation with those guys in anything that we're talking about as far as basketball, it's a tribute.
"As far as being humble and knowing where I come from, being from Akron, Ohio, a small town that most African-American kids don't make it out of. So anytime I'm able to do something like that, I give it all back to my hometown and the kids that are just like me."
San Antonio have now beaten the Lakers twice in a week – on Saturday night, DeMar Rozan finished with finished with 30 points, 12 rebounds and eight assists.
Source: Read Full Article