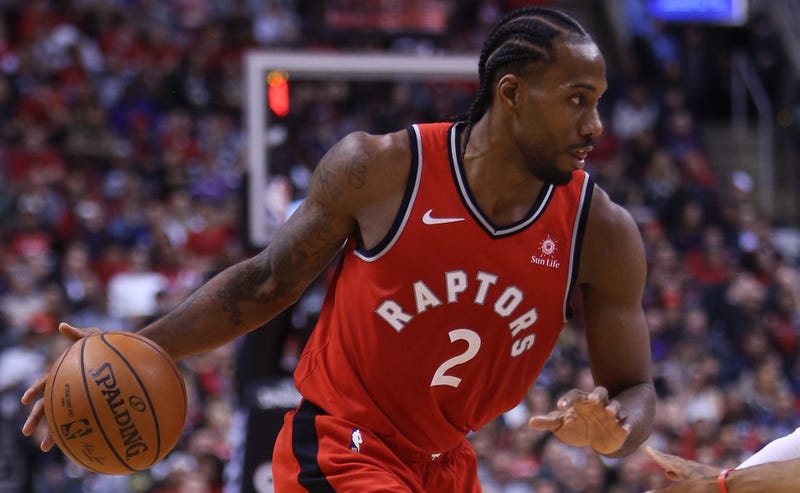 There were plenty of reasons to be skeptical that Kawhi Leonard would show up in Toronto and immediately resume life as a superduperstar. He hadn't really played hoops in a year, the severity of his quad injury was a matter of quantum uncertainty, and all signs before the fateful trade last summer pointed to him not really wanting to play for the Raptors, the same team that promoted an unknown coach and burnt a lot of their goodwill by unceremoniously throwing DeMar DeRozan into the trash can.
Maybe you're not a huge dumbass like me, and maybe you realized that those mitigating factors meant exactly dick when stacked up next to Kawhi Leonard's talent as a basketball player. Whatever happened to his quad is very clearly not a problem, and all that passive aggressive sniping and tactical silence that defined the end of his time in San Antonio has evaporated and been replaced by an even more potent strain of the quiet confidence he displayed when he was smothering the opposing team's best wing player every night. The Raptors are probably the best team in the NBA through the first 1/16th of the season, and they look like they've been playing together with Leonard for years. Kawhi is well and truly back, and he's never been better. He was out long enough that I forgot how routinely he made absurd defensive plays with those Japanese spider crab hands of his.
Advertisement
Right in time for Halloween, here is Kawhi using the fabled "Devil's Paw" technique.
Advertisement
He is good for at least two of these sorts of inexplicable plays every single night, in the same way Anthony Davis will catch a lob out of the ionosphere every game or Steph Curry will shoot one from the Coliseum BART station when he feels like it. As for the more routine stuff, Leonard is averaging career highs more or less across the board, with 28 points on 51.2/47.4/89.5 shooting splits, 7.8 boards, 1.3 steals, and two fouls per game (somehow, Leonard averages a foul roughly every 15 minutes for his career, which is insane). According to NBA lineup data, the Raptors' starters score 121 points per 100 possessions and allows just 88, which is only a hair behind the Pelicans starting group for best in the NBA. They're blessed with a deep group of wing destroyers, and when Delon Wright comes back healthy, they'll have three point guards who can all handle the ball and distribute with ease.
Toronto is simply a complete team, and Nick Nurse seems to have figured out how to stagger the team's flawed big men to maximize their talents. Take Serge Ibaka, who is finally playing center and is looking much more interested than in years past with Toronto. The Raptors can go 10-deep with real NBA players, and with a refreshed Kyle Lowry (he's averaging a full extra three assists more than he was last year) and Danny Green alongside Kawhi, they seem like they can hang with anyone. The extremely early MVP horse race probably has Anthony Davis and Giannis Antetokounmpo ahead of Kawhi right now, but the Raptors can feel more confident in their chances of playing into the summer. Who knows whether Kawhi will want to stick around in Canada for years to come, but it's very clear that whoever signs him this summer will have to pay all the way up.
Source: Read Full Article