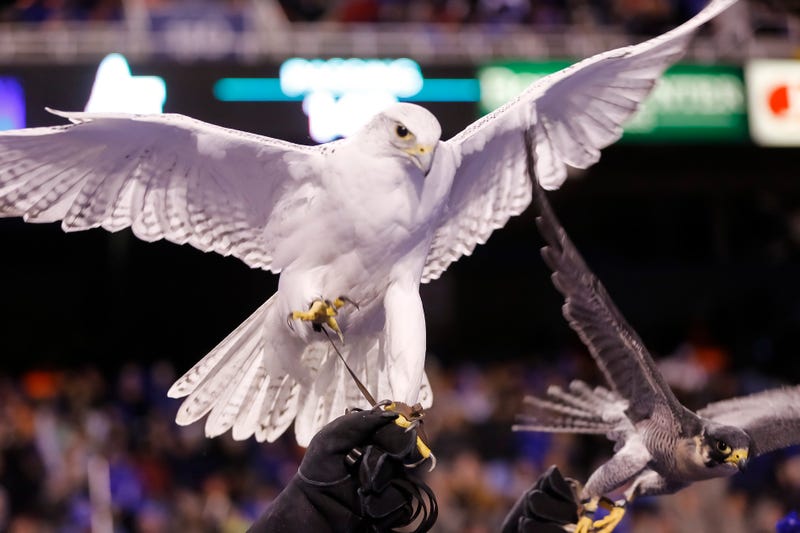 Before last Saturday's Air Force-Army college football game, two dopey West Point cadets decided to prank their rivals by stealing their live mascots, which are falcons. Not knowing how to take care of an animal, these Army morons crammed the two birds into crates. It's so unlike the military to use excessive force.
Aurora, the 22-year-old falcon, had the rougher experience, but both she and 15-year-old Oblio will be fine. The Air Force Academy's master falconer Sam Dollar (sweet title, solid name) told the New York Times about Friday night's prank:
[The cadets] threw sweaters over the birds, and later stuffed them into dog crates, Mr. Dollar said.
The cadets turned the birds in on Saturday morning, but not before Aurora suffered abrasions that bloodied her wings, likely when she was thrashing inside the crate, Mr. Dollar said. Aurora's injuries were not life-threatening, and she was to be examined by a veterinarian on Sunday, he said. Oblio did not sustain any obvious injuries.
"I think they had them for a couple hours and then they realized it was a bad mistake," Mr. Dollar said. "When Aurora started thrashing around in the crate, they decided that wasn't a good thing."
No shit! Dollar added that despite earlier reports, Aurora was never seriously hurt or in danger of being euthanized. The U.S. Military Academy apologized and said the two unnamed cadets would be disciplined; Aurora is feeling better.
Source: Read Full Article