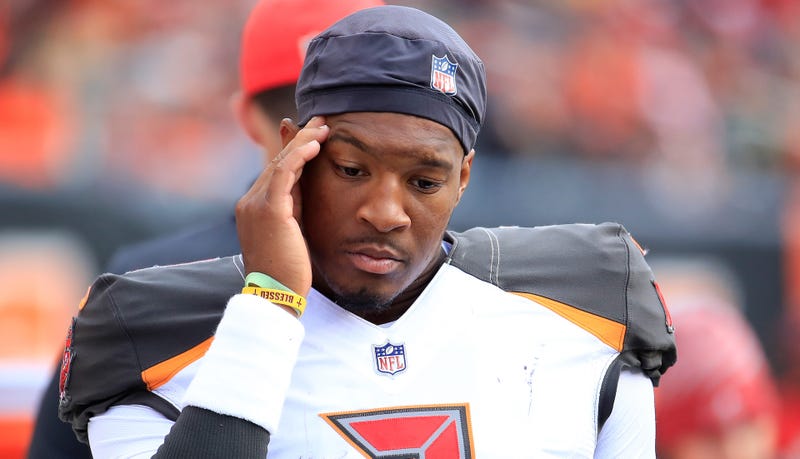 It's time to erase the whiteboard reading "Days Since Last Jameis Winston Turnover Party" and draw a big fat 0. The Buccaneers might have beaten the Bengals Sunday if they'd benched Winston quicker, but instead, he was allowed stick around long enough to throw four interceptions, get sacked five times, and leave Ryan Fitzpatrick with a 34-16 hole to climb out of. Fitzpatrick almost did get out of that hole, though the comeback fell short.
Head coach Dirk Koetter announced today that Winston won't start this weekend's game against the Panthers, which means that Winston has now been benched this season once because he got suspended for allegedly groping an Uber driver, and once because he threw this atrocity. You have to hand it to Winston here: It's important to plant your feet before you loft it to the linebacker. (Please enjoy the exasperated arm-raising of Demar Dotson, No. 69, here.)
Winston has thrown four more passes than Fitzpatrick this season, and he has 369 fewer yards, seven fewer touchdowns, and five more interceptions. He really sucks. Here is a dark statistic from ESPN Stats & Info, because it involves Blake Bortles:
Advertisement
Despite the disaster that was yesterday's loss, there is still a non-zero chance that Fitzpatrick, who was benched at halftime in Week 4 because he had completed 50 percent of his passes and thrown a pick, is not the same wizard he was at the beginning of the season, which would give Winston another chance this season to start, build on all the turnover records he already owns, and get benched again.
Source: Read Full Article