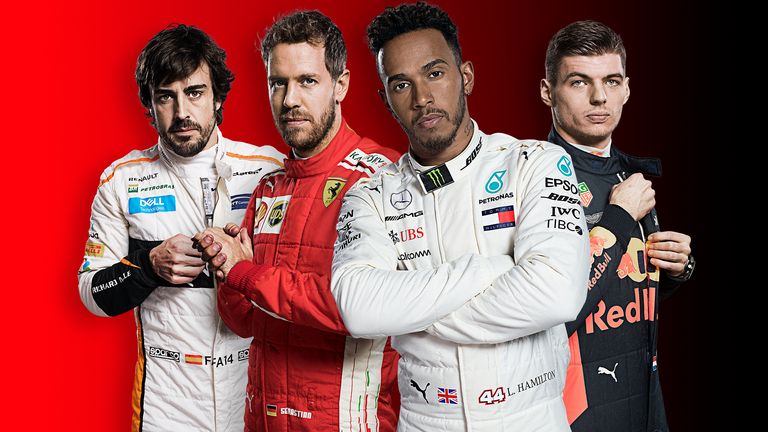 It's been another dramatic F1 season, and though there can only be one champion at the end of it – we want to know who YOUR driver of 2018 is.
Should it be the man who claimed the title? The surprise package? Or somebody who consistently got the maximum out of their car?
The current F1 standings with two rounds to go
It's not an easy question to answer, and there are always plenty of opinions!
Here's what our driver ratings say…
Sky Sports have rated the drivers out of 10 for their weekend-long performances following each Grand Prix of the season, culminating in a Driver Ratings feature that never fails to polarise opinion!
From those marks, we've then calculated the average score to make a leaderboard.
After 19 races of the season, we have Lewis Hamilton out in front with an impressive average of 8.6 out of 10 – certainly helped by the fact he has achieved full marks three times in the last nine races.
Sebastian Vettel (7.92) was ahead of the 2018 champion in our ratings for some time earlier in the season but slips to second, marginally ahead of Max Verstappen (7.91), who enjoyed a dazzling second half of the year.
Charles Leclerc (7.87) and Fernando Alonso (7.66) may not be battling for victories and podiums in their cars, but their performances earn them fourth and fifth place respectively.
Valtteri Bottas (7.6), Daniel Ricciardo (7.56) and Kimi Raikkonen (7.47) are next in the rankings.
Esteban Ocon (7.41), who is beating his Force India team-mate 15-4 in qualifying this year, is just ahead of the man who is currently seventh and 'best of the rest' in the championship, Nico Hulkenberg (7.2).
Pierre Gasly (7.11), Kevin Magnussen (7.08) and Carlos Sainz (7.08), meanwhile, are the other drivers to average a score higher than 7.
Highest average scores after 19 races
But who is YOUR driver of 2018?
That's what our driver ratings say, but we're opening up the vote to you to select the driver you believe has performed best this year.
Simply click the up vote next to each driver below if you think he deserves to be top of the list! We will keep the vote running until the Abu Dhabi season finale at the end of November.
Sky Sports F1 is the only place to watch every Formula 1 Grand Prix, qualifying and practice session live in 2018. Get Sky Sports F1.
Source: Read Full Article