Qualifying at the Japanese Grand Prix has got off to an explosive, red-flag start when a star driver fumed after going into the wall hard.
F1 qualifying cancelled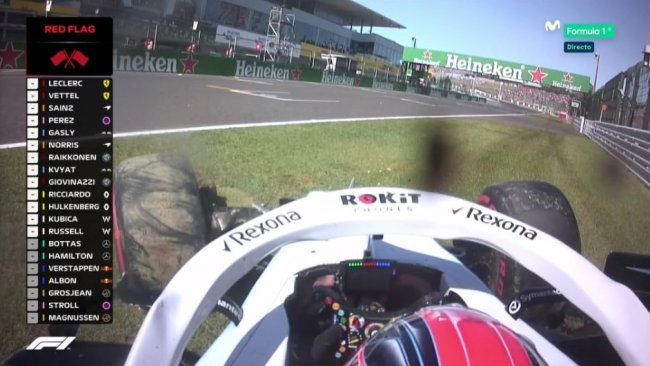 Robert Kubica crashes out
Mercedes has a red hot shot at winning the constructors championship at the Japanese Grand Prix on Sunday. 
Lewis Hamilton and Valtteri Bottas only need to pick-up 14 points on Ferrari to seal the team championship with four grands prix remaining this year.
Live stream the 2019 FIA Formula One World Championship on KAYO SPORTS. Every practice, qualifying & race Live & On-Demand in HD. Get your 14 day free trial >
Live Updates
Robert Kubica crashes out of qualifying
Robert Kubica went into the wall on pit straight hard less than five minutes into the first qualifying session on Sunday.
The session was stopped with a red flag with less than 16 minutes left in the session after Kubica ran out of road when coming onto the pit straight from the final turn on the track.
Many cars hadn't even come onto the track when Kubica's crash stopped the session.
Sky Sports F1 expert Paul Di Resta said Kubica simply ran out of road.
Red Bull's Christian Horner told Sky Sports Kubica could have been caught out by a strong cross wind.
Kubica fumed when contacted on the team radio.
"I'm OK. It's just a f***ing joke," he said.
RED FLAG ?

Robert Kubica's qualifying is over!

The clock is stopped at 15:51#JapaneseGP ?? #F1 pic.twitter.com/1roOdQ3OYg

Magnussen crashes out at the same spot

Kevin Magnussen crashed out at the same corner Robert Kubica also went into the wall in a hugely dramatic start to qualifying.

Magnussen appeared to lose the back of his care when coming around the final corner onto pit straight.

His car then slid into the wall with both the front and back tyres slamming into the concrete hard.

He did a full 180 spin when coming around the turn before reversing into the wall with a whiplash that saw the left side of his car whip around into the wall.

He became the second victim of a strong cross wind across the track.

His crash came less than four minutes after the session had earlier been cancelled for Kubica's similar crash.

Magnussen was able to get his car going again and limped into the pits.

RED FLAG ?

Magnussen is also off at Turn 18!

But he reverses and attempts to make his way around the track

The clock is stopped at 11:42#JapaneseGP ?? #F1 pic.twitter.com/ANnkFYJHrn

Hamilton's radical solution for F1

Lewis Hamilton says the chaos of the Japanese Grand Prix should be repeated at other events in 2020.

The Japanese Grand Prix has become just the fifth race in the history of the sport to hold qualifying on the same day of the race after the entire Saturday race program was cancelled as a result of super typhoon Hagibis.

However, qualifying will go ahead on Sunday, finishing just three hours before the race is due to start.

Hamilton said the change to the standard four-day weekend schedule should be considered for other races to test drivers in different ways.

Formula 1 has confirmed it is already considering changes to the standard event schedule for a few races next year.

"I don't mind it," said Hamilton.

"I'm happy for them to do that every year. How many Thursdays does that give us back?

"I'm definitely down for that, shortening the weekend, that sounds good. I think it's quite cool when it's a little bit different, the format's different on a Sunday.

"Having that difference, it's a different mentality to enter into, two different mindsets in the day, two different rhythms. Normally you have time after qualify with one the rhythm to then calm down and chill and ramp up to next day. But you've got to do it on the same day. It's a different challenge, so I like that."

Comments

Add your comment to this story

To join the conversation, please Log in. Don't have an account? Sign up

Join the conversation, you are commenting as Logout

Source: Read Full Article