Lewis Hamilton can equal Michael Schumacher's race win record with a victory in Sochi, but he has revealed a concern the rest of the grid are ready to pounce on.
"What an unbelievable w***er"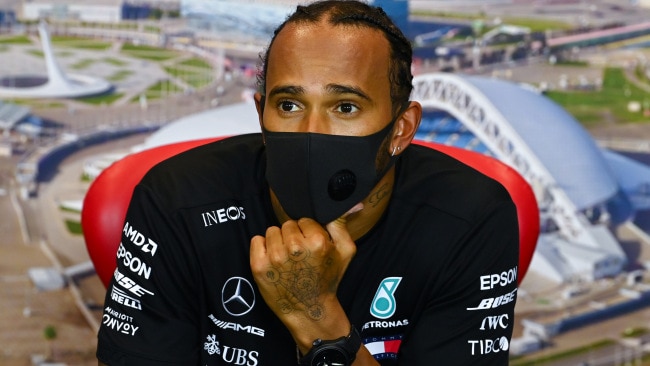 Lewis Hamilton could move equal with Michael Schumacher in race wins.
The F1 world is braced for Lewis Hamilton to potentially join Michael Schumacher on 91 race wins, if the Brit can stand atop the podium once again at the Russian Grand Prix.
Hamilton appears likely to also draw level with Schumacher on world championships at the end of the year but records few expected to be broken appear set to tumble.
The race is expected to start at 9.10pm AEST.
Watch the 2020 Formula One™ VTB Russian GP LIVE on KAYO. Every practice, qualifying session and race LIVE. New to Kayo? Get your free trial now & start streaming instantly >
RUSSIAN GRAND PRIX STARTING GRID
Row 1: Lewis Hamilton (Mercedes) – Max Verstappen (Red Bull)
Row 2: Valtteri Bottas (Mercedes) – Sergio Perez (Racing Point)
Row 3: Daniel Ricciardo (Renault) – Carlos Sainz (McLaren)
Row 4: Esteban Ocon (Renault) – Lando Norris (McLaren)
Row 5: Pierre Gasly (AlphaTauri) – Charles Leclerc (Ferrari)
Row 6: Daniil Kvyat (AlphaTauri) – Lance Stroll (Racing Point)
Row 7: George Russell (Williams) – Sebastian Vettel (Ferrari)
Row 8: Alexander Albon (Red Bull)* – Romain Grosjean (Haas)
Row 9: Antonio Giovinazzi (Alfa Romeo) – Kevin Magnussen (Haas)
Row 10: Kimi Raikkonen (Alfa Romeo) – Nicholas Latifi (Williams)*
* Albon and Latifi took gearboix penalties
Live Updates
Hamilton under investigation for before start
David Croft explained the rule.
"The Russian GP event notes state that practice starts may only be carried out on the right hand side after the pit exit lights, and for the avoidance of doubt this is anytime the pit-lane is open for the race.
"It then says for reasons of safety, drivers may not stop in the fast lane at any time while the pit exit is open without a justifiable reason, a practice start is not a justifiable reason.
"It doesn't say you can stop where Lewis Hamilton did for a practice start."
Several of the commentators said they hadn't seen it in some time with Karun Chandhok calling it "unprecedented".
Hamilton fear in Schumacher record chase
With Sochi's Autodrom having one of the longest straight, Hamilton is expecting other cars to push him at the start, especially needing to start the race on soft tyres.
"It not a good place to start at all and I think this year you're seeing our cars are more draggy and there's more tow this year than we've seen in other years," Hamilton said.  
"I generally expect one of these two to come flying by at some point. I think I'm just going to focus on my race and just try to run the fastest race I can.  
"Obviously I'm on the worst tyre to start on the race but generally it's a good tyre to do an actual start but it doesn't have (the best range)."
Whether he is worried despite the dominance of his car this season or trying to give the rest of the grid some hope, it remains to be seen.
But with the likes of Daniel Ricciardo vowing to push Hamilton at the start, lights out could be unmissable.
Source: Read Full Article