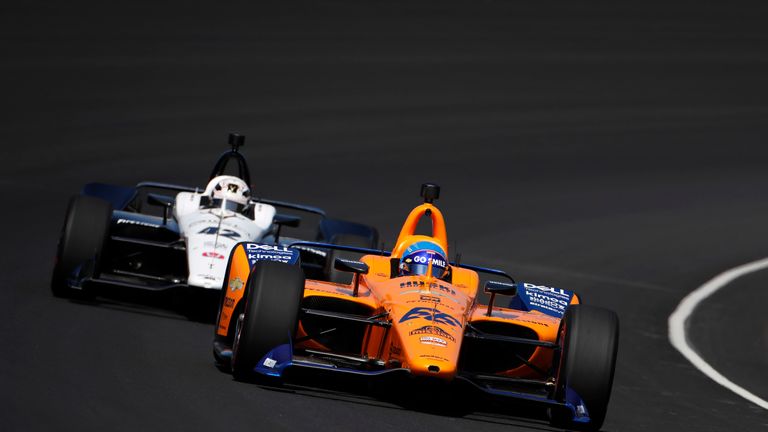 Fernando Alonso's attempt to complete motorsport's triple crown by winning the Indianapolis 500 ramps up in qualifying for America's showpiece racing spectacle this weekend.
Saturday and Sunday's qualifying action is live on Sky Sports F1 as 36 drivers battle for 33 places on the starting grid for the Indy 500 itself, which takes place on Sunday, May 26.
Alonso returns for a second attempt at the 500, this time with a full McLaren entry, two years on from his first when he qualified fifth and led the race for 27 laps before his car's engine failed.
Alonso crashes in Indy practice
The F1 Gossip Column
The triple crown consists of Formula 1's Monaco GP, which Alonso won in 2006-2007, the Le Mans 24 Hour sportscar race, where Alonso triumphed this year, and Indy.
Graham Hill is the only driver to complete what stands as a unique feat.
Practice around the Brickyard has been taking place since Tuesday, with Alonso and Sweden's Felix Rosenqvist both crashing during Wednesday's session.
Former F1 drivers Max Chilton, Marcus Ericsson, Alexander Rossi and Takuma Sato are also part of a field that includes seven past Indy 500 winners, including 2018's victor Will Power.
America's Josef Newgarden leads the IndyCar season standings after five rounds in 2019.
Check out the latest Indy news and results coverage here with NBC Sports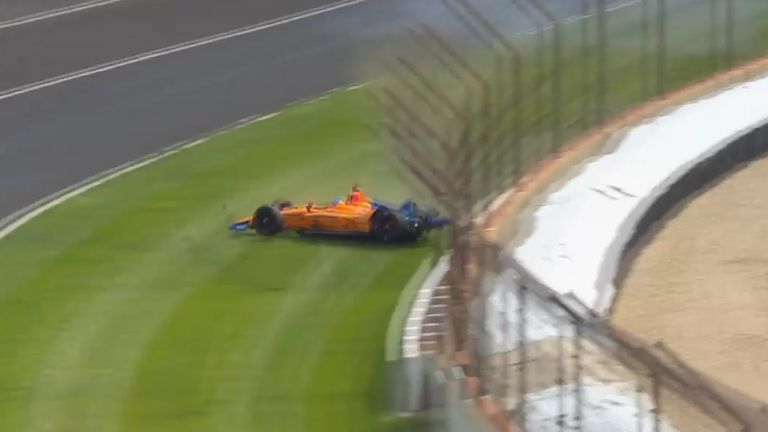 When is Indy Qualifying on Sky F1 this weekend?
Saturday's programme runs from 4pm to 11pm
Sunday's action, including the final battle for pole position, is at 5pm-8pm
How does qualifying work for the Indy 500?
Taking place the weekend before the Indianapolis 500 itself, qualifying for the event dubbed the 'Greatest Spectacle In Racing' runs over two days, Saturday and Sunday.
The format has been tweaked for 2019, with the drama and stakes steadily building through the weekend before the front row – which, like all 11 rows, consists of three cars at Indy- and pole position is confirmed on Sunday evening UK time.
On Saturday, all 36 entrants are guaranteed one qualifying attempt. Each attempt is four continuous laps, or 10 miles, and the order is classified by average speed. Further attempts are also allowed with further rules applying.
It's hard to beat this view ?#INDYCAR // #ThisIsMay pic.twitter.com/CgtOLaNI88
The fastest nine drivers qualify for Sunday's Fast Nine Shootout, while those who finish 10th-30th are locked into their starting positions for the Indy 500 on May 26.
What happens to the slowest six? They return for Sunday's Last Row Shootout with one more run allowed apiece. Three will qualify to fill the race's final row and three will go home.
Sunday's action ends with the all-important Fast Nine Shootout when the quickest nine drivers from Saturday battle for the leading three rows. They go out in the order of their Saturday times, slowest to fastest, with the pole position holder known by the end of the session.
When is the Indy 500 itself?
On a super motorsport Sunday on Sky Sports F1 on May 26, the Indy 500 follows the end of the channel's exclusively live coverage of the Monaco GP.
Source: Read Full Article