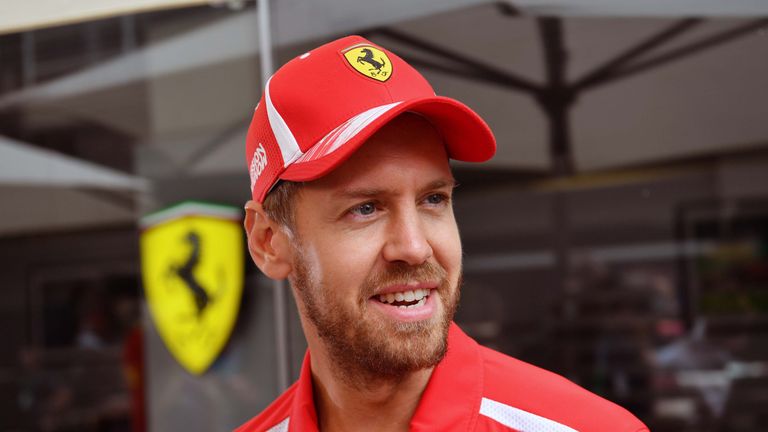 Sebastian Vettel says he still has a championship "mission" to complete at Ferrari after missing out on the 2018 crown – but is not sure whether he will get a better chance.
Vettel appeared to be the title favourite earlier in the season before he and Ferrari suffered a torrid run, and an in-form Lewis Hamilton wrapped up the championship at the last race in Mexico.
Watching his rival celebrate was gutting for Vettel, but he insists the experience has just made him even more determined to end Ferrari's decade-long wait for a drivers' title.
"I still have a mission here and I still want to win," Vettel said in Brazil. "That hasn't changed.
"Last race was a tough one to swallow and probably the winter will be as well. But giving up is not an option."
Vettel, however, also knows he has missed a big chance to beat Hamilton to becoming a five-time world champion this year.
The German, who won the last of his four titles in 2013, has made numerous mistakes in wheel-to-wheel combat, while Ferrari lost ground to Mercedes when trialling new concepts on their car at the most crucial stretch of the season.
Will he get a better opportunity?
"You never know whether you will get another chance." Vettel said.
"You never know what next year brings. Obviously I'll work very hard for it and I'm confident it will come but ultimately I don't know. You can't predict."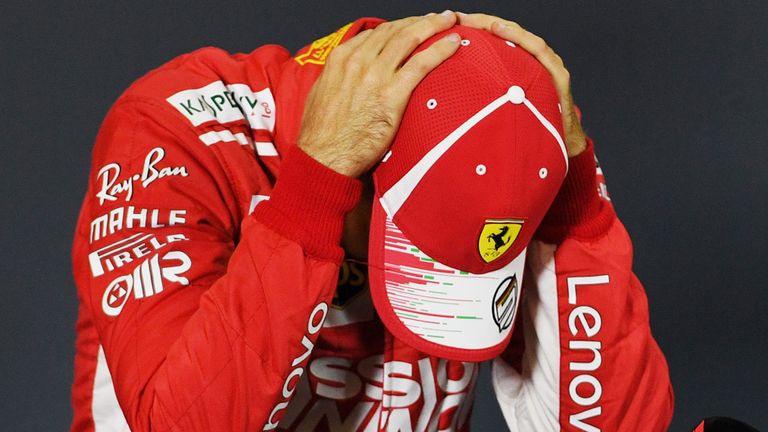 'We need to raise the bar'
Vettel and Ferrari have fronted up to their respective errors this season, and Vettel was in a reflective mood as he arrived at Interlagos for the penultimate race of the F1 2018.
"Along the way, something went wrong and we need to learn from it," he told Sky F1. "We didn't go on development the right way, we missed something.
"It's up to us to find a fix for it and make sure it doesn't happen again. It's as simple as that but not as simple as it sounds."
He continued: "We will be able to as a team and an individual to take it forward and raise the bar next year."
Can Ferrari snatch title from Mercedes?
But Vettel and Ferrari still have something to play for this season with the Scuderia, F1's most successful team, still hanging in the hunt for an improbable constructors' title.
It is a championship they have not claimed since 2008, and they must outscore Mercedes by 13 points this weekend to extend the fight on to the season finale, but Vettel is taking solace from the team's return to form in the US and Mexico.
"We have two races to go, we will try to out-score them by as many points as possible and hopefully it's enough," he added. "We are focused on the fight for the constructors'.
"We have the car back to where we know it and where we are confident with it. Hopefully we can keep that up."
Sky F1's Brazilian GP schedule
Thursday, November 8
6pm: Welcome to the Weekend LIVE!
Friday, November 9
12.45pm: Brazilian GP Practice One build-up
1pm: Brazilian GP Practice One LIVE!
4.45pm: Brazilian GP Practice Two build-up
5pm: Brazilian GP Practice Two LIVE!
Saturday, November 10
1.45pm: Brazilian GP Practice Three build-up
2pm: Brazilian GP Practice Three LIVE!
4pm: Brazilian GP Qualifying build-up
5pm: Brazilian GP Qualifying LIVE!
6.35pm: The F1 Show LIVE!
Sunday, November 11
3.30pm: Pit Lane LIVE!
4.30pm: On The Grid LIVE!
5.10pm: THE BRAZILIAN GP LIVE!
7.30pm: Paddock Live!
Sky Sports F1 is the only place to watch every Formula 1 Grand Prix, qualifying and practice session live in 2018. Get Sky Sports F1.
Source: Read Full Article