Melbourne have declared the club board unanimously requested Glen Bartlett resign as president, contradicting Bartlett's claim that it was his call to step down last year.
The fall-out between the Demons and Bartlett took another twist on Friday evening, when the club issued a firm response to Bartlett's own statement on Thursday.
In Bartlett's statement, he had insisted he left the presidency in April last year (he was replaced on the board in November) on his own terms, but the Demons have rejected that claim.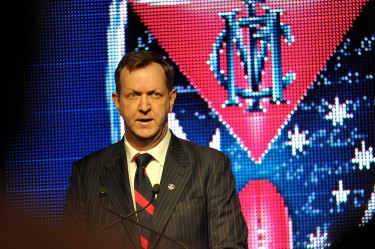 In happier times: Former Melbourne president Glen Bartlett upon taking charge of the club in 2013.Credit:Fairfax Photographic
"Primarily, we would like to address the club's change of presidency in April 2021. It was the unanimous decision of the board to request Glen resign as president," the Demons, who went on to enjoy a breakthrough premiership last year, said.
"We acknowledge that a change of leadership at a club is a difficult time for all involved and out of respect for Glen and his service to the club, when the time came for him to hand over the presidency, we endeavoured to respectfully acknowledge his achievements and contribution."
Bartlett had written: "The decision to step down when I did was mine. I did so to ensure minimal distraction, after a very promising and indeed historic start to the season. As president, a workplace/OHS lawyer, and a parent, I was not willing to compromise on fundamental values, the law and expected standards of behaviour."
The Demons, led by president Kate Roffey and chief executive Gary Pert, also launched another strong defence of premiership coach Simon Goodwin, whose behaviour was the subject of a Demons' review.
"Separately, the board would also like to reiterate its support of the club's people, particularly Simon Goodwin, who have been unfairly targeted as part of inaccurate and unsubstantiated media reports," the Demons said.
"As the board has previously stated, Simon is an exceptional and inclusive leader, who is loved by players, coaches, and staff, and is a key driver of our high-performance culture, standards, and disciplines.
"We see no utility in engaging in an ongoing commentary on these matters, and the club will therefore not be making any further comment at this time. Instead, the efforts of the board, together with players and staff, are absolutely focussed on the seasons ahead. We ask that the privacy and health and well-being of all involved be respected at this time."
It emerged in February this year that the Demons' board had early last year broached the subject of firing Goodwin amid allegations of gambling, bullying and other behavioural issues. This included Bartlett and Pert meeting with AFL chief executive Gillon McLachlan.
The Demons, however, rejected accusations Goodwin had bullied former club doctor Zeeshan Arain, with the claim later settled.
In his statement, Bartlett said: "I was doing everything possible to have a club free of workplace bullying; gambling; harassment and illegal drugs.
"I believe that my approach and the raising of these issues resulted in a campaign against me from various quarters that was inimical with proper administrative governance and taking seriously important though delicate and sensitive matters. It also showed, in my view, a disregard for the health and wellbeing of both me and my partner and our professional and business interests."
He denied he had leaked board papers to media outlets, "which is a matter that might well be raised down the track in legal processes where it will be dealt with under oath" but said he and his partner had been "subjected to threats, deceitful conduct, and a public campaign to discredit us professionally and personally".
"I know I was not perfect, however, through my time at the club I treated the welfare of all of our people (from the senior coach to the boot studder) as paramount and was steadfast in my responsibility to be able to look every person (including every parent) in the eye and confirm that I was doing everything possible to have a club free of workplace bullying, gambling, harassment and illegal drugs. I was truly committed to having the best environment 24/7 for all of our people and I treated everyone with respect," Bartlett said.
Bartlett has recently filed a writ in the Supreme Court of Western Australia, suing The Age and journalists Jake Niall and Caroline Wilson for defamation.
His claims come at a time when the Demons' premiership defence has wobbled with three consecutive defeats, and they are dealing with the fall-out of a fight between Steven May and Jake Melksham.
Keep up to date with the best AFL coverage in the country. Sign up for the Real Footy newsletter.
Most Viewed in Sport
From our partners
Source: Read Full Article