Players will spend more time on the sidelines for serious offences and will be less likely to miss finals games for minor ones after a radical overhaul of the NRL's match review and judiciary procedures.
The ARLC approved a raft of changes, which were outlined to club CEOs in Perth on Friday, in a bid to bring more consistency and transparency to player suspensions. Former premiership-winning Manly back Michael Robertson has replaced Michael Buettner as match review committee (MRC) coordinator and will be responsible for overseeing some of the biggest off-field changes in the game's history.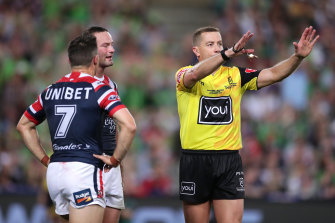 The NRL has made radical changes to the way players are sanctioned for on-field offences.Credit:Getty
"The guidelines aim to provide greater clarity to clubs and fans regarding the factors that may influence the grading of an incident," Annesley said.
"In the past there has been a reliance on previous offences. The new guidelines will give the MRC members more licence to focus on the offence in front of them. Clubs will now have much more specific information available to them so they can decide whether to accept or defend charges."
While the changes will result in longer bans for serious offences, the NRL wants to prevent players missing finals games for trivial ones, such as when Roosters forward Jared Waerea-Hargreaves was suspended for tripping. Players will qualify for one additional monetary fine – rather than demerit points – for minor grade-one offences including tripping, careless high tackles, contrary conduct and detrimental conduct for players involved in the play-offs.
"Nobody wants to see players miss big games for relatively minor offences," Annesley said.
"Even if players have exhausted their monetary sanctions by round 25, all players involved in the finals series will receive an additional monetary fine they can apply for."
Previously, a monetary fine could not be imposed where a player has been previously convicted of an offence on two or more occasions during the season, including finals.
The common practice of players using 'comparable incidents' as part of their defence at judiciary hearings will be reduced from three to one. The period of time from which comparable incidents can be used has also been reduced from two years to one (preceding the date of the alleged offence).
"Judiciary hearings became overly complicated and confusing in some cases as a result of the number of comparables allowed," Annesley said.
"By reducing the number of comparables and their shelf life, there will be more focus on the offence at the centre of the charge."
The hearings themselves could soon be live streamed to increase transparency and help educate fans.
Also, the rule which gives players a one demerit-point reduction for every minute of the game they miss after being sent off in a game will be removed.
"While the aim of this rule was to allow players some reduction in sanction for time already served, ultimately it resulted in a perception that they were being provided with compensation for offences that were more serious in nature," Annesley said. "Effectively, it was undermining the seriousness of the offence.
"It was clear that the rule had passed its use-by date."
The changes come after a series of bizarre rulings throughout the 2019 season. Manly's Jake Trbojevic escaped suspension for a dangerous throw, Josh McGuire was fined for an eye gouge, while Sam Burgess' high shot on Matt Moylan didn't warrant time on the sidelines.
Source: Read Full Article