The cut-and-paste Queenslanders have turned to their oldest trick by crying poor ahead of Game 1. And the coach is already making excuses for a certain defeat.
Will Cleary dominate State of Origin?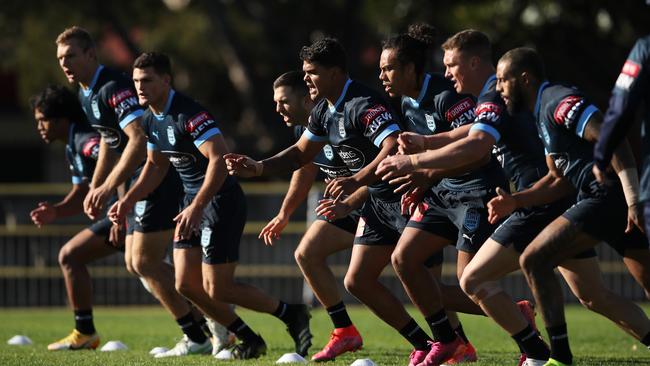 SYDNEY, AUSTRALIA – JUNE 04: Blues players take part in a drill during a New South Wales Blues State of Origin training session at Redfern Oval on June 04, 2021 in Sydney, Australia. (Photo by Matt King/Getty Images)
New coach – same predictable script.

The cut-and-paste Queenslanders have turned to their oldest trick by crying poor ahead of hosting tonight's sold-out State of Origin series opener in Townsville.
The Maroons ambush plan includes first-time Queensland coach Paul Green declaring his team is inferior to the NSW line-up. "We are the underdogs.
We have had a disrupted prep and on paper they are a better team," Green claimed.
GAME INFO
2021 State of Origin series
Queensland Maroons v NSW Blues
Game 1: Wednesday, June 9, 8.10pm
Queensland Country Bank Stadium, Townsville
Referee: Gerard Sutton
Video referee: Ashley Klein
Touch judges: Todd Smith, Phil Henderson
Weather: 18 degrees at kick-off
Green was also pains to reveal just how torrid, disrupted and limited the Maroons training sessions have been due to their widely-reported 'issues' with injuries and illness.
Maroons centre Dane Gagai needed to be hospitalised for tonsillitis while Cameron Munster (foot), Harry Grant (hamstring) Christian Welch (knee) and AJ Brimson (knee) all trained without a care in the world yesterday.
"It's been a disrupted preparation, there is no doubt,'' Green said. "It's not ideal.''
"In terms of training, we haven't had a full week's prep, it is what it is, they know what they have to do on game day, the challenge from a coaching point of view is how you bring that group together.''
Green made the claim despite the weight of history being against NSW. If winning in front of a parochial Queensland crowd in Townsville on Wednesday night wasn't already favourable enough for the Maroons, the Blues must then back-up in game two for another away game at Suncorp Stadium.
QLD has won 11 of the previous 18 series when hosting two of the three games, including three of the past four series.
The Blues were neither surprised nor preparing to fall for the Queenslanders attempt to turn the pressure up on NSW. "I don't listen to anything Queensland have to say,'' Blues centre Latrell Mitchell said.
Asked if the Maroons camp were attempting to set the Blues up for an ambush, Mitchell replied: "Oh definitely. "They play mind games. The best fella at it is Wayne Bennett, but he's not coaching.''
FOLLOW ALL THE BUILD UP LIVE THROUGH THE DAY
Updates
Comments
Add your comment to this story
To join the conversation, please Log in. Don't have an account? Sign up
Join the conversation, you are commenting as Logout
Source: Read Full Article