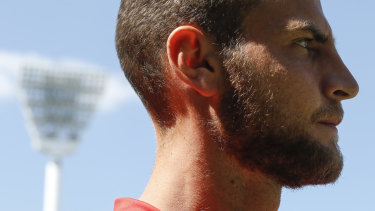 Towering: Jarrod Witts.Credit:Paul Rovere
In a city more famous for skyscrapers than footballers Gold Coast could not have picked a better captain than their 209-centimetre ruckman Jarrod Witts.
One of the tallest men to ever play the game comes from a non-traditional background yet was keen enough on football as a youngster that he was among the throng of fans to run onto the SCG after Tony Lockett kicked his record-breaking 1300th goal in 1999.
Born and raised in NSW, the 26-year-old played rugby union as a second-rower and bowled his left-armers from an uncomfortable height as a junior alongside Test cricketer Pat Cummins in a NSW Emerging Blues squad.
Growing up in Normanhurst, north of Sydney, he was a captain of a cricket representative team in under 12s and also was skipper of the Sydney University colts team, playing in a premiership in the under 19s.
Now, after 40 games at Collingwood and another 40 in two seasons at the Suns, the quietly spoken giant is Gold Coast's co-captain, alongside former No. 1 draft pick David Swallow.
His first task is to continue the form he showed last season when he not only finished eighth in the club best and fairest, but was consistent enough to be rated among the best half-dozen ruckmen in the game.
Lack of exposure – and the outstanding form of Melbourne's Max Gawn and Collingwood's Brodie Grundy – meant he was just outside All-Australian discussions however he is considered capable of reaching those heights.
Witts has fellow ruck Max Gawn and giant midfielder Patrick Cripps covered when it comes to size.Credit:AAP
Witts, although driven, doesn't think in those individual terms.
He wants respect, but more importantly play for a club that is respected, having asked the Suns at their lowest ebb what he could do to help them prosper before eventually signalling his commitment by signing a five-year deal in the off-season.
"I have always had belief in where I was at and have being optimistic about the situation I was in and this is no different. I understand this is a challenge and one that I am up for," Witts said.
"We really do believe in the Gold Coast Football Club."
The club not only needs true believers such as Witts, it needs achievers, talent to develop properly and then remain beyond the first five or six years so roots can be established that will grow a successful culture.
Having seen a revolving door cruel the club's initial phase, senior officials are determined to hold their nerve and develop talent in the right manner, building a youngster's character as much as indulging their needs.
If an experienced player is not prepared to help a teammate then he is not doing his job, while a young player needs to chip in and work.
Witts during his years at the Pies with Nathan Buckley.Credit:Pat Scala
"That is a balance we are still trying to figure out. I still believe you have got to earn your stripes and put your head down and work hard and that applies to first-year players and guys who have been [in the system] for 15 or16 years," Witts said.
"You just have to keep earning your spot and earn respect of your teammates."
With Izak Rankine injured, Jack Lukosius is the only selection from the 2018 national draft among the seven players making his Suns debut on Sunday.
Ben King is an emergency but will be given time to flourish, the talented youngsters having to force their way past some blue-collar footballers to win their senior spot.
"It is really hard trying to create that right environment. We had obviously quite a few new players come in, young and old and we are allowing them to be themselves and fit in," Witts said.
"It is something we do quite well. Up there we are quite close to each other and see each other outside of the club a fair bit. I think we are building that part of it and hopefully that transforms to us being able to perform well as a unit on the field."
Eventually winning must be part of any equation that equals a sustainable culture but the Suns are realistic. The first step is the foundation and Witts understands what he signed up to lead.
"We have a young group so trying to keep everyone up and about and on the same page is going to be really important for us."
With a good view of the horizon from his height, Witts has not squinted while looking towards the Gold Coast sun. The unlikely captain won't hide in the shade.
Source: Read Full Article