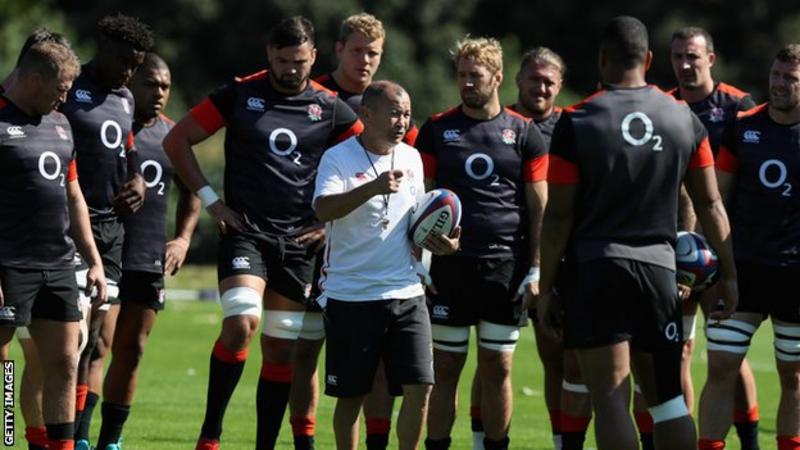 The Rugby Football Union are prepared to appoint a Premiership coach with no international experience to succeed Eddie Jones as England boss.
Director of professional rugby Nigel Melville has started the hunt for Jones' replacement, with the Australian set to leave in 2021.
But if England underperform at the 2019 World Cup in Japan, Jones will move on.
"We are looking domestically in the Premiership and seeing who is available and interested there," Melville said.
"We are also looking at the wider scope across the world, because there are lots of people from other countries who may be available after 2019 who have international experience.
"But we may want to go with an England option who does not have international experience.
"It's an open book at this stage, we are looking at all the options."
Former RFU chief executive Ian Ritchie previously stated Jones' successor would need to have coached at international level.
This appeared to rule out top club directors of rugby such as Exeter's Rob Baxter, one of the outstanding candidates.
But Melville says the RFU are ready to change their approach and are monitoring contenders both at home and overseas.
"We are seeing what would be the best fit for the England team," Melville added to BBC Sport.
While the plan is for Jones to help groom his successor from 2020 onwards before relinquishing control in 2021, in reality the RFU could be forced into making a change much sooner.
Jones has been set a performance-related target by his Twickenham bosses, which is understood to involve reaching at least the semi-finals of the World Cup next year.
"We are not anticipating that being an issue because we believe and hope Eddie will do fantastically well with the team in Japan," Melville added.
"But coming out of the World Cup there will be a succession plan. Going into it are we looking at succession planning? Of course we are.
"And Eddie will be involved in that process as well because that's the point of transition, to involve him and bring him along with us, and let us learn lessons that we have learned and he has learned, so we can get the best guy in place to go forward."
Insight and chat – subscribe to the Rugby Union Weekly podcast
Source: Read Full Article