Nemanja Matic believes Anthony Martial still lacks self-belief despite winning his on-going battle to cement a place in Manchester United's first team.
The French striker has been one of United's few success stories this season, particularly in recent weeks in which he has scored four goals in his last three Premier League games for Jose Mourinho's side.
The 22-year-old, signed for £36m from Monaco three years ago, has certainly looked more like the player who started his Old Trafford career with four goals in as many games in the autumn of 2015.
But teammate Matic claims Martial still needs to believe in himself more to fulfil his true potential and become one of the Premier League's major forces.
"Anthony is a great player and he needs to understand that," said Matic. "He needs more confidence.
"He is still young and I think if he continues to score in the next game he will get that. If he reaches his top level he can be one of the best players in the league for sure.
"Sometimes I don't think he understands how good he is. Sometimes he is quick, he is good with the ball, he can run. He has everything that a Manchester United football player needs.
"Sometimes I don't think he understands that. If I had his ability with the ball and I was as quick as him then I wouldn't pass to anyone and I would score every game!"
United's 2-1 win over Everton featured a Martial goal and a penalty that was won by the youngster, a result that continued United's recent improvements, in the league at least.
And midfielder Matic believes that an upswing in United's results on the field will help Martial in his own personal development.
"He does need more confidence and this comes with results," said Matic. "When you don't have results it is very difficult for players to have that high confidence.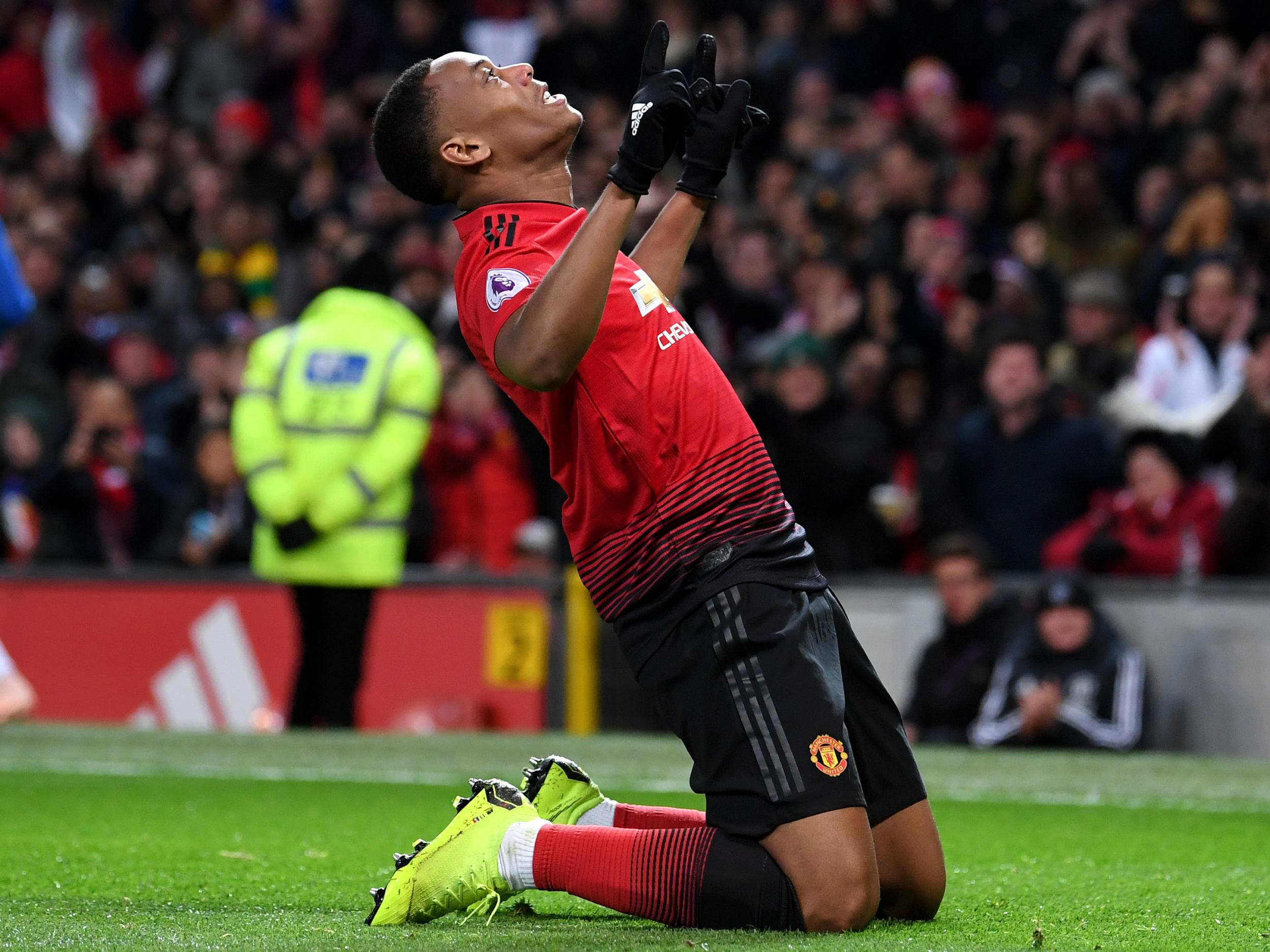 "If we can get results over the next few games and improve as a team he will show that he is very important for us.
"The manager speaks with him about it. I have told him once! But he is a great person and a great guy and I am happy for him that he is scoring.
"It is great. The quality is there, confidence is there now and he just needs to be more consistent. I am glad we have him in the team.
"In football and in life you have difficult times and you have to get back on track and that is exactly what he is doing."
While Martial's current form is clearly on an upward trajectory, that of fellow striker Romelu Lukaku is heading very much in the opposite direction after he was dropped for the Everton game.
The Belgian international did come off the bench as a second-half substitute but completed a ninth consecutive game without scoring, a worrying trend but one Matic believes will be short-lived.
"He is a great player for sure," said Matic. "He has scored a lot of goals for United so I don't see any problems for him.
"He's a great guy who works hard and works for the team. Sometimes he doesn't get the goals but he is still working for us. He will start to score again soon. I believe that."
Follow the Independent Sport on Instagram here, for all of the best images, videos and stories from around the sporting world.
Source: Read Full Article