Cristiano Ronaldo has described himself as "a happy man" and insisted that the truth will ultimately out after being accused of sexual assault.
Kathryn Mayorga, a 34-year-old American woman, alleges she was raped by Ronaldo at a Las Vegas hotel in 2009.
Police in Las Vegas have re-opened their investigations into the alleged assault. Ronaldo has denied all allegations against him.
The Juventus forward held a press conference for the first time since Mayorga went public with her accusations, ahead of his meeting with former club Manchester United.
Ronaldo was asked three questions relating to the allegations, though only answered two directly.
When asked whether his off-field problems were affecting him and whether he considers himself a role model, he said: "I know I am an example. I know, 100 per cent. On the pitch and outside the pitch.
"So I am always smiling, I am happy man. I'm blessed that I play in a fantastic club I have a fantastic family, I have four kids, I am healthy. I have everything. So the rest, it doesn't interfere on me. I'm very very well."
When asked specifically about Mayorga's allegations specifically, Ronaldo said his lawyers were "confident" and claimed that the truth will ultimately win out.
"You didn't listen to what I say. I am a happy man," he reiterated. "We did the statement two weeks ago, if I'm not wrong. I am glad, of course, I'm not going to lie in this situation, I'm very happy.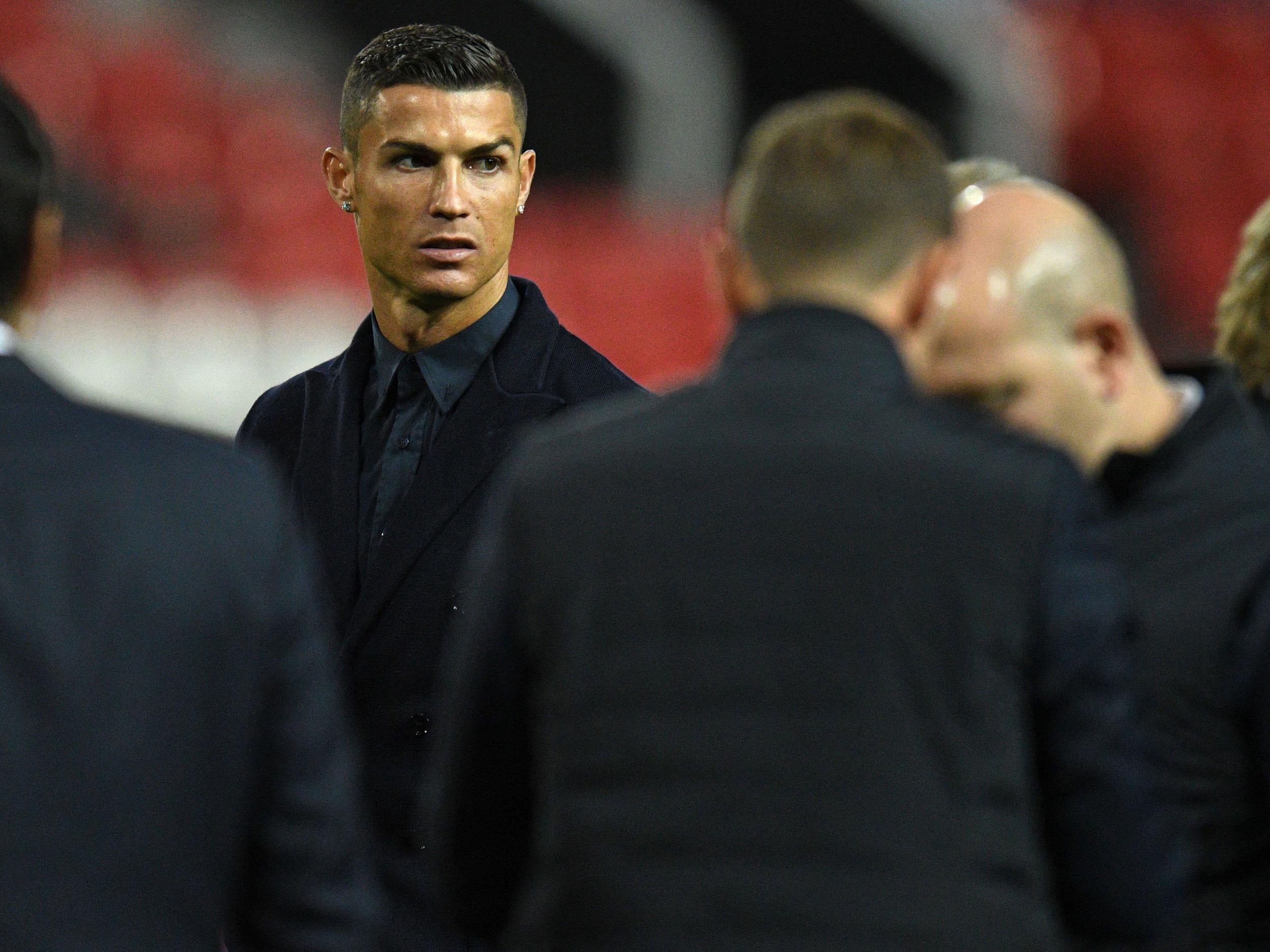 "My lawyers, they are confident and of course I am, too. The most important, is I enjoy the football, I enjoy my life.
"The rest, I have people who take care of my life. Of course, the truth is always coming in the first position. So, I'm good."
An earlier question asked whether the re-opening of the Las Vegas investigation and Ronaldo missing out on the Puskas Award had made the last two months difficult for him.
Ronaldo's answer related only to the award. No English journalists were selected to ask a question by Juventus' press team.
Ronaldo dismissed the allegations as "fake news" when Mayorga went public with her story in Der Spiegel, the German magazine, last month.
Lawyers acting on Ronaldo's behalf claim documents central to Der Spiegel's story have been fabricated. The magazine says it has "no reason" to doubt their authenticity.
Juventus have backed their player. In a statement released on Twitter earlier this month, the club wrote: "Ronaldo has shown in recent months his great professionalism and dedication, which is appreciated by everyone at Juventus.
"The events allegedly dating back to almost 10 years ago do not change this opinion, which is shared by anyone who has come into contact with this great champion."
On Tuesday night, Ronaldo plays against United at Old Trafford for only the second time since his 2009 departure for Real Madrid.
"It is a huge, emotional thing for me to come back," Ronaldo said. "I mean, I can remember what it was like when I was here in Manchester and know all about the history. I won lots of trophies here – the cups, leagues, the Champions League.
"I remember also the support as well. The support is fantastic and Sir Alex Ferguson is someone I will never, ever forget. Someone who gave me a huge lift in my career and I would like to express my best possible wishes to him.
"When I knew that we were going to be playing against Manchester United, it was huge for me."
Follow the Independent Sport on Instagram here, for all of the best images, videos and stories from around the sporting world.
Source: Read Full Article