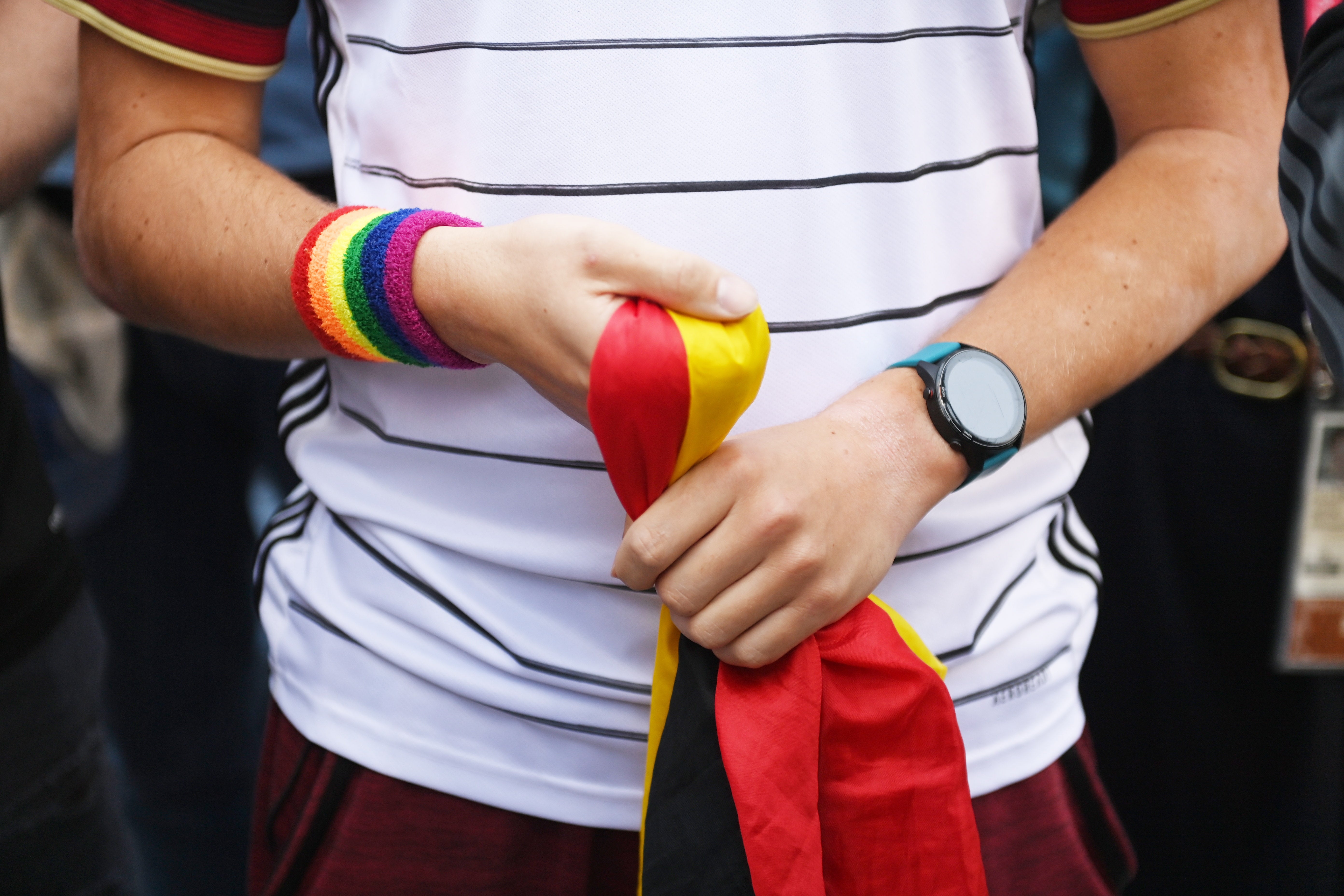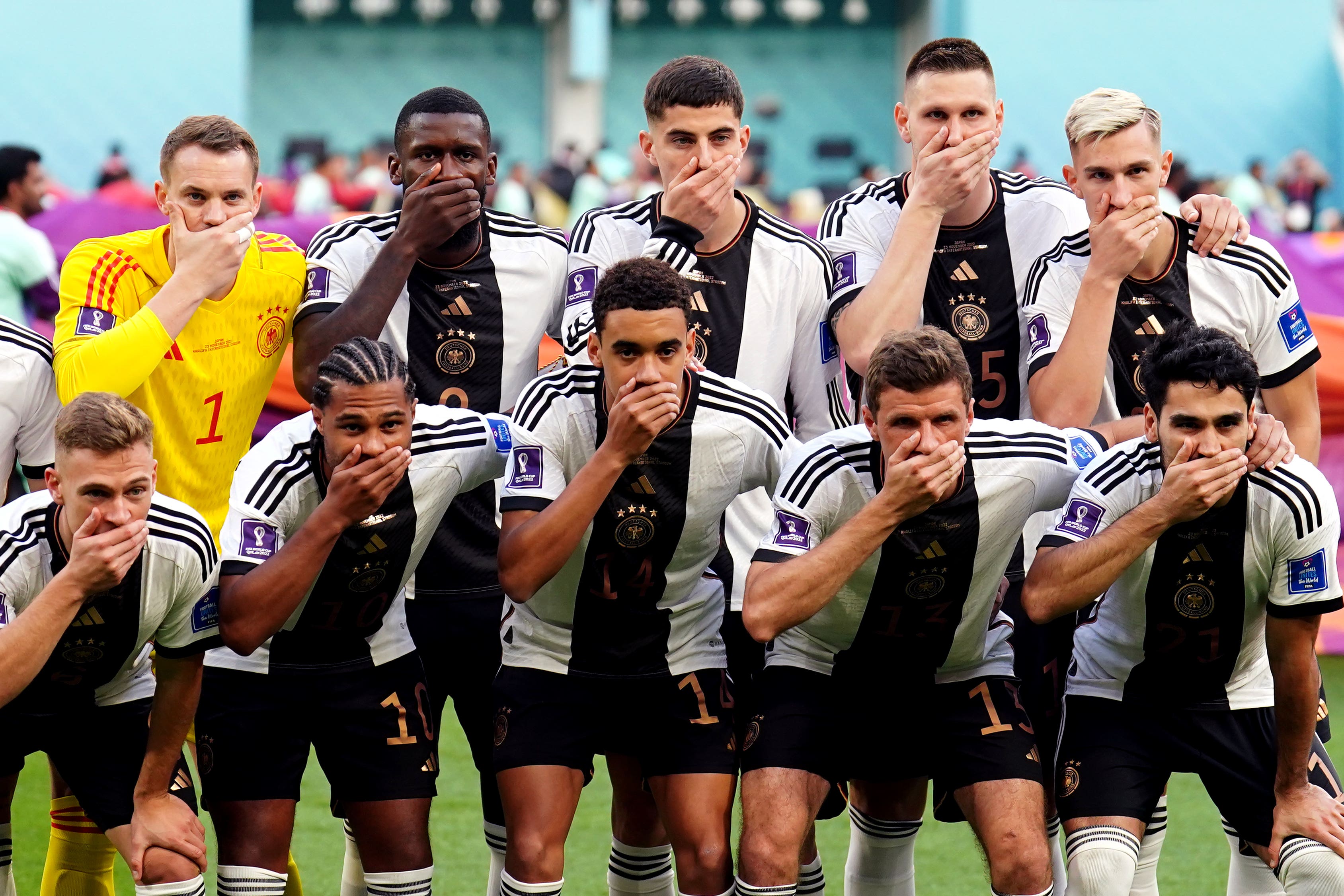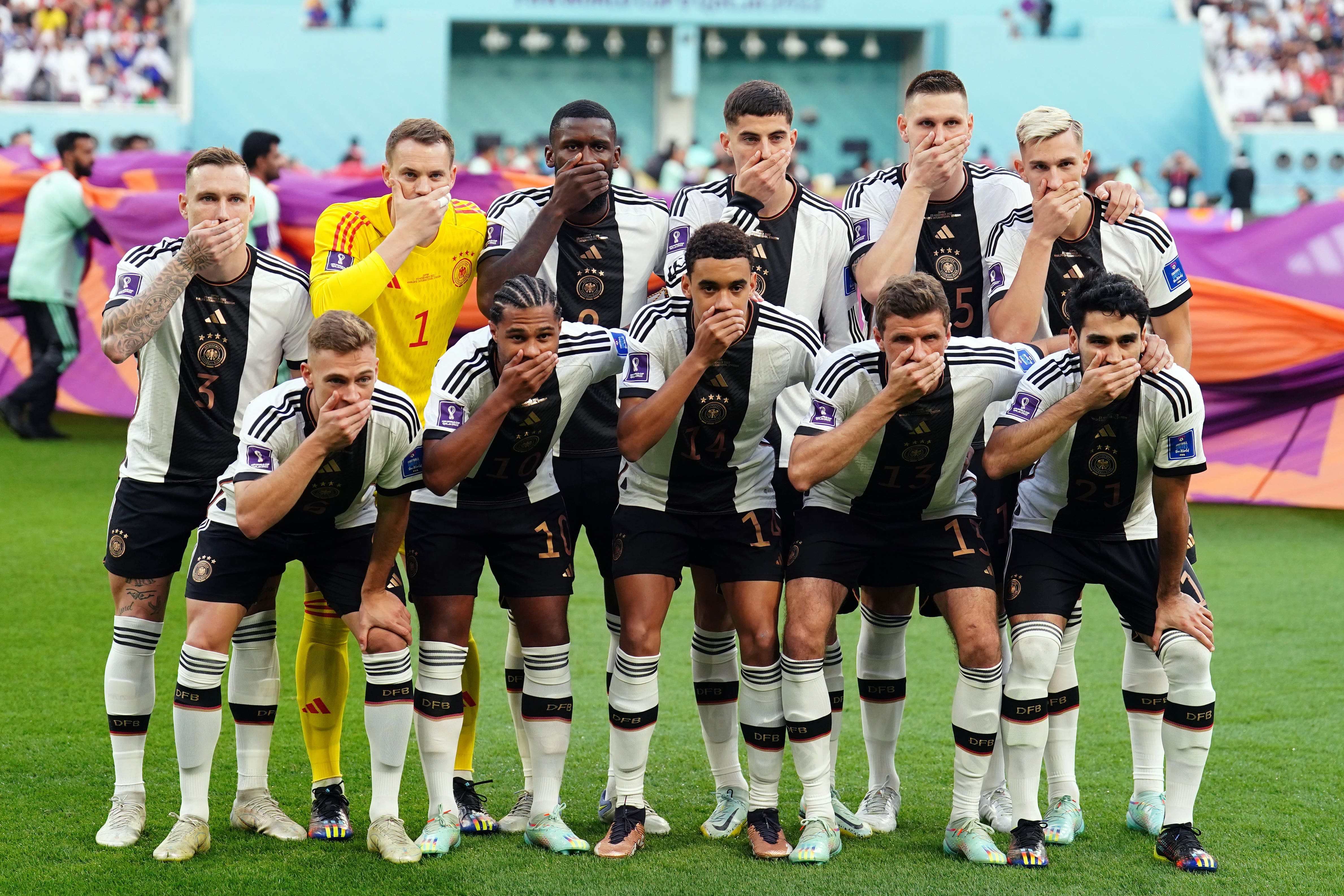 "I feel it's really difficult at the minute to do that without upsetting peoples' rules or whatever it might be. There's a really fine line with all this and so far we're trying to stick to our values and what we believe in as a team. Make sure we don't get pushed over."
Gareth Southgate struck a similar tone.
"Well, I noticed the Danish coach [Kasper Hjulmand] speaking after the game and he felt he hadn't got enough bandwidth to deal with the football. I think that's the risk that we're all running. I'm quite comfortable with our position and I think we should be confident in what we stand for. What we think we can affect.
"We run the risk now… there was a plan [before Iran], we weren't able to carry out that plan. What do we do now? Do we all try to out-do each other on a gesture that probably won't be enough; probably could be criticised.
"We want to support the LGBTQ community in particular and recognise that a lot of those people aren't here with us, and we wanted them here with us. But we could also rush into doing things that don't land well and don't really make any difference and take a lot of time and energy away from where we need to be now.
"I understand that is going to be uncomfortable for people because I could be criticised, the captain has been criticised, the organisation will be criticised.
"I'm probably more used to this than all the others, frankly, so it's having less impact on me. I'm very comfortable with what I stand for and how I deal with people every day of my life is more important than a statement that might land well and might not.
"I'm going to be trying to reflect things for the next, hopefully, 30-odd years of my life, and of course there's a moment here where you hope to highlight things but the fact we are still talking about it does. So we're not refusing to answer questions but I think we have to be careful not to be seen to be trying to do something."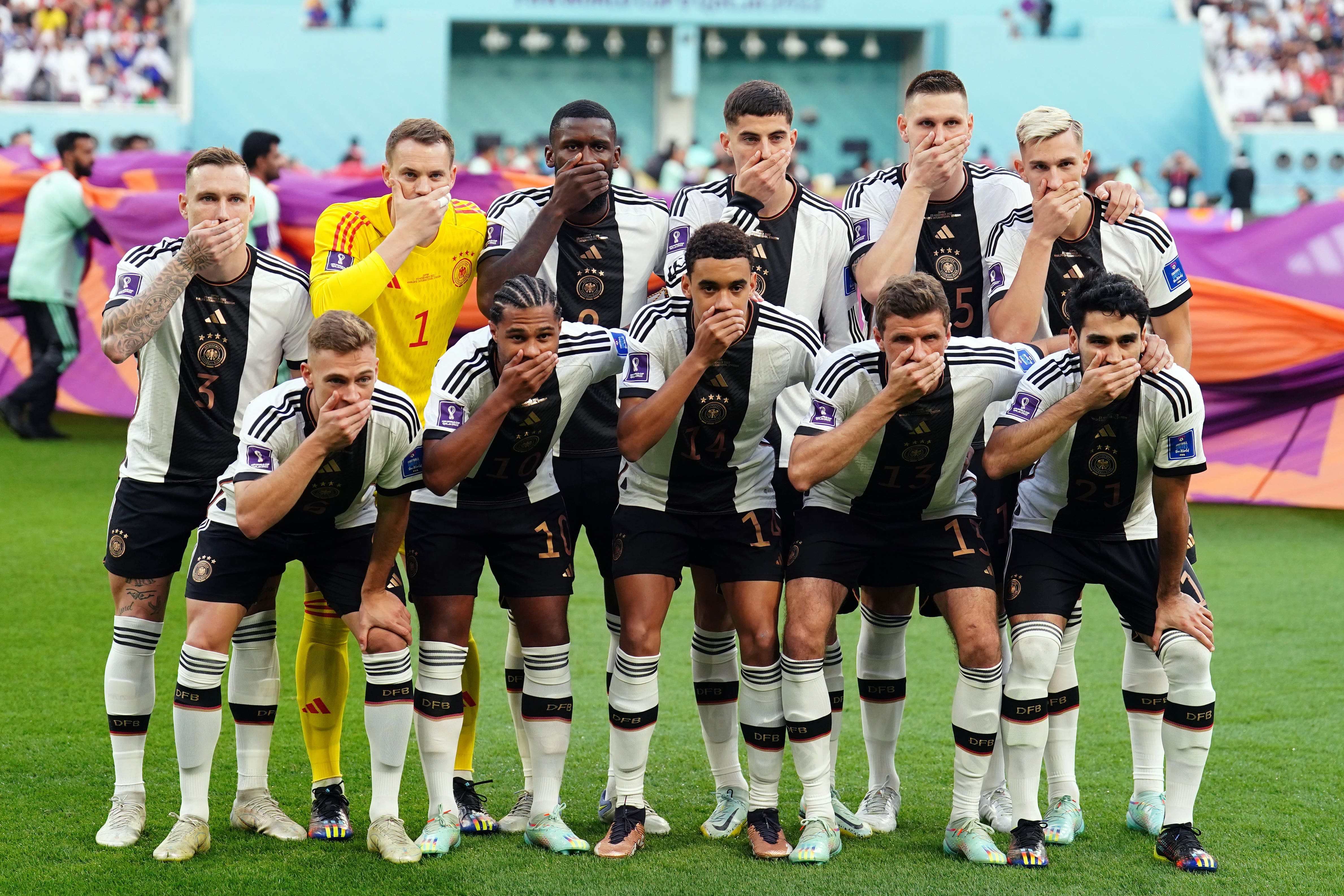 Germany players covered their mouths as a mark of protest at the Khalifa International Stadium in Doha
Southgate meanwhile confirmed that the decision had been taken out of Kane's hands.
Recommended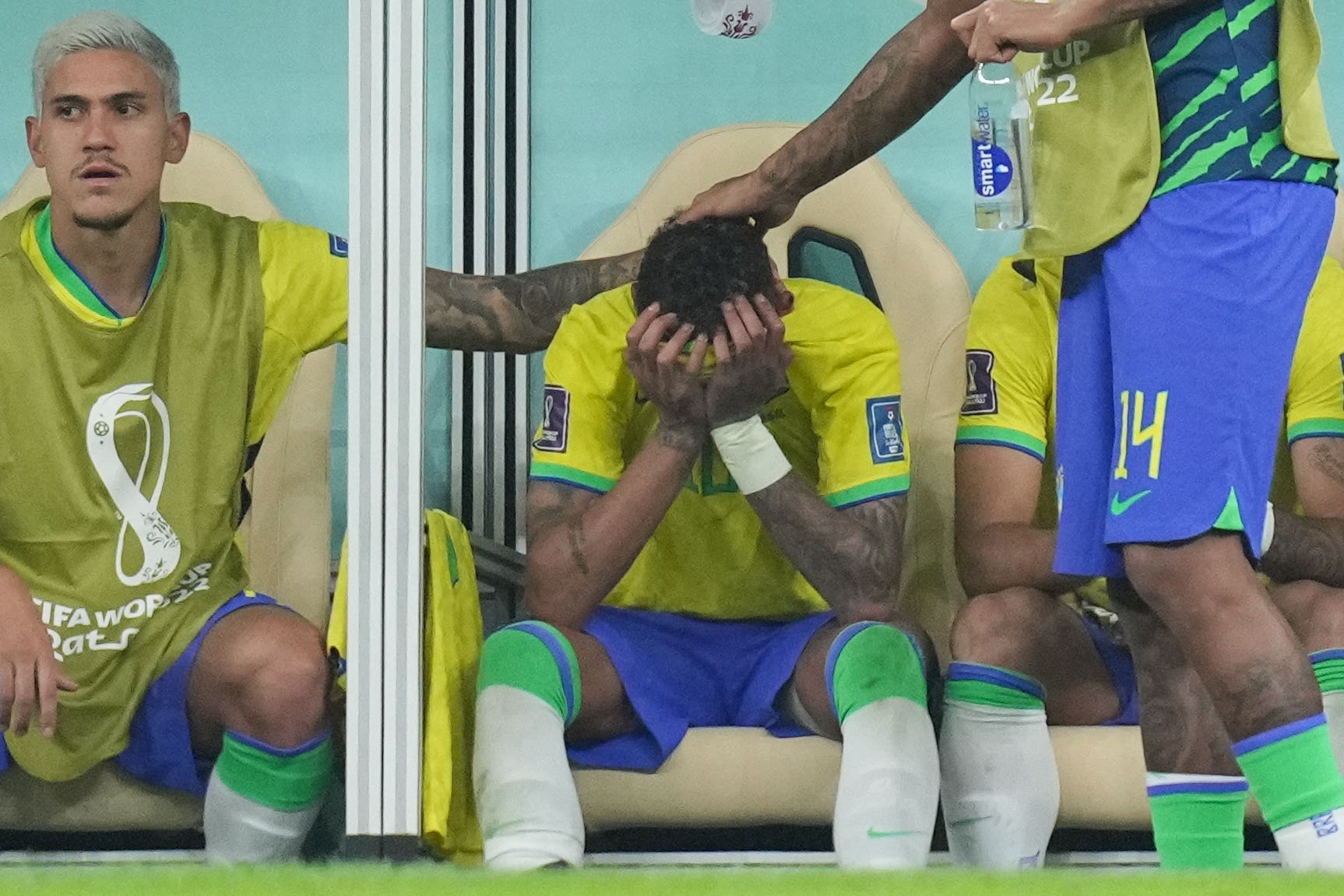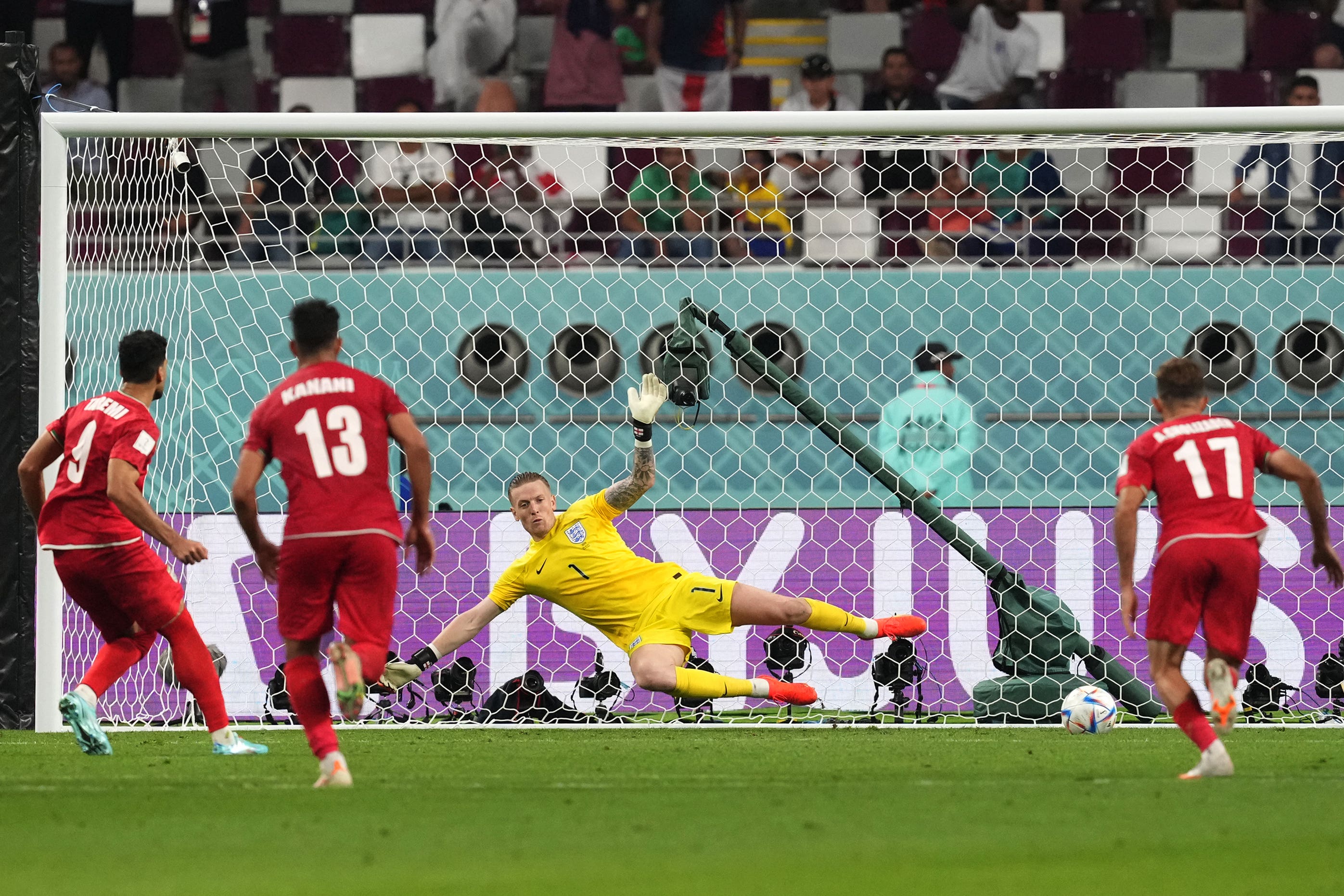 "I don't know all the ins and outs because I wasn't in the meeting but there was definitely a feel there were sanctions and not all of those were really clear, I think, so the decision was taken out of the hands of Harry.
"The decision from the organisation was, 'we're not even putting the armband in the dressing room'. There is no discussion, that's done. The player had no say in that. But what that exactly looked like I don't know because I wasn't in the meeting. It's not something I've wanted to spend more time on."
Register for free to continue reading
Registration is a free and easy way to support our truly independent journalism
By registering, you will also enjoy limited access to Premium articles, exclusive newsletters, commenting, and virtual events with our leading journalists
{{#verifyErrors}} {{message}} {{/verifyErrors}} {{^verifyErrors}} {{message}} {{/verifyErrors}}
By clicking 'Create my account' you confirm that your data has been entered correctly and you have read and agree to our Terms of use, Cookie policy and Privacy notice.
This site is protected by reCAPTCHA and the Google Privacy policy and Terms of service apply.
Already have an account? sign in
By clicking 'Register' you confirm that your data has been entered correctly and you have read and agree to our Terms of use, Cookie policy and Privacy notice.
This site is protected by reCAPTCHA and the Google Privacy policy and Terms of service apply.
Register for free to continue reading
Registration is a free and easy way to support our truly independent journalism
By registering, you will also enjoy limited access to Premium articles, exclusive newsletters, commenting, and virtual events with our leading journalists
{{#verifyErrors}} {{message}} {{/verifyErrors}} {{^verifyErrors}} {{message}} {{/verifyErrors}}
By clicking 'Create my account' you confirm that your data has been entered correctly and you have read and agree to our Terms of use, Cookie policy and Privacy notice.
This site is protected by reCAPTCHA and the Google Privacy policy and Terms of service apply.
Already have an account? sign in
By clicking 'Register' you confirm that your data has been entered correctly and you have read and agree to our Terms of use, Cookie policy and Privacy notice.
This site is protected by reCAPTCHA and the Google Privacy policy and Terms of service apply.
Source: Read Full Article