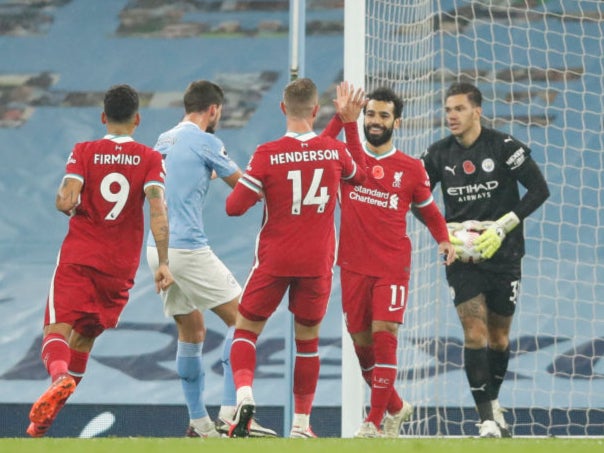 Salah celebrates his opener
That should actually make for a more open and entertaining title race, since there will be more slips. In that, it might be more like a season from the 1970s or 1980s rather than the ridiculous levels of the modern era. It won't be about excellence, but endurance.
That may apply two-fold, though.
It won't just be about navigating the usual challenges of a title race, and all that entails. It will be about adapting to the challenges of this calendar, and all its effects.
Here, Liverpool lost another first-team player to injury, Trent Alexander-Arnold this time going down.
While the match in and of itself wasn't consequential, it did thereby emphasise two of the bigger questions around the game.
The first is on that calendar. Why is football insisting on trying to get every single normal fixture in what is an entirely abnormal season, that has already been truncated?
It is senseless, and starting to affect the quality of the football on offer.
There's then the focus on the handball law.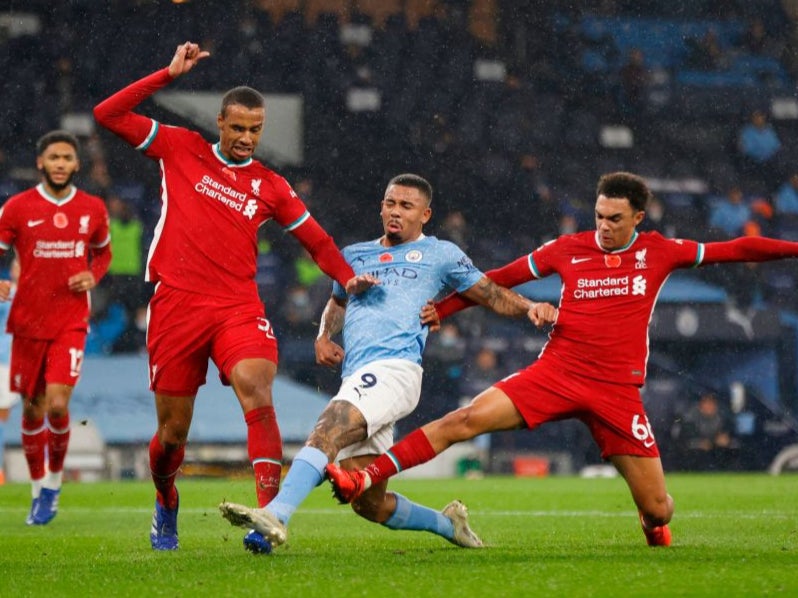 Jesus finishes well under pressure
As if to sum all this up, and the way such issues affect the football, it feels wrong to be discussing such problems given the quality of some of the play – not least Gabriel Jesus' turn.
That is what was so frustrating about a second half that didn't otherwise inspire emotions. We had seen some exquisite football before that.
The temptation is often to fixate on the errors, but that would do a disservice to the quality of football.
Take the first penalty. It would be easy to criticise Kyle Walker – as Roy Keane did – for going in rashly. What really happened was that he was done by a supreme piece of play by one of the best players in the world right now. That's the Sadio Mane effect.
The goal arrived after an impressive spell of pressure for Liverpool, where they had been showing what makes them so different to City.
Guardiola's side suffocate you with so many passes. Klopp's pierce you, with multiple sharp stabs. There were a few moments in that opening half-hour when City were gradually moving the ball around, waiting for the opening, only for Liverpool to just force one at the other end with an abrupt burst.
Walker's foul was at once illogical and also the logicalm consequence of a concerted spell of Liverpool attacking.
There was impressive calculation to Salah's penalty too. Given he normally goes down the middle, the Egyptian waited for Ederson to commit, before smashing the ball into the corner.
Again, error led to improvement. City very quickly picked up, for what was their best spell of the game, and produced two of the moments of the game.
The first should really have brought the equaliser before Jesus did.
Kevin De Bruyne played one of those curved through balls that only he can, inviting the finish from Raheem Sterling.
On his wrong foot, though, the forward attempted to control and shoot rather than play Jesus in.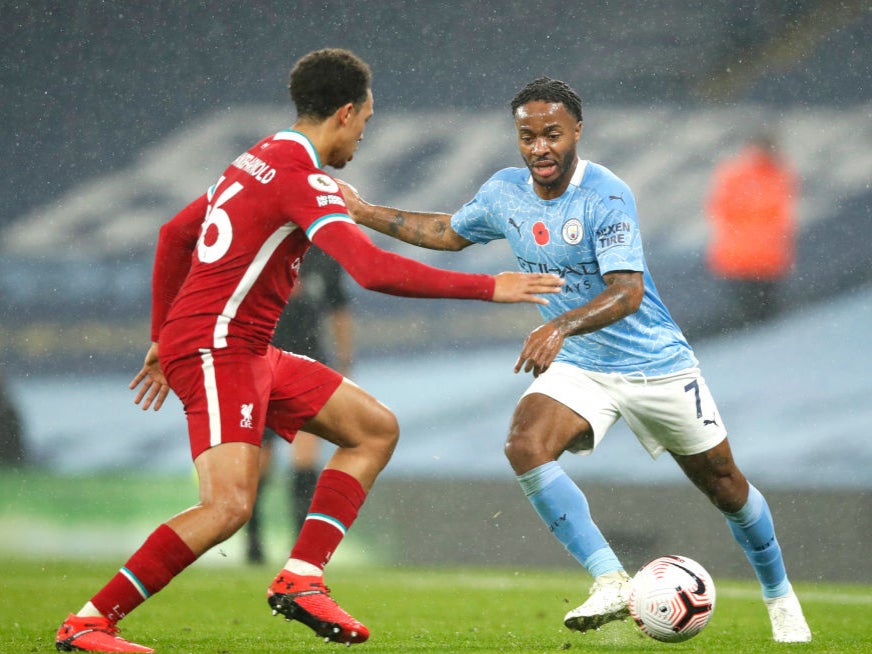 Sterling takes on Alexander-Arnold
The Brazilian would have his chance, but only after supremely fashioning it himself.
His turn had shades of Romario, Edmundo and Dennis Bergkamp – but it was all Jesus.
Whether it was intentional depends on your interpretation, and what you want to fixate on. What is clear is that Jesus was singularly focused on scoring. There was hugely creditable commitment as he braved a collision with Alisson to force the ball past his international teammate.
City deserved their equaliser, and may have deserved the lead.
That is open to debate, but not as much debate as around that next penalty. Joe Gomez tried to move his hand out of the way, but it was futile. His motion meant the ball was hitting it.
There was no question it was a penalty.
There should be big questions, however, over the laws that ensured that.
That's the only way to sum it up. Correct call, ludicrous law. Surprising outcome.
There was maybe a sense of moral justice that it didn't prove decisive, but you wouldn't have expected it from the player who stepped up. As the ball whistled past Alisson's post, with it went De Bruyne's 100% record.
It wasn't the only element of this match no longer at 100%.
You could say the same for the energy reserves of both sides.
It saw the game devolve into something more defensive, although that did highlight the impressive form of Ruben Dias and Aymeric Laporte.
Both sides ended up looking like they could do with a break.
They'll only get an international break, and needless travel all over the world.
You can thereby expect a lot more games – and maybe the whole season – to fizzle out like this.
This weekend get a £10 free bet with Betfair, when you bet £10 on a Same Game Multi on the Premier League. Terms: Min £10 Same Game Multi bet on any EPL match this Fri – Sun. Free bet valid for 72 hours, awarded at bet settlement. Excludes cashed out bets. T&Cs apply.
Source: Read Full Article