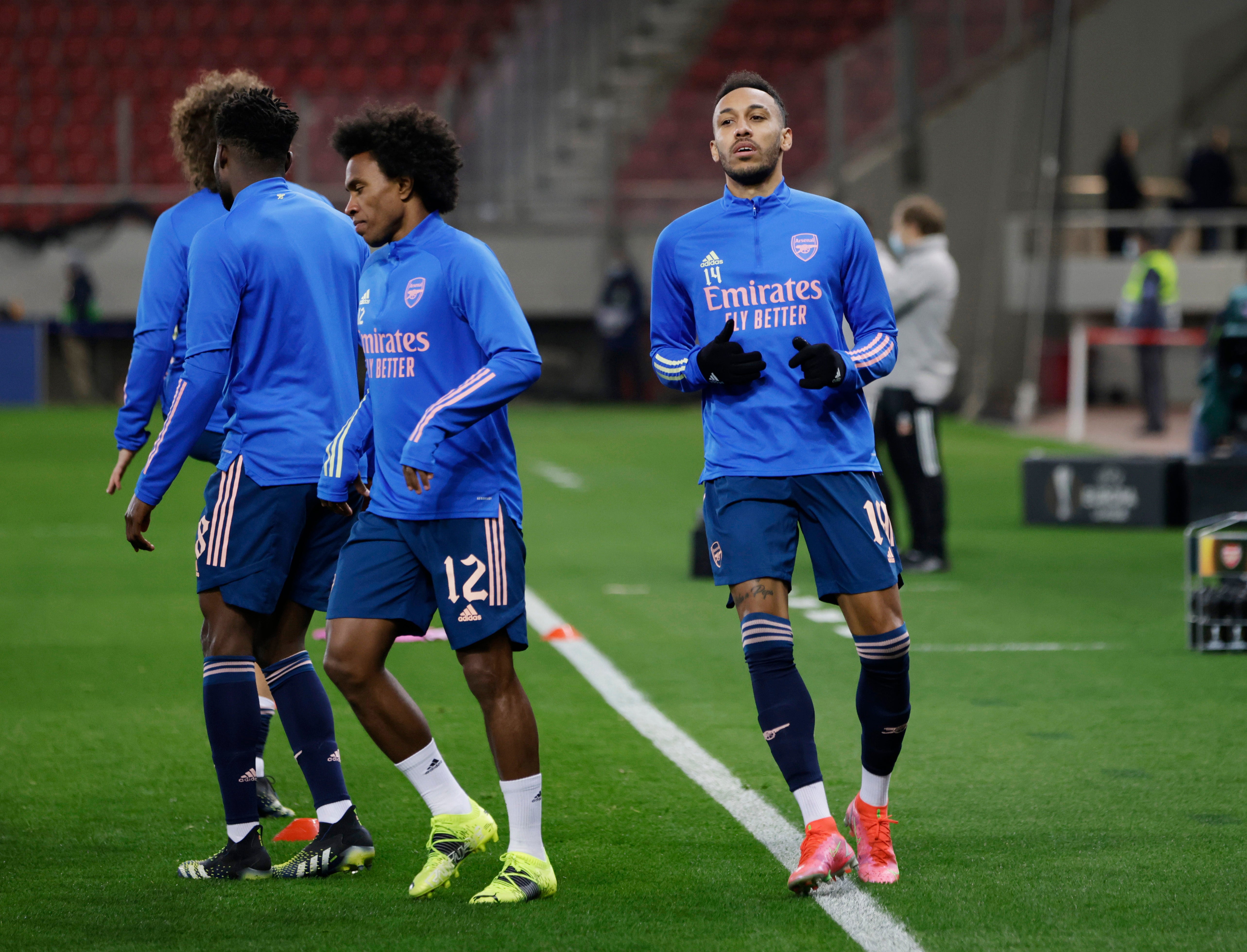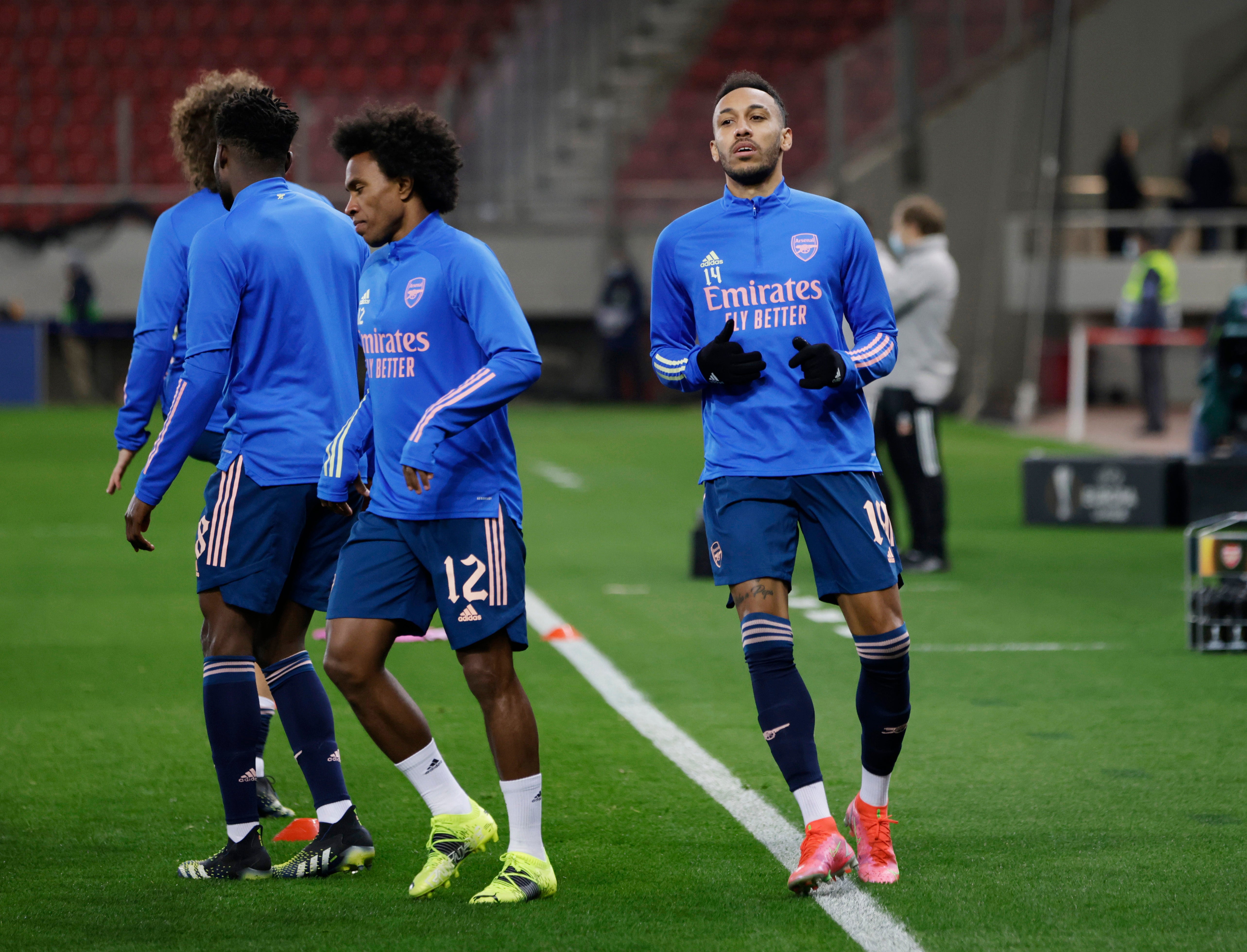 Arsenal visit Olympiacos this evening in the first leg of the teams' Europa League last-16 tie, with the Gunners out to avoid elimination by the Greek champions for a second straight season.
Arsenal defeated Olympiacos 1-0 in the first leg of the sides' last-32 meeting last term, but their opponents progressed on away goals after striking in the last minute of extra time in the second leg for a 2-1 victory on the night. In similar fashion, Mikel Arteta's players left it late in the round of 32 this year, with Pierre-Emerick Aubameyang netting at the death to seal a 3-2 second-leg win against Benfica last month after a 1-1 first-leg draw with the Portuguese outfit.
Olympiacos, similarly, required a late goal in the second leg of their last-32 tie – for the second straight year. Pedro Martins' side were 5-4 victors on aggregate against PSV Eindhoven, with Ahmed Mahgoub's 88th-minute goal dragging Olympiacos into the last 16 despite a 2-1 defeat on the night. They beat Lamia 3-0 on the weekend, while Arsenal stuttered in a 1-1 draw against Burnley in the Premier League. Follow live updates from Arsenal vs Olympiacos in the Europa League last 16 below, following the conclusion of Manchester United vs AC Milan.
Independent Football Newsletter
Get the latest football headlines direct to your inbox twice a week
Read our privacy notice
Independent Football Newsletter
Get the latest football headlines direct to your inbox twice a week
Read our privacy notice
MAN UTD 1 – 0 AC MILAN
84 mins: Krunic hits the set piece and goes for goal. He strikes it well but doesn't beat Matic in the Man Utd wall who blocks the effort with a header.
MAN UTD 1 – 0 AC MILAN
81 mins: Krunic is brought down by McTominay, who's already on a yellow card, he doesn't get booked but Milan have a free kick in a very dangerous area. 20-yards out and bang in front of goal.
MAN UTD 1 – 0 AC MILAN
78 mins: Manchester United seem to have changed the formation to a back three with two wing backs dropping back to create a back five when defending. Luke Shaw gets forward on the left and collects a cross field pass from Williams on the right. Telles provides an option on the overlap but Shaw is closed down and the ball goes backwards.
MAN UTD 1 – 0 AC MILAN
75 mins: There's a lot of rain coming down at Old Trafford now as Ole Gunnar Solskjaer makes a triple change. Dan James, Bruno Fernandes and Aaron Wan-Bissaka are all taken off with Brandon Williams, Luke Shaw and Fred coming on.
MAN UTD 1 – 0 AC MILAN
72 mins: Chance! Lovely play from Man Utd as Wan-Bissaka brings the ball down the right wing. He passes it inside to Greenwood who plays a one-two with Amad to create some space in the box. Greenwood then squares the ball to James who hits it first time and puts it wide of the near post.
MAN UTD 1 – 0 AC MILAN
68 mins: Brahim Diaz collects a pass from the left and lets the ball run across his body. He shoots with his right foot from just outside the box but Matic charges down the strike. Man Utd have fallen back into their first half lethargy, AC Milan are in the ascendancy.
MAN UTD 1 – 0 AC MILAN
65 mins: Big chance! Calabria swings a lovely cross into the box from the right wing and picks out Krunic on the back post. He gets in front of Wan-Bissaka and heads the chance narrowly over the crossbar.
MAN UTD 1 – 0 AC MILAN
63 mins: A couple of quick one-touch passes gets the ball up to Krunic on the edge of the Man Utd box. He controls the ball and shoots on the turn but smokes his effort high and wide.
MAN UTD 1 – 0 AC MILAN
59 mins: Krunic swings a free kick into the box from the right wing and has the pass cleared by Fernandes. Milan collect the ball quickly and send it back into the area where McTominay puts it out for a corner. The corner is won by Maguire who heads it away. Saelemaekers chips the ball into Kessie who drills a shot at goal that Henderson parries wide of the near post.
MAN UTD 1 – 0 AC MILAN
56 mins: Milan defend the corner and Donnarumma grabs the ball out of the air from a cross. He wants to send Milan quickly away on the counter attack but is knocked over by McTominay who is shown a yellow card.
MAN UTD 1 – 0 AC MILAN
54 mins: Dan James' pace almost creates something from nothing for Man Utd. A long ball comes up the pitch and Calabria heads it back into his own box. James sprints past him and gets to the ball before the defender recovers and blocks the shot out for a corner.
MAN UTD 1 – 0 AC MILAN – AMAD
50 mins: GOAL! Glorious. Did I say a big ask? Bruno Fernandes chips the ball over the top from the middle of the pitch. Amad Diallo runs into the box and wins the ball. With his back to goal he heads over the goalkeeper and finds the back of the net to put Man Utd in front. Great moment for the 18-year-old.
MAN UTD 0 – 0 AC MILAN
48 mins: Fernandes slots a free kick out to Amad on the right wing and he gives it back to the United playmaker. Fernandes flicks a cross deep into the box and James keeps the ball alive with a header into the middle that's claimed by Donnarumma.
MAN UTD 0 – 0 AC MILAN
Second half: Amad Diallo has replaced Anthony Martial for Man Utd at the break. It's going to be a big ask for the youngster to his mark in this match tonight.
TEAM NEWS – ARSENAL
Follwoing this game, Arsenal take on Olympiacos in the first leg of their Europa League clash. Here's what Mikel Arteta had to say about the Gunners' ambitions this season:
I am very positive – there is still a lot to play for. What we need is to put four or five wins in a row, if we are able to do that then things are going to look very different in two or three weeks' time.

"If we don't, obviously we don't have a chance because when we have had an opportunity to do it we haven't done it consistently enough."
MAN UTD 0 – 0 AC MILAN
45+1 mins: Half time. Goalless then at the break. AC Milan have scored twice, one was ruled out for offside and the other was scratched due to a handball. Maguire's missed a sitter for Man Utd who haven't really kicked into gear yet. Ole Gunnar Solskjaer may need to get the hairdryer out at half time.
MAN UTD 0 – 0 AC MILAN
42 mins: The replays make that miss from Maguire so much worse. No one was around him. he had an open goal, it's a tap in and he missed it. A goal might have just released United from playing with such tension. They've been outplayed so far in this half.
MAN UTD 0 – 0 AC MILAN
39 mins: OFF THE POST! How has Maguire missed that?! Telles swings the corner into the box and Fernandes flicks it to the far post. Maguire has an open goal but hits the ball with his shin and knocks it into the post! He has to score there.
MAN UTD 0 – 0 AC MILAN
38 mins: In the end it's Alex Telles who takes the free kick. He blasts it with his left foot and hits Harry Maguire standing to the right of the Milan wall. United then win a corner.
Source: Read Full Article