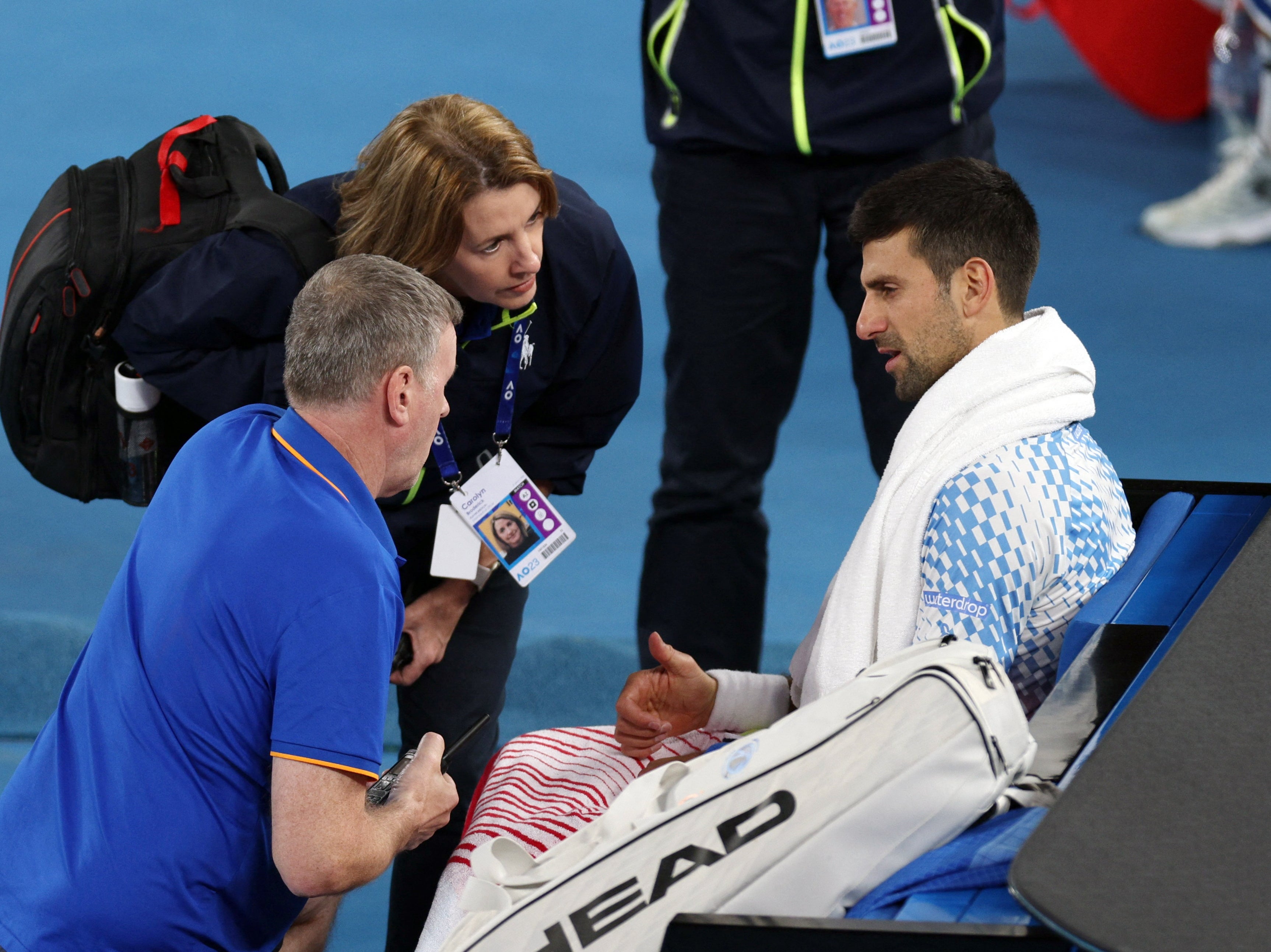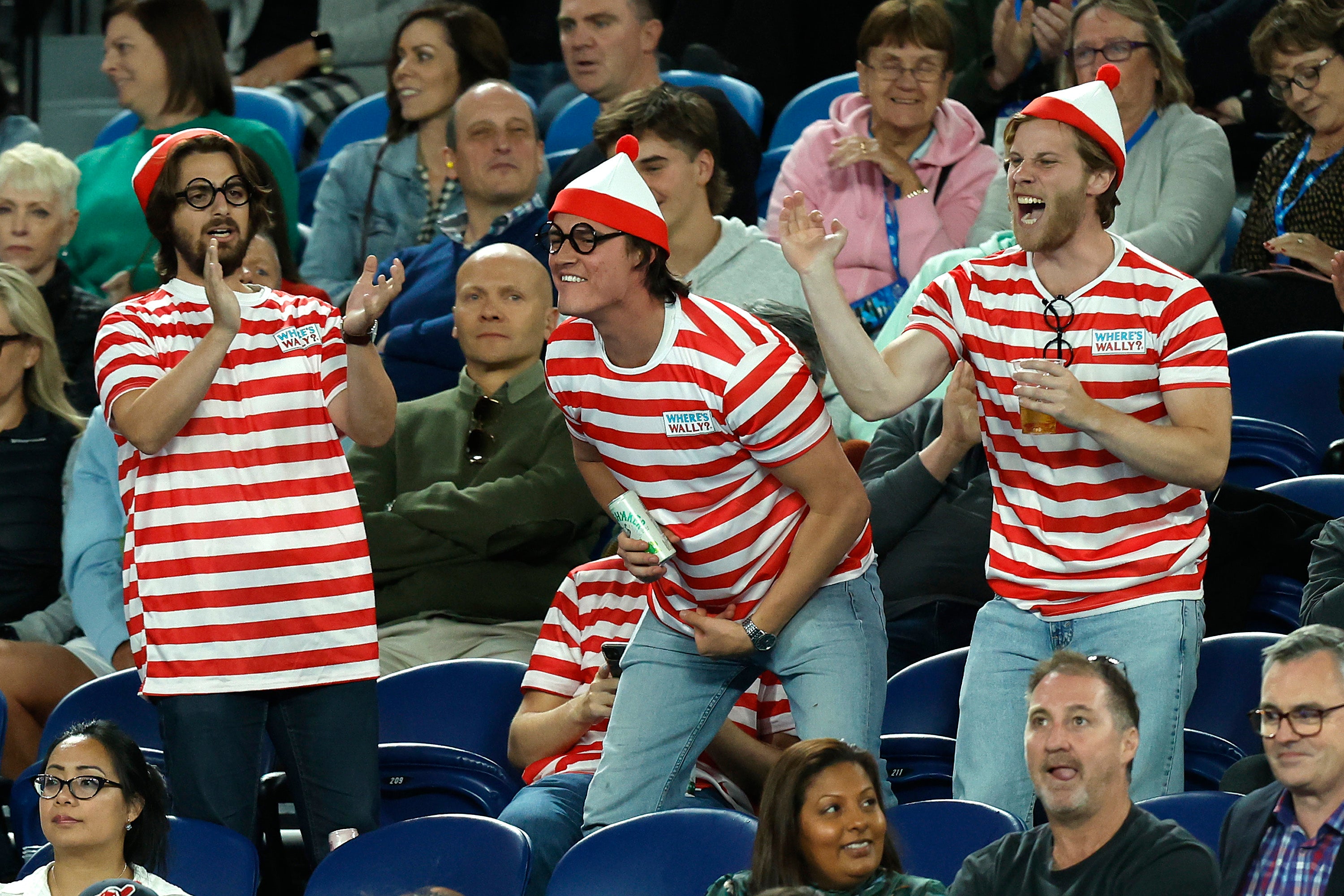 Australian Open 2023: Order of play
Incredibly, the schedule is running on time at the Australian Open today! Here's what's coming up in the night sessions:
Order of play – Saturday 21st January
Rod Laver Arena From 08:00 GMT
Grigor Dimitrov vs Novak Djokovic
Magda Linette vs Ekaterina Alexandrova
Margaret Court Arena From 08:00 GMT
Andy Murray vs Roberto Bautista Agut
John Cain Arena From 08:00 GMT
Alexei Popyrin vs Ben Shelton
KIA Arena From 08:00 GMT
Caroline Garcia vs Laura Siegemund
Australian Open 2023
Australia's Alex de Minaur beat Benjamin Bonzi 7-6(0) 6-2 6-1 to book his place in the fourth round, where he will play either Novak Djokovic or Grigor Dimitrov.
"I hope everyone that was on this court right now is going to go and support Alexei Popyrin," De Minaur said.
"That's all we do. Us Aussies, we stick together. We've got a bright future ahead and let's get 'Popeye' to the line today."
Wildcard Popyrin faces American Ben Shelton in the third round later on Saturday.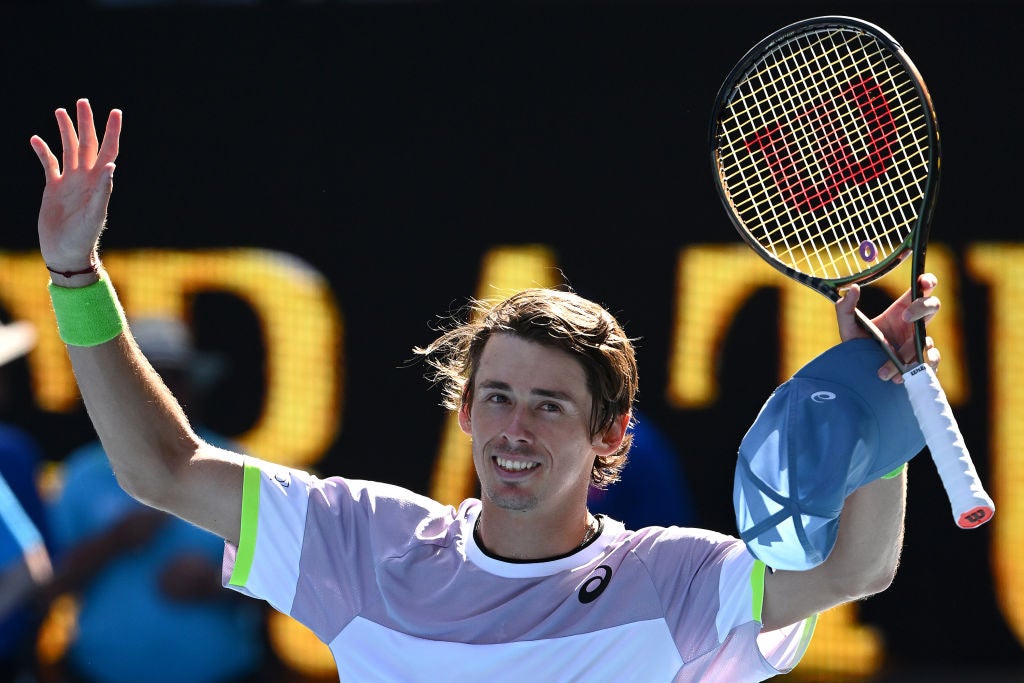 Australian Open 2023
Andy Murray's chances of progressing at the Australian Open have been put at a severe disadvantage by his post-4am finish to his match with Thanasi Kokkinakis, according to a sleep expert.
The Scot won the longest match of his career on Thursday, beating the Australian in five hours and 45 minutes in an epic encounter that finally ended at 4.05am.
Murray was able to ensure a fairly swift return to his hotel afterwards and was in bed by 5.30am but incredibly was back at Melbourne Park at 9.30am for treatment and recovery.
He went back to his hotel for more rest before again returning to the venue for practice and sleep expert James Wilson, who works with a number of Premier League and English Football League clubs and is known as the 'Sleep Geek', says the 35-year-old will be heavily impacted when he plays Roberto Bautista Agut in Friday's evening session.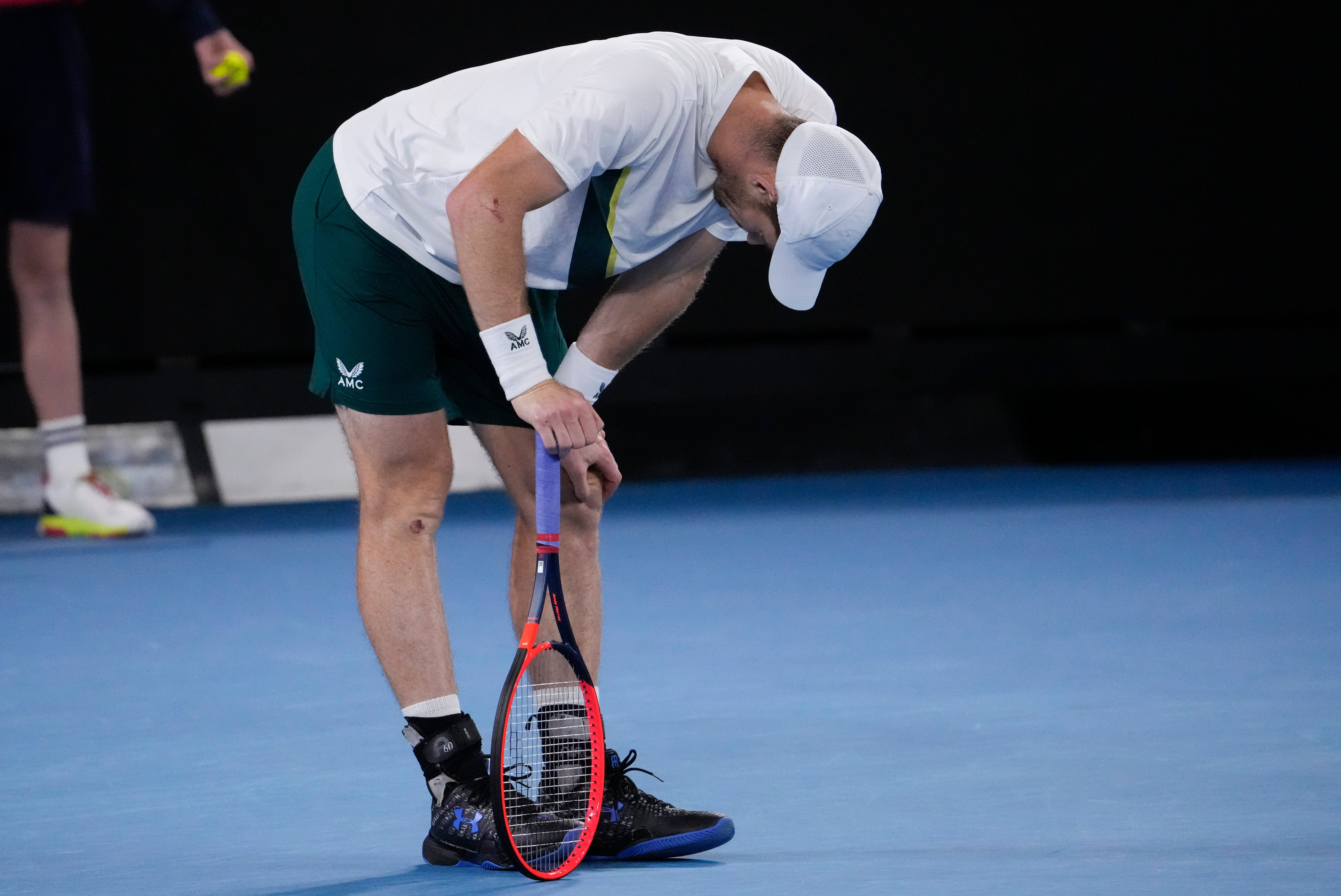 Andy Murray's body clock will be 'very confused' after 4am finish, expert warns
The Scot won the longest match of his career on Thursday
Australian Open 2023: Djokovic provides concerning injury update
Novak Djokovic admitted his left hamstring is "not good at all" after struggling through his second-round match at the Australian Open.
The Serbian was taken to four sets by Frenchman Enzo Couacaud, with the injury proving difficult to overcome at times.
Djokovic could be seen limping after points and took a second-set injury timeout for treatment from his physio.
"It's not good at all, to be honest with you," said the nine-time winner at Melbourne Park. "I'll take it day by day.
"It was better in the last match than tonight, to be honest. That's all I can say now.
"I just need God to help me now, and the physio and everyone. I'll take it day by day and hopefully, I'll be able to recover for a tough match-up in the next round."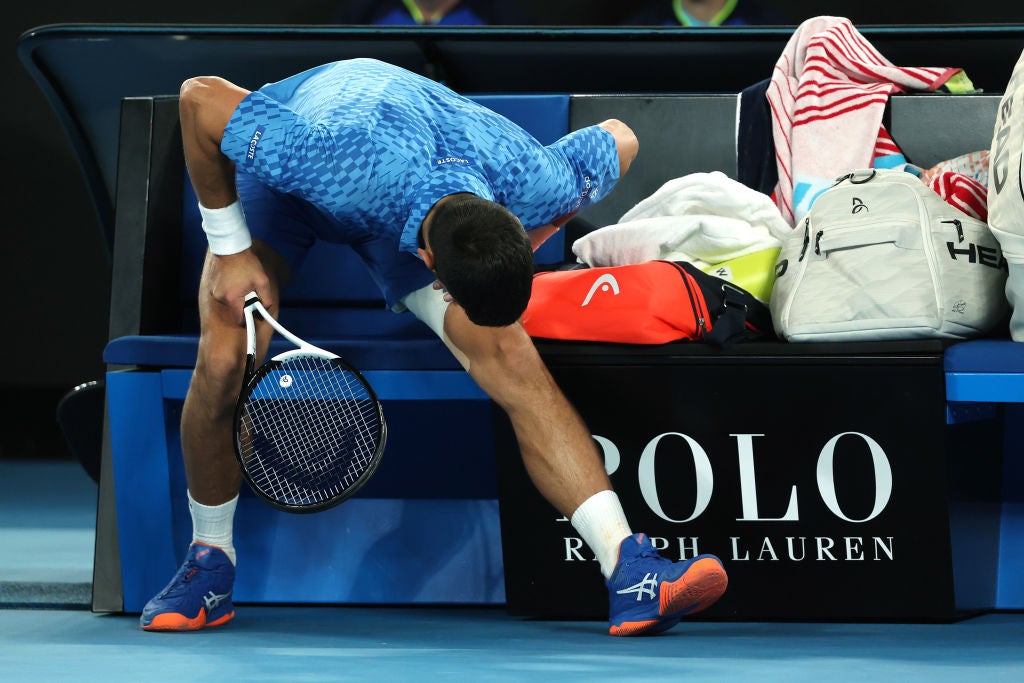 Australian Open 2023: Andy Murray hits practice court
Andy Murray was out practicing this morning, where he was mobbed by the Australian fans, but the 35-year-old was looking pretty stiff following his five-hour 45-minute epic against Thanasi Kokkiakis.
Australian Open 2023: When is Andy Murray vs Roberto Bautista Agut?
The match is scheduled last on Margaret Court Arena and is therefore set to start at 8am GMT on Saturday 21 January, although it could be slightly later depending on the earlier matches.
How to watch
You can watch the Australian Open live on Eurosport in the UK. The action will be broadcast on Eurosport's TV channels, or fans can tune into Discovery+ to stream the tournament, where an Entertainment & Sport pass is available for either £6.99/month or £59.99/year.
Sky has also announced that starting today, Discovery+ will be available at no extra cost for Sky customers, including for Sky Glass and Sky Stream customers.
If you're not already a Sky customer, you can get a Sky Stream box, which comes with Sky TV and a Netflix basic plan. The device is currently discounted in Sky's winter sale (was £26 per month, now £24 per month, Sky.com). This is Sky's new device, and doesn't require a satellite dish as it streams Sky directly over wifi.
Australian Open 2023: Andy Murray leaves rivals staggered by return to court
Stefanos Tsitsipas voiced the thoughts of everyone who witnessed Andy Murray's incredible late-night heroics against Thanasi Kokkinakis when he saw him back at Melbourne Park on Friday.
The sun was almost coming up when Murray left the scene of the longest match of his career, a five-hour, 45-minute epic that saw him fight back from two sets and a break down to finally clinch victory at 4.05am.
It was barely eight hours later when the man with the metal hip was seen walking gingerly along the corridors, accepting congratulations along the way, having already been attending to the damage to his body.
"I saw him today before my match," said Tsitsipas. "I was thinking to myself, 'What is he doing here? He should be in bed'."
Australian Open: Evans overpowered by Rublev in straight-sets defeat
Dan Evans was overpowered by fifth seed Andrey Rublev in a straight-sets defeat at the Australian Open on Saturday.
Evans had lived up to his 25th seeding by reaching the third round and went into the match as the underdog but had reason to believe he could cause an upset having won three of his six previous clashes with Rublev.
However, the Russian crunched 60 winners compared with only 22 unforced errors in a quality display to win 6-4 6-2 6-3 and leave Andy Murray as the only British singles player remaining ahead of his meeting with Roberto Bautista Agut later.
There is nothing subtle about the game of Rublev, he simply hits the ball as hard as he can, especially off the forehand, but he has done it consistently enough to stay in the top 10 for virtually the entirety of the last two years.
Evans spends much of his time feeling like he is competing in a higher weight category as one of the smaller players on tour.
Speaking after his second-round match, he said: "Everybody's dealt the cards. I'm sure some people would like to have a bit more skill and feel. I'd like to have a bit more power. It is what it is."
Report by Eleanor Crooks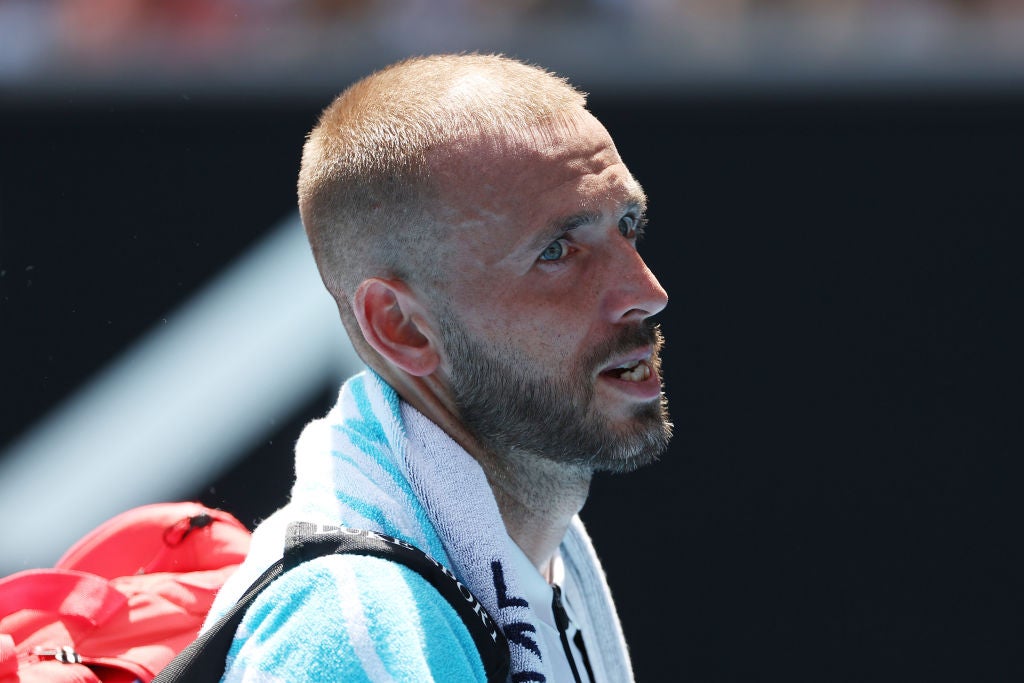 Dan Evans overpowered by Andrey Rublev in Australian Open straight-sets defeat
Rublev hit 60 winners in a 6-4 6-2 6-3 victory in the third round
Australian Open 2023: Results – women's singles
Donna Vekic, Croatia, def. Nuria Parrizas Diaz, Spain, 6-2, 6-2. Karolina Pliskova (30), Czech Republic, def. Varvara Gracheva, Russia, 6-4, 6-2. Zhang Shuai (23), China, def. Katie Volynets, United States, 6-3, 6-2. Belinda Bencic (12), Switzerland, def. Camila Giorgi, Italy, 6-2, 7-5. Aryna Sabalenka (5), Belarus, def. Elise Mertens (26), Belgium, 6-2, 6-3.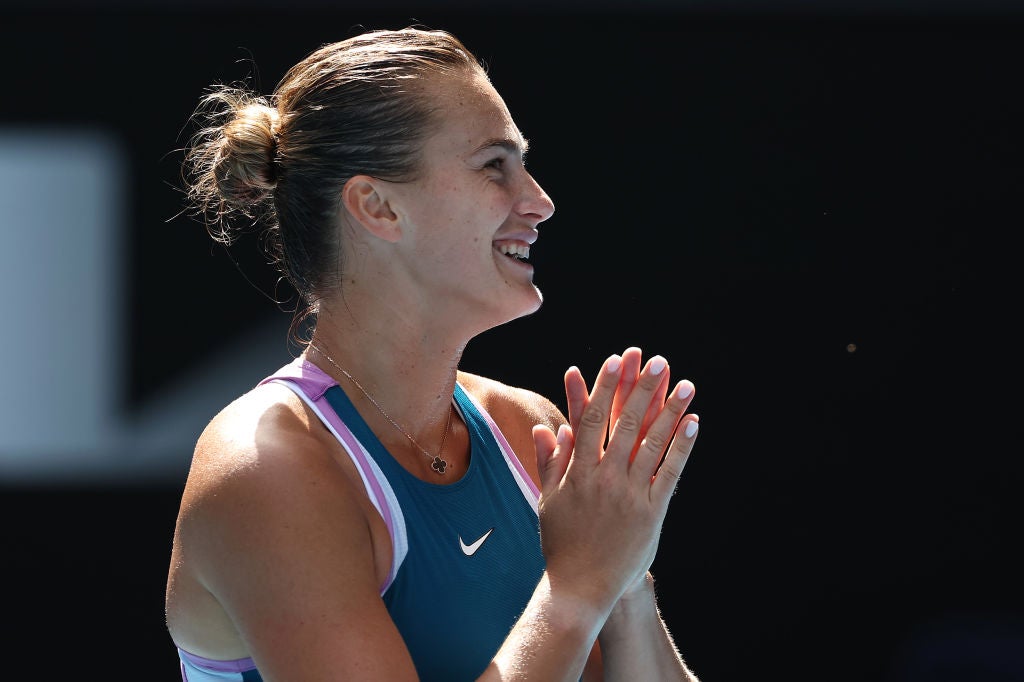 Australian Open 2023: Bencic through to last-16
Swiss 12th seed Belinda Bencic eased into the last-16 for the first time since 2016 after a 6-2 7-5 win over Camila Giorgi.
Italian Giorgi broke Bencic to level the second set at 5-5 before the Olympic champion broke back and served out the match.
"I'm happy I got a second chance to serve it out but overall I think it was a great match," Bencic said.
Source: Read Full Article