Arsenal hope to maintain their unbeaten start to the Premier League season as they travel to struggling Everton on Sunday afternoon.
Mikel Arteta's are riding high after clinching a late victory over Manchester United in their last match before the international break to make it 10 points from their opening four matches and they'll look to take that momentum into today's encounter. Manchester, Liverpool and Tottenham are setting the early pace at the top of the table so it would be a big error if Arsenal were to drop points at Goodison Park.
Sean Dyche's side, meanwhile, picked up their opening points of the season with a 2-2 away draw against Sheffield United. The Toffees won this fixture 1-0 last season in Dyche's first game in charge and will be hoping for a repeat performance to kickstart their league campaign.
Follow all the action from Goodison Park below. Get all the latest football betting sites offers here and the latest Premier League odds here.
Recommended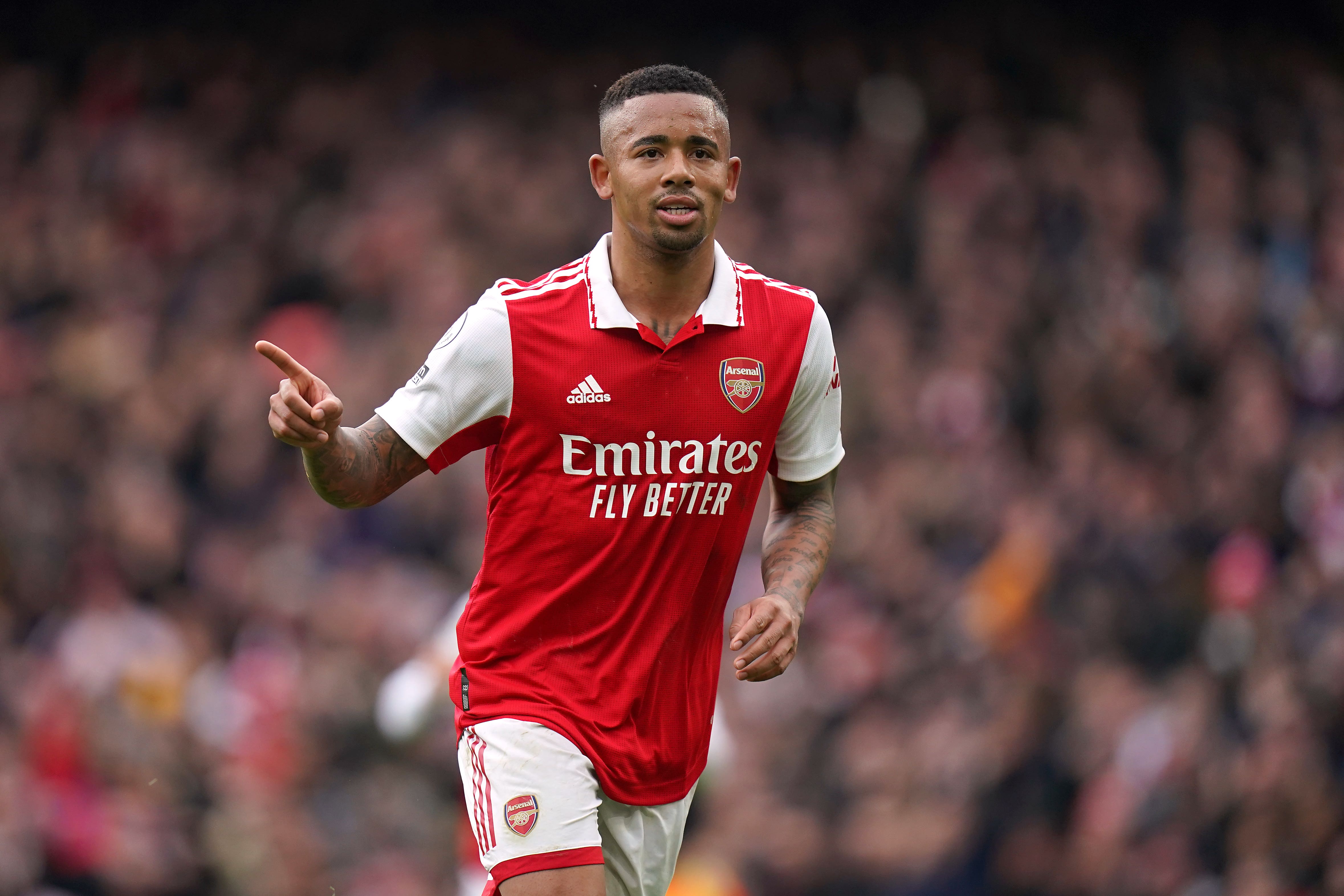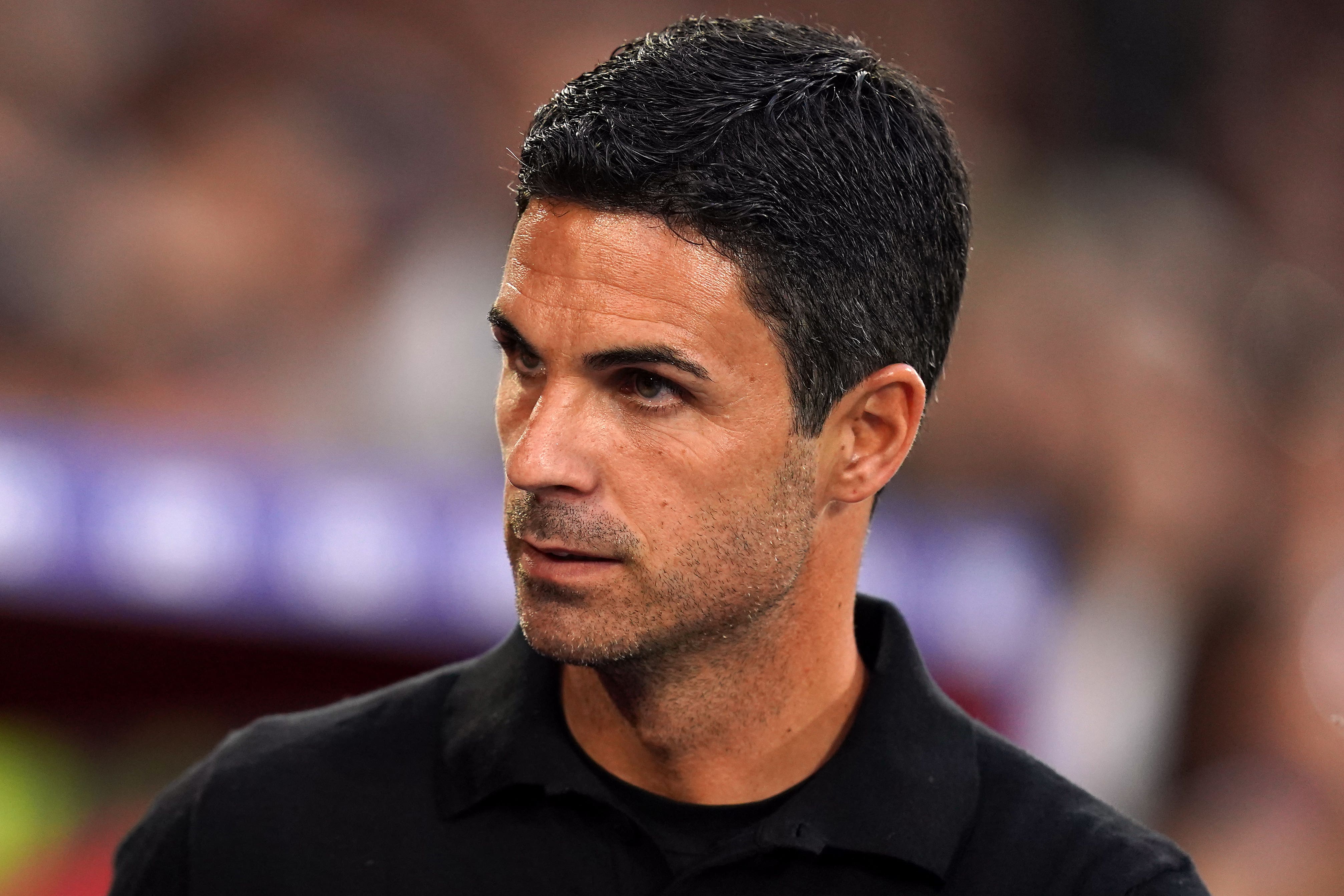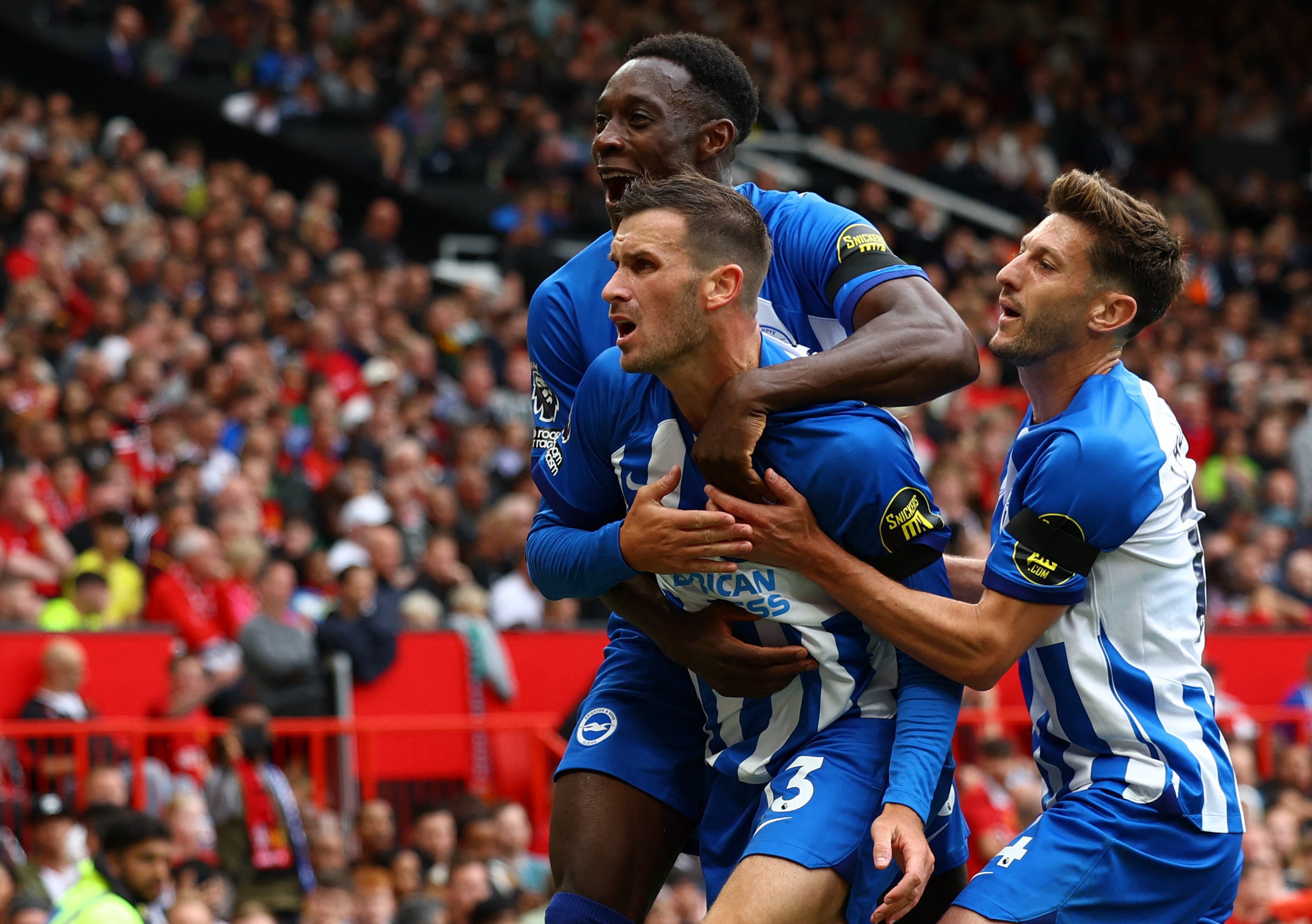 Arsenal end Goodison curse thanks to Mikel Arteta's bargain buy
One of the stranger jinxes in English football may be over. Arsenal had lost on their previous three trips to Goodison Park, twice to horribly out-of-form Everton teams. Maybe logic intervened on Mikel Arteta's fourth visit back to his former club. Or perhaps Leandro Trossard did, the substitute's wonderfully precise finish giving Arsenal a fourth victory in five league games this season.
There was a sense Arsenal avenged February's 1-0 defeat in Sean Dyche's first game in charge of Everton, not merely reversing the scoreline but showing their skill to take the same method – a set-piece – to find a very different way of deciding a match. Not a thumping James Tarkowski header from a corner, but a well-worked routine that culminated in Martin Odegaard slipping in Bukayo Saka, whose cutback brought a deft finish from Trossard, angled in off the far post.
If some of Arteta's recruitment in 2023 has a contentious feel, Trossard is the sort of signing who can simply be celebrated: a £20m bargain, a creative force last season who has two goals already in this, a player whose versatility makes him an ideal substitute but who has the quality to be decisive.
Read Richard Jolly's full report from Goodison Park: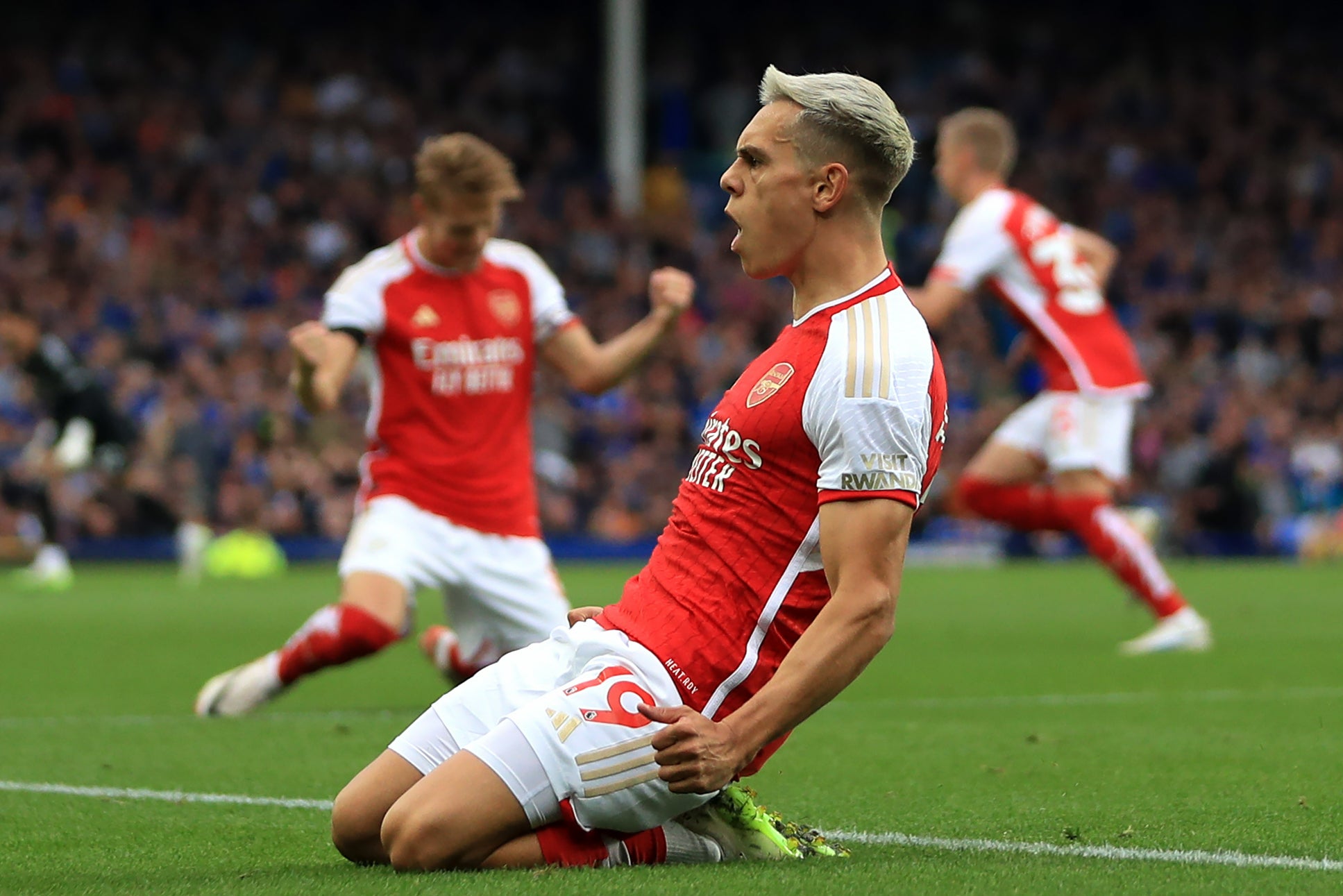 Arsenal end Goodison curse thanks to Mikel Arteta's bargain buy
Everton 0-1 Arsenal: Leandro Trossard ended the unlikely jinx to plunge the Toffees into further trouble
Everton manager Sean Dyche speaking to BBC Sport
"The game didn't deserve a win. We defended resolutely but we never got to grips with the ball. The defensive side worked really hard but the attacking side we were never really near to laying a glove and making a difference.
"They pressed well and we were unsure whether to go short or long. You have to get the first pass away on turnover. If you don't get it away then the team can't open up on the counter.
"The details on the set piece – a good finish from them but really poor on the details from us.
"The performance levels have been there but the details kill you in football. I said clearly after last season there was a massive amount of work to do. There still is, it can't be all changed in one window."
Arsenal manager Mikel Arteta speaking to Sky Sports
"We talked about it, this is the challenge. For six years we haven't won here and there are a few reasons for it. I think we played an incredible game, we kept them quiet and created many many chances, The first [disallowed] goal should have been allowed. We dominated the game and we are extremely happy to go away with a win and a clean sheet.
"I think we took the game into the areas we wanted for long and we were really solid. We gave very very little away. They haven't created a single chance. It's about intelligence but also about the fight."
On the injury picked up by Martinelli: "He felt something in his hamstring so he will need to be assessed."
Everton defender Ashley Young speaking to Sky Sports
"I think at times we were resilient, we had to defend as a team. Especially in the first half, we did that really well and nullified them. We've been done by a set-piece which is disappointing. Not to come away from the game with at least a point is obviously disappointing.
"There were a couple of times they got in behind but we kept out our shape and we nullified them to only a few chances. We knew they would have a lot of the ball but when we got it back we gave it away too cheap. At times it was tough but we stayed in the game and to concede in that way was disappointing.
"We're a few games in, we're disappointed not to get three points in any of the games, especially when we've created chances. I have every faith in the manager, the players and the dressing round to turn things around."
FULL-TIME: Everton 0-1 Arsenal
All smiles from the Arsenal team as they pick up a victory on the road: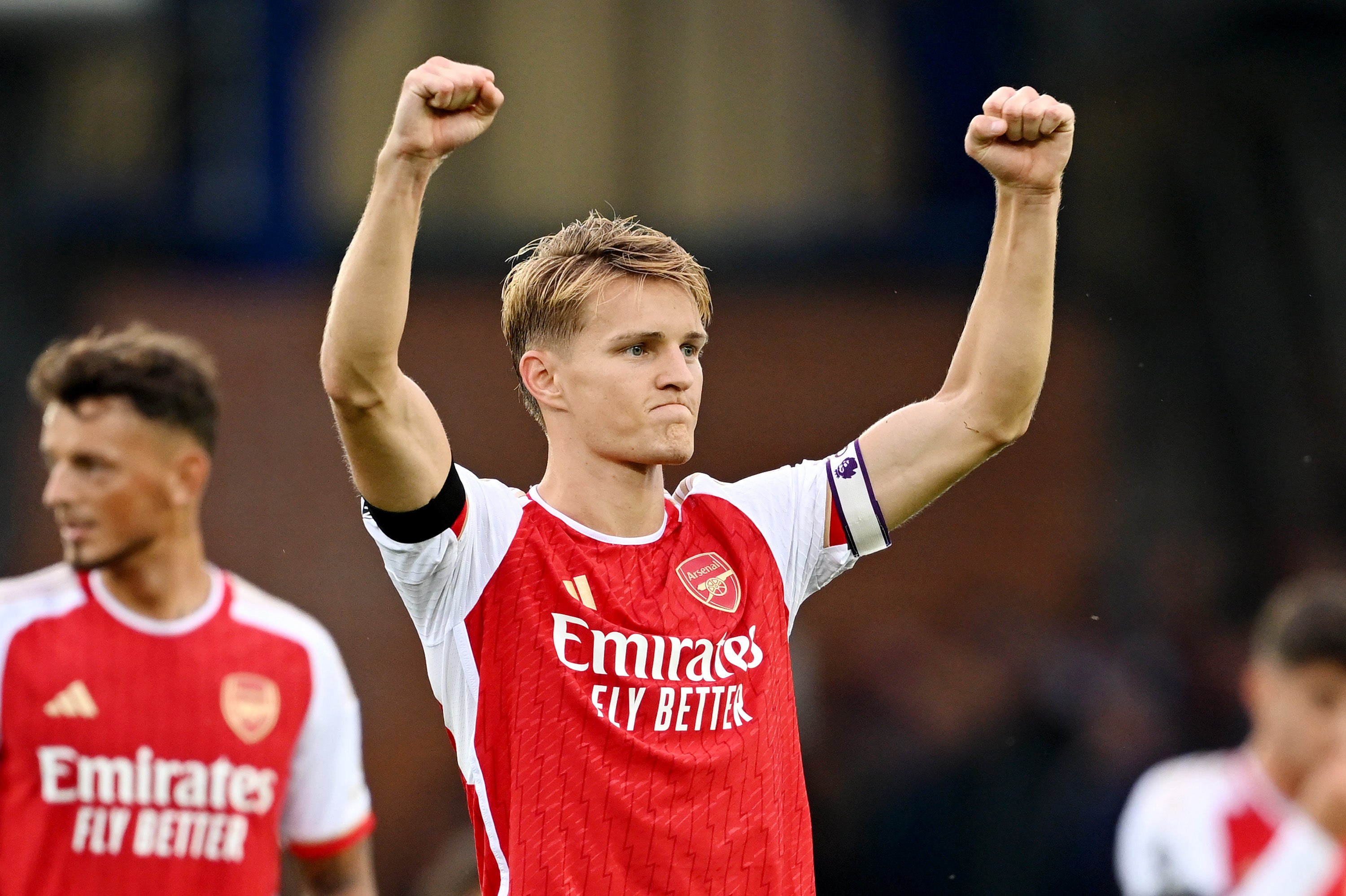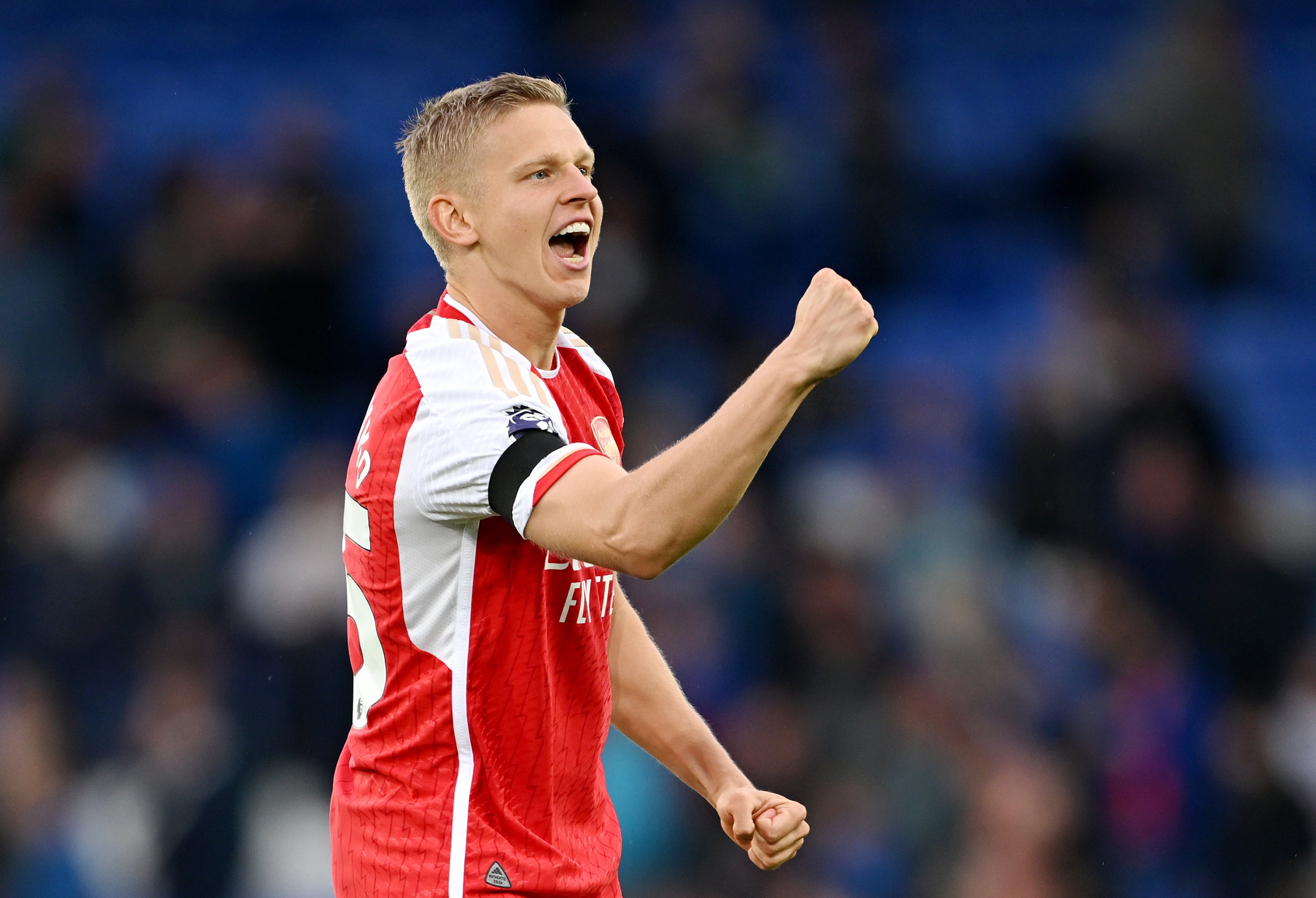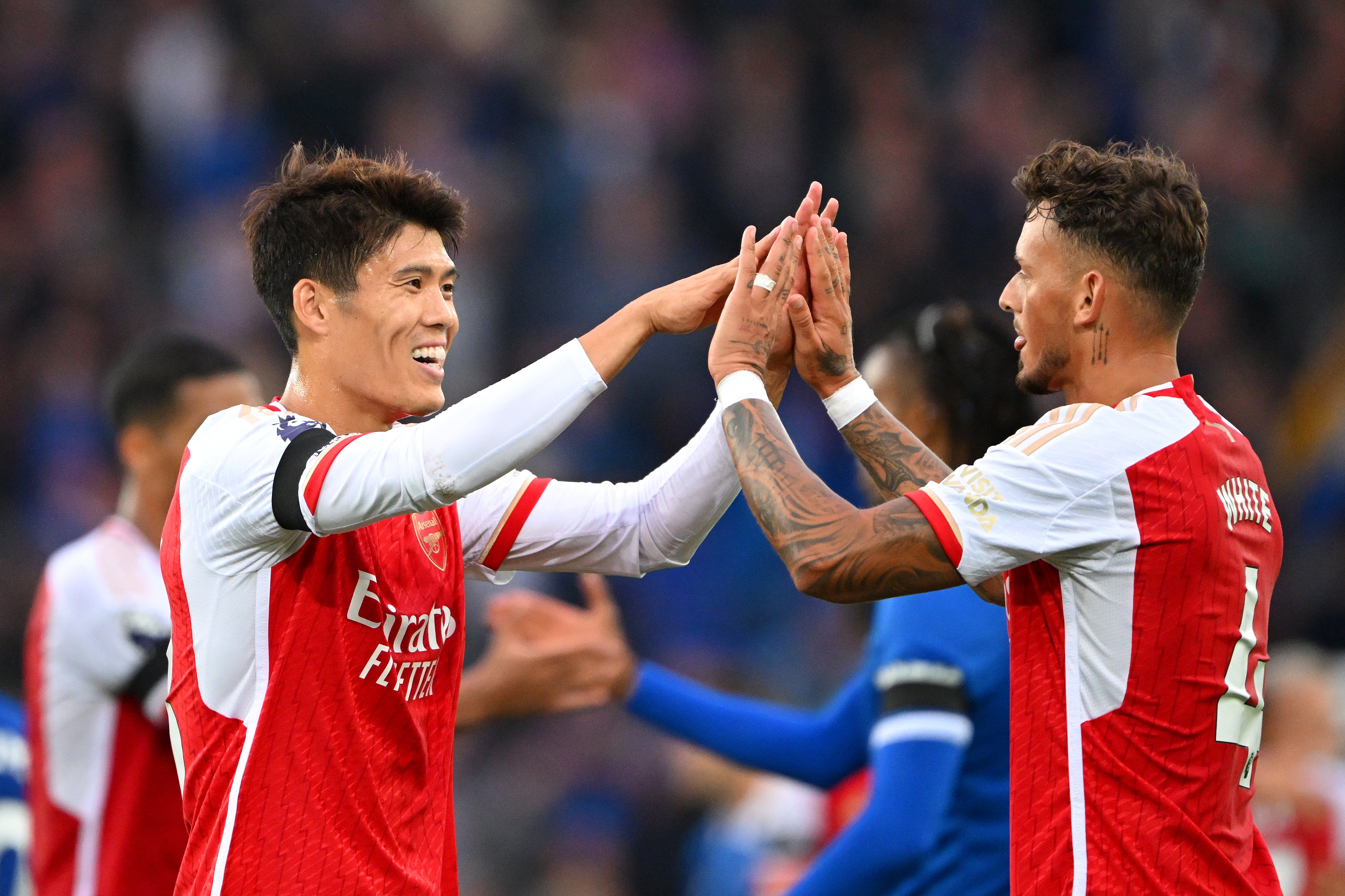 Man of the match Leandro Trossard speaking to Sky Sports
"It's always nice to help your team, especially with a winning goal. I called Bukayo and he saw me with a perfect lay-off. It went in perfectly and I'm very happy. I've been practicing all my life on both feet and you can see it helps you. It's so helpful if you're good on both feet, you can go both ways and score off either."
On Arsenal's record at Goodison Park: "We knew and we wanted to win the game. It's always a hard game, they give you a hard time but I think we defended the box well, got a couple of chances and took one of those chances."
On his minutes in the team this season: "You know the competition in the team – we have so many good players. I'm happy at the moment and happy I could contribute with a goal."
FULL-TIME: Everton 0-1 Arsenal
For Arsenal, meanwhile, it's a dogged, hard-fought win on a ground that they have often fallen short. The goal eventually came from Leandro Trossard, who replaced the injured Gabriel Martinelli in the first half.
Let's take a look at the strike:
FULL-TIME: Everton 0-1 Arsenal
Everton's barren run in front of goal at home continues. Just one shot on target today and their third 1-0 defeat at home in a row to start the season. Plenty of work for Sean Dyche to do but his Everton side look like they will be firmly in a relegation dogfight again this season.
FULL-TIME: Everton 0-1 Arsenal
Boos ring around Goodison Park as the full-time whistle goes. Leandro Trossard's second-half strike is the difference as Arsenal secure a well-deserved 1-0 victory against Everton.
It's their first victory on this ground since 2017 but another important three points to keep pace with Manchester City even at this very early stage.
For Everton, the search for a Premier League win this season goes on. Just one point from their first five games makes for fairly grim reading.
Everton 0-1 Arsenal
90+2 mins: Jesus does a good job of drawing a foul from the Everton defence deep in the home side's half. Arteta's side just looking to run down the clock at this point.
Source: Read Full Article