Save articles for later
Add articles to your saved list and come back to them any time.
When it comes to a vision for business, Larry Kestelman is much like a point guard he bankrolls as the owner of the National Basketball League.
From being the founder of telecommunications and utilities provider Dodo and as executive group chairman of the LK Group, serial entrepreneur Kestelman has an ability to see the full court. It has allowed him to make an imprint on the property, technology, sporting and now private equity landscapes, while also giving back through the Larita Academy, named after himself and wife Anita, which gives at-risk youth the opportunity to develop new life-changing skills.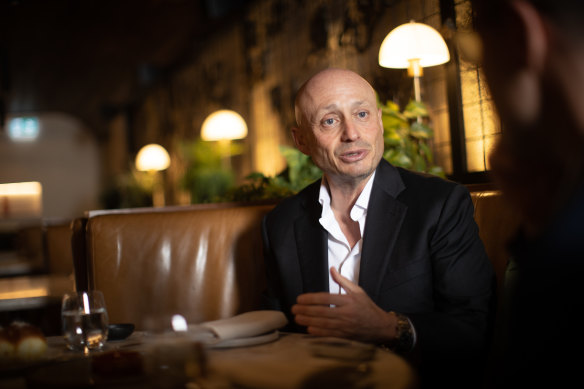 Fine dining: National Basketball League boss Larry Kestelman at his restaurant, Omnia Bistro and Bar.Credit: Simon Schluter
The business mantra of the 57-year-old – who moved to Australia at 12 with his parents from Ukraine before studying accounting and becoming a self-made billionaire – is clear.
"I love people and I love doing things in a tribe. Doing work and everyday life being surrounded by people that I like is really what motivates me the most," Kestelman says.
"We are a tribe, and we have just begun."
We meet at Kestelman's stylish restaurant, Omnia Bistro and Bar, in South Yarra – positioned within an even grander Kestelman build, Capitol Grand, a 50-storey residential and retail tower where he lives in a $50 million penthouse.
The flathead dish served at Omnia Bistro and Bar in South Yarra.Credit: Simon Schluter
As we take a seat in a corner booth, it does not take long before a delightfully laid out light lunch by attentive staff emerges. Kestelman has ordered ahead. We sample dishes of steak tartare, parfait, scallops and flathead, washed down with sparkling water.
Kestelman is relaxed and easy to chat with, as he details the early years of his life. His father was an electrical engineer and his mother a gynaecologist before leaving the Soviet Union. There was a brief stint in Italy where the family was vetted, then on to the south-east suburbs of Melbourne.
His father became a draftsman at Holden, his mother a laboratory assistant at a blood bank. Kestelman attended Murrumbeena High School and then went to Victoria College where he studied accounting.
"It all started with having independence. Coming here as an immigrant and feeling like you have come to a new country, you don't speak the language, you don't feel almost like you are in control of your own life, you are swimming hard against the tide, sometimes across the tide," Kestelman says.
"It was making sure I have self-urgency to get to the point where I could feel I am in control of my own destiny and my own life, and have financial security.
"I don't look necessarily different, but I came from a country that, you have to throw yourself back to 1979, I came from the USSR, in the middle of the Cold War. Anyone that came here was considered to be a KGB agent."
Itching to get into business, Kestelman made his first property move subdividing a block of land in South Caulfield. That kicked off more residential development, before turning to apartments. And in 2015 he launched Capitol Grand.
Larry Kestelman in 2016 in front of the hoarding for his Capitol Grand project in South Yarra.Credit: Wayne Taylor
"I am a proud Australian and love Melbourne, and to not have a development of this nature here seemed crazy to me," Kestelman says.
"When I was looking for a great apartment to live in, I felt this would be the corner to do it on. To me, if you are in Melbourne, there are two main corners if you are a Melburnian that you'll always know – it is the corner of Toorak Road and Chapel Street outside the city, and Spring and Collins. They, to me, were always two of the iconic corners in Melbourne."
For those wanting a taste of that South Yarra corner, Omnia Bistro and Bar is the place to be. The hustle by foot and car along Toorak Road – a stone's throw from the busy intersection – can be observed from the front tables. The oval-shaped bar, also with views of the busy road, is a good place to find a refreshing drink when that same hustle requires a circuit-breaker.
In 2001, Kestelman co-founded internet service provider Dodo Services with his cousin Michael Slepoy. They later resisted Telstra's advances, before accepting an offer from the M2 Group for $204 million in 2013, vaulting Kestelman into Australia's richest 100.
His love of basketball and the National Basketball League was fostered in the early 2000s, initially when he took his then eight-year-old Justin to games. He soon began sponsoring the Melbourne Tigers. He saved the club from extinction by taking ownership in 2012, and two years later controversially rebranded it Melbourne United.
'I had a vision for what I think this sport can be. I thought it was so important for families, that I had to make it work.'
It was done, in part, to try and unify a fractured basketball market. Divisions in community associations and historical links to now-defunct clubs meant that many fans refused to support the Tigers, made famous by Australian basketball legend Andrew Gaze who played 22 seasons for the team.
In 2015, Kestelman took a majority 51 per cent stake (now 94 per cent) in the NBL in exchange for a $7 million equity stake. The league, to borrow a basketball term, had almost fouled out, and was a shadow of its precocious 1980s and 1990s self. Kestelman, turning his attention primarily to basketball ahead of his other businesses, moved quickly to broker a new broadcast rights deal, and reintroduce the Brisbane Bullets.
"It was back-to-the-walls type stuff, for sure. Everyone told me: 'Larry, you are crazy, it's not going to work, it's failed, it's too far gone'," Kestelman says of those rugged early years. "But I had a vision for what I think this sport can be. I thought it was so important for families, that I had to make it work. Now I am in there, I don't have a choice."
Abrolhos island scallops. Credit: Simon Schluter
New clubs, the South East Melbourne Phoenix and Tasmania JackJumpers, have since come along, while the league's beefed-up branding and digital footprint have made waves. So strong is the standard of play and depth of talent that league insiders claim it's behind only the world's premier competition – the National Basketball Association in the US.
We tuck into the dishes on offer, the fresh scallops and flathead providing a summery edge to a windswept afternoon. The attentive staff check that everything is fine. It is.
Kestelman this season has begun to delegate more responsibility of what was his self-declared "baby" to the new chief executive officer, David Stevenson.
"It doesn't necessarily mean I am taking a step back, but it means I am able to take on a different role," Kestelman says. "I am all of a sudden freed up more and more to take a look at the future growth, future opportunities and see how I can keep growing this business."
The NBL's current three-year broadcast rights deal with ESPN, Ten and News Corp Australia expires after this season.
Scottie Pippen, Kestelman and Luc Longley pose for a portrait during the round one NBL match between Melbourne United and South East Melbourne Phoenix last month.Credit: Getty
Audiences, including a 40 per cent year-on-year increase in week one, and attendances have grown considerably over this period. Ten has shown games on its digital channel 10 Peach, but Kestelman now wants Ten or another free-to-air network to show games on its primary channel. Nine Entertainment Co, the owner of this masthead, also bid for the rights in 2021. Negotiations will open soon.
Kestelman also has immense pride in son Justin, his only child, with the pair having founded apparel company First Ever. Justin has plans to take another company, homeware brand Hommey, to market, using crowdfunded equity. While this is exciting for Kestelman, it's when talk turns to imminently becoming a first-time grandfather that a deep smile emerges.
Back on the court, and the new NBL season has begun with a bang. There have been sellout attendances and strong ratings. Chicago Bulls great Scottie Pippen, a six-time NBA champion, was lured out to launch the campaign and delivered – as NBL media chief Heath O'Loughlin had hoped in his initial pitch to Kestelman – cut through at a time when the AFL and NRL finals were underway.
Kestelman signs off on many of his emails with: "Life is good." Indeed, he even has a patch with this maxim stitched inside his suit jacket. As he reflects on his business and personal achievements with his "tribe", few would dare argue with that.
News, results and expert analysis from the weekend of sport sent every Monday. Sign up for our Sport newsletter.
Most Viewed in Sport
From our partners
Source: Read Full Article