Save articles for later
Add articles to your saved list and come back to them any time.
Ben Simmons has a new health issue and there's no timeline for his return to the Brooklyn Nets team ahead of his bid to play for the Boomers at next year's Olympics in Paris.
The Nets and Simmons' agent, Bernie Lee, said on Wednesday the 27-year-old had been diagnosed with nerve irritation on the lower-left side of his body. Simmons had already missed the Nets' past three games, but Lee was adamant the injury was unlikely to derail his season.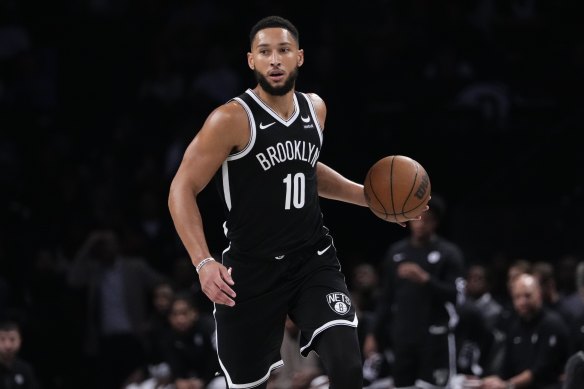 Sidelined: Nets' playmaker Ben Simmons has a nerve issue, and is having treatment on his back and hip.Credit: AP
Lee said Simmons had an MRI, which has confirmed the health issue.
"Ben had an MRI in the last couple of days, and it's shown us he's experiencing some nerve irritation on the lower-left side of his body which is going to cause him to miss some time as he rehabs and builds himself back," Lee told the New York Post.
"He's not experiencing anything similar to what he's gone through in the past … and this is something that the expectation is that, with the proper kind of rehab, he'll be able to resume his season in a short period of time without any issue."
In a statement, the Nets said Simmons had nerve impingement on the "lower-left side of his back. Simmons will continue to receive treatment on both his hip and back".
There is no timeline for his return.
Simmons has played in six games so far this season and is averaging 6.5 points, 10.8 rebounds and 6.7 assists per contest while shooting 52.8 per cent from the field.
Simmons' past two seasons have been a disaster, for he was a holdout in 2021-22 during his spat with the Philadelphia 76ers, then he required off-season back surgery because of a nerve issue, while dealing with mental health issues.
He and the Nets admitted last season that the one-time defensive force and the three-time All-Star hadn't been healthy enough to play.
Simmons linked with Lee earlier this year after leaving Klutch Sports and Rich Paul.
The pass-first playmaker has stated a desire to return to the Australian Boomers' fold ahead of next year's Olympics in Paris. However, to be in contention, he will need to prove his fitness, ideally with a consistent season in the NBA.
Simmons has two years and almost $US78 million left on his five-year, $US177 million contract extension that he signed with the 76ers in 2019.
News, results and expert analysis from the weekend of sport sent every Monday. Sign up for our Sport newsletter.
Most Viewed in Sport
From our partners
Source: Read Full Article